The flowers were intriguing. They were familiar and earnest and yet other-wordly. They sprang forth from the concrete surroundings with a fantastical whimsy, part of a city-wide takeover alongside the pasted images populating our walls. I soon found out that the artist behind my new favourite paste ups was Bloom n Grow Gal (BGG), or Lydia Hannah Thomas (sometimes just Lyds), a Northern Irish artist now living in Christchurch who was part of the Slap City collective. Soon, I found out BGG was also busy curating and hosting exhibitions, the first being More the Show, a group show of work by Ōtautahi wahine that included music, food, drinks and an array of creations. The show was hosted at The BOXed Quarter and drew an excited crowd. I finally met the artist one Sunday morning at Green Lane markets, quickly chatting about a range of topics it become clear that she was an energetic, enthusiastic force. Wandering around the market we bumped into each other again, this time she was busy drawing on the floor next to her stall, her energy focussed on her creative output. Now, BGG is presenting PB n' Jam, a unique show in collaboration with Flux that combines art and music, with live art and performances creating a byline throughout. We caught up with Bloom n Grow Gal for a chat about her journey to New Zealand, her illustration background, her introduction to Slap City, tending to flowers and the shows she loves to put on…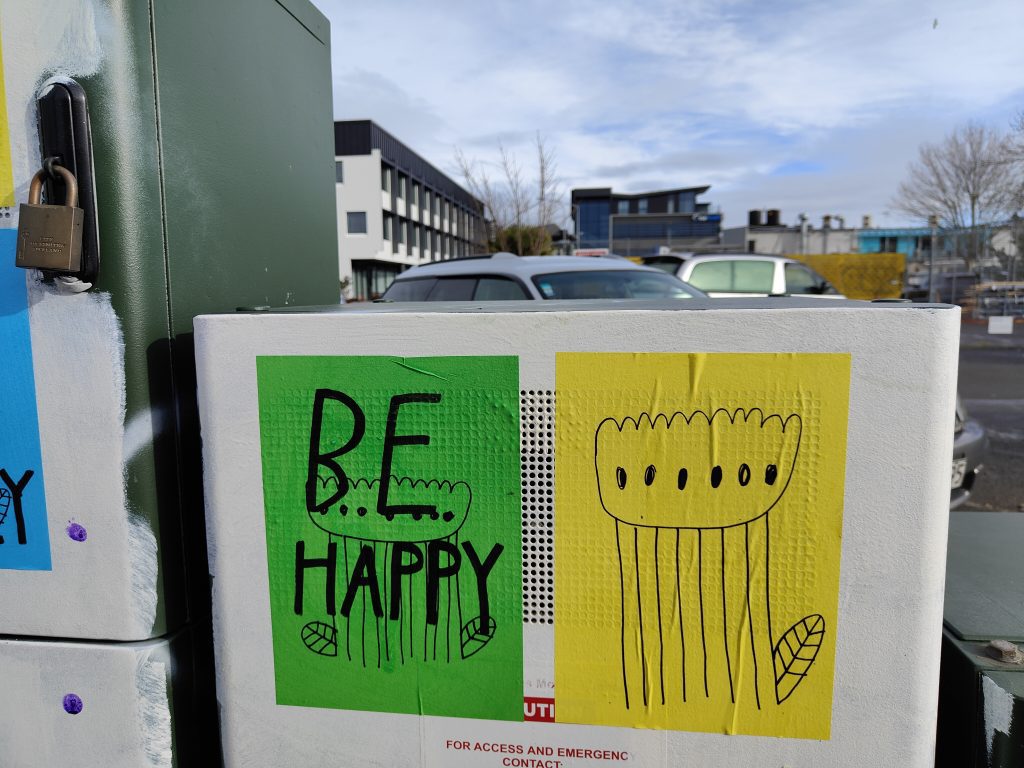 I'm going to put you on the spot, how would you introduce yourself?
Terribly! I'm not very good at telling people about myself! I would just say I'm a doer, I'm a people pleaser, but I hate talking about myself! I love talking about art and music, but when it comes to introducing yourself, "Hi, I'm Lydia, I'm 30 years old. I'm from Northern Ireland…" Arghh, I hate it!
 How did you get from Northern Ireland to Ōtautahi?
I was always dreaming of getting out of Ireland. I don't know why, I've just always kind of enjoyed my own company and doing things for myself, by myself. I'm like a loner but I have lots of friends! I worked out a way to get out of Ireland and that was going to university, even though it was to do illustration, which seems pointless looking back now! I wouldn't recommend! But all these things happen for a reason. So, at university I met somebody. His parents lived over here so we came over here, and I felt free and a little bit empowered being so far away from everything. I think I was really hard on myself back in the UK. I judged myself and never thought myself any good. I felt like there was a lot of competition in the UK and it wasn't nice, it felt like everybody was out to get you. New Zealand felt to me like this like fresh chapter. I didn't know anybody. I didn't know where I was. I was so far away from it all. So, now I'm here.   
And how did you end up in Ōtautahi?
I just love the beauty of it. It sounds terrible because places like the West Coast of Ireland are just amazing. But there was something about flying in over the Canterbury Plains and the Southern Alps, it was just so beautiful. When I came here seven years ago, Christchurch wasn't very appealing. So I ended up living in Methven for years and I think I ended up getting a little bit lost. I was trying to find out where I fit in this country town, but I realised that I just didn't. I kind of met somebody in Christchurch and I started coming here and going to the art gallery when that re-opened and going to all these other pop-up galleries, and it started to become exciting. Then just before lockdown last year, I went through a break-up, I lost my job, I felt like I had nothing to lose, so I came to Christchurch. The first person I met when I moved here was Ben Lyttle. He was like this chilled creative and honestly, he was the first creative person I'd met since I came to New Zealand. I remember feeling that enjoyable sense of creating again, which I hadn't felt for so long. That led me to Slap City. I remember the first Slap City that I went to, Vez passed me a bit of sticker paper and was like, just draw and I thought my god, I haven't drawn in seven years! But I feel like that's how it started, by simply drawing again. It was so enjoyable, I missed it living in Methven, driving trucks and going to the pub…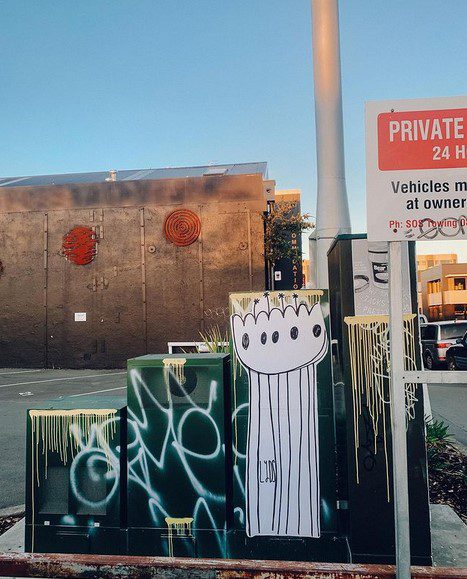 You weren't doing anything creative in Methven?
I've always enjoyed making gifts. I'm known for always making birthday cards or a painting or something like that for people. I was doing a lot of baking, I don't anymore, but I guess that was like my creative output, almost without even realizing it. I've always had sketching. I'm always sketching my food, my drinks, things that are in front of me, which is weird because my flowers are in my head, the complete opposite. I think I've got like seven years of creativity built up inside me. But I think I needed that, because I think university was so competitive with this weird grading system of putting a mark on your art, which I never really understood, that it really knocked my confidence. That's why I'm like, don't go to university, just do you! But at university, I would put on shows for people to show their art and I guess I saw the pleasure people get out of seeing their art on show and people buying art to put on their walls, and just knowing people are having a good time.
Is a sense of positive community important to you? It seems like things like Slap City and the shows you are putting on are all about people coming together…
That's why I enjoy doing the shows, because I don't care what your background is, I just think your stuff is amazing. I love it when people have side hustles taking photos or weaving or painting, it doesn't matter if they are a lawyer or a teacher by day. Who cares about your background, history, education and whatever, this is what you are producing, and it is amazing! I'm so happy that I'm able to give people a platform. There was a girl in the last show [More the Show] who said she had a friend who wanted to be part of it. I got in contact with her and she said she had a pair of earrings, is that going to work? I'm like, that sounds so great! Everybody was doing their own thing, and this was her take on her art, a pair of earrings. I'm like that's awesome! For some people earrings are just a piece of jewelry that you wear, but actually somebody's taking the time to think about it and put their creativity into them. So, I was really happy for them to be in the show. It was her first show and she ended up selling them, it was amazing!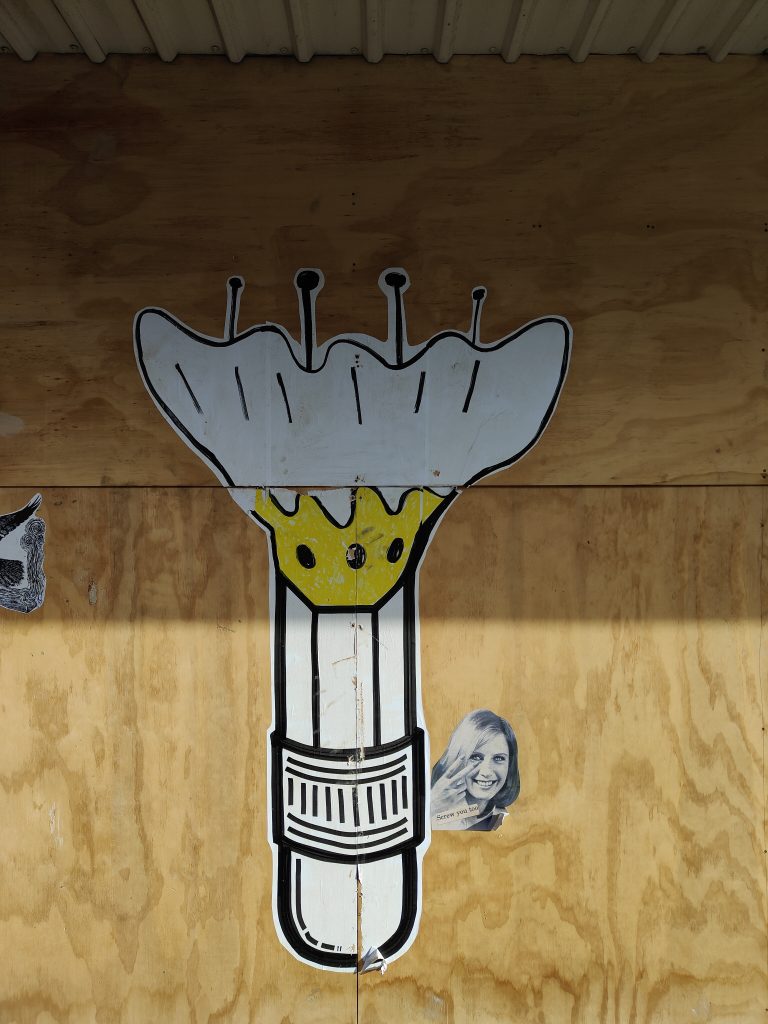 That idea of defining what art can be leads to the question of how you started making art in the streets, which itself is a way to break down conventions of how art is presented and consumed…
I want to say I'm precious about things, but I'm really not, I'm actually quite good at just throwing stuff out, of getting rid of things. I mean, I packed up everything in the UK and came here! But yeah, the idea of going out and putting my art in the streets just excites me. There is a flower not far from here, it's slowly peeling away and it looks even better than when I put it up! Just walking around, doing my 'dog walk loop', I get to see how it changes and weathers. It's really exciting. Should I add to it because somebody's written over it? Or should I just leave it? Will somebody do more to it?
There is a lovely sense of both contributing to the landscape but also recognizing that you have to let things evolve as well. Did you have any previous experience making art in the streets?
When I was at university, I did a little bit of wheat pasting, but not a huge amount. It's weird, I used to love taking a lot of film photography because it was so cheap to get it developed. I remember my ex and I were both so fascinated with billboards and stickers. We went to Berlin and Prague and all our pictures of us on holiday aren't of us, they are just of these walls with drawings on them. I remember being in Budapest and drinking in this bar and it had all these illustrations on the walls and we just sat there for ages. So, although I wasn't doing it back then, it's amazing how fascinated I was by it all. I think my lack of confidence back then was why I never put my work out there, but now it's like, yeah, let's just do it.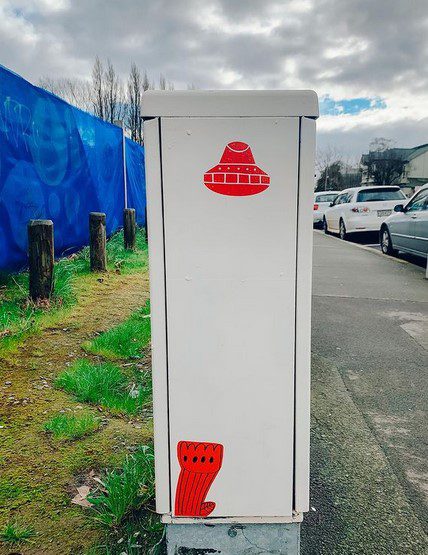 It's interesting, because street art was supposed to make art more accessible and participatory, it removed the elitist structures…
I think Slap City really boosted my confidence. I still watch Beautiful Losers on repeat and I remember ten years ago thinking, these people are so cool, I could never be that cool! But now some people think I'm cool! I'm getting tagged in posts by people I don't even know. People are posting about my art. I never thought that it was good, but everybody takes it a different way and sees it in different ways. I think I've been so harsh on myself, and Slap City has been so positive. Everybody is like, let's collab, let's do this, that's awesome! There was somebody a couple of weeks ago and it was their first time at Slap City. They were so rigid, and I remember that's how I felt my first time. But you just keep going and then you're like, I could do anything! Now I'm going out on my own and pasting up at night. Honestly, it makes me so happy. It's like the best form of therapy.
Ultimately, whether it's that circle around Alleged Gallery or the Slap City collective, they are communities of people with shared interests who want to support each other. And while the internet helped foster those networks, it feels like more recently it has been divisive and tribalistic and toxic, so it's refreshing to have those real-world connections…
A couple of years ago I started going through my Instagram and saying this is not good for me, this doesn't interest me, and my Instagram has become more art and street art influenced. It's really more focused on joy and my inspirations. It shows the headspace and transition that I have been on over the last couple of years. It got me thinking about Slap City and that sense positivity and how maybe if I had that ten years ago at university it might have led on a very different path. Looking back at it now, it's no wonder I was a mess, it was too competitive, but now I'm just so empowered to be creative. I feel right now there's just such a great community within Christchurch, people supporting each other. It just keeps you creating, getting better and better without even realizing it. I look at what I was first doing at Slap City late last year and how I kept going and I kept doing things…
I first saw you flowers on Madras Street…
My first ones!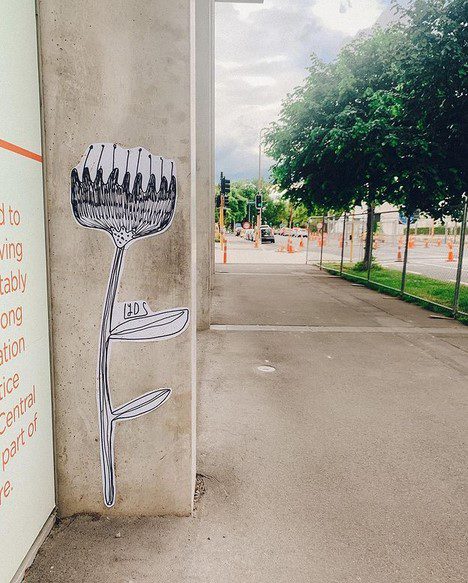 I loved the stylization, the appearance of nature, but in this surreal, fantastical style. They were so simple but so striking. I asked Teeth Like Screwdrivers who had made them and he said, "Our Lyds" and you could kind of tell he was so stoked that you were putting your art out there. Where did the flowers come from?
I can't keep plants alive to save my life, but I've always been fascinated with flowers. Growing up my Grandad's garden was just beautiful. It was massive and had so many flowers. As kids we'd always plant sunflowers and have sunflower races. I'm quite a colorful person so I just love the colors of flowers as well. They are just all so individual. They come and go, they are not meant to last forever. If I could just keep flowers alive!
In that regard they are fitting for art in the streets, where everything is fleeting. It is also interesting that you note the individuality of flowers, because we tend to think in categories, right? But flowers, like humans are all distinct. Was that in your thinking when you started drawing flowers?
I think I say it was now, but honestly, I don't really think I was thinking about it. I just was doing it because I was really enjoying throwing one out and being like, oh, maybe I'll change that or I'll do that again. I like to do it fast, without overthinking the process. I think they end up being really pretty and people seem to enjoy them. I did this series of flowers on pieces of paper, like 100 of them, all drawn individually. I did them sitting and watching films. It was like therapy. It went through my mind to photocopy them, but I love how I've drawn every single one and every single one is individual. Just like flowers. Maybe I will change, maybe I will do photocopies, but I don't know…
More recently, there have been the coloured A4 pages with lettering over the flowers, with phrases like 'I can sing', 'I can dance' and 'I can parallel park'…
I've always loved text. I've always been so fascinated by short but bold statements. I love typography. I don't think I'm very good at it, but I just love to dabble in it. It's kind of ironic, because I'm severely dyslexic, and I spell a lot of things wrong sometimes, especially the first 'parallel park' one that I did! I'm quite inspired by David Shrigley's paintings, how they are not necessarily positive, but they are to the point, and that's why I began with 'live, laugh love'. It was kind of taking the piss, but people can put their own interpretation on it, just like I have my own thoughts about it. I just needed something short and sweet. Recently, I was parking and my friend said can you parallel park? And I was like, I'm 30 years old! Of course I can parallel park! So, the affirmations grew from that…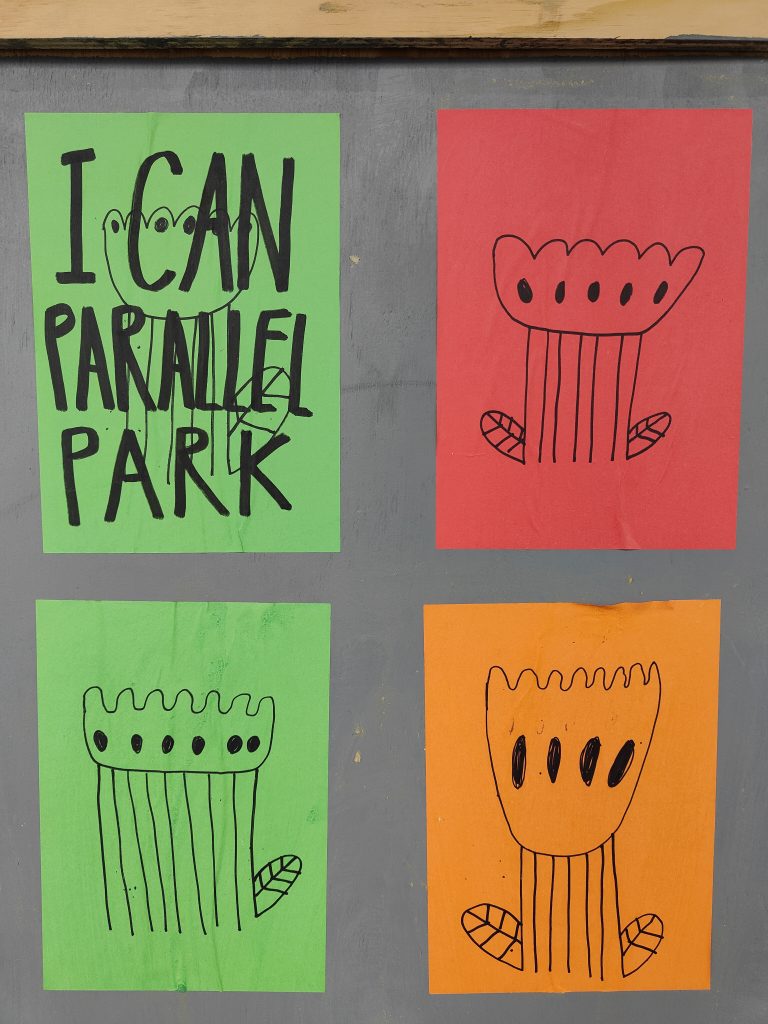 Earlier we were saying that neither of us consider ourselves amazing singers, but that doesn't mean we can't sing, right? We absolutely can!
It just feels like I'm in such an empowered position writing these messages on pieces of paper and putting them around Christchurch, literally nothing's stopping me! And if somebody sees the 'live laugh love' works and it puts a smile on their face, that's great, knowing that someone might have a chuckle, I like that idea. But I also love that I don't have to stick with this, I don't have to keep processing it. It was something I did. I really enjoyed it. Now let's see what the next thing I can do will be. I'm thinking about song lyrics, digging back into my Yeah Yeah Yeahs phase. I'm going to go buy some supplies today…
Music is so important for so many artists, you have a wide range of musical tastes, right?
I don't know how people can sit in silence. It freaks me out! I'm into a lot of dance and jungle at the moment, it makes me want to get up and move my body. I feel free and like I'm enjoying myself. But I was watching something the other day and an advert came on with Radiohead's High and Dry and it triggered something in my brain that took me back ten years ago to university. I just had to listen to that song. I started listening to it and for some people it might mean something else completely, but for me it was like OK, I need to draw right now! That is what inspired me and then that led on to all these other bands on Spotify shuffle. Music definitely is a trigger. I like how music puts you in the mood and I love a wide range of genres. I was listening to the Yeah Yeah Yeahs the other night and Skeleton came on and it got me really emotional, but in a good way. It brought out all these sad statements, thinking about past boyfriends and breakups and things like that. But it was good because it made me feel creative. I think you still need to embrace the shit times and the music that triggers the sadness. But then MIA comes on, like Bad Girls, and I'm like, right, give me my big black marker, I want to go to town! But when I listen to the Yeah Yeah Yeahs or Radiohead, that brings out smaller, more delicate drawings. Music triggers different kind of moods and how you want to express yourself in different ways. Sometimes when I'm pasting, I will listen to going for a run music, getting the blood pumping. But then I start and I take the headphones off and look around sheepishly, haha!
You already have quite a multi-directional practice, making art in the streets and at home, as well as organizing and curating shows. Do you put much thought into where it all goes next?
When it comes to art, I am so chaotic! Sometimes I lie awake at night and I always have my diary or something next to my bed, or if my diary is downstairs, it'll be my phone. My notes are just full of ideas, some don't even make sense! Half the time these ideas come to me in the middle of the night. I'll wake up and kind of sketch it down. I think that's why the flowers are good because I can just smash a load of them out and I'm done. Then sometimes I can go for a couple of days where nothing inspires me, maybe I'm a bit tired or something. I have no structure to my art whatever!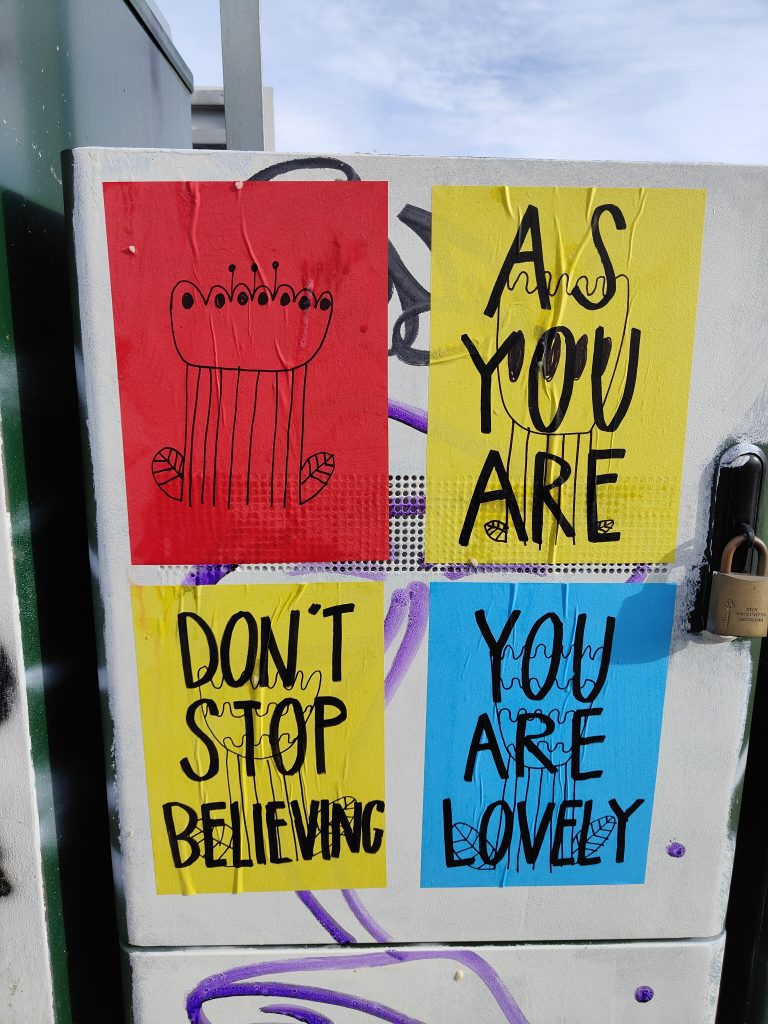 Putting together the shows must be an extension of your need to be creative as well. Your first show I was aware of was More the Show at The Boxed Quarter earlier this year…
Yeah, that was my first show in Christchurch. It was inspired by meeting Sofiya Romanenko. I was blown away by her photography, they are so beautiful, they needed to be on show. So, I thought, let's just do this. I will be in it because there will probably be nobody else, so it will be me and Sofia. But then I asked a couple of other people, thinking maybe five people would be in the show. But then it grew to 15, and I was like, oh my goodness, and then it got to 25! I was so overwhelmed by just how many people wanted to be part of it. I still can't get over it. I don't even know how to put it into words. But I put on More the Show with 25 artists, and it was really amazing. I can't believe how good it was to give a platform for people to express themselves. I worked really hard, but it was so unbelievably rewarding. It was so exciting. Artists were messaging me, asking is this OK? Is this going to work? I've got something a little bit bigger, or meet my friend, she's also an artist who would be great. I was creating another family within Christchurch and that was so important to me as well. I met so many amazing people. I was on cloud nine and then it was over, and I felt really sad, like I didn't have a purpose. I thought it was just going to be a one-off thing. But then my brain started ticking away and I was like, OK, let's do something else. Zak from Flux popped in and he was like, do you want to do something? He had this idea of bringing music and art together, which totally got me. Back in the UK I loved going to art and music festivals, so its a dream to be bringing art and music together. I can't believe I've been given this opportunity to work with artists and musicians and it's all going to come together in this beautiful place. So, I was like OK, now I have something to put my mind to again and start creating. In my head, I realised 25 artists was awesome, but maybe this time I would stick to fewer people, so it's a little bit more relaxed. The idea of PB n' Jam was that the artists would be the peanut butter, you know a little bit nutty, and the music would be the jam. I thought sticking to Slap City people would also suit the vibe, people like Teeth Like Screwdrivers. When I asked him, he was like, why me? I'm not an artist! But the thing is, he is, of course he is! I still can't get over how shocked people are when you ask them to be part of something and it reminds me of myself when I was younger and had no confidence. Nobody asked me to be in an art show and now I'm in that position where I can be like, you should be in this show. This week people have been sending me updates of what they are doing and I know I've chosen the right people for the job because everybody is just psyched for it…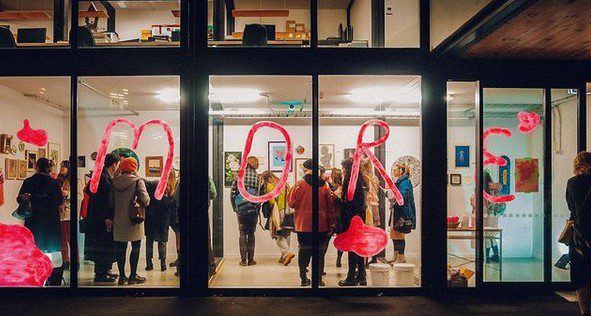 People really value the chance to be included…
Even with More, it was just so positive. I've not had a negative experience and I am just so excited to doing this with amazing people…
How will PB n' Jam combine those elements of music and art?
When Zak and I first talked about it, we were thinking of a festival, which was really great, but was probably too much for me right now. So, we decided I was going to do the art show part and Zak would do the music part. Then we had the idea for live art. I'm getting some boards off Green Lane for live painting on the night. We also started thinking about visuals and projections, which took me back to my Mr. Scruff days in the UK, the gigs with projections of doodles and illustrations, with tea being served at the back! So, we've got visual projections which will help tie everything together; the music will be playing, the artists will be working, visuals will be projected, there will be a nice flow between the art and the music.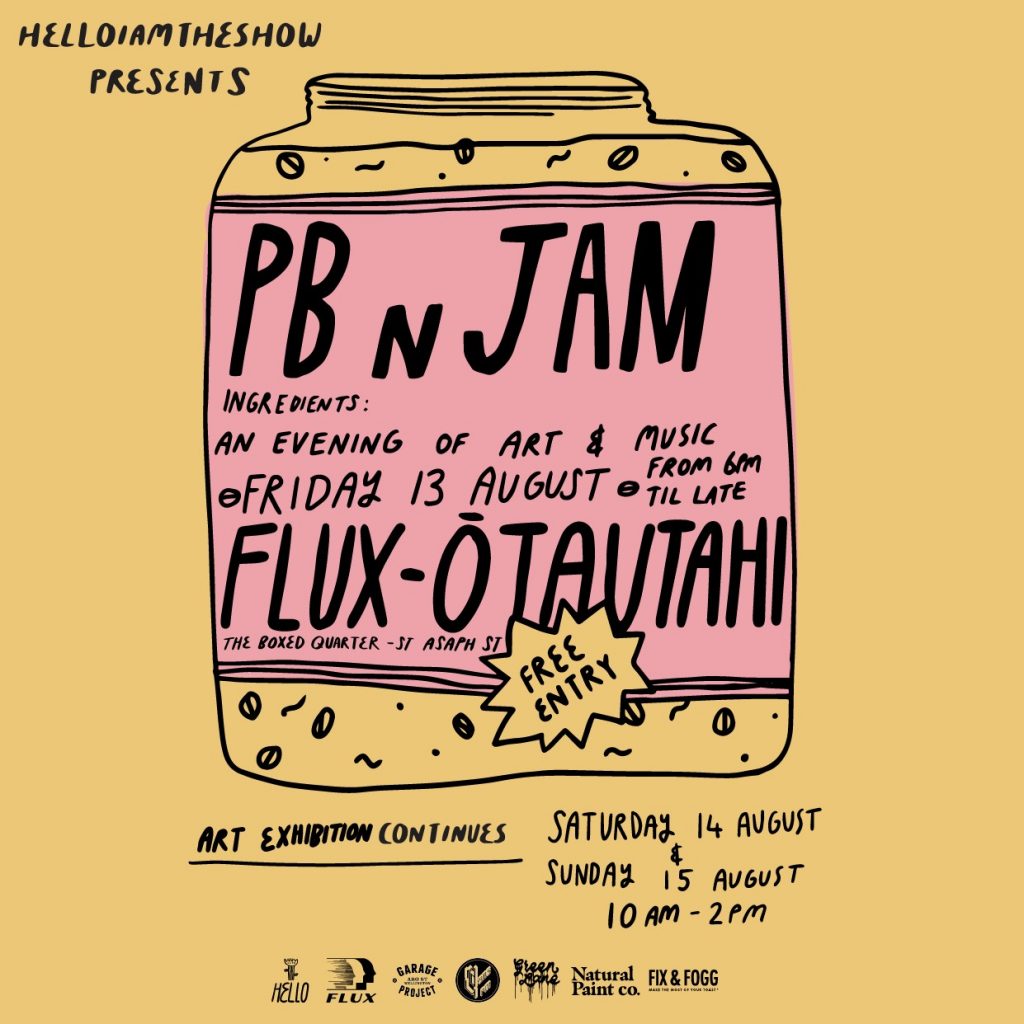 Who are you excited for people to see?
I love all the artists, but I'm excited to see what Teeth like Screwdrivers and Bongo come up with. All the other artists have been in shows, but asking these two street artists, who kind of throw things up all over the place, I think I've really kind of caught them off guard and tested them. I really like what both of them are planning, I've got a couple of little tasters and I think they definitely got the point!
PB n' Jam opens 5:30pm, Friday, 13th August at Flux in the Boxed Quarter
Follow Bloom n Grow Gal on Instagram and Hello I Am for more amazing shows…