The second work of our Spotlight 2.0 series is now live and illuminating the exterior of Te Pae – Christchurch Convention Centre with vibrant light and alluring movement. Artist River Jayden's stunning Te Tihi o Kahukura showcases the beauty of toi Māori, while adding a bright contemporary twist. Jayden explains that 'Te Tihi o Kahukura' translates to 'The Citadel of Kahukura' or the pinnacle of the rainbow. In te reo Māori, Kahukura is one of the names given for a rainbow, and it is said, specifically the arch of a rainbow. Te Tihi o Kahukura is also the first name of Castle Rock, the famous outcrop on
Summit Road. Kahukura, a spirit guardian, is an important figure in the Kāi Tahu (Ngāi Tahu) creation
story. To Kāi Tahu, Kahukura is an atua (god) and the decorator of the whenua (land), bringing
light, colour and beauty to all surroundings. Jayden's work acknowledges Kāi Tahu as mana
whenua, while emphasizing the importance of Kāi Tahu oral traditions and Mātauranga Māori
(Māori knowledge). Drawing on traditional design elements and employing strong line work, the bold use of colour, essentially neon-like, adds a contemporary flair. Nicholas Keyse's slow, understated animation, including a blinking eye and fluid movement, imbues Jayden's work with a calm, yet fascinating quality, drawing the viewer in. Te Tihi o Kahukura is visible from distance, a beacon calling forth and reflecting our region's history, beauty and future.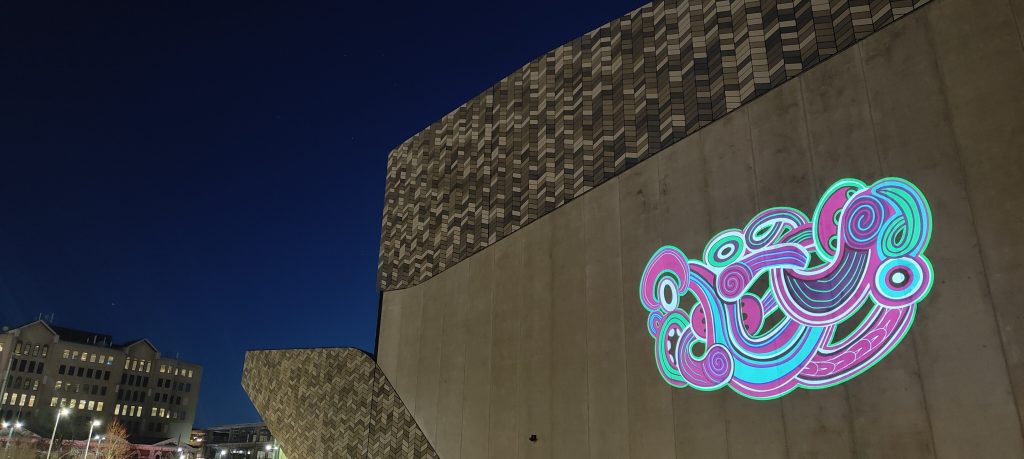 River Jayden (Ngāti Tahu – Ngāti Whaoa, Ngāti Tuwharetoa & Ngāti Maaniapoto) is a painter
and graphic designer who uses traditional Māori toi (art) and design within a contemporary
context. Te Tihi o Kahukura was developed with support from digital artist Nicholas Keyse, founder of Immersive Reality Ltd.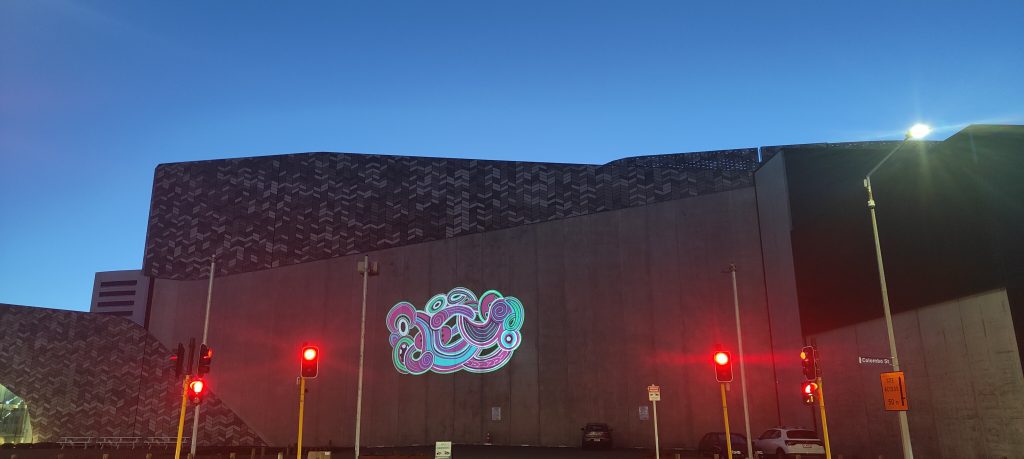 Spotlight 2.0 shines a light on four talented female Ōtautahi artists, giving their work a new platform, projecting animated pieces on the exterior of Te Pae. With a diverse range of artists, displaying unique visual and thematic interests, Spotlight 2.0 illuminates our powerful creative communities and raises new possibilities in the cityscape. Spotlight 2.0 is supported by ChristchurchNZ and the Hine te Hiringa – Empower Women Utilising FIFA Women's World Cup 2023 Fund to help celebrate and empower
women.