The third work presented as part of the Spotlight project went live on the last day of August – urban gardener Bloom's Wall of Blooms another beautiful addition to the series. Multi-disciplinary artist, designer, curator and all-round powerhouse Bloom's urban flowers have appeared in a variety of sizes, forms and locations across the city for several years now, from small drawings, paste-ups and painted wooden blocks, to the Paste-Up Project bollard and the recent production of a large mural at QB Studios on St Asaph Street. Wall of Blooms adds another incarnation of the artist's work to Ōtautahi's streets, the animated digital illustration a truly mesmerising apparition on the side of Te Pae – Christchurch Convention Centre.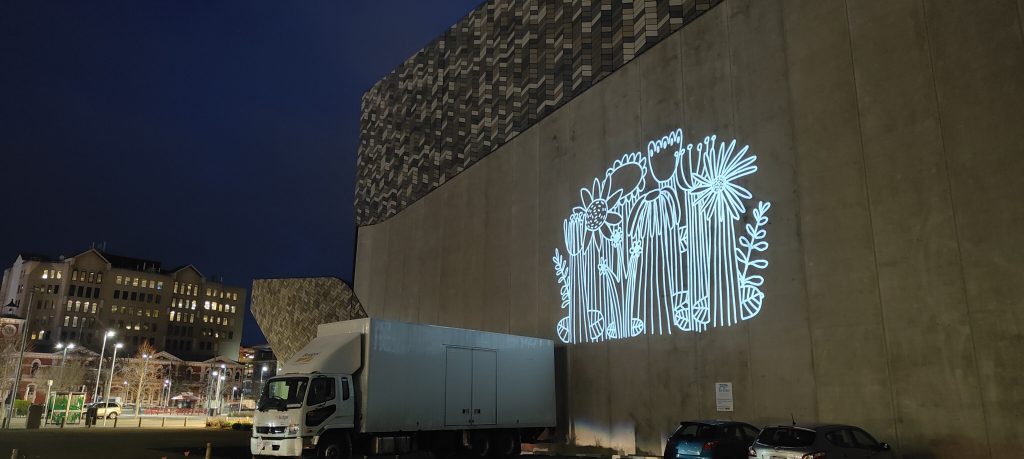 The white line illustration, once again animated by digital artist Nicholas Keyse from Immersive Reality, comes to life on the wall, growing and blooming in front of the viewer, before gently swaying and evenutally receding, playing out a full life cycle. Inspired by the urban gardeners of Ōtautahi and the beauty of nature, Wall of Blooms reflects our ever-changing cityscape and the determination of nature
amidst the concrete, instilling a sense of wonder and appreciation for life's precious
moments. The subtle movement suggests liveliness and the endurance of nature, thriving in an environment constructed to deny its existence. These blooms, huge in scale, are testament to persistence. The grouping also suggests ideas of community and our own ability to thrive through our networks of support.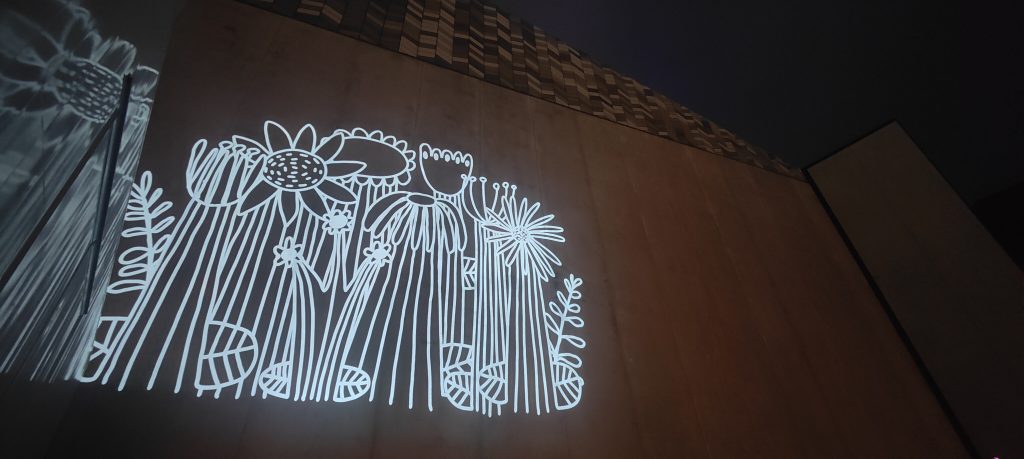 Wall of Blooms invites us to pause and to observe the flowers' growth, fostering a connection
with nature and celebrating the simple yet stunning elements of life that surround us every day. A
poignant reminder of the resilience and beauty found in unexpected places, Wall of Blooms
prompts us to cherish the present while encouraging collective efforts to support nature's
growth and, by extension, our own ability to flourish, to find strength and joy within ourselves. Simple things really are the most powerful.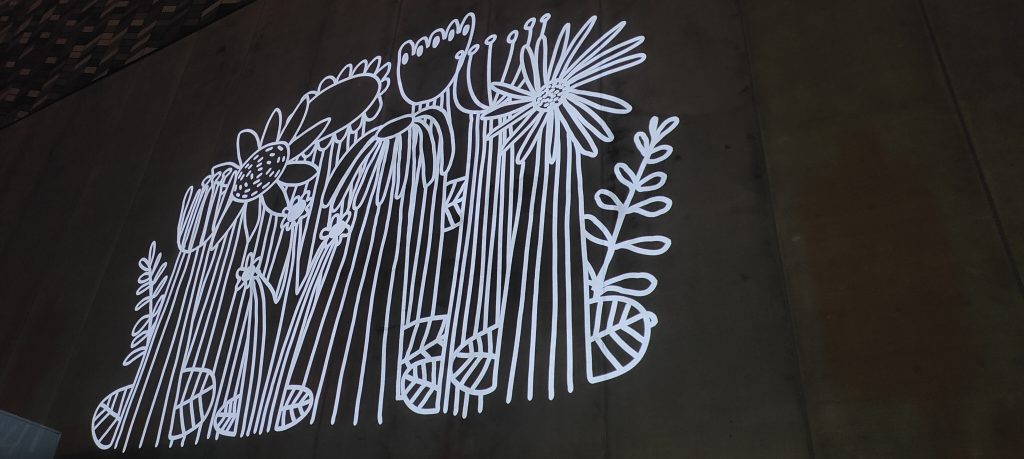 Spotlight – Urban Art Projections is proudly presented by Watch This Space and ChristchurchNZ.
Spotlight 2.0 specifically shines a light on the diverse work of four talented female Ōtautahi artists – exploring new possibilities for urban creativity and adding a surprising twist to the city after dark! The Spotlight project was completed with support from the Hine te Hiringa – Empower Women Utilising FIFA Women's World Cup 2023 Fund to help celebrate and empower women.