When Aotearoa entered the level 4 lock down as we faced the threat of Covid-19, many of us took to a daily walk within our bubbles, nominally for exercise, but if we are honest, as an escape from the confines of our homes, to remind ourselves that the world around us was still there.
Luckily for me, my suburban surroundings provided plenty of points of interest, and chief among them were the constantly expanding series of stickers and paste ups produced by the prolific Dr Suits.
Dr Suits' output over the last few years has shifted to a process-centric fixation with abstraction. As he has investigated materials and techniques, he has also grappled with the transference between street and studio. While he has produced a range of outdoor works (including commissioned murals and even a basketball court), the lock down period saw perhaps the most cohesive body of street work he has created. From small vinyl stickers to large-scale paste ups, sweeping textural waves and various geometric forms of flat colour were juxtaposed to create items of intrigue. To learn more about this flurry of creativity, we caught up with Dr Suits to talk about the inspiration and motivation for these (sub)urban additions and how extraordinary times have inspired his work…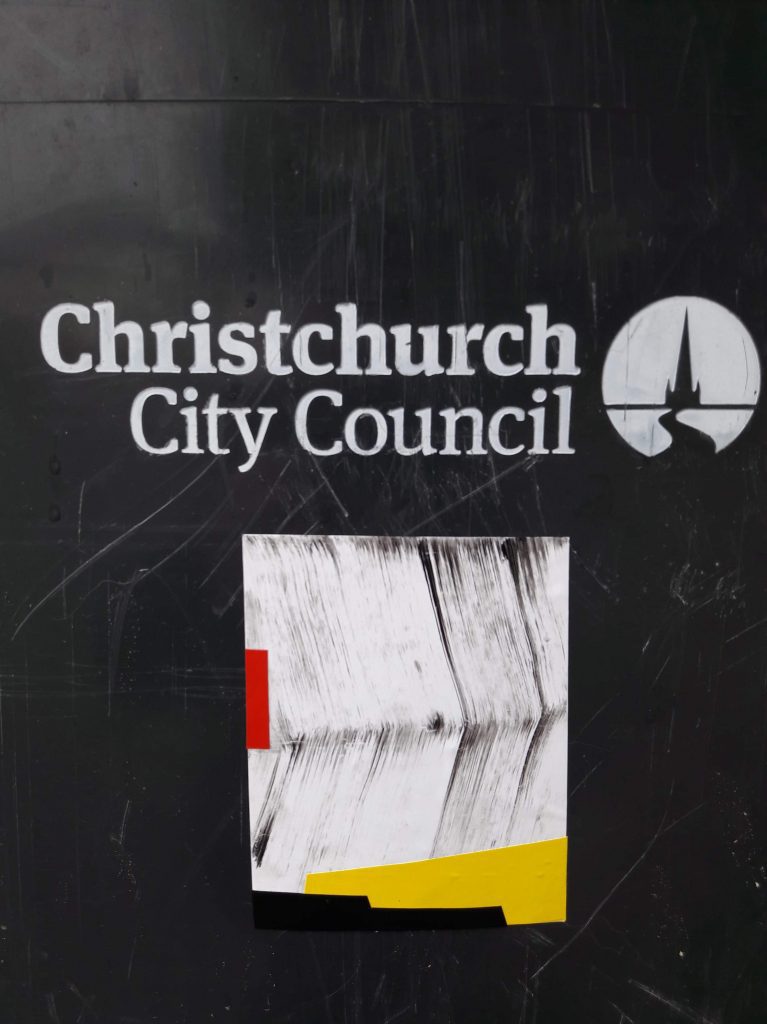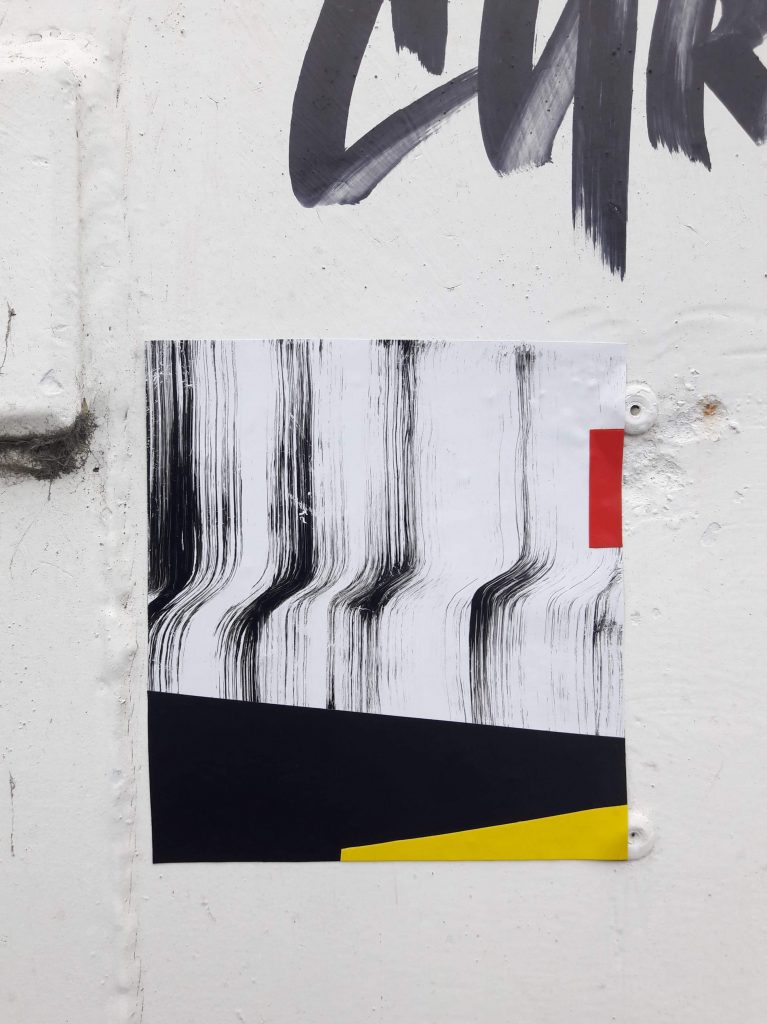 The notable thing about this body of work was just how quickly it seemed to come to fruition and appear on the streets, was it something you had already considered, or were you specifically inspired by the lock down?
It was spontaneous really. I think a lot of my work happens like that, when I find a delicious tasting fruit, I feast on it, until there's no fruit left.
When we entered lock down, we just raided the studio for a bunch of materials and resources with no clear plan of what we were going to do with them. We just wanted to make sure we had stuff to work with at home. The stickers were great because they were small, and I could just mess around in the lounge.
The stickers led to the much larger paste ups, a form that you have a bit of experience with…
They were something that just came out of the stickers. It was a similar process, I just wanted to do the stickers bigger. I had the materials, the paint, the paper, the glue. The beauty of paste ups is that you can work on them at home, and then it only takes ten minutes to install them, which was great for lock down. It reminded me of the post-quake period, when I first started doing paste ups, but I adapted them to my present artistic approach.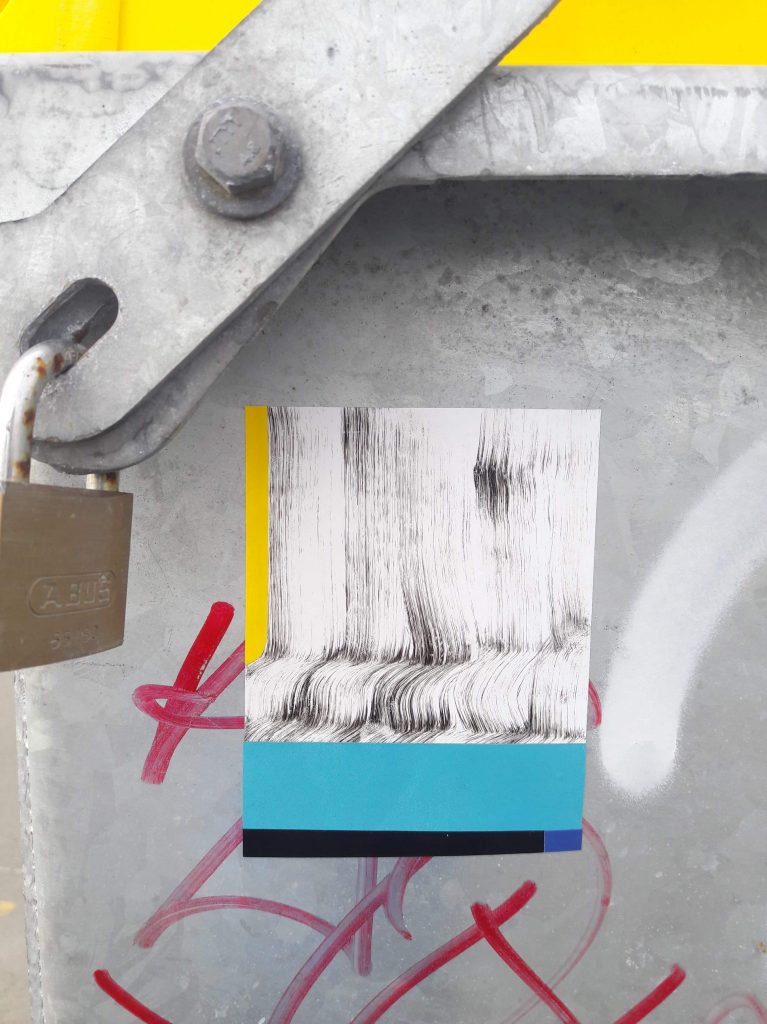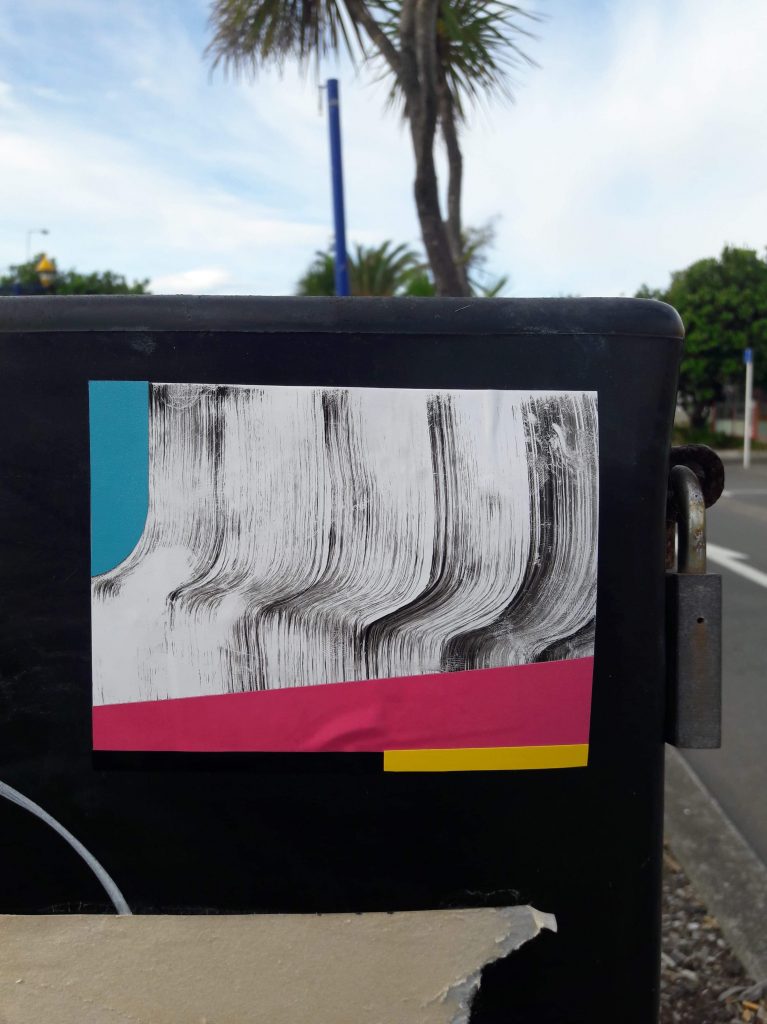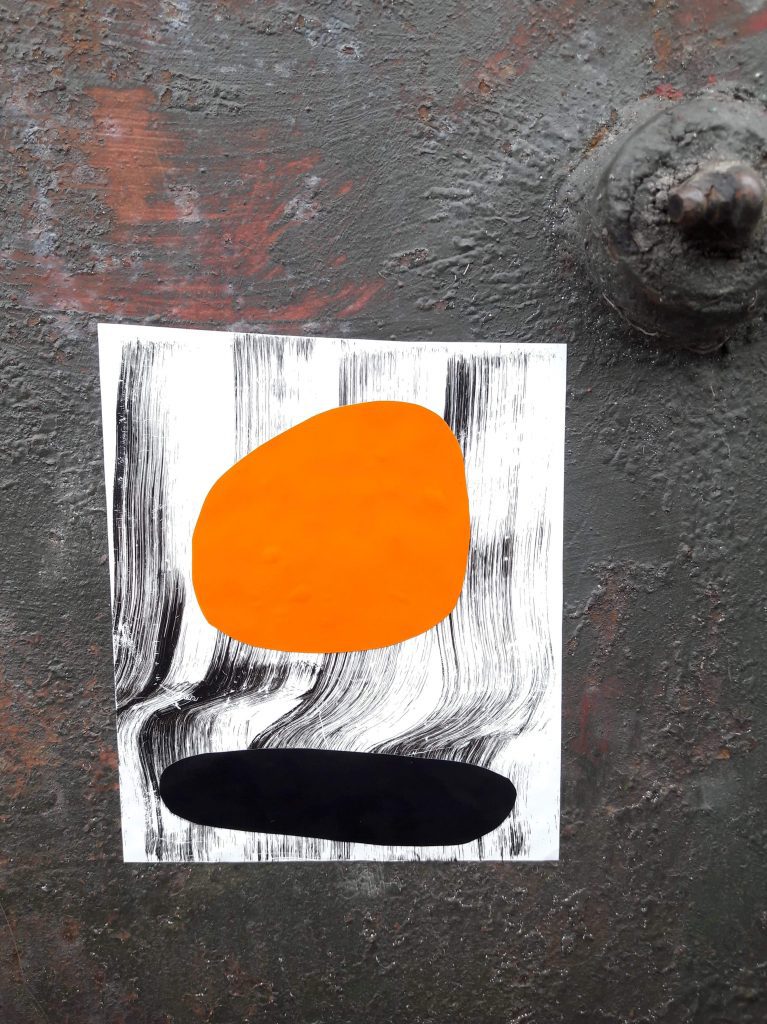 A lot of your previous paste ups were illustrative. These works are a clear reflection of your more process-driven abstract direction of the last few years…
I thought of a few ideas to do some illustrative paste ups with more on-topic commentaries, but I couldn't find the motivation because I was too distracted with the process of making these stickers and just doing what seemed natural…
Do you connect these works in any outward sense to the Covid-19 pandemic?
I could probably think of something more specific if I wanted to, but they are a direct response to that situation because if I didn't have that situation they wouldn't have been created, so in some ways they are a direct response.
The paste ups and the stickers both use a collage technique, but they can be experienced very differently because of their materials and size. Were you interested in how people would respond to the different works?
It's more driven by the process of creation. I know people are going to respond to them in their own way and that's what I like about abstract art. People always see something that you don't see or think something that you don't think. Even though they use the same process, I wasn't really thinking about it. Obviously, the paste ups don't demand as much inspection because they're so big that you can see them from afar, you may or may not notice that it's collaged. I was just really enjoying the process of cutting the shapes and overlapping them and exploring different compositions. That is really similar to the way I previously would do it, but I would use Adobe Illustrator or something like that to play around with shapes and I would just pick the ones that I liked. But with the stickers, each one was a development, and I would just keep each one, it wasn't just picking the ones that I liked and then using those as a composition to make into an artwork…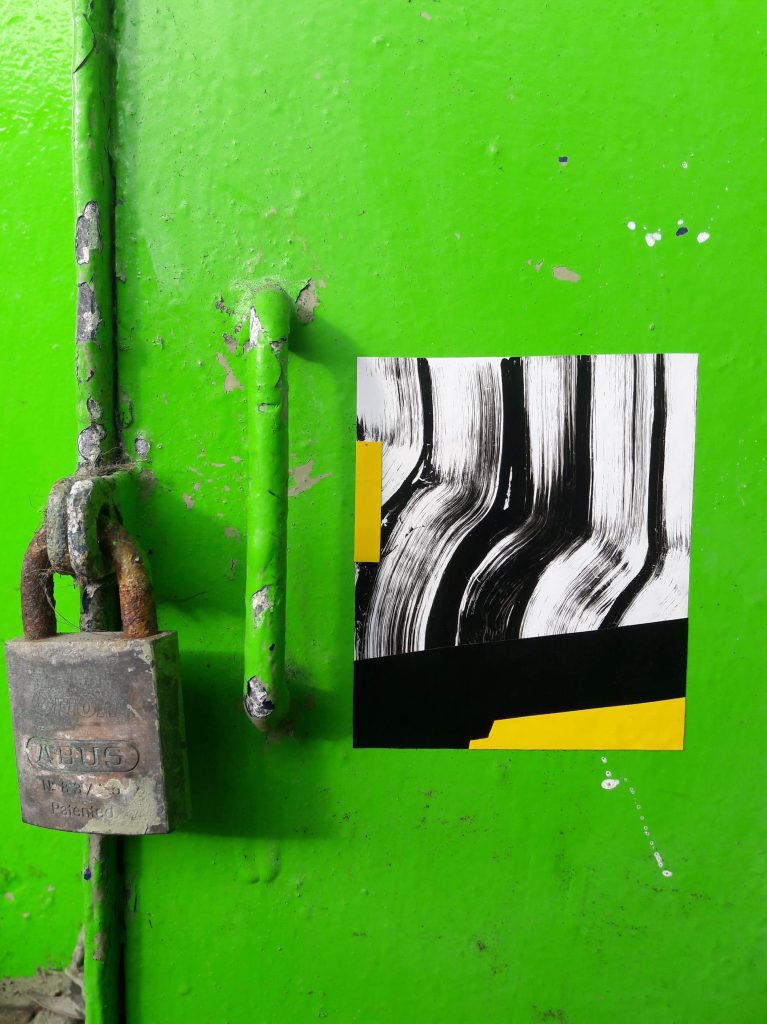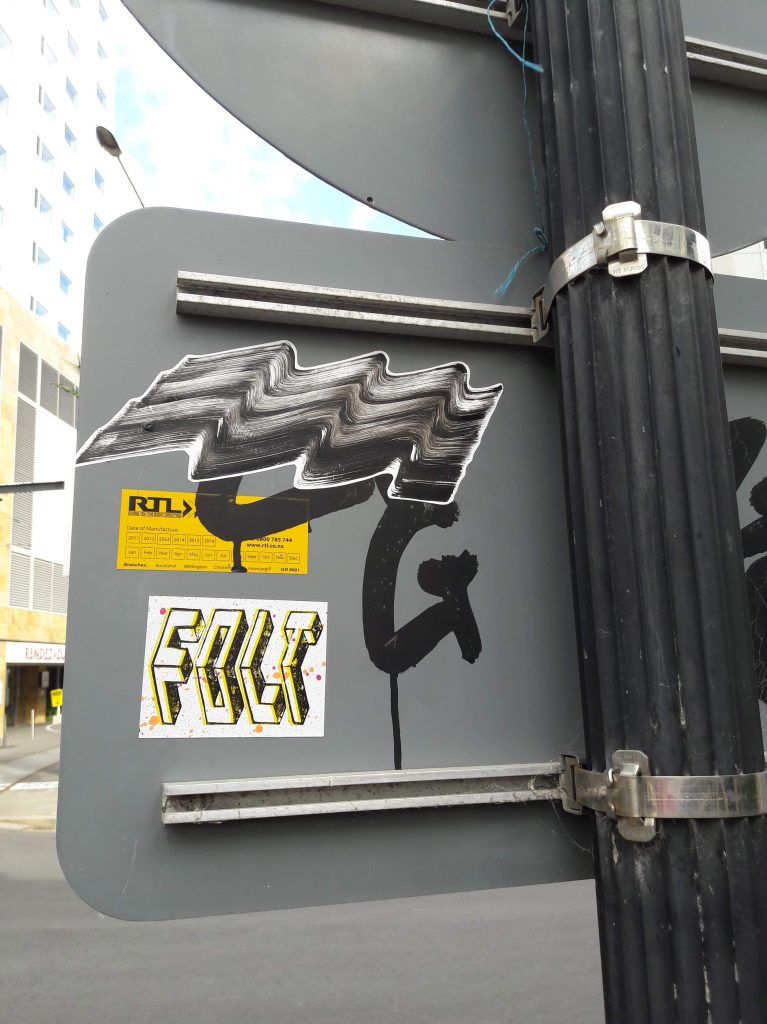 When you're putting the paste ups on the wall, are they constructed with the final image in mind? I'm assuming they are applied on the wall in sequence…
Yeah that's right. With the stickers, I'd start with the background, with the brushy effect using the wide-tip Molotow marker, and then I would just cut shapes out of colorful vinyl, some which I'd spray painted first, and I'd play with compositions. Then I used those stickers to inform the larger paste ups.
Were you thinking about spots for paste ups in a different way to the stickers? I assume there was less planning around the stickers, whereas the paste ups would require some forethought…
There's an abundance of spots out in New Brighton, so it's not hard to find a spot. And during lock down it was so quiet, no one was around, I mean I could have painted them if I wanted to. At the time, I was more interested in the collage approach and finding those small imperfections where they are slightly offset and seeing the depth between the layers, the paper sticking on top of another layer which is on top of another layer and building up. The paper ripples and it creates little shadows and as it gets wet it shrinks and it might warp a bit, the stripe might move off to the side a little…
In terms of placement, what makes a perfect wall? It feels as if your works like to have room to breathe, but also it seems that geometry is an important consideration…
Definitely, I really like a wall to have similar or reflective elements that are going to make it relatable to the work. I like to have contrast, but I also like it to have some sort of unity. That balance is what I like in my work more generally anyway. You want it to stand out, but you want it to fit in, so I try to find texture or line or some shape or something in the composition of the space that's going to contribute to the overall composition on the wall, like a box or a down-pipe, a color or a paint change or a set of windows.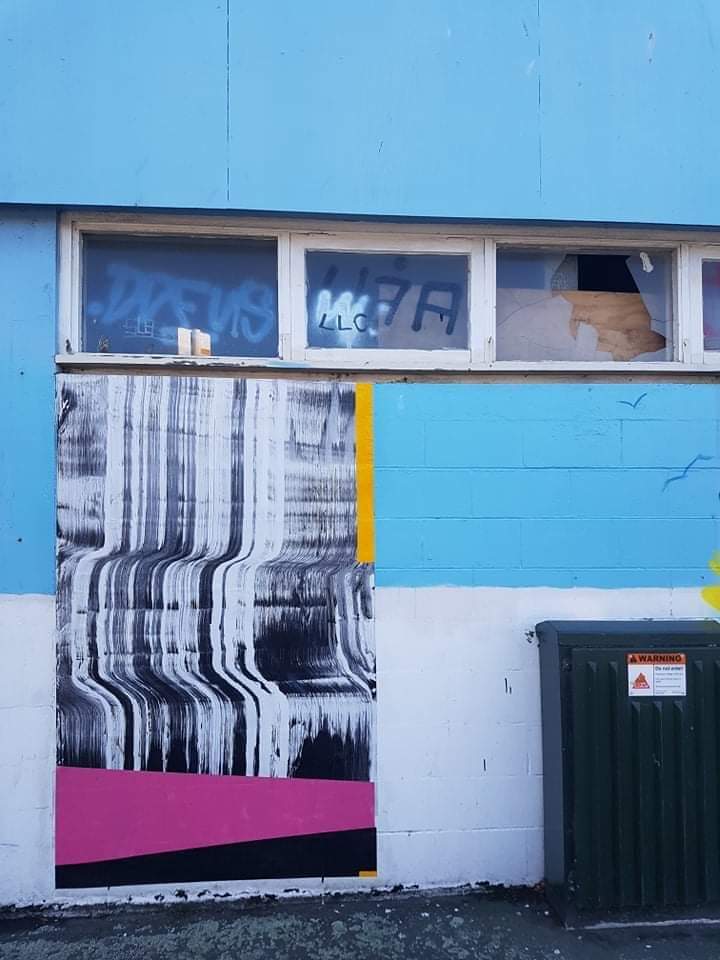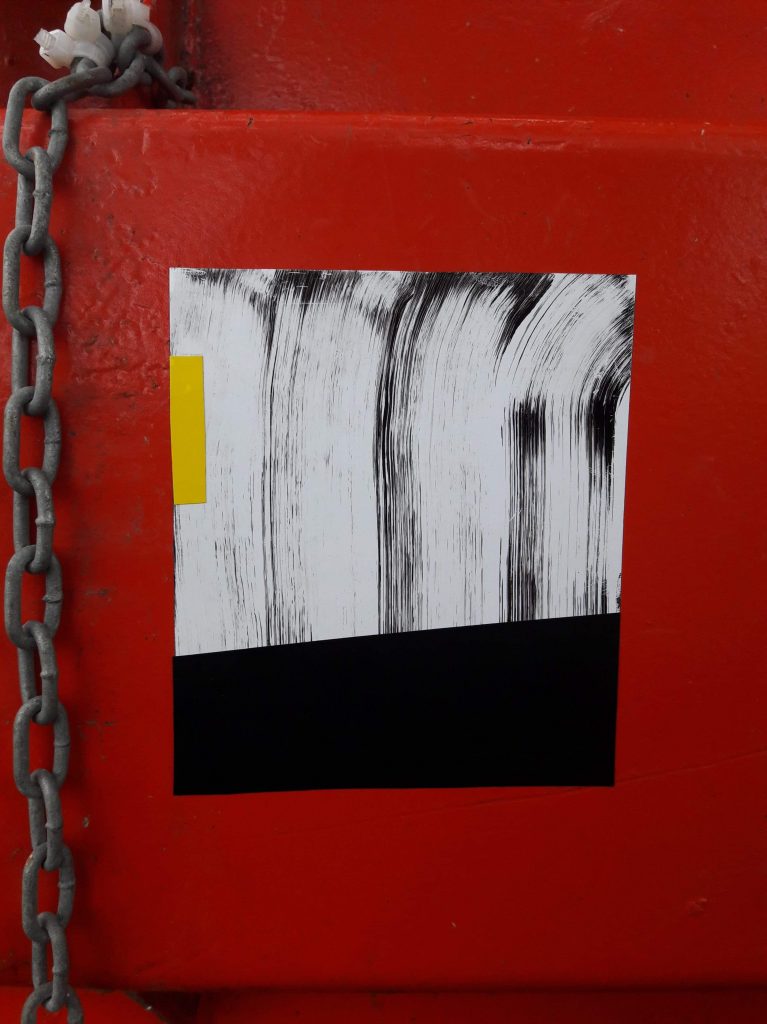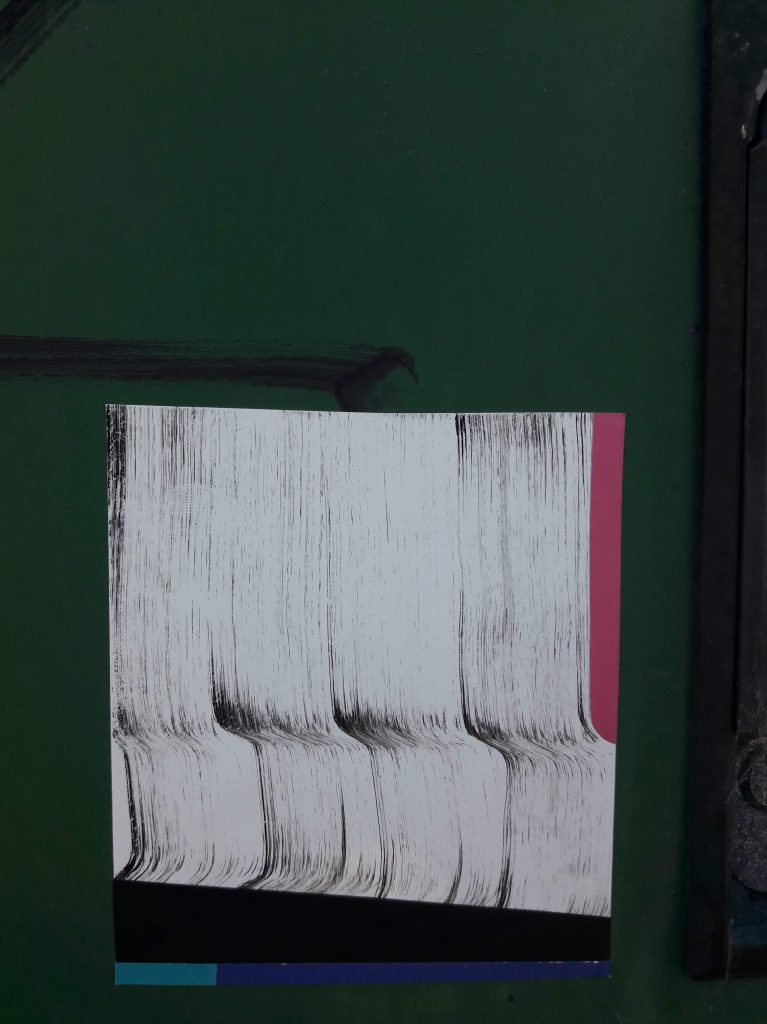 Do you feel this has taken your studio work in a new direction?
Definitely. The stickers started developing with more curves and softer lines and the collage approach to the process is something I'll take forward.
Your work seems to evolve in quite a fluid progression, with certain elements recurring and coming into focus, does it feel that way to you as you are working?
think with abstraction, it can be very sparse in terms of the elements you're working with, so the changes are noticeable really quickly when you do change an approach or technique or some process behind how you make an image. I can really latch on to something just by changing that one thing and that change becomes a solid basis and everything else around that can change but you are still kind of keeping a consistency within the work.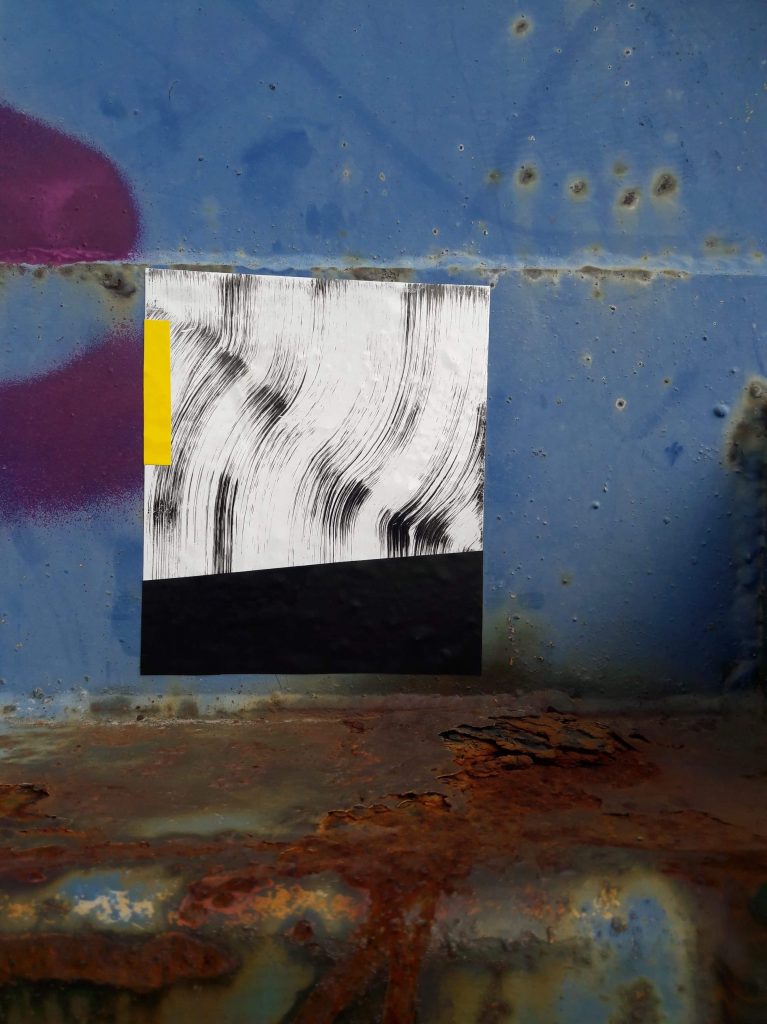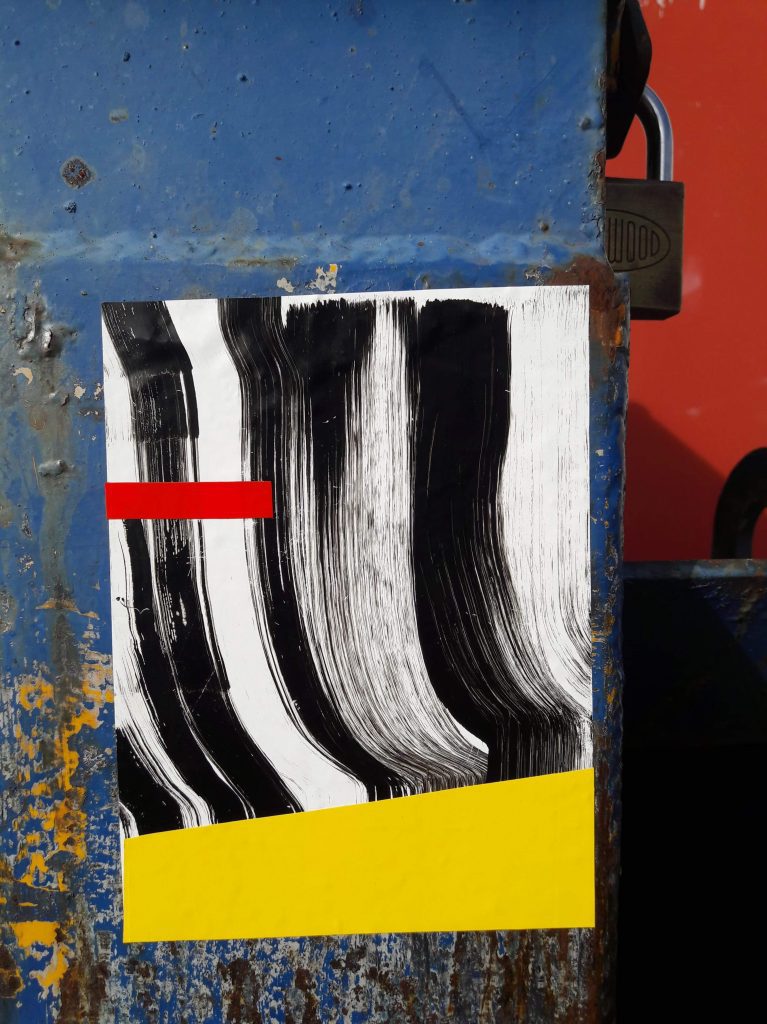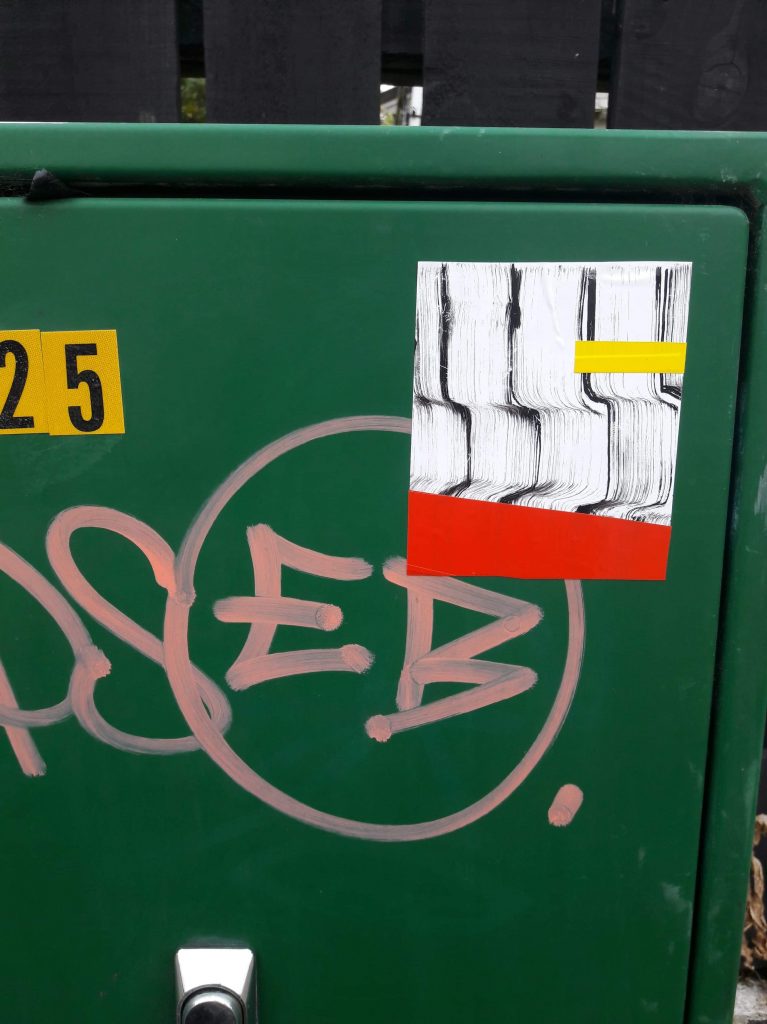 There's an anchor…
I like to have an anchor, especially with colour or shape or composition or texture. The anchor's a link, you could look at it two ways; it's a safety thing, I don't want to jump too far away from what I've been doing, possibly because of fear, but also it keeps it recognizable from previous work so you can see a progression, that connection between where you are going and where you've been.
Has this series made you think about the street/studio balance?
I'd like to do more of the paste ups. I've got lots of ideas for those, but I can see them influencing my paintings as well. I want to take that same process, just do a little collage sticker and then maybe do a paste up or a painting directly from that, maybe try to do both, and just push that image out in more than one way…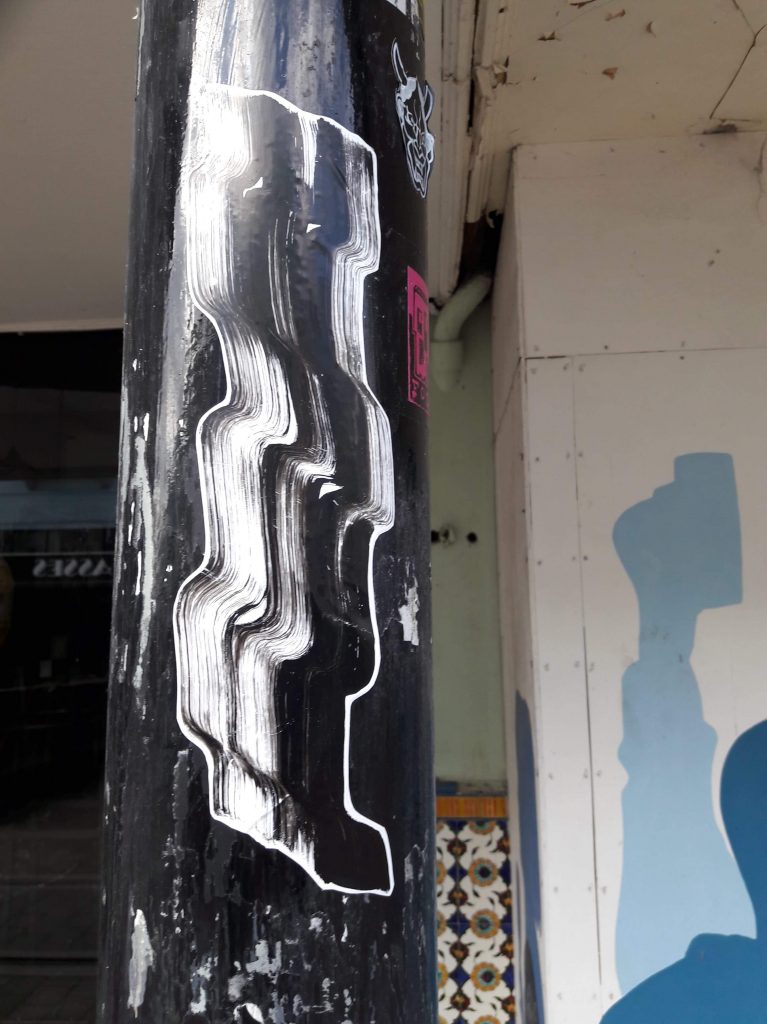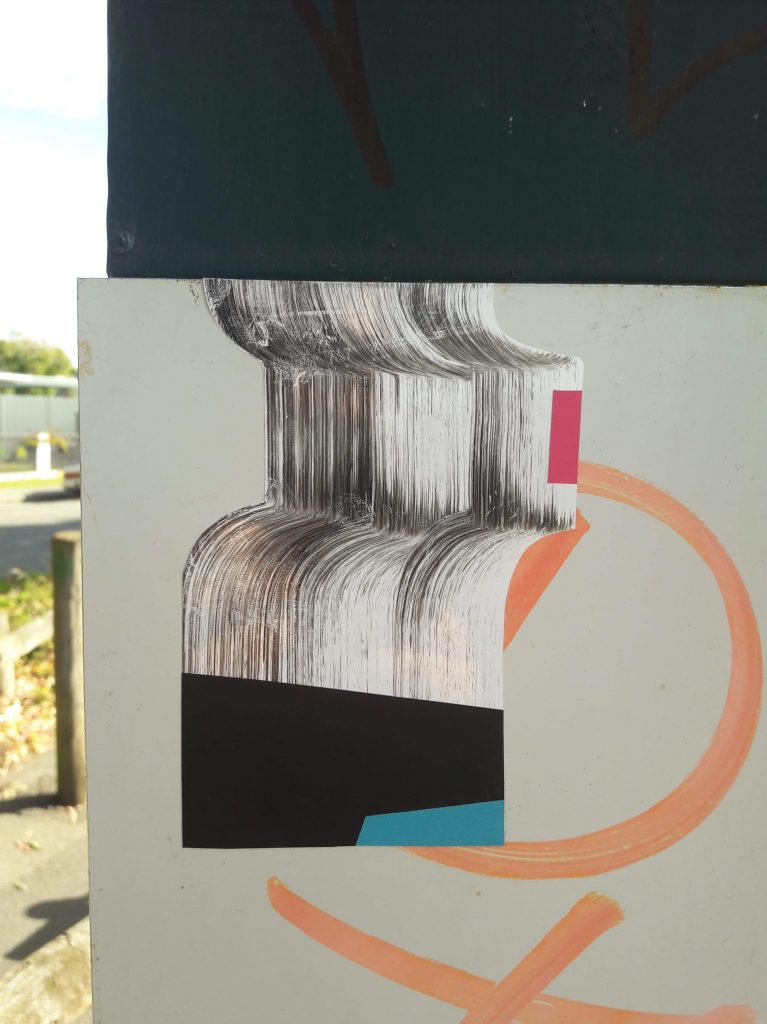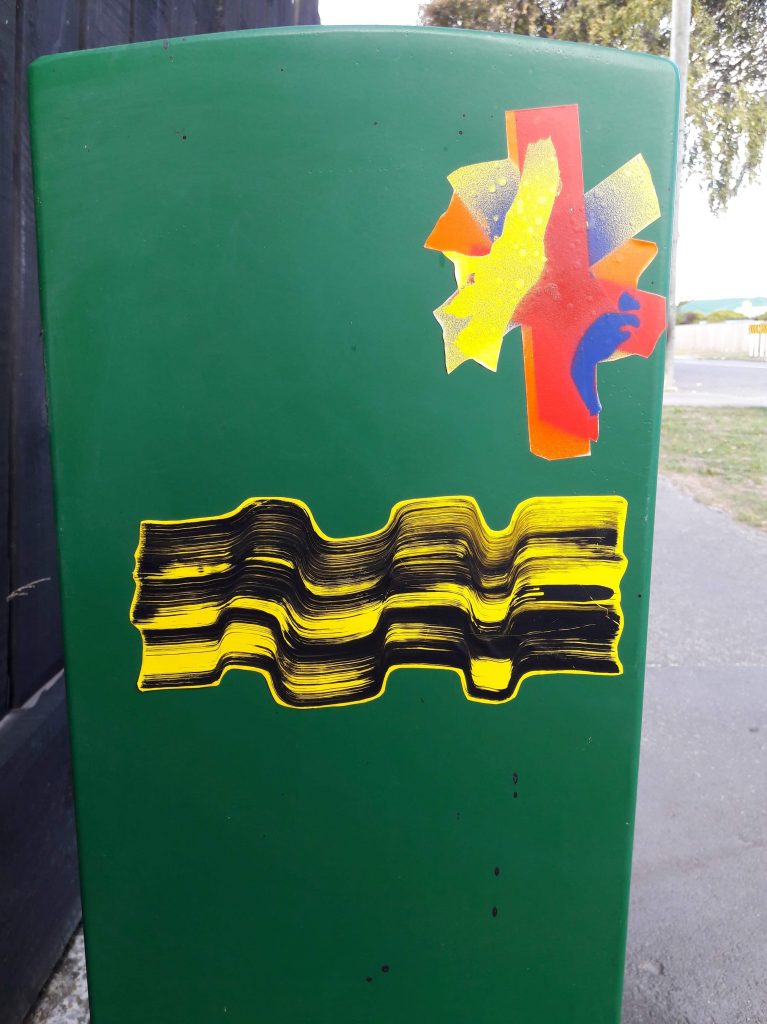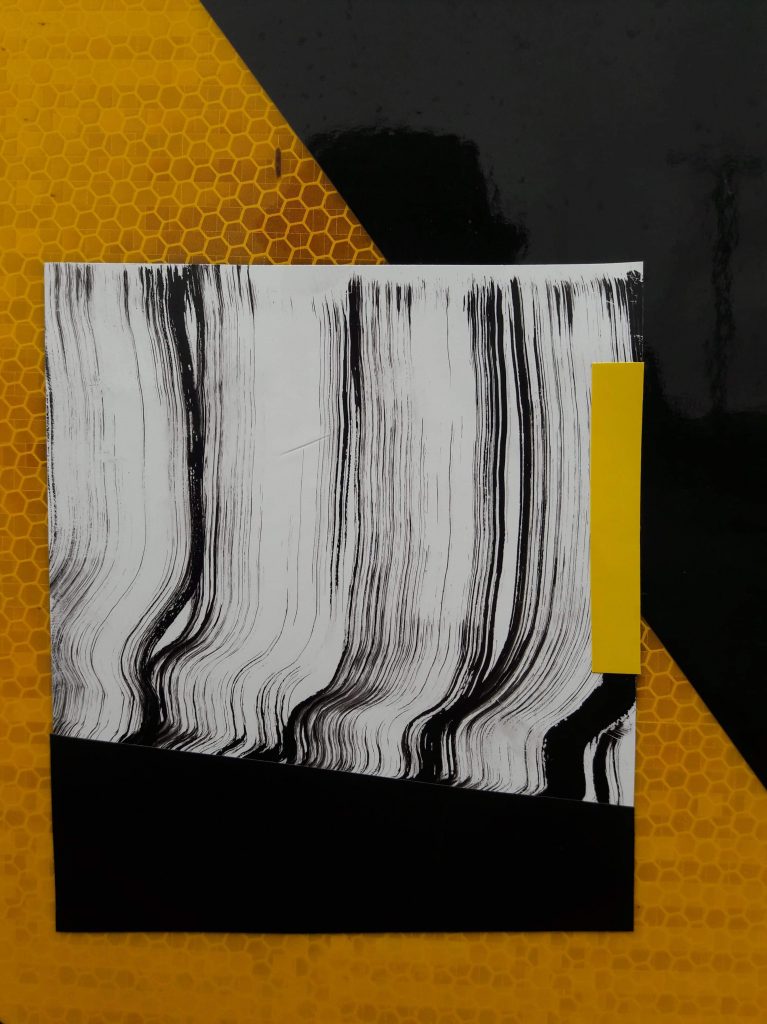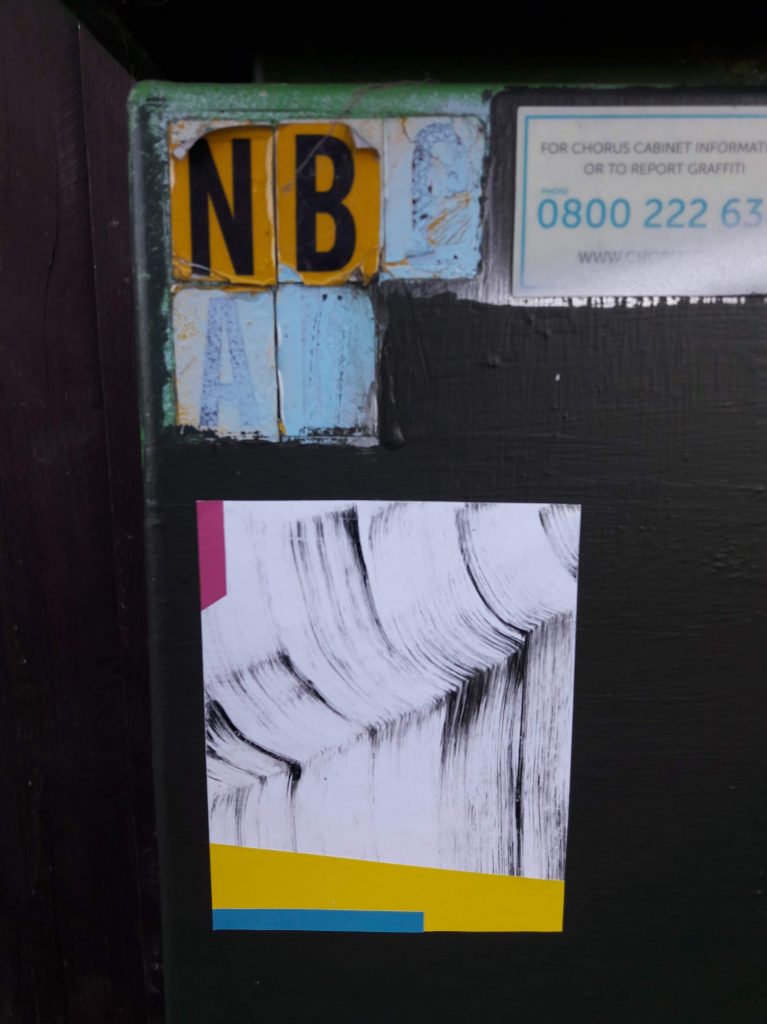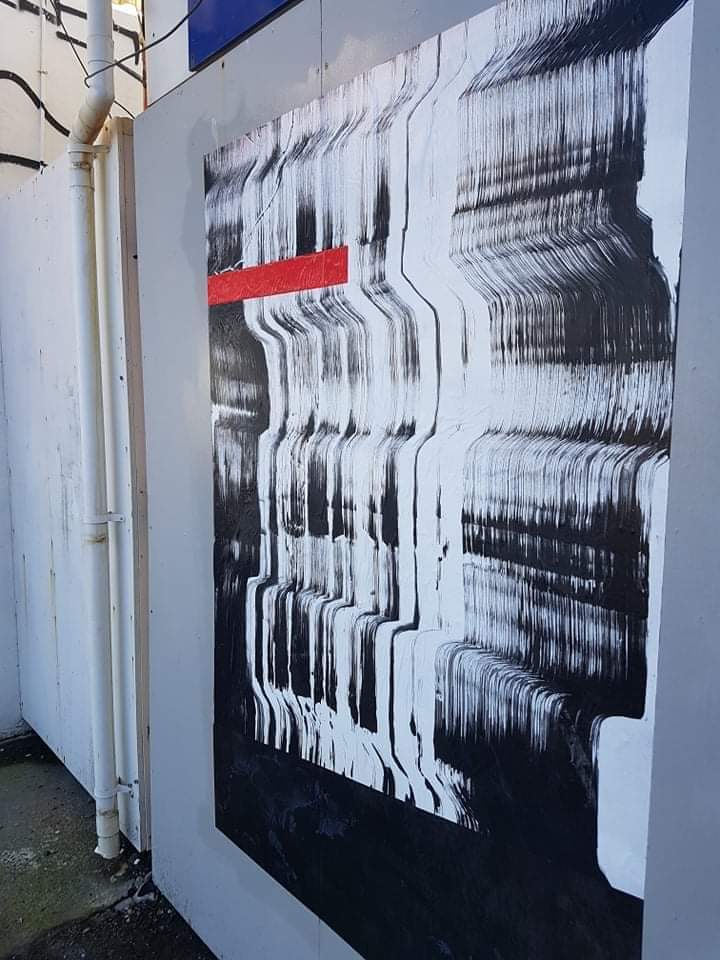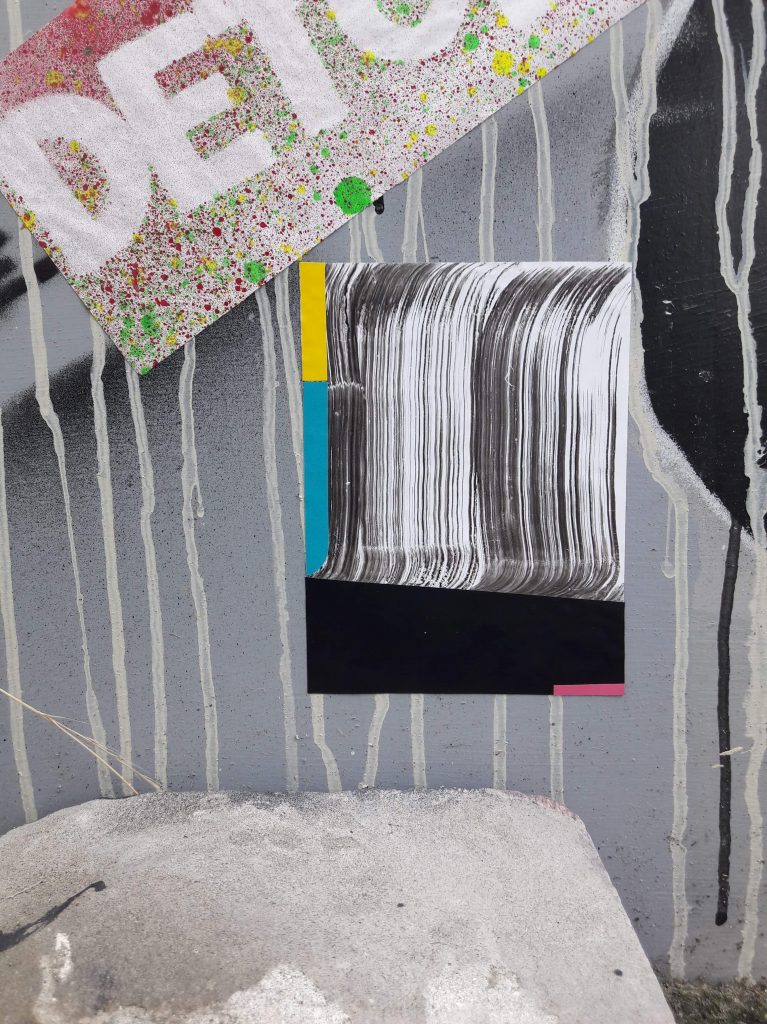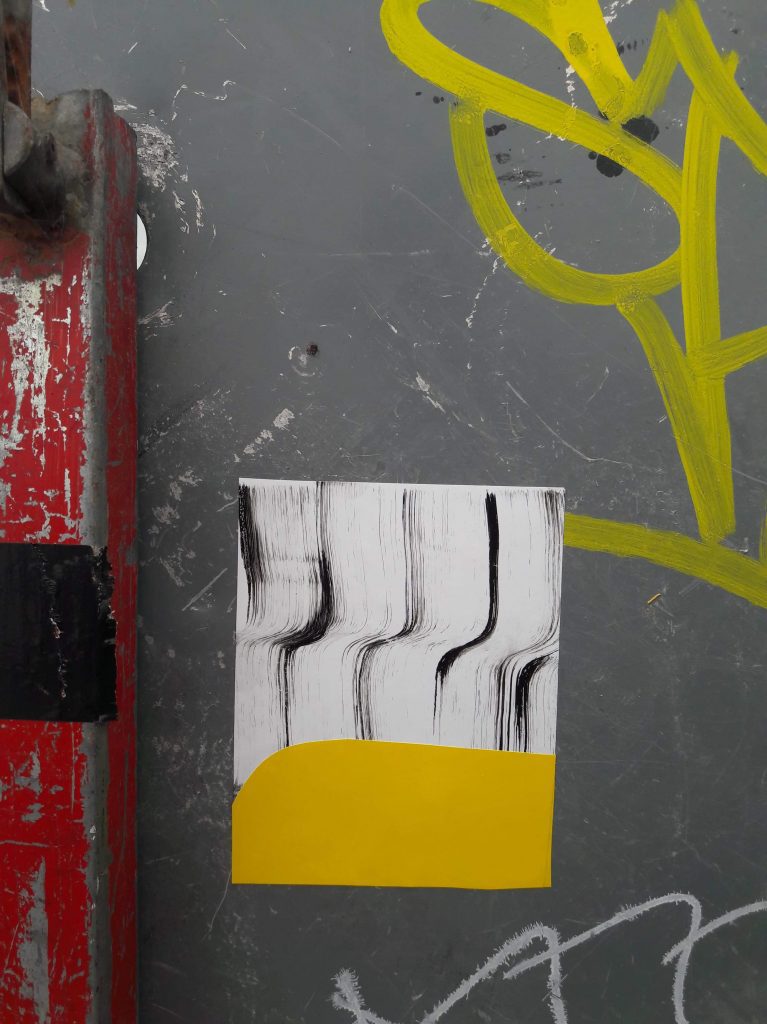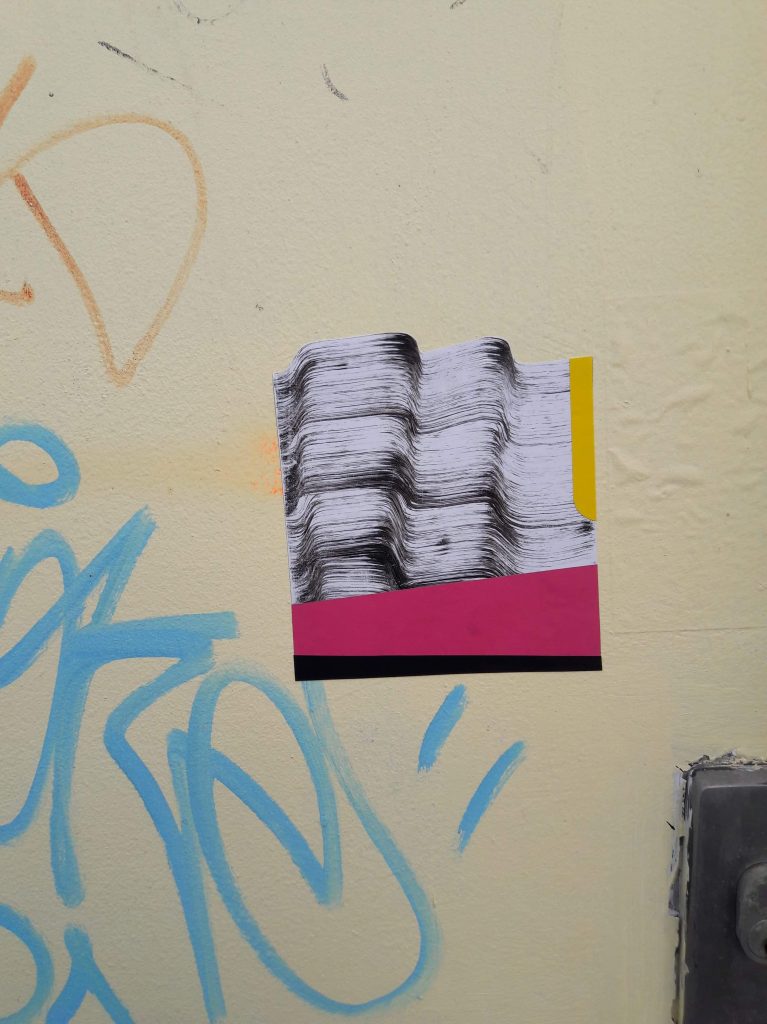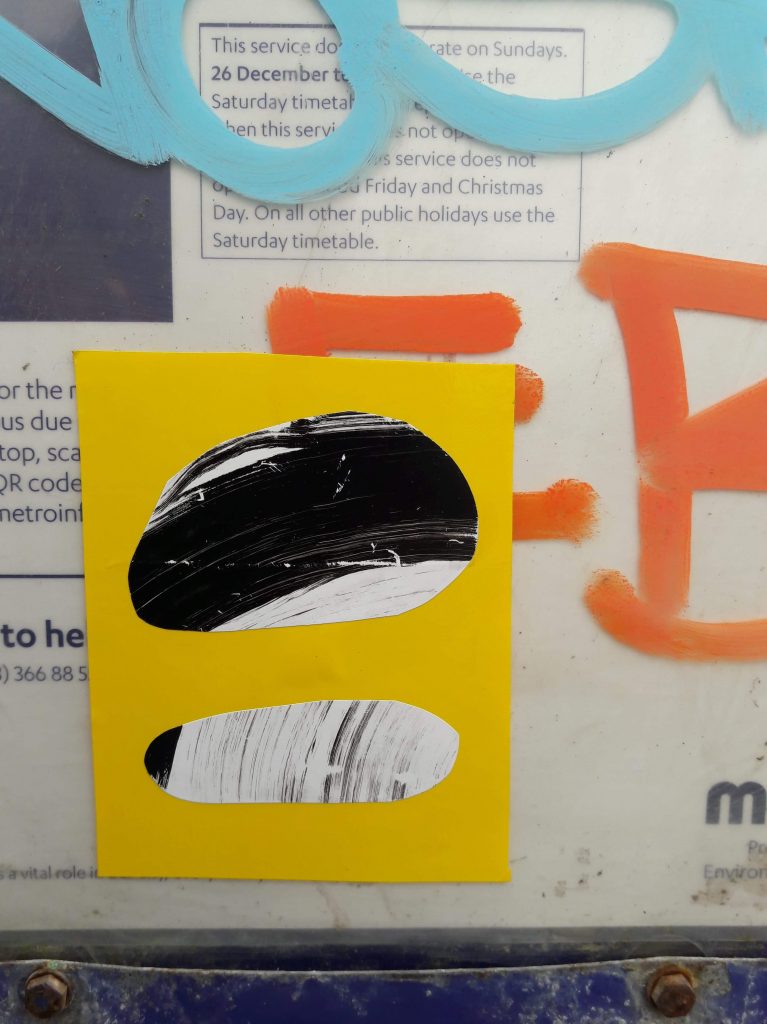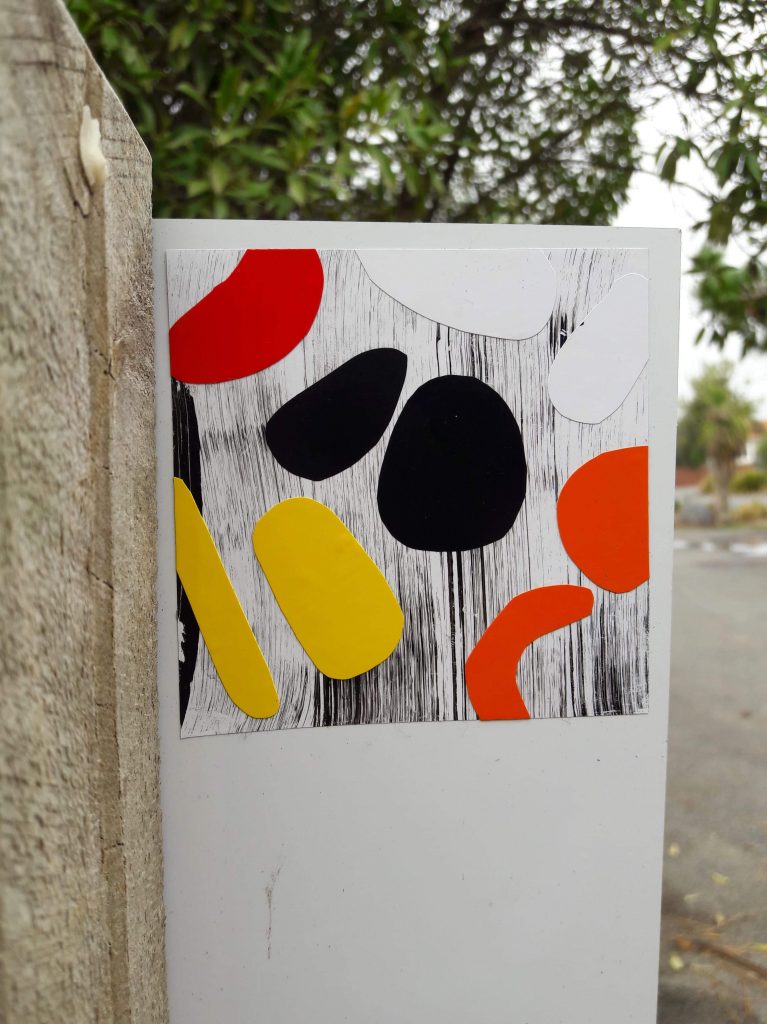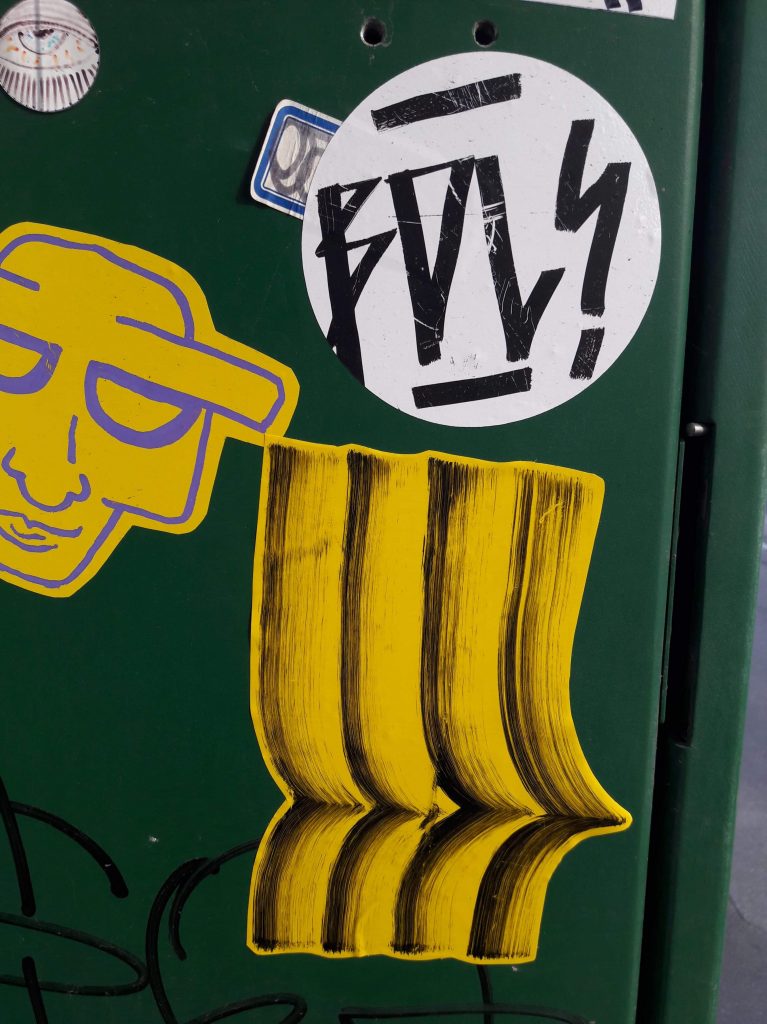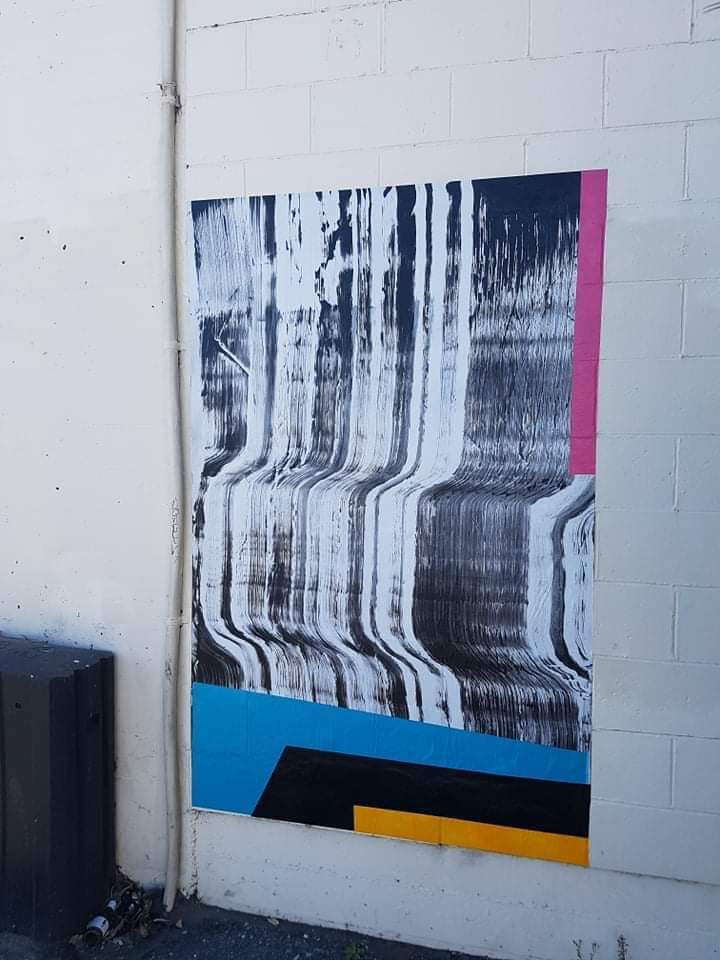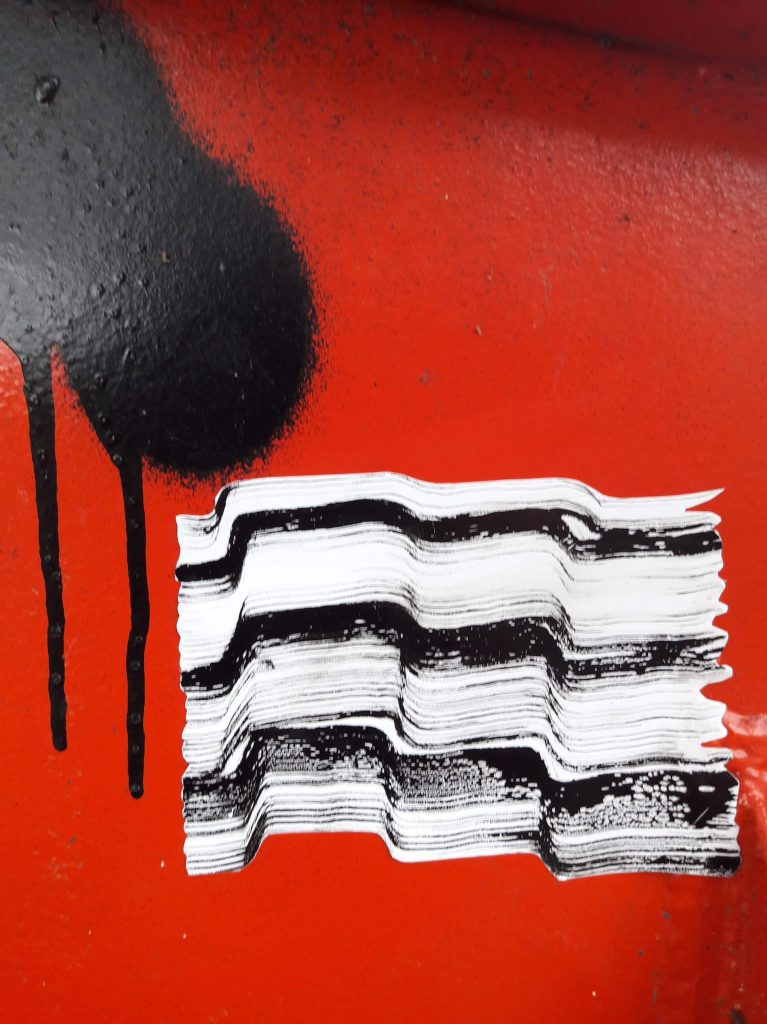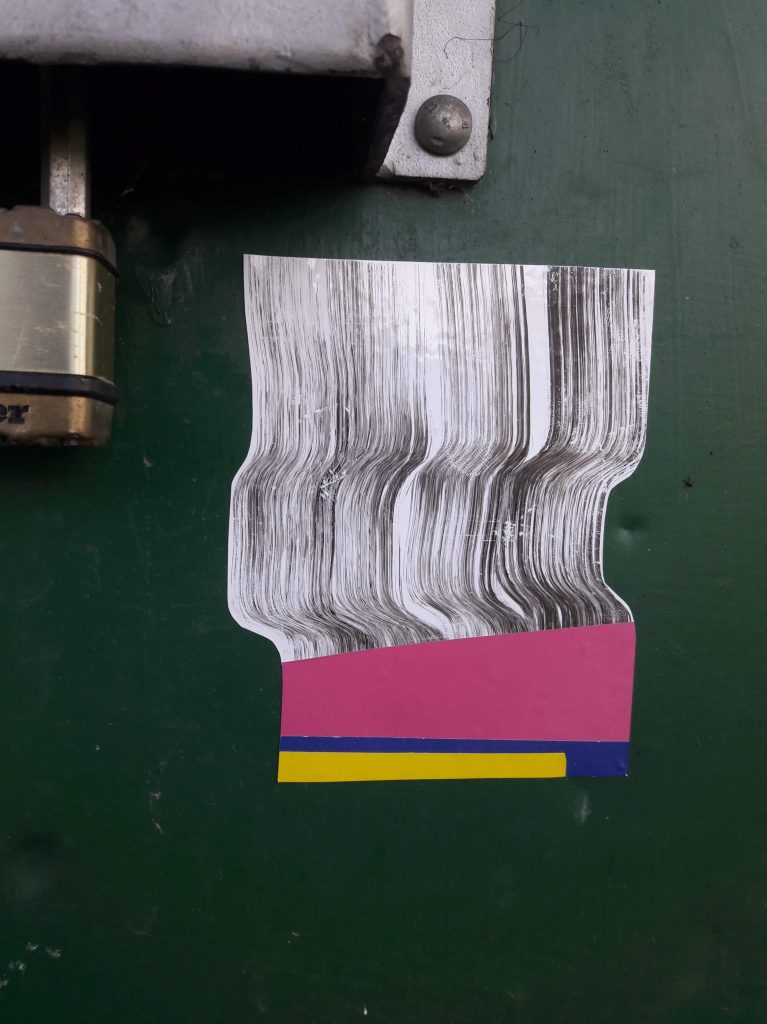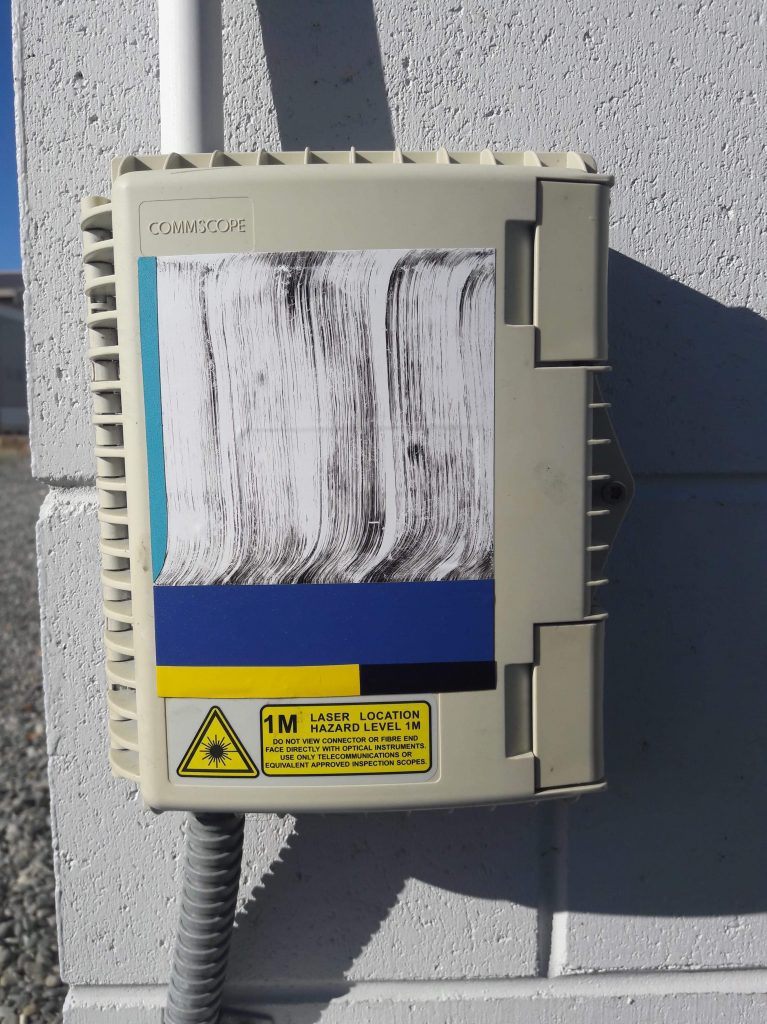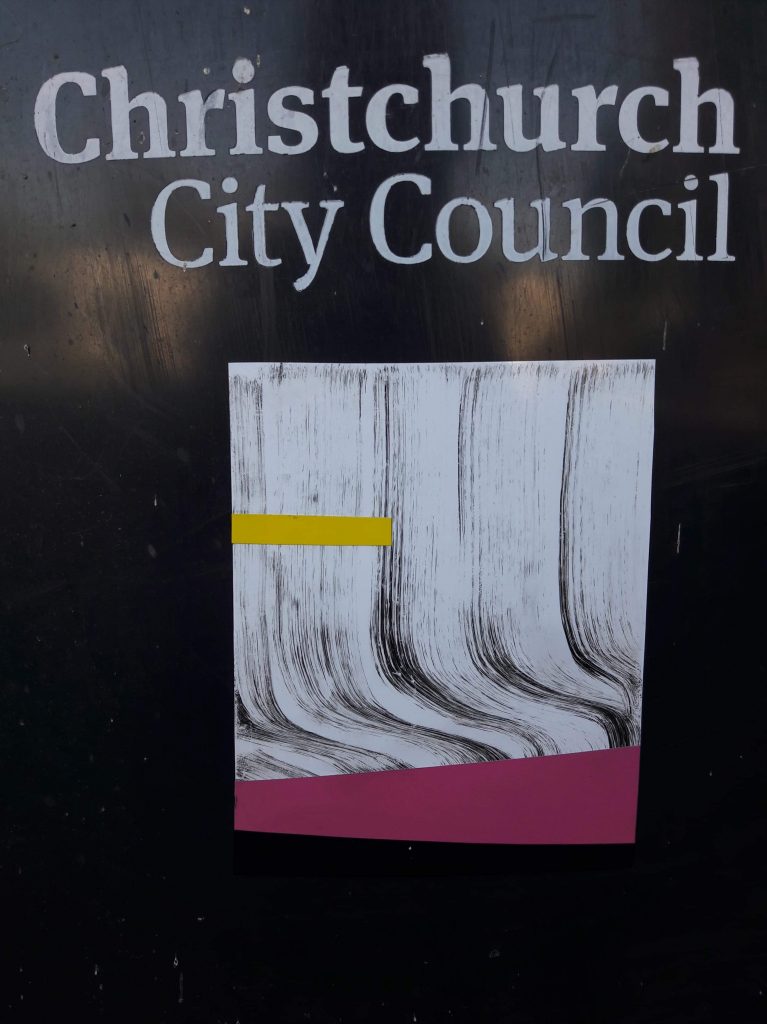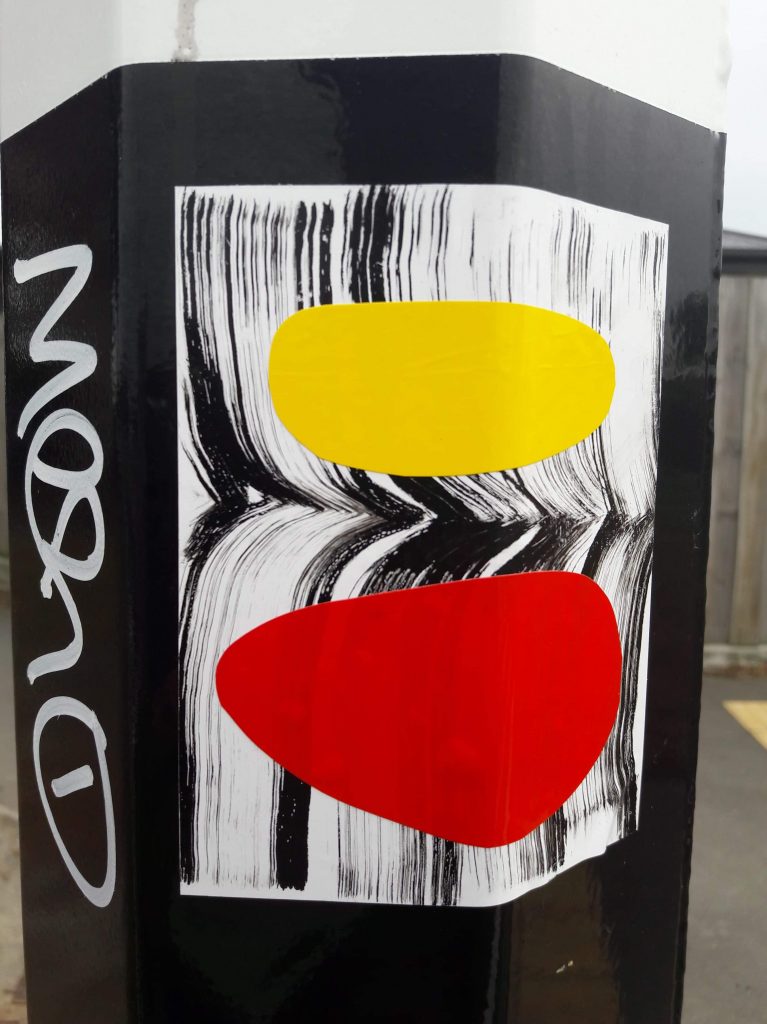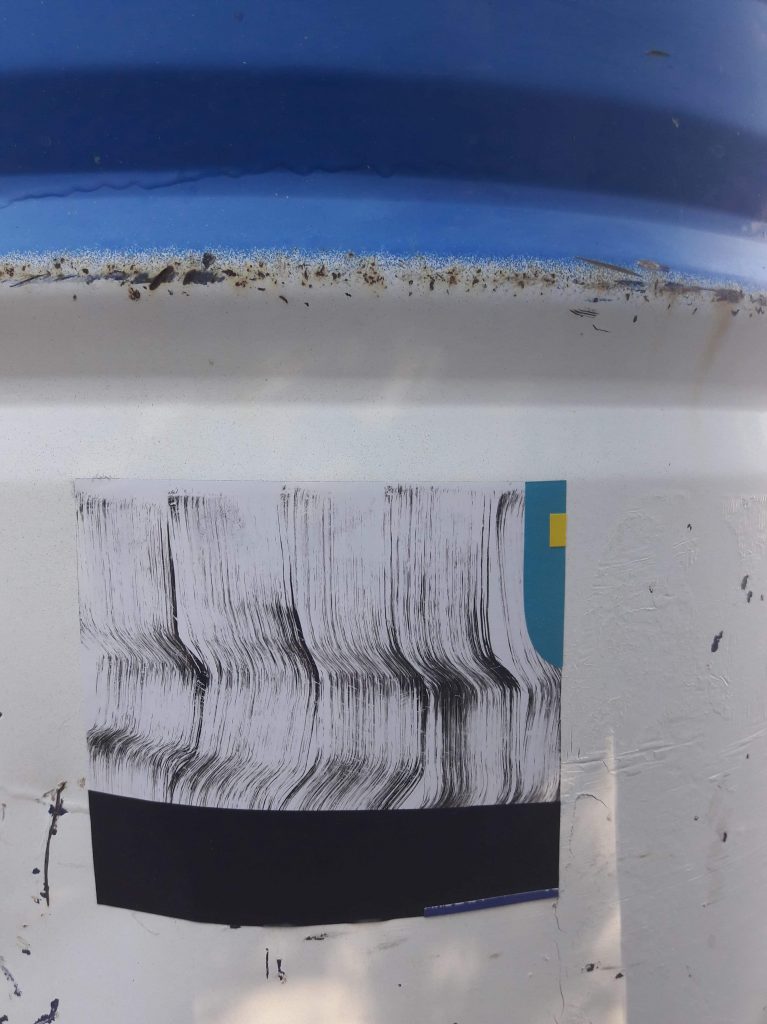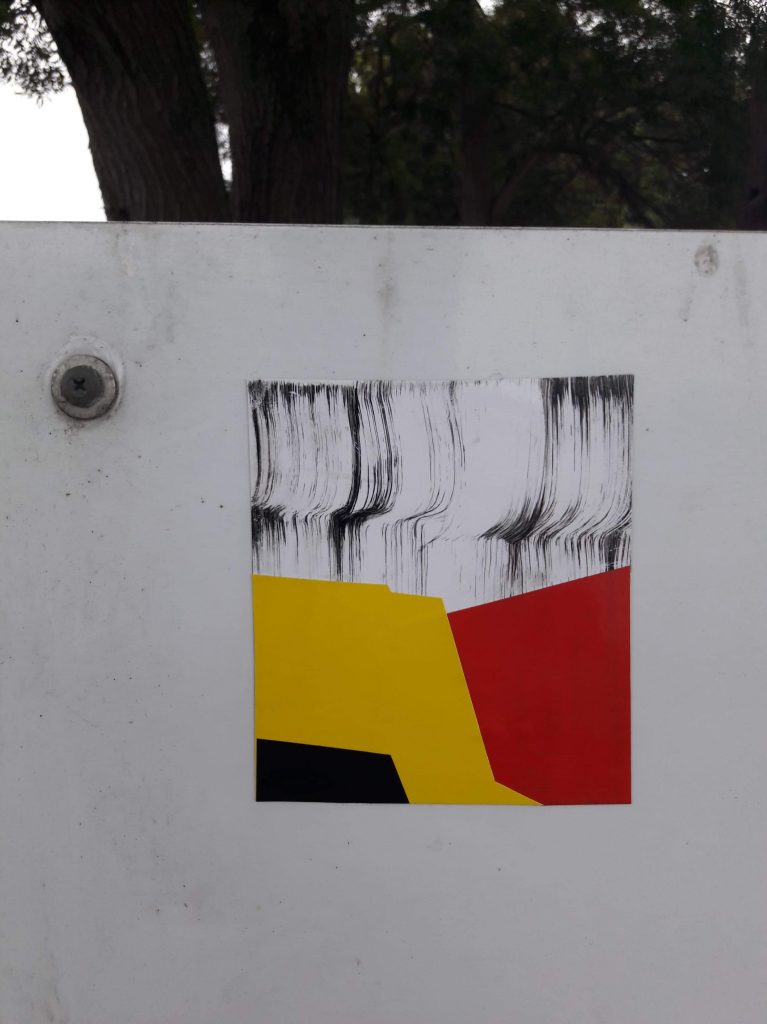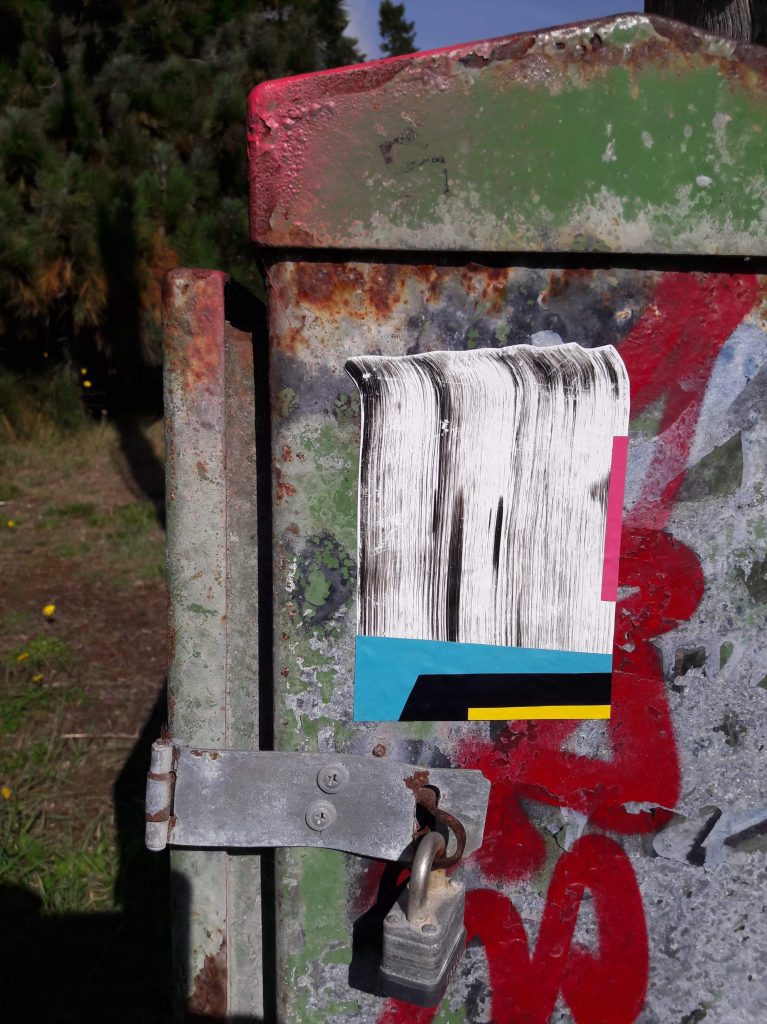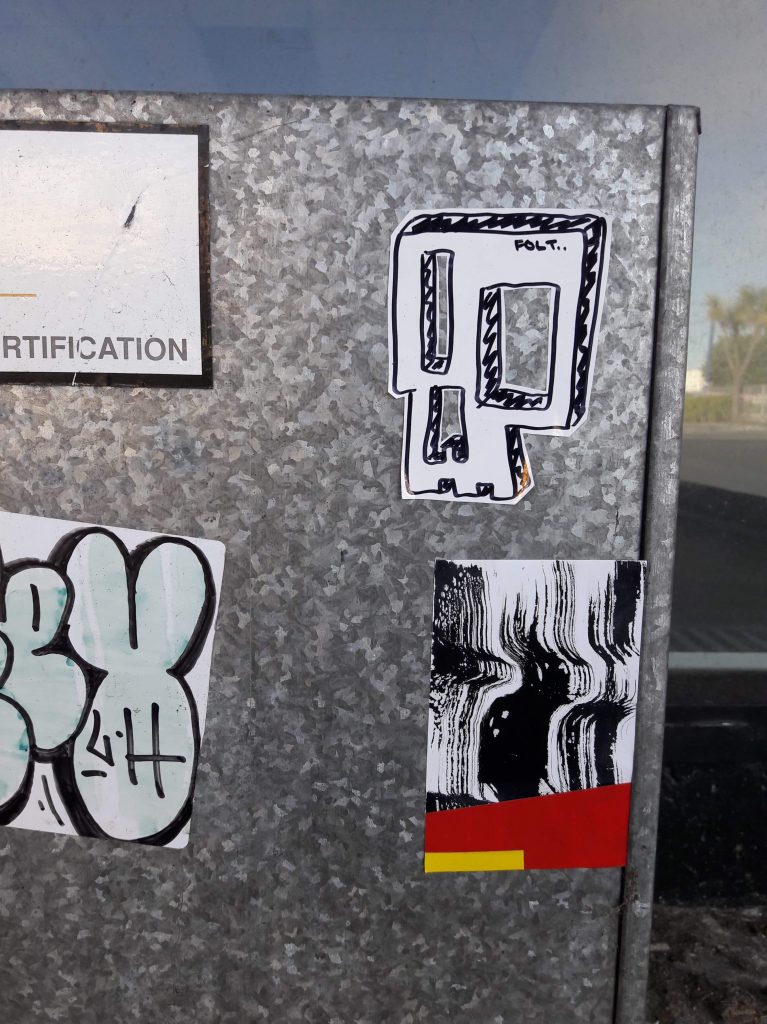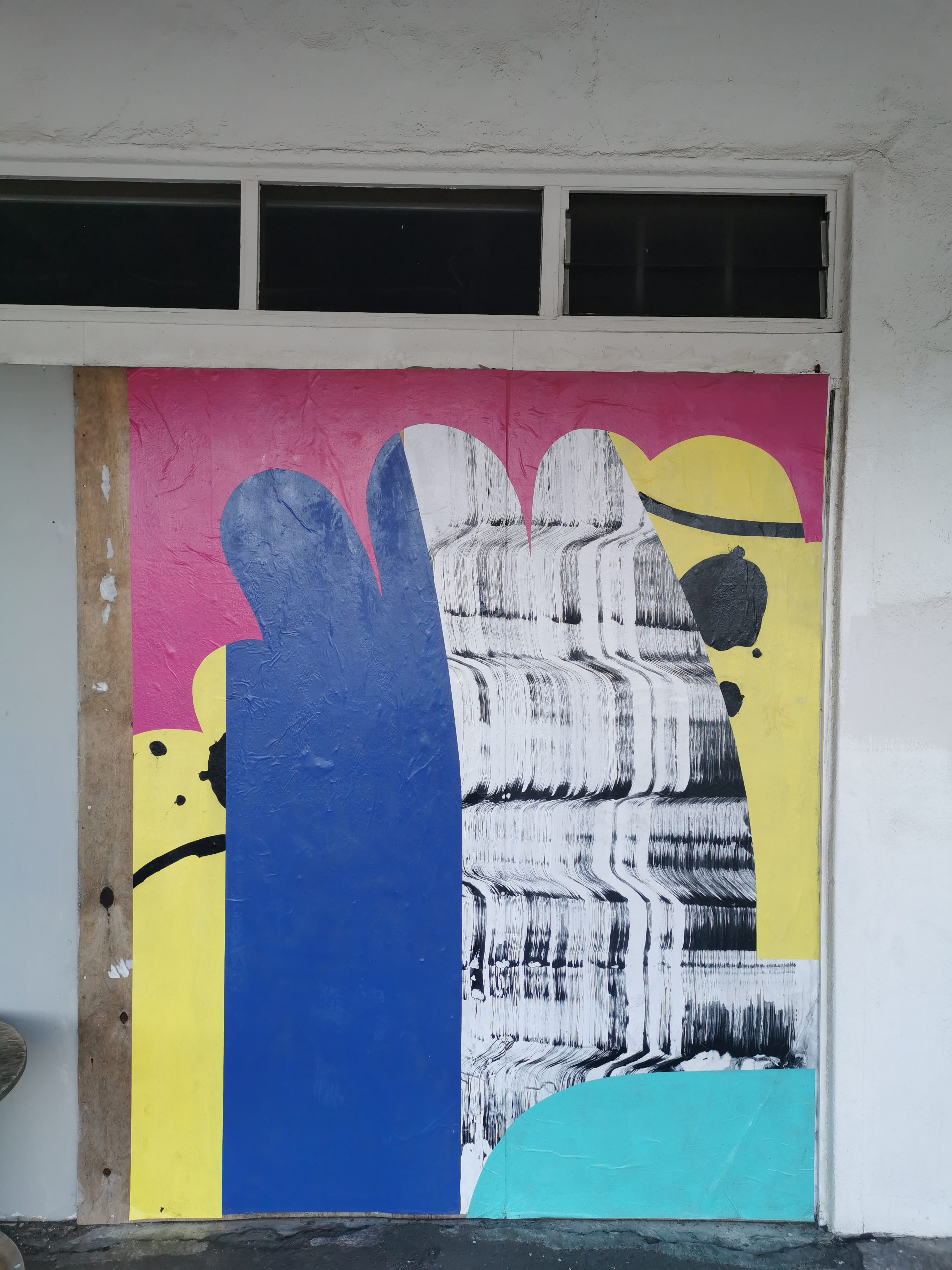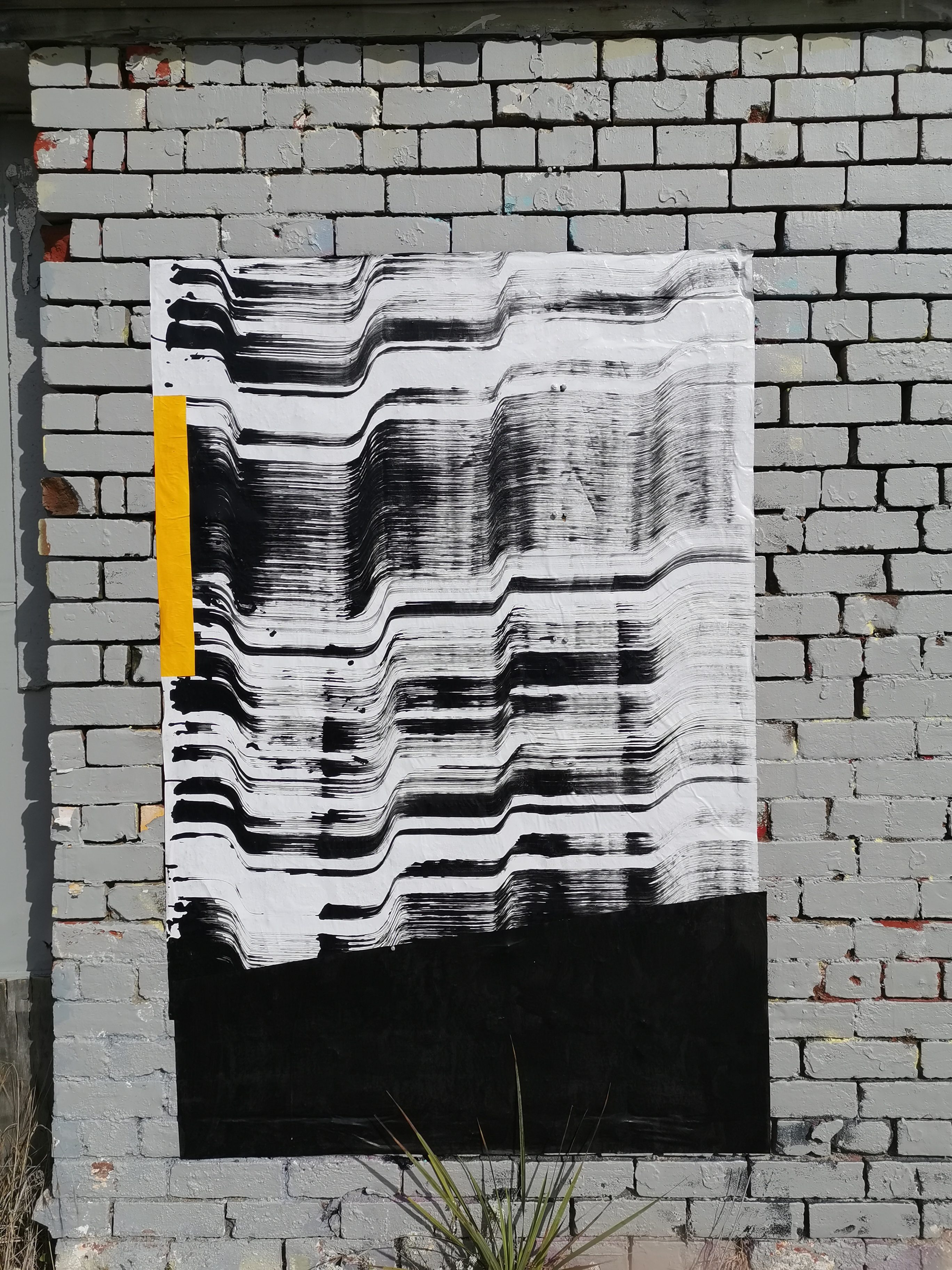 Follow Dr Suits on Instagram and find more of his work at Fiksate Gallery.