With the return of Level Two, August has been a bit of a roller-coaster, with the highs of communal gatherings matched by the returning weariness of congregations and the tiresome political bickering and conspiracy theory wackiness dominating much discourse. But that is where art is so effective, it can be both a glorious shared activity and a private independent adventure, a distraction from what is going on and a reflection of those same issues. The month started with a sense of excitement as I met with artist Tom Bell to discuss his upcoming show Adoration, which provided a great opening night. As time passed, more things turned my head. It was clear people were busy, from guerrilla interventionists, to mural artists, and it felt like the city was alive with activity. This energy has been somewhat tempered by the potential of a shut down (at the time of writing this at least), but it gives me pause to believe that even when difficult times emerge, art can always find a way to help out…  
Tom Bell – Adoration @ Absolution
The month kicked off with a farewell as Tom Bell presented Adoration at Absolution in the Arts Centre. Tom has been based in Ōtautahi for several years, working as a graphic designer, while diving back into painting more recently as a creative outlet. His art has long been entrenched in Japanese imagery, and Adoration played homage to that 'adored' visual style. Intricately cut and painted plywood, with subtle layering and flashes of detail made for a striking collection. The turn out was also impressive, with Absolution jam-packed, a well-deserved result for the artist's long path towards Adoration.
Levi Hawken's urban installations
Auckland-based artist Levi Hawken's concrete sculptures were introduced to the city at the Fiksate show Urban Abstract last year. Placed within the gallery setting, they were immediately recognisable as versatile aesthetic objects. But Hawken's works are undeniably influenced by the urban environment and they gain so much from their placement within the cityscape. It was therefore an awesome surprise to see a number of his small works mysteriously applied to walls and fixtures around the city, subtly subverting expectations.
Wongi 'Freak' Wilson's TradeStaff mural update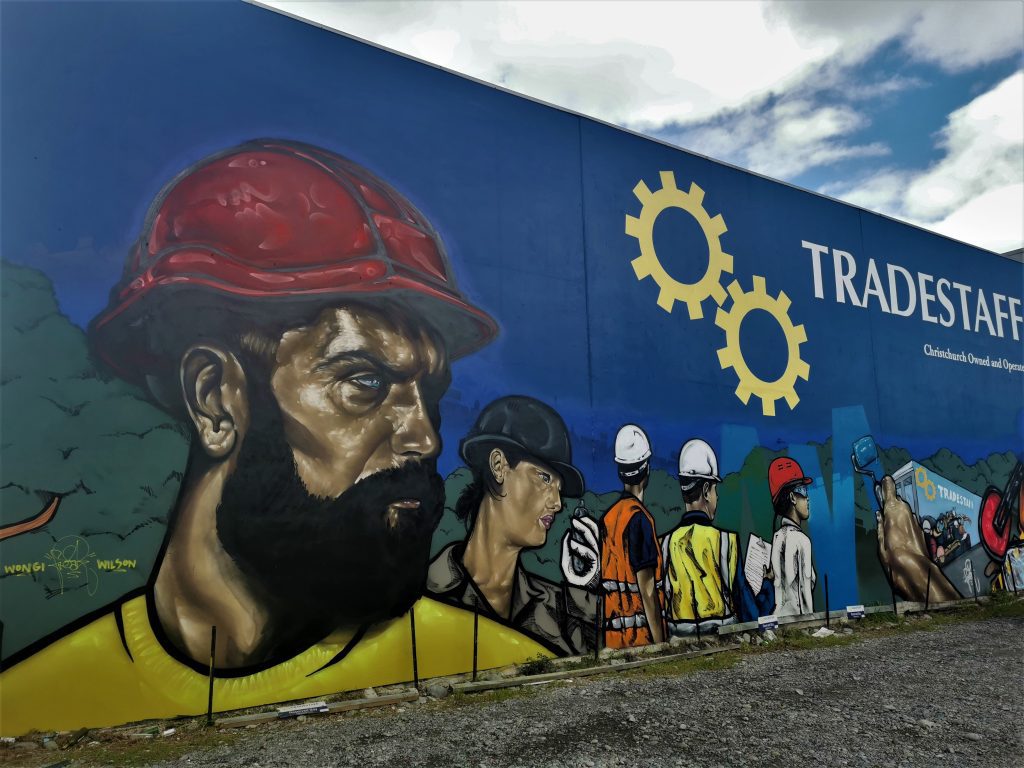 We all know Wongi Wilson's aerosol technique is mightily impressive, and that rings even more true as time passes and he refines his approach. That reality is instantly recognisable with his recent refresh of his own TradeStaff mural on the corner of Colombo Street and St Asaph Street. The original mural, painted around 2013, had become a familiar site in the CBD, but the new work, still in progress when I first saw it, is incredibly striking, almost invoking the proletariat intensity of propaganda posters…
Catching up with old friends…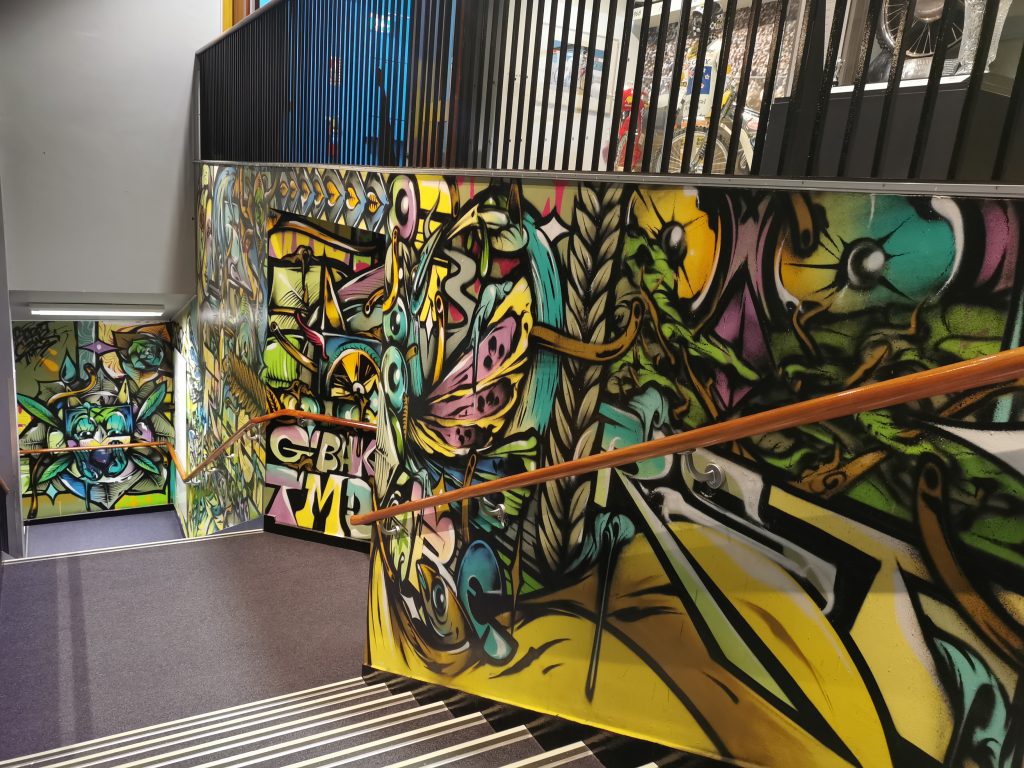 Over the month of August, we have been putting together a project that we can't wait to share… but for now, it is enough to say it has been a heap of fun catching up with a bunch of our favourite artists and revisiting some of their most memorable works (including some more recent additions), such as Berst and his God of the Forest in Sydenham and staircase mural inside the Canterbury Museum (pictured).
Distranged Design on Manchester Street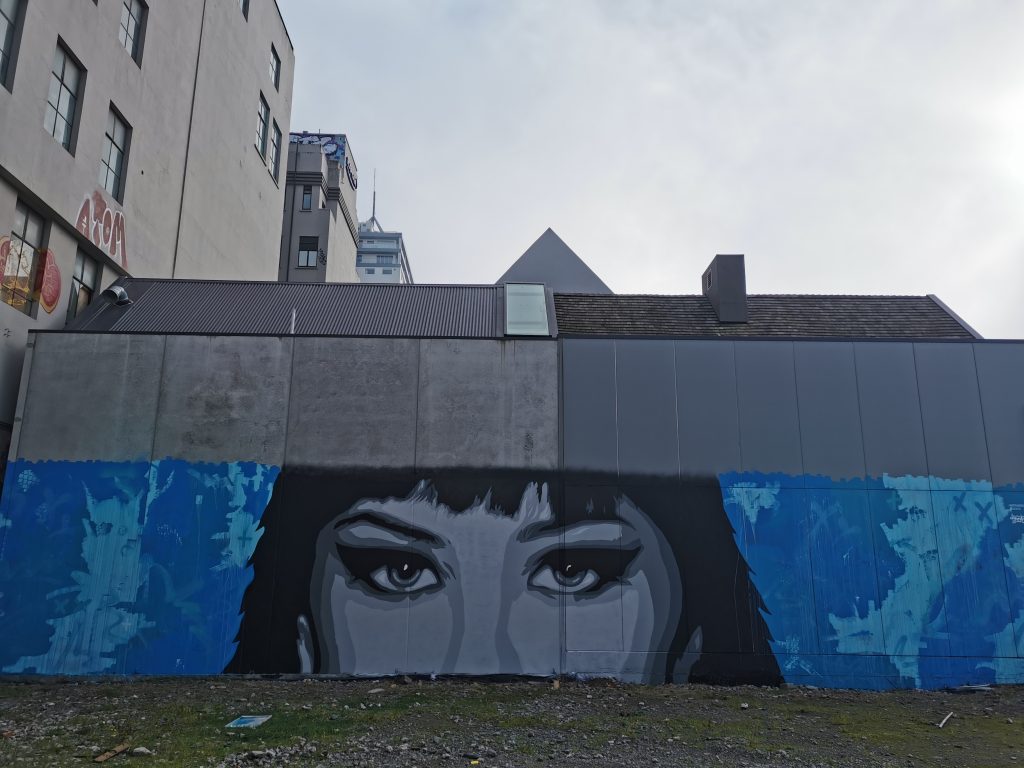 Distranged Design's newest outdoor work on Manchester Street is an impactful surprise, anonymous eyes peering out from an expressionistic blue background splashed across a distressed wall. Staring at passing traffic from behind hurricane fencing it is an alluring sight and forms part of a larger collection of interventions in the vacant lot…
What were your highlights from August 2020? Let us know in the comments below…