The fourth and final artist in the Paste-Up Project is Mark Catley – one of the city's longest tenured paste-up artists. Mark's nostalgic vintage toy paste ups have been a familiar site across Christchurch for many years and as such he was a natural contributor to this project. For his installation, Mark continued his toy parade, this time with huge images of Barbie, G.I. Joe, He-Man and more circling the bollard like a line-up awaiting identification. Catley's work evokes nostalgia, warm recollections of childhood favourites, but it also illuminates the darker side, from the ridiculous body shapes and reinforced gender stereotypes to the problematic materials used in production. We chatted with Mark and dived into his experiences pasting art around the city and the Paste-Up Project specifically, and, of course, a specific Star Wars character…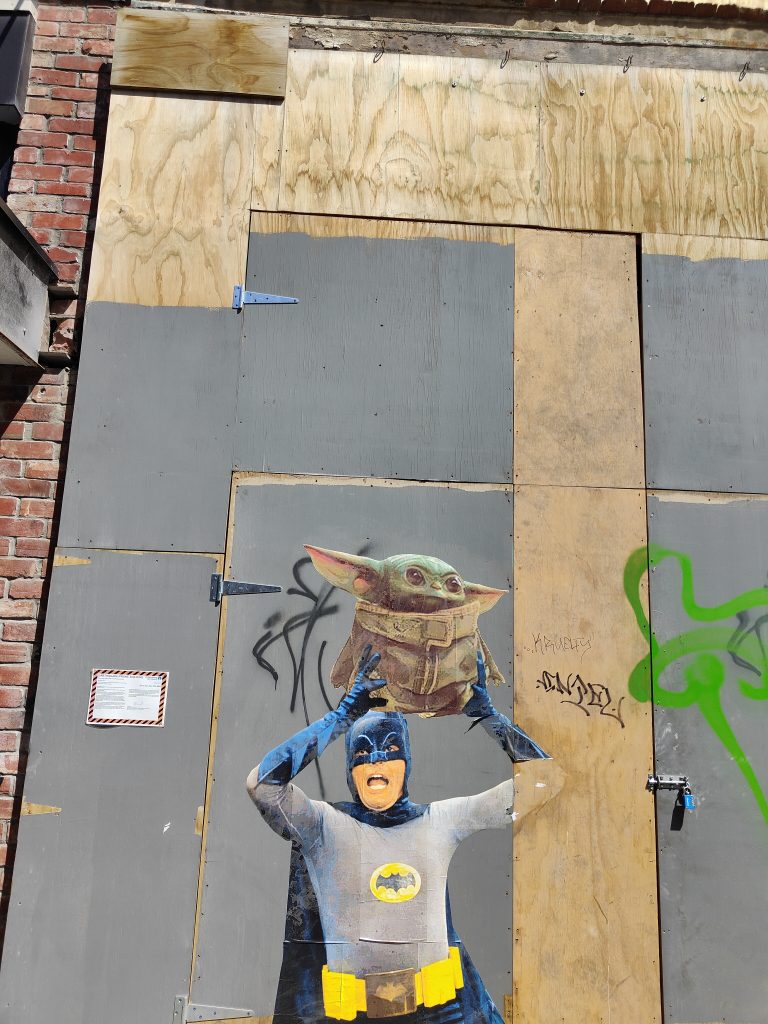 It seems like you have been pasting art up around Ōtautahi for a long time, do you remember when you started?
Well, according to my Instagram page, it was 2015. I only worked that out based on when the photos were taken of the big Batman and Robin faces opposite Victoria Square, it's some fancy restaurant now…
The Permit Room…
Yeah, that's it!
So, what was the inspiration?
Well, a lot of people were doing it at the time. After the earthquakes, things had changed, and I just thought I'd give it a go. I honestly don't even remember now. I would've had a friend print them out for me. I was doing my insurance work at the time, and I would get emails about toy figures and I would open them up and put them on my computer monitor and I just started taking photos of the faces of Batman and Robin and then I went home and made them bigger and I just pasted them up. At first, I didn't actually know anyone doing it personally, so I just had to Google how to do it myself. I remember going to one of those Instructables websites about how to make wheat-paste glue. I just used the first recipe I found and I pretty much stick with it even now…
Did it always make sense as the medium to use to put your art out in the streets?
Well yeah, I mean, I'd never tried using spray cans or anything like that and I figured this was the quickest way to get it up there. Then by chance, the first time I put them up, I think it would have been the Batman head, I remember walking back to my car and turning around to have a look, thinking that's pretty cool, and there's some guy yelling out to me: "Hey you!" I was like, oh shit! I mean, it wasn't that late, it would have been daylight savings, so it had only just got dark, and this guy shouted out to me. I turned around and I just replied "Yeah?" And he asked me: "Did you just do that over there?" I said "Yeah", and he said it was pretty cool, but he wanted my details, and I just gave them to him. I told him my name, I gave him my cell phone number, and then nothing happened. It wasn't until six months or a year later that The Press ran a story about this mysterious street artist and it turned out the first guy was a reporter and after the first story was posted on Stuff, that reporter spoke to another reporter and they knew who I was straight away. So, someone from The Press phoned me and said: "Oh, so was this you?" And stupidly I just said, "Yeah it was", being the good boy I am. I remember hanging up and thinking, shit! So, I rang them back and said: "Hey, why don't you just not put that it's me and have a bit of fun with this?" But he was like, "Nah, it's too late." So my dream of being a mysterious artist was washed away…
You were never able to become the Banksy figure of mystery…
Exactly, I never really had enough time to give myself a cool name or anything.
I don't think I'm creative enough to come up with a good name…
I've got a good name now, a podcast gave it to me: BosskCat, because Bossk is my favourite Star Wars character and my last name is Catley, so BosskCat. They even made a picture of TopCat, but with Bossk's head stuck on it. That was some guys in England who thought of it…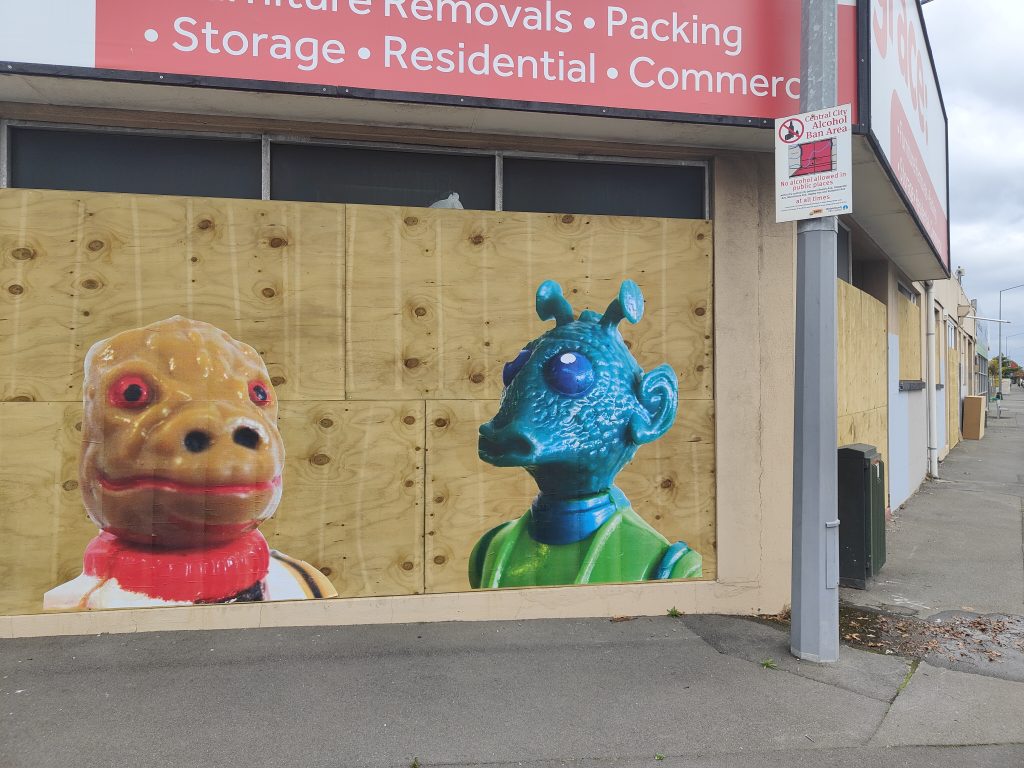 You have become known for your annual May the 4th Star Wars bonanza, has that become something that you look forward to each year?
I really like to do it. It's just a bit of fun and I imagine even if no one else cared, I would just put them up for myself for fun. It must have been a few years ago now, but I remember it was hosing down on the night of May the third, it was stupid weather, you know, there was no way anyway should have gone out putting up paste ups, although some of those pieces have lasted for years. Anyway, one of them was over in Lyttelton, on the old fire station, it was a Princess Leia paste up, but there were about 10 or 12 Russian sailors all hiding under that spot, with bottles of vodka and a plastic bag of cooked fish. They were just drinking and pulling out bits of fish meat to eat. The smell was revolting. I was annoyed because that was the spot, you know, I'd worked out a few days earlier that was the spot, and because it was raining I thought no one would be there. Anyway, I half tried to explain what I was doing but they had no idea what I was saying, they just laughed, so I just quickly did it and got out of there, looking back it was pretty funny…
Interestingly enough, other people started to add to that piece, right? Was that cool to see?
Yeah, they put like little pockets and a big mouth on there, that was cool…
It gave the piece its own life after you walked away, and that's a good lead-in actually to the Paste-Up Project, because although you haven't got any Star Wars figures, obviously the vintage toys are a central element, so explain the concept that you've installed…
I really wanted to do something interactive and get the public involved. I was treating it along the lines that it's going to be pretty hard just to keep it updated, let alone with people playing with it, so I just thought I will have some larger figures up there from generic toys from my memories; I really wanted to have a massive Barbie from the 80s, a Sport Barbie in an 80s leotard, showing how crazy the body shape was. I also wanted a He-Man up there too, because I've been talking a lot with my friends about how it is so weird that He-Man is such a macho figure, but he's always in his underwear. It's the same with fantasy novels like Conan, it's always fighting monsters in loin clothes, it's very weird to me. Anyway, I added Raphael, a Teenage Mutant Ninja Turtle, and a G.I. Joe from the 60s. Back in the 60s, all the boys were taught to go to war and fight and kill, this very macho thing, and all the women were taught just to stay home and look after their man and the family, that was the lifestyle, so I wanted to question that. Then I just asked the public to send me photos of the toys that they had as kids. I've still got quite a few to put up as well…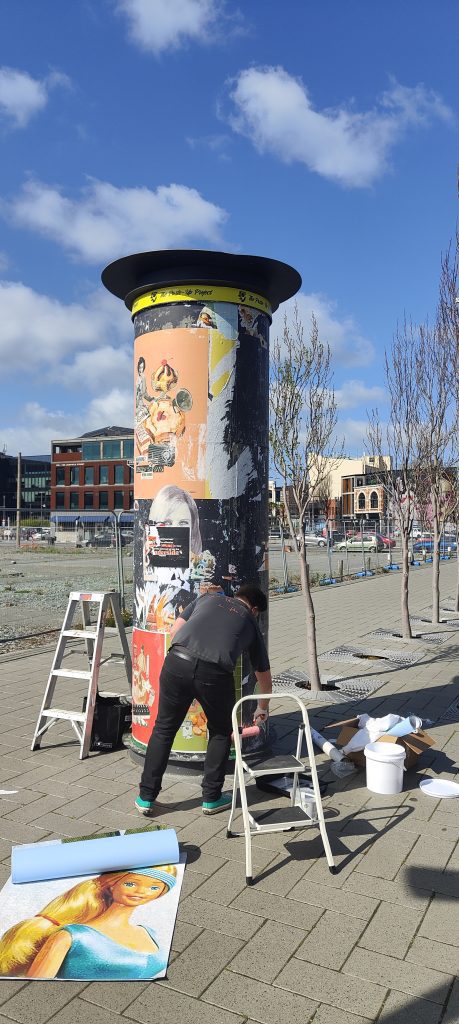 The thing with toys is that they have such a powerful sense of nostalgia for us and yet they are often highly problematic and that was one of the things you said that you were wanting to illuminate. But it's not just the questions of gender identity and body image, there's also actually the literal toxicity of older toys…
Yeah, it's crazy when you look into all the plastics that they used, especially back in 50s and 60s, right up to the 80s and 90s and probably still now a little bit with the mass-produced toys especially, all the knock-off toys. They're getting better now, but its the hidden stuff like all the glues, the paints. I think Fisher Price is one of the first companies to actually come forward and say publicly that you can still collect these vintage toys, but by all means do not let your children use them. It's quite interesting because a lot of people just really don't want to hear that. A friend told me that this local Salvation Army store posted that they had all these great toys from the 80s and someone replied saying, hey, this company's actually come out and said that these are to collect, not for kids to play with, which is a hard thing to hear. Right now I'm holding a 1980s plastic figure, I love all this stuff, but I will wash my hands after playing with something like this, and I don't really like letting my daughter play with some of these toys. It's not because they are collectible, they are toys that are meant to be played with, it's more that we try to get her toys that aren't toxic. It's hard, because I still buy vinyl, but ideally, they should be using recycled plastics to make records. It's just bewildering, it's crazy…
You have actually worked quite consistently at a reasonably large scale, some of the previous Paste Up Project artists haven't worked at such a size. Was this project less daunting because of your previous experience?
Yeah, it was good. Really the only issue was the curve of the bollard and learning about the materials, like soaking the adhesive paper for half an hour. But it went up so easily, I couldn't believe how fast it was. It was really good how it adhered, so it went well, and I enjoyed working at that scale…
That sense of scale seems quite important for your work because that nostalgic element takes on more emphasis when it is larger. As you get older, things seem smaller, so to make them bigger again plays on our memories of them, it brings back that sense of magic. When you see something after a long time and you've gotten older and bigger, it never seems as impressive, so recreating them at this massive scale, it brings back that wonder. It gives them a sense of agency as well; it makes them seem like they can talk back. The large size seems to be a good fit with the concepts that are being teased out in your work…
Yeah, I mean it does make a lot of sense. I mean, I like Ghostcat's tiny builds, his small stuff, with surprises that you have to look out for, the detail's just amazing. But then I love things that are just stupidly large, oversized and just really like: Bang! There's Barbie, standing on Manchester Street. I love the fact that everyone just knows what they are straight away, yet it's still a surprise.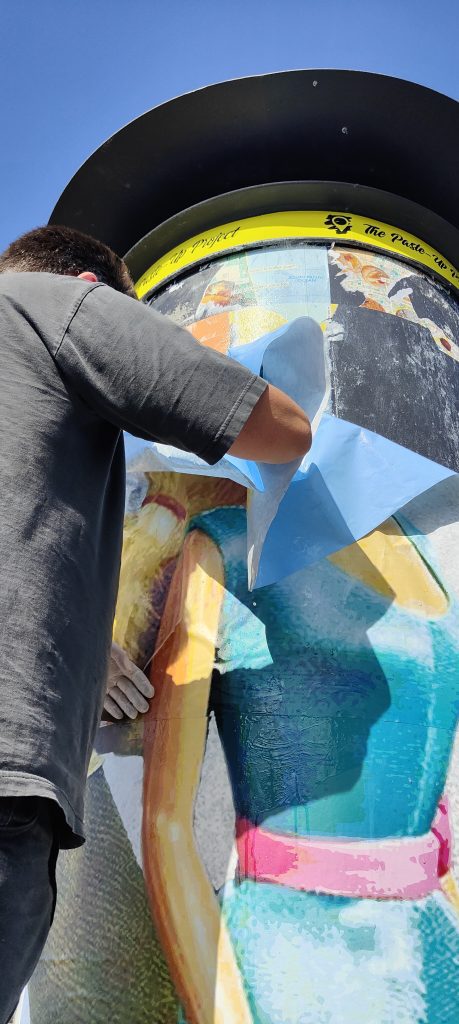 It automatically attaches people to something familiar, right?
They go in for a closer look and they go, oh it's He Man! I remember that as a kid! It starts all the conversations about what their childhood was like. Hopefully it makes people smile…
You talked about a few people commenting as they were passing, have people been responding to the work?
Most of it has been positive. I'm always personally surprised that more people don't stop and have a chat. I'm the sort of person that if I saw someone doing that, then I'm always like, wow, that's cool, and I'll go ahead and try and find out what someone's doing. But you know, most people just live in their own worlds, looking at their phones. Big groups of drunk people are the worst to be honest, that's why I try not to do it on a Friday or Saturday night. There's nothing worse than a whole bunch of drunk people, going "what are you doing?" With this work, when people asked, I could tell them that it's an official project, and they like to hear that as opposed to just putting something up, but then it's a bollard, you are not just going to put things up on it are you?
That's the other thing with your installation, the connection with the bollard. Because they are toys, it automatically raises the idea of advertising, so it starts to become an interesting interplay because it's not advertising and it's actually doing the opposite because it's raising some of the issues of consumption. The way you have composed the work, that large-scale parade going around the bollard, was that in some ways to stop it looking too much like advertising posters?
Yeah, it was. At one point what I wanted to do was like a line-up, like The Usual Suspects mug shot. But then I realised that the heights were all different, and it wouldn't have worked. I mean, I've sort of done that, but not really. I just wanted to make something that you walked around, a big continuous piece to look at, and then to add to it over the weeks. I've been there a few times and added stuff to it…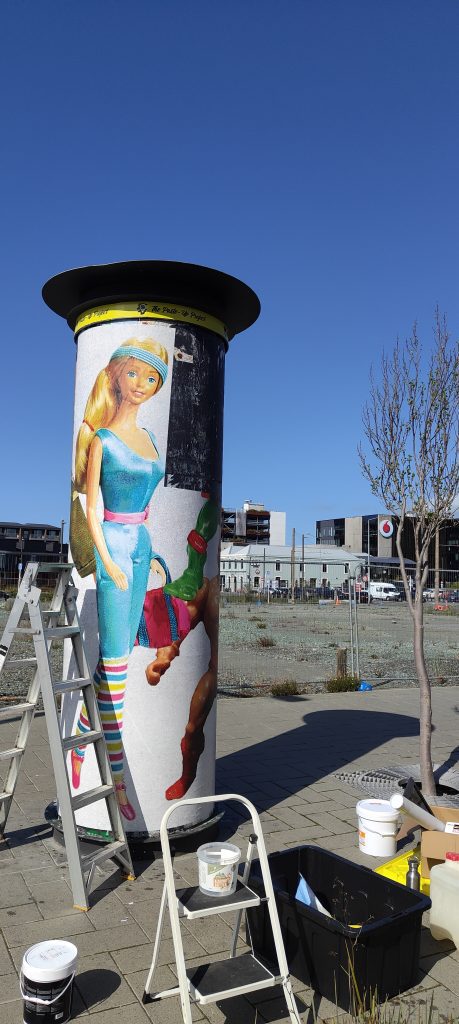 I have one last question and this one is probably pretty hard to answer, you've mentioned that you're a toy collector, what's the one toy you would buy if price was no object?
I'm a Bossk collector, so there is the famous toxic-limbed Bossk from Spain. There are about 50 of them in the world, some say 29. I'm really into the Spanish Star Wars stuff. Basically, they've made like 600 million little tiny figures, mainly in China or Taiwan, places like that, but then Spain got a contract, and started producing some Star Wars figures, but the company that produced them, the quality of plastic they used wasn't as good and so for some reason the Bossk figure's plastic has degraded and has turned his limbs, his arms and legs, a green colour. They call it the toxic green Bossk and this figure is sought after all over the world, it goes for stupid money. It's not like the Boba Fett Rocket Launcher, but…
That's the famous one, right?
Yeah, but it really annoys me, and I'm getting my geeky hat on here, there are fewer figures of the toxic Bossk, but because it's Boba Fett, it's given more cred. But Boba Fett is just a dude in a space helmet, he is literally just a guy in a space suit! He's a cool figure too, but the Bossk is the one! I know that if I ever got it, it wouldn't be that amazing, I would have it in my hands and it would be, ahh, its OK, but that's the one I would buy.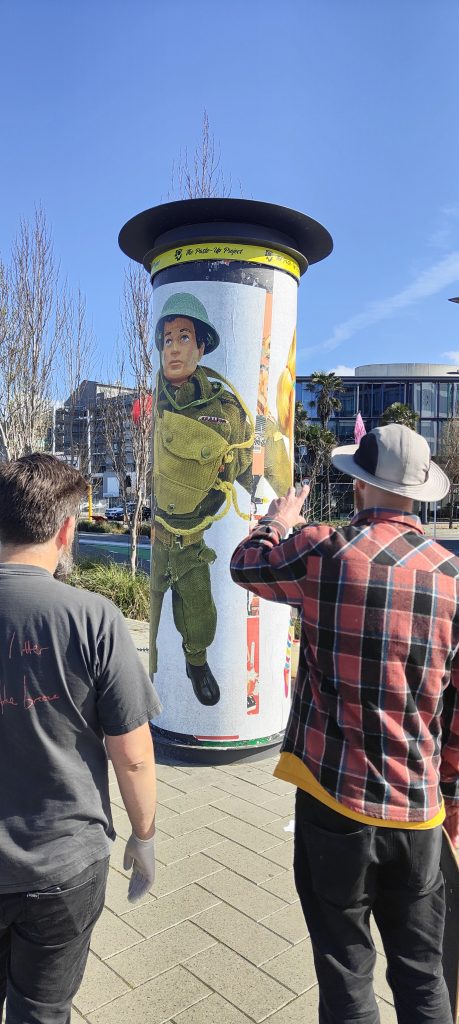 Did you want to give any shout outs?
Thanks to yourself and Phantom, JZA, Cape of Storms, and teethlikescrewdrivers, he's always handy with his advice and he is so enthusiastic. I love the fact that he is all over everything…
That sense of community is driven by a lot of people, but he is right at the heart of it…
If I was younger, I would hang out with them all the time. But I do kind of like working by myself. I have so much work, but it just takes time. It always looks so cool and it's great when there are new fresh walls. I often think what would my mum think? But she would probably drive right past and that's alright.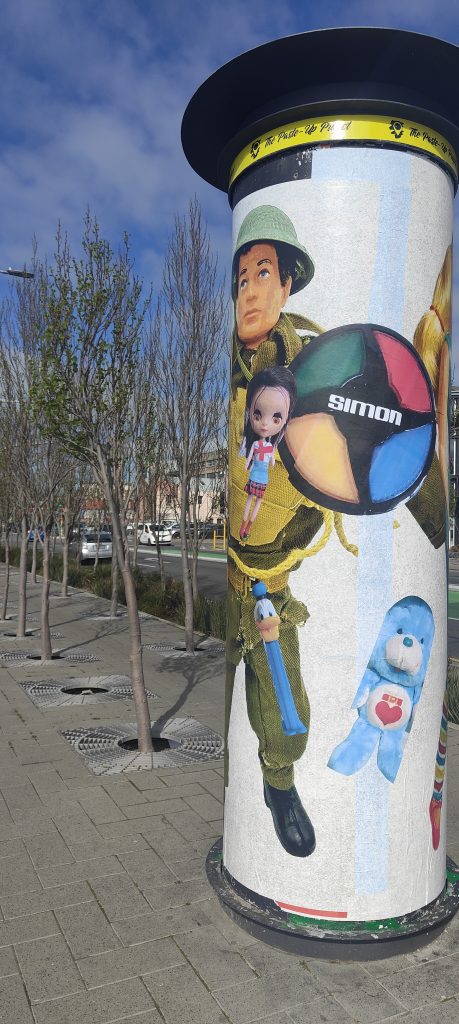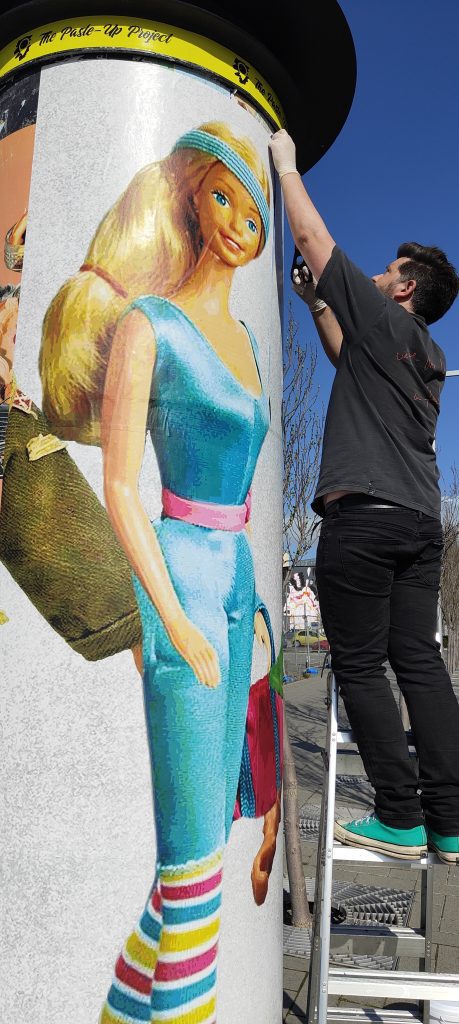 Thank you to Phantom Billstickers and the Christchurch City Council for their support of The Paste-Up Project!