In the second part of our interview with Nick Lowry, we continue with a free-flowing dive into the physicality and urgency of painting, the influence of music, the process of collage and the need for creative diversity within tight-knit communities…
Talking about some of the formal elements, your letterforms seem to have become increasingly abstracted. The dissolution of letters into blocks or blobs or half circular forms, is that the result of thinking about letterforms, or moving away from letters?
I think when I paint graffiti, I'm using my arms a lot and I'm gesticulating a lot and I think my letter structure mirrors that…
They mirror the physicality?
Yeah, like a dance. I'm really wiping the wall, or I'm doing some crazy contemporary dance in my head and I'm articulating that with my hands. I try to be as fluid as possible. I hardly spend any time on my sketch, usually it's just my fill colour. Why would I go back over my sketch and change up my letter structure if that's my impulse? What I've just sketched is how I'm feeling obviously, so I'm just backtracking over my own emotional involvement by touching it up.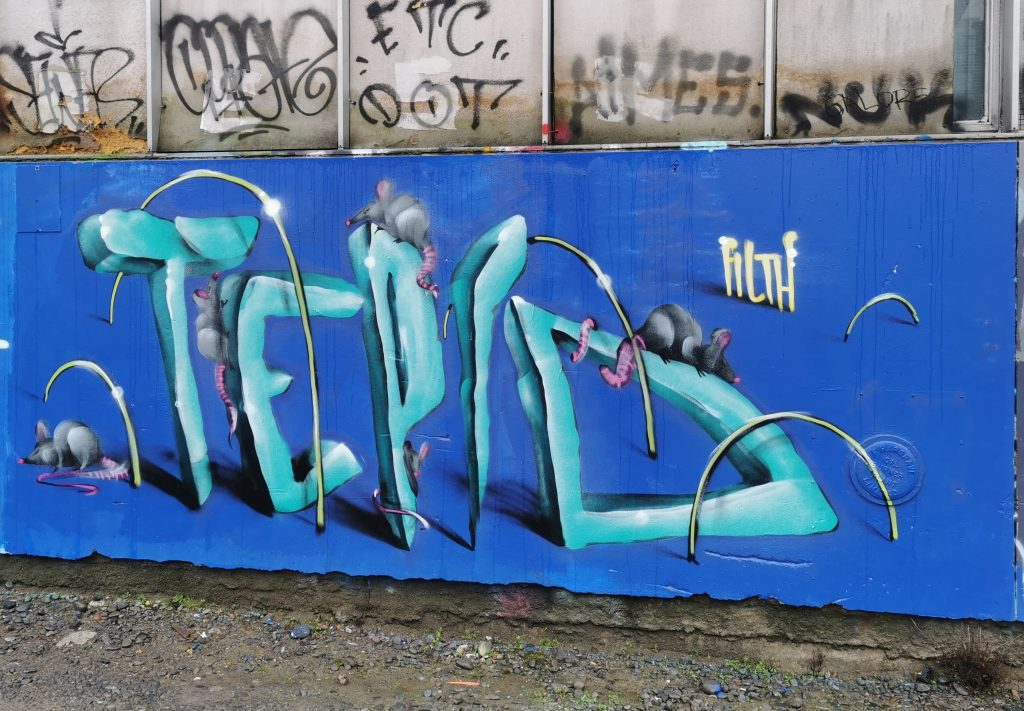 It comes back to that urgency and violence, and if you are redoing it, you are losing a lot of energy, right?
Yeah.
Having an idea beforehand and trying to replicate it is a very different approach to trying to make something that reflects a specific moment and emotion.
I don't premeditate. I've chucked away all my sketch books, even from when I started. I chose to throw them away. I have photos on my computer of recent pieces, but I've lost hard drives of stuff from up until 2016. I feel like I want to get to a point where I don't want to take any photos of the graffiti at all.
That would really make it about the singular experience of doing something in that moment, right? It's no longer about a catalogue or a body of work…
I think that's why I did it. Most people would cry if they lost their books, because they really love them, but for me, they are just collecting dust and getting eaten by rats. They are a ball and chain…
There's a freedom in letting go?
Yeah absolutely.
In so much of your work there is a dynamic quality, a sense of action and movement, from the lines whipping across the plane, to this lovely flickering quality that your more recent works have, and even white highlights, which seem to be a recurring, enduring fixation.
That's why I paint as fast as I can go, because I don't want to lose that. I'm scared that it's going to float away again.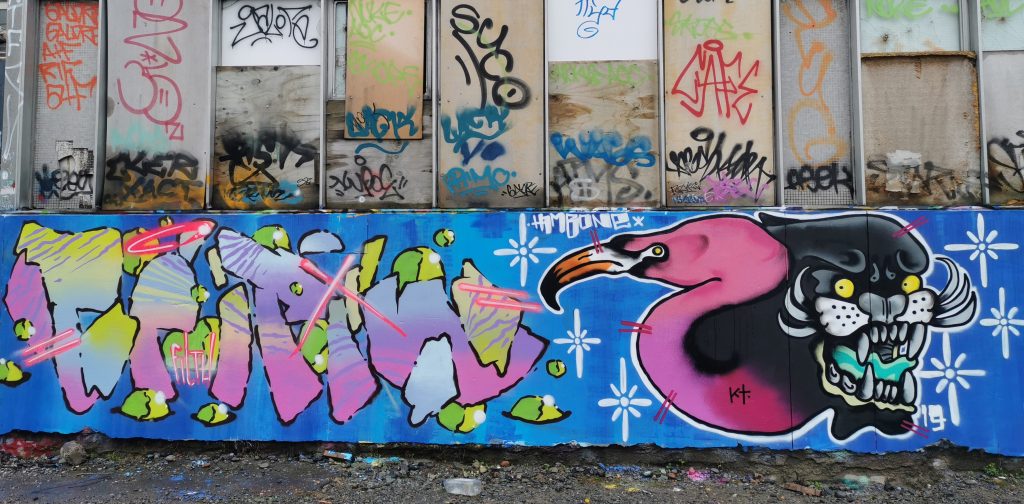 Is it an interest in the use of shimmering light, of reflections and movement?
That's a good word, shimmering. That's precisely what I'm trying to create in my pieces, movement and the feeling that each piece is its own entity. I used to try and paint with traditional colour schemes, but now I'm looking at soft gradients, not even reflections, I'm just trying to create an emotional response through the colour palette, and I think by doing that I can try and put life in these pieces, and a sense of movement and electricity.
Those soft gradients have become definitive, or at least distinctive, and they often set your work apart from others around them, kind of dissolving the harshness and angularity of some other styles. There's something about those soft gradients and transitions that ties to those wavering outlines and organic letter shapes as well, all of which make your work stand out…
Man, that makes me really want to paint again! (Laughs) Yeah, I guess those wavering lines are the gradients I'm trying to create, these beautiful soft gradients. I'm trying to be as clean as I can with the fill, as fast as I can, but as dusty as I can, and I think the wavering lines add to that sense of motion…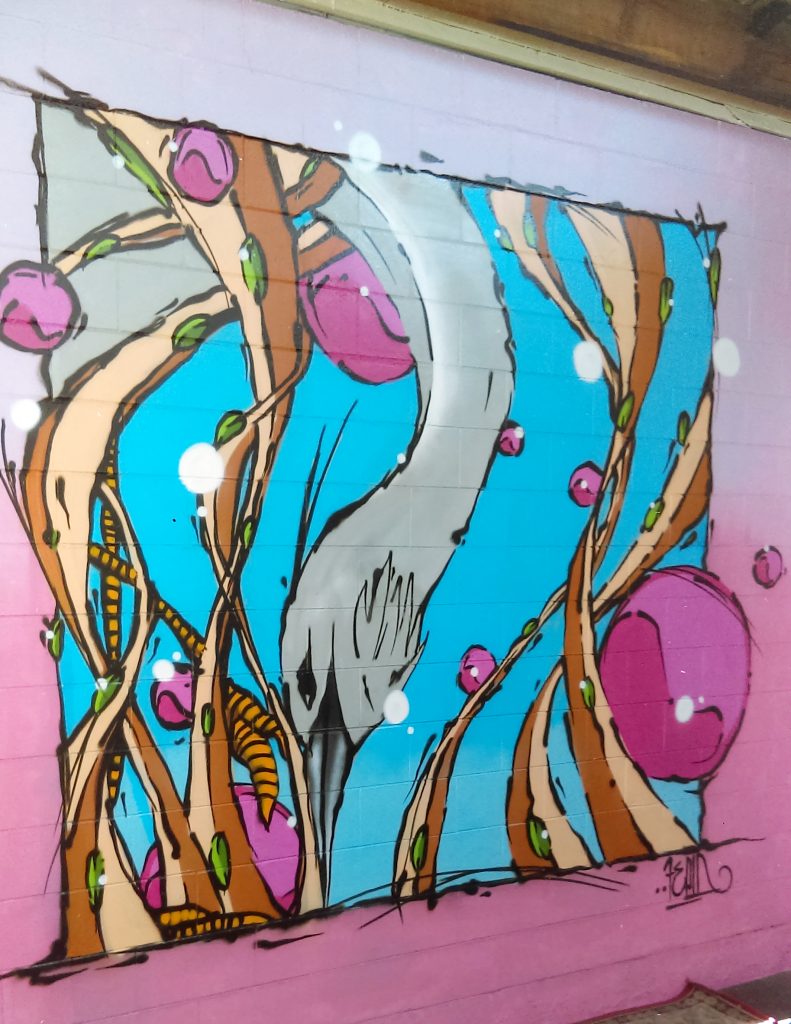 It seems to me that a lot of these qualities are related to the nature of aerosol, or the possibilities found in aerosol. There is a high level of can control obviously to get those effects, but there is also a freedom and that comes about through aerosol having certain characteristics, right? Is that something that interests you?
It did… I think it did, but now I feel like, especially with my outlines and details, my gradients, I need decent paint, because you can only achieve that with certain levels of paint, and colours that hold well to the wall. Although all the blacks and whites are generally acquired from wherever, just cheap brands that I've scabbed. Actually, a lot of my pieces are roller fills. I'll do the base, you know, if it's an orange with a softer yellow or lime green gradient over that, or whatever, and generally the heavier colour is a roll fill. And I find roller filling fun because it adds to the element of really smashing and grinding something down. I look at graffiti as sculpting as well. I think it is quite sculptural, you can start with a base shape and you just kind of chisel and shape it down with detail really.
Being that you have worked across so many fields, what experiences really stand out for you?
I guess with all the art forms that I engage with, there's at least one or two things that stand out. When it comes to graffiti, a fond memory of mine is painting a piece in the open during the day illegally on the side of a dam in Margaret River and then hearing the alarm going off as I'm painting, finishing it, scrambling off, climbing out and then watching that thing wash down! With graffiti, I like the element of getting yourself into crazy situations, not that I focus on getting up or hitting the craziest spots, but the situations that I put myself into and walking around in really obscure places you wouldn't usually go. It's not so much to find a place to paint, it's more the idea of exploring. You go out with the intention of painting because you have paint with you, but painting is only twenty percent of the time, the experience and everything else is what you are taking in visually and is filling the senses, filling that void of whatever I have! I don't know what that is, but obviously I have one and I need to fill it! I think that's eighty per cent of the reason why I do anything. With set design, I've had some pretty amazing jobs recently and looking back, I think it's probably doing kids shows, anything for children. If you can deliver something to children that is going to stay in their minds forever and inspire them, I think that is so important. I still think about shows my parents used to take me to, shows at the Mill Theatre and all that, and I can still remember every detail. I do a lot of music videos as well, and I've had really good responses to the stuff I've been producing with some really good crews. I think the satisfaction of that and seeing yourself in another format is really satisfying and doing it all to music I like as well.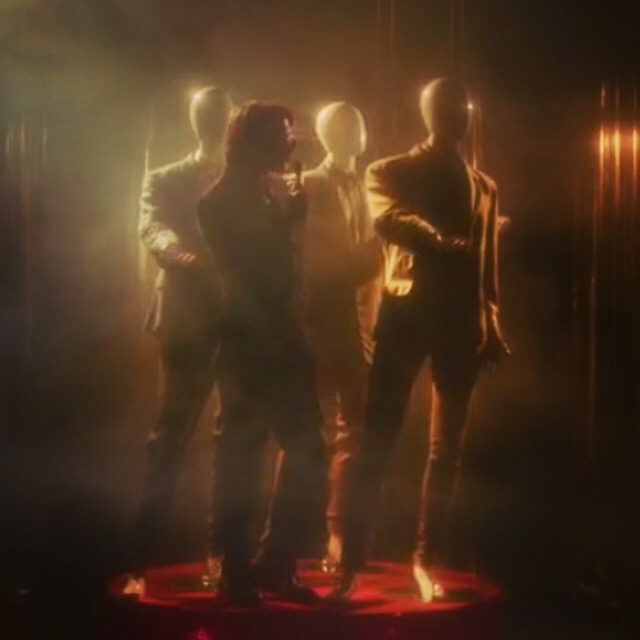 When you are working on music videos, that relationship between the visual and the musical, does that make you reflect more on the influence of music on your visual arts practice? Music has been an enduring influence, right?
Forever, yeah…
You talked about the influence of punk and metal; can you define that influence visually?
I think it's like when you are eating food and you kind of see with your nose. So, for me, with music, you can visualise certain energies in your mind. Music has always been this driving force for anything creative I've done, subliminally…
Is music always playing when you work?
Or not. Sometimes when I listen to music for days and days and days on end, just constantly, when it comes to making art, I try and tone down the amount of music or just don't listen to it at all and just let that energy just come back out because I've done all the thinking and I just have to kind of let the process flow…
Which suggests reflection on the experience of listening. For some people listening to music becomes a background accompaniment, it fades into the background. It's there and is driving action but not necessarily reflection. It sounds like for you it is actually a reflective thing as well…
Yeah, we are sponges, right? Whatever we expose ourselves to exists within us, and I think sometimes it's nice to have that negative space and have nothingness around us and I think that's when we can be in our most creative space.
That energy of the act of painting that we were just discussing, there's obviously an echo with the energy of music, do you kind of see you paintings as musical in a sense, not overtly, like painting a song, but in terms of the rhythms and energies…  
Absolutely, and I think for most people it's the same, most people that paint or have some sort of visual expression, also love music and need music around them, and I think that is probably one of the driving forces of what I do.
Having talked about the why your interest in certain forms fluctuates, what has captured your energy currently? Are there any significant developments you see on the horizon?
Yeah, I mean I'm drawing a lot more now and I haven't painted in a while. When I was in Perth five or six years ago, I used to paint a lot, and I was also painting graffiti, but I think I've kind of let painting go and now I'm trying to get back into it. I feel like I'm on the brink of dropping my guard on that again. Because I do put up boundaries, like I have with graffiti right now, I'm just like, I want to do something else. I think the painting one is about to come down, I've slowly started just playing around with stuff, heinous stuff, it's not good, but it's a start! (Laughs) I'll just keep painting over and over until I feel like I'm juicing up again, you know?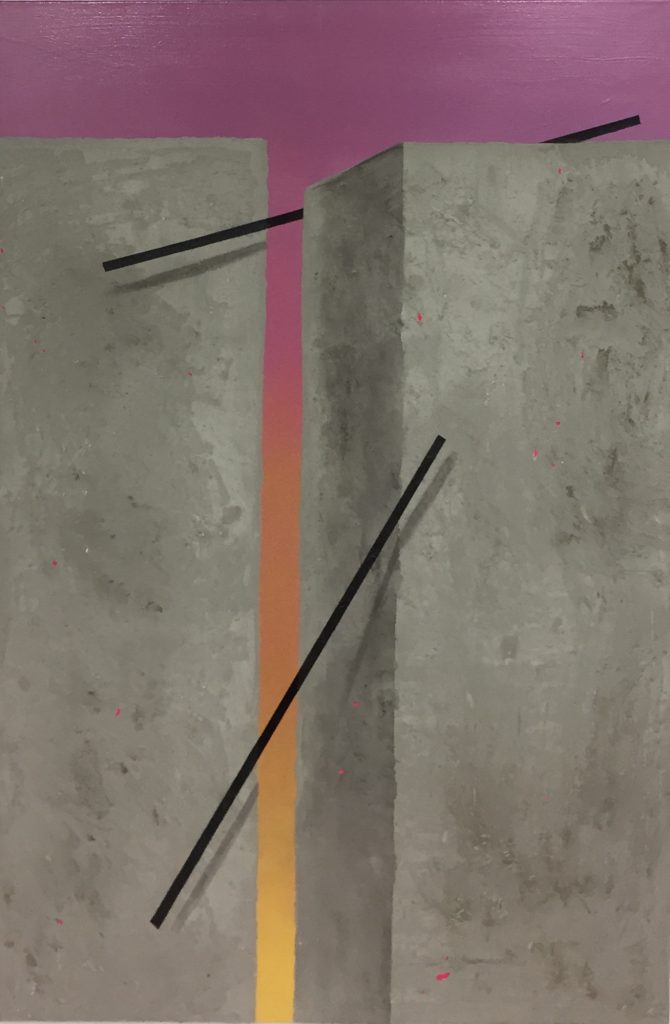 Are those elements of the gradients and colour schemes, the line work, are they still as strong?
Absolutely, I'm exploring the loose lines, and the very brushed fast geometry that doesn't have to necessarily make sense but just exists, because if it did make sense, what's the point of looking at it? It's like watching a TV show that is not interesting, when it's easy to watch and it has just been laid out for you.
You are not challenged…
But if you create something that doesn't exist or shouldn't exist or something that doesn't even make sense, I think it's more interesting because it's up to the viewer to make sense of it…
What about your collage practice, do you see that as distinct to painting and more akin to your experience in film?
For me, collage is a very fast, quick way of expressing myself but also setting boundaries, you know? You are playing around with images that already exist.
Do you apply the same element of urgency that we were talking about with your graffiti? Are you chucking them together quite quickly?
It's all false perspective. I like the idea of having minimum images but creating the maximum depth possible. I think emotionally they are so fucking aggravating, and I really like that. They are really harsh to look at, they don't look right, but… It's hard to describe. Because I do them so fast and because I'm doing them with a blade, there is a physicality and I'm really having to scratch myself and grind into it and rip and tear, and there's that element of violence that I really enjoy, that we all have in us, and it's very human, it's just how you get it out.
Like graffiti in a way, right? The need to get something out, and to do so in a certain way, it is lost on some people who shut themselves off from it, but it is an outlet for a very human need…
It's very primitive.
Which is why I still find it strange that people are so emotional in their response to and vilification of graffiti…
I kind of like the idea that it is vilified, if it was loved by everyone, what would be the point?
True, and that's often overlooked by people who don't get that side of it, channelling it into positive directions is good in some cases, but it also means that it is not what it was. Is there anything you want to tell people about?
I have recently provided art direction for three music videos about to come out, so people should see them. But, mostly, I think I just want people to get off Instagram and see the art for themselves, to be in front of it and smell it and touch it. I just want to try and promote that, to promote that regaining of the sense of uncontrolled-ness, and how we should all be less homogenised. Socially we should be forming a greater sense of community, but creatively we should be pulling away from each other, if that makes sense…
We can be together and unified as communities, but creatively, the more diversity the better for those communities…
Yeah, and I think this is the time to do that in Christchurch as well. We've had to band together and now we have to create a split, to form new dynamics within our communities and cultures so we can then really start to get the ball rolling and become a creative powerhouse as a city. Also, I think, in Christchurch, get on your bike! Like literally, get on your bicycle and roam around and check it out, because there's a broader part of Christchurch that people don't explore or don't know exists, or they do, but they are too scared to get out there…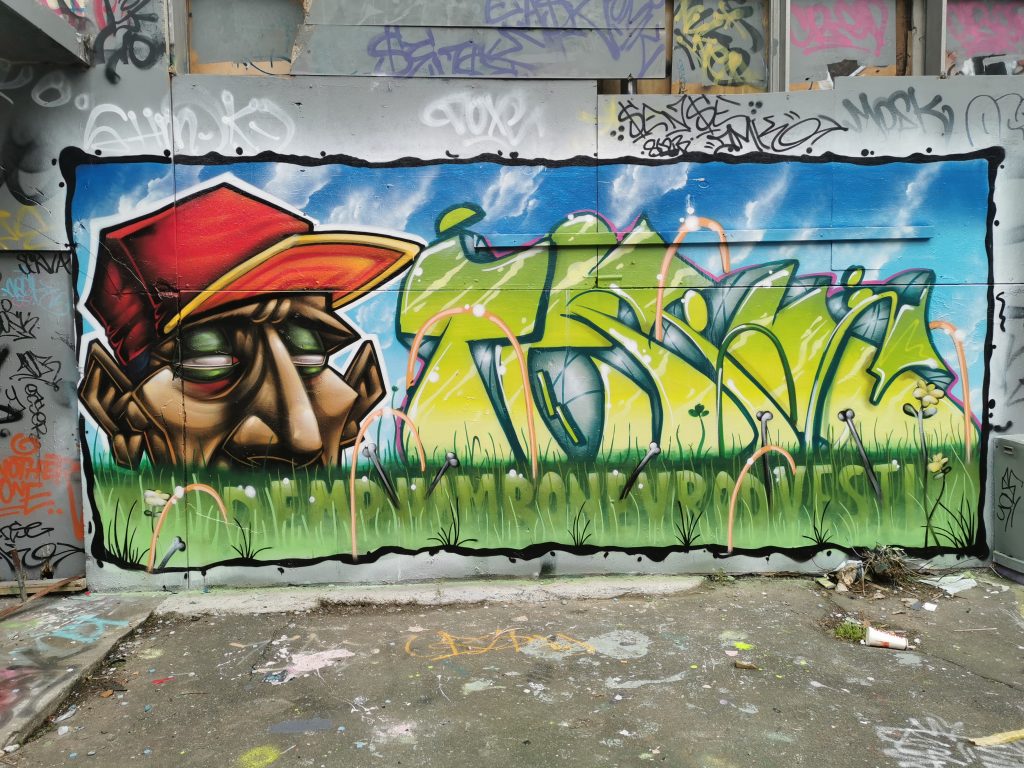 We often avoid getting outside of our comfort or routine, and that's the beauty of walking or cycling, you can easily verge off down a side street, go down an alleyway, do things that will lead to experiences that are unexpected, but can be quite life affirming.
Definitely, and it's a slow down as well, it slows you down to be able to accept everything that you come across. I love Christchurch, it's sometimes hard to live here, but it does have these beautiful aspects about it that are undeniably so good!
Follow Nick on Instagram or visit his website www.nicklowry.co.nz…