Josh Bradshaw has undergone a significant creative transformation over the last few years, leaving behind a recognisable and popular aesthetic in favour of a style that feels both more honest and meaningful – gone is the pop and in is a punk-infused, re-worked and confrontational body of work. This approach, drawn on the experience of the urban environment, manifests in techniques from collage and printmaking to three-dimensional constructions and spaces in between, reflecting a creative freedom and palpable physicality. His latest show, Things I Thought You'd Say or Don't, at Absolution, is the first chance for him to present a cohesive collection under this new direction. We took the opportunity to catch up with the artist and find out more…
____________________________________________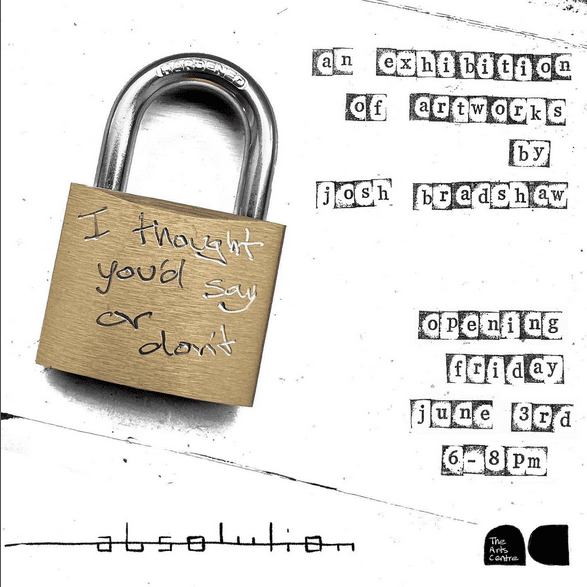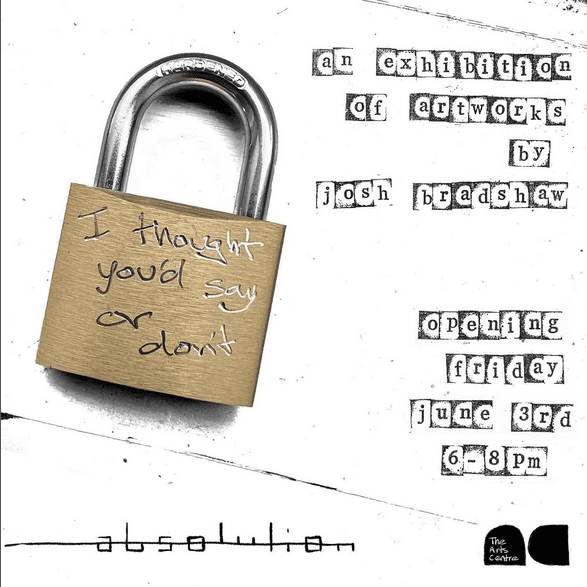 How did this show come about? It has been a while since your last solo show and your work has undergone some significant changes, what has been the internal process to make work that is perhaps a better reflection of you?

I got lucky with Absolution having their planned exhibition for June/July fall through last minute so with short notice I put my hand up to fill that slot. It's been three years since my last show I'm pretty sure. Funnily enough, the last one was at Absolution too, so having my first show under my real name, making work in a completely different style, it feels right to have it in that space. I think most of the internal processes in the early stages of the research, developing concepts, mapping out ideas and weaving the work together to create a full show haven't changed for me at all, it's when I start physically making the work that the differences start to show up. I don't have to do any mental gymnastics or justify to myself any compromises of my original ideas or warp any of the work to fit a particular style that I used to feel trapped by. Now it's a much more free flowing and natural process. I'm not limiting myself and the work can go wherever it wants and needs to, I'm just along for the ride.
What was the genesis this specific body of work?
This body of work, which is still ongoing, came about because of the perfect storm of how much time I've spent living and walking around the city over the last however many years, how my brain works when I'm falling down the rabbit hole of over thinking about how much of a backstory and future a padlock or brick or window of a construction site that I've just walked past could possibly have. The curiosities, attitudes, mysteries and visual elements that come from all of my interests that I've had my whole life, like skateboarding, punk music and compulsively having to make stuff, added in the mix is how you get to this latest body of work.
You are adopting a range of techniques, is that about seeking something, or just a reflection of creative freedom?
Both for sure, I really enjoy the act of the reveal of printmaking and repeatedly trashing and scanning things and all of the not knowing what's going to show up when printed or not. The element of surprise often determines what techniques need to be applied or removed on the next layer. With this loose approach comes that sense of freedom which in turn encourages even more experimentation. It's a fun, self-feeding cycle. The themes that run through the show itself are based off a wide range of scenarios and materials from the city, which lends itself well to using a bunch of different techniques also.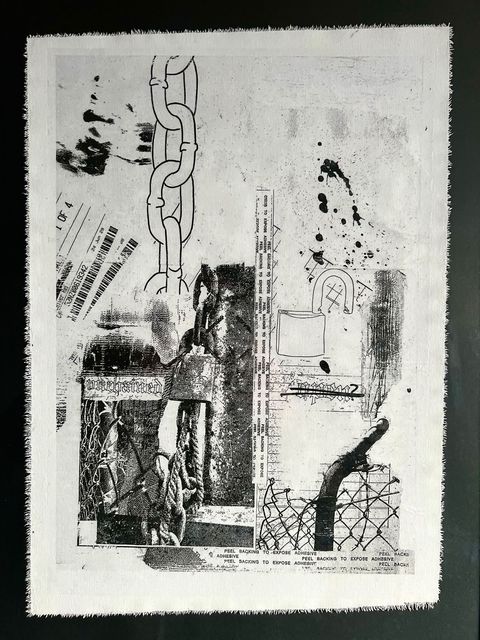 Tell me about the title for the show, it is evocative, but when you think about it, it doesn't quite make sense, or at least, it doesn't read quite right…
I made a lot of this work in reference to not only how we view things ideologically but also physically. Down to that moment of hesitation where stop and go back for that little look through the fence or broken window. The title of the show is an example of that little double take you have to do to see what's going on. Things I Thought You'd Say Or Don't is the awkward, only partially seen, peer through the fence version of "The things I thought that the city was saying/showing to me or maybe what it wasn't actually saying".
Black and white is predominant, is that intentional symbolically or a result of the techniques?
The lack of colour is a bit of the result of some of the techniques, like flattening out a collage with a black and white scan but I use it mostly to intentionally remove any of the context of the elements I use from the city. I feel that it encourages people to see something in a new light. Once you remove something from its intended purpose you can run wild creating a new life for that thing.
Do you make these works with the idea of exhibiting? I feel like they have a sense of fitting in various spaces/sites, like they don't need white walls to exist, they have the practicality of punk in a way…
With the work being based on how we view our city and things from it, I think it would be just as interesting to see the work on a gallery wall as it would be to have it put up on a street wall or construction fence. There's something satisfying about the idea of all the references and elements being taken and given new context and then being put back up in the city. I did however feel that it was about time to have a show again and as long as I got to present the work as a collection I was going to be happy. The black walls of Absolution is just the added bonus, I'm stoked they had the space open up for me.
Lastly, when and where do people need to be for the show?
The people need to be at Absolution on Friday the 3rd of June at 6-8pm to see the opening of the show. If you can't make that date, the show is up for a few weeks and if you can't make that either then feel free to just open your eyes the next time you are walking through the city, the exhibition has been on for the last 10 plus years…
____________________________________________
Things I Thought You'd Say Or Don't opens 6pm, Friday, June 3rd at Absolution in The Arts Centre
For more of Josh's work follow him on Instagram