Slap City has become a central part of Ōtautahi Christchurch's urban art scene, and now they are bringing even more international flavour to the city with the first International Paste-Up and Sticker Festival in early March, 2022! The 8 day festival will feature a massive exhibition of stickers, paste-ups and associated works at Sydenham's TyanHAUS, as well as public installations and workshops. With an array of artists from across the globe, it will be a brilliant cacophonous celebration of paper-based street art in all it's glory! To get the lowdown we spoke to Slap City stalwarts and festival organisers and participants Vez, teeth like screwdrivers and Cape of Storms…
____________________________________________
How did the idea for the International Paste-Up and Sticker Festival come about?
Vez: I had this idea since I moved here, I wanted to put more paste-ups around Christchurch, to bring in more international artists and turn it into an event. I had that dream when I first got here two years ago…
teeth like screwdrivers: I've actually got a page on my website that's about doing the same thing. Originally, I wanted to cover one of the giant cans and make it a festival. But one night we were at Fiksate and we were having a few drinks…
V: And doing karaoke…
tls: Someone said something to us, I won't say what they said, but someone said something to both of us and we were like, well, that seals it! It was an instant decision, right there, let's do this…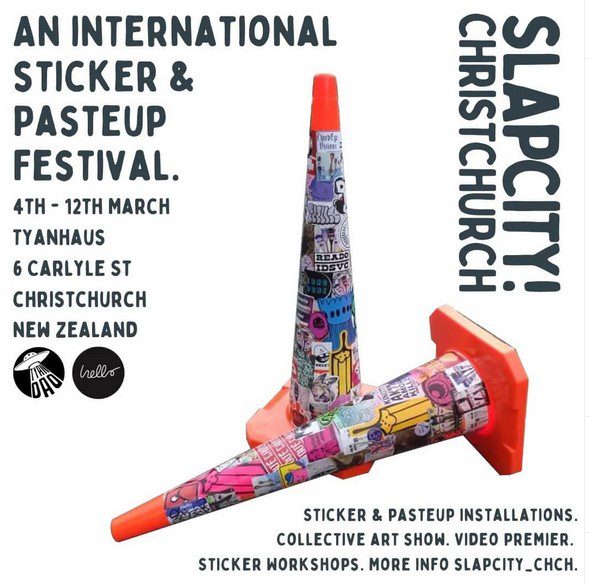 You two hadn't talked about it together, even though you both had the same idea?
tls: No, but we had both seen other shows around the world and put our own work into other shows around the world, and we knew Christchurch could deal with a show like this.
A paste-up festival is a great fit, firstly because of the amazing community around the Slap City scene, but also it is a perfect form to involve an even wider community, paste-up and sticker culture seems to be about networks and collaborations…
tls: Completely, especially if you put it under the heading of street art, if you look at other types of street art, they are based around not doing that, like graffiti is based around not collaborating.
Cape of Storms: Yeah, it's more anonymous…
tls: And it is also about going over someone else, being higher or being louder…
It also requires a literal presence; you have to physically be in the place where you're writing…
tls: Years and years ago, we used Flickr and maybe occasionally we would get contacts through that, but with Instagram the ability to connect with people anywhere in the world and instantly trade with them is part of why I like it, because it's a positive thing all the time. There's no negativity.
V: What I also like about paper-based art is it's really inclusive. With graffiti, not everybody has got the skill to do it, including myself, but with paper-based art you can just collage or you can take things out of magazines or you can draw, or you can work digitally, there are loads of different ways you can produce work, so everybody can contribute if they want to…
CoS: I feel like with paper-based art, its more towards the art side, rather than the tagging thing, so people who don't feel comfortable with that element of street art, it's still something where you can have integrity about where you place your art. It's transient. It's not going to be there forever. It's going to dissolve with rain and water or a little bit of elbow grease, but it still has the same effect…
tls: We've all kind of come to an agreement, whether consciously or subconsciously, that we're not sticking it on people's houses or businesses, you know? Personally speaking, I'm an older dude, I've got three kids of my own and if they see my art on the street, I don't want them to go, why have you stuck your art on that?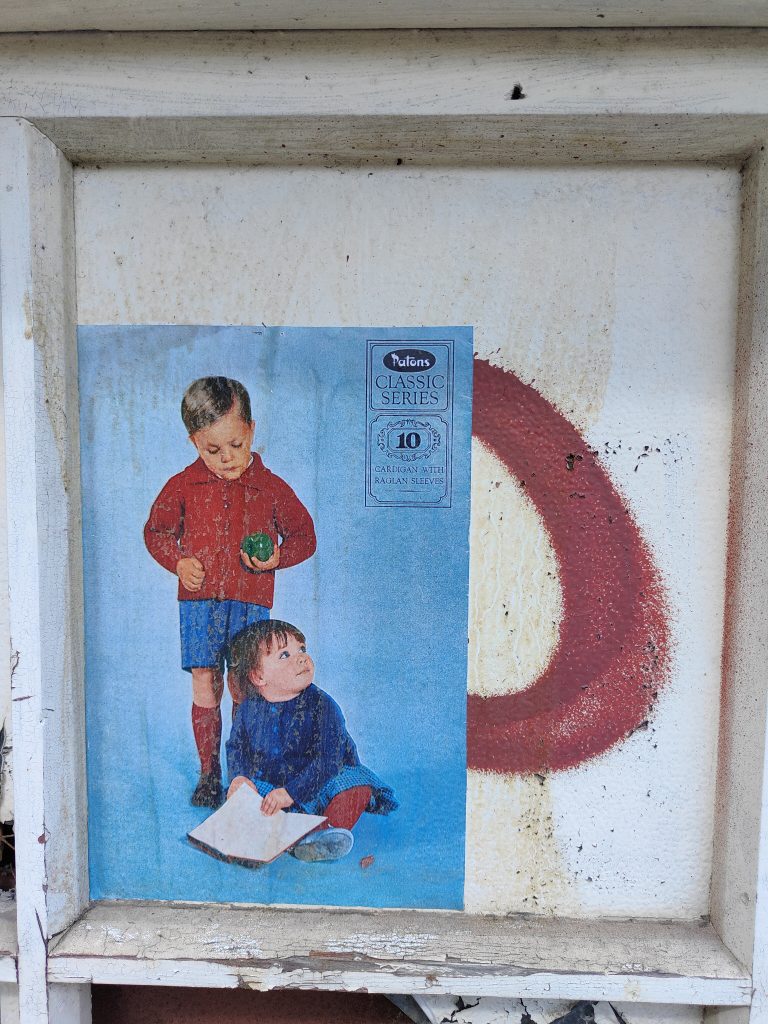 But at the same time, you don't want them to not know that you are doing it, right?
tls: Exactly. They always see my pencils and they always comment on them, but they're not seeing them on people's houses, they're seeing them on derelict buildings, or council electrical boxes, because they are boring and they need paint or stickers or something! I'm probably speaking for you guys, but we kind of had a subconscious agreement that we're not destroying shit, we're adding to it.
CoS: It is financially accessible as well, it's not as expensive as buying loads of spray cans.
tls: It might be low impact physically, but not in the messages…
Not visually or conceptually…
tls: I will argue that any one of us who is putting up 1000 pictures of whatever it is we are putting up is going to have an equal impact to anyone tagging…
There's also the really interesting longer lineage; revolutionary posters, political posters, advertising, sloganeering…
tls: Yeah, I found a picture other day, it was in Paris, an advertising hoarding and it looks like what we're doing, but it's a hundred and something years old! It looks exactly the same as what we do…
The Victorian Street in the Canterbury Museum has a fence that is covered in pasted posters…
tls: Because wheat paste was cheap and easy, posters got your message across for free essentially!
CoS: Graffiti writing is beautiful in its own way, but this is maybe a little bit more accessible to people that aren't so into graffiti necessarily. It's got a sense of humour, like Vez's spoons are there to bring joy to people, to make them think, this is so out of place, let's not be so serious about life! Christchurch can be quite a dull and flat and miserable place…
tls: No! I can't believe you said that!
CoS: But it's the people and the sense of humour and the unexpected juxtaposition, that's why we do it, we can put something funny out there…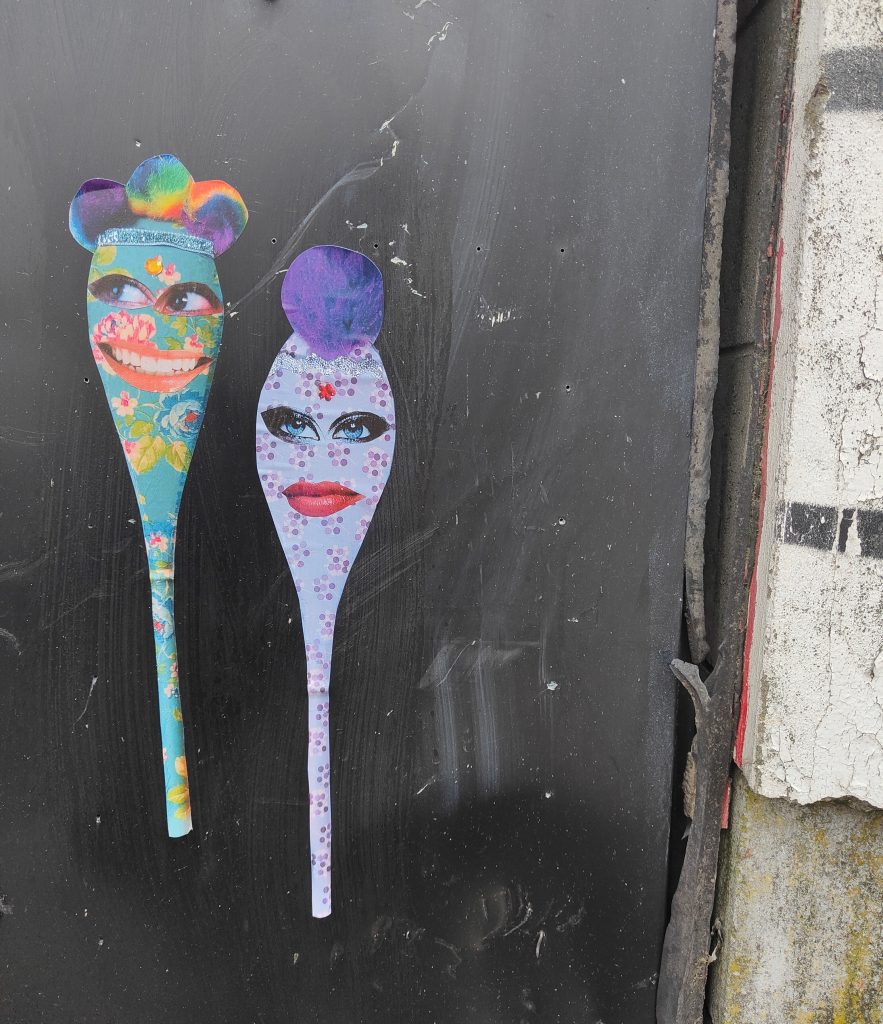 It's a lovely juxtaposition, from the seriousness of signs and the coercion of advertising…
tls: And tilt slabs! That is why it doesn't feel so quite so awkward. We're not fighting that, we are just putting stickers and paste-ups up on streets covered in stickers and paste-ups, they're just from McDonald's or Coke. I'm not political in that sense, it doesn't justify what I'm doing, but it just makes me go, I'm OK with this because I'm surrounded any way, we're just adding our own take to what's already there.
We did a massive sticker and paste-up installation at Spectrum in 2014. At that time, the local paste-up scene definitely didn't have the numbers it has now. We had artists contributing from quite faraway places, but Slap City has such a larger network, I'm really looking forward to the breadth of work. Where has work come from and which artists are you most excited for people to see?
V: I've written a list… There is work from the UK, USA, France, Germany, Austria, Russia, Spain, Finland, Slovakia, Australia, Canada…
tls: In terms of who we are excited about, I'm going to go first because I'm so stoked about this big piece by The Postman. They are a collective based in Brighton in the UK. I've been asking them for a long time because I've put Björk pastes up all around the city and when I saw their Björk one, I was like, I need one of those! So, I hassled them and they were like, yeah, we'll send one to you. It's huge and I want to take it home, but I'm not going to! I would like a photograph, can I put it out there now? Me standing in front of that please with a big smile on my face! I would love that! I love their stuff, it's phenomenal. They are a good example of paste-ups as a legit art form. They do everything from whole streets in Shoreditch in London to millionaires' houses, they do everything. They also work with the artists that take the photos they use to get permission. They are ace!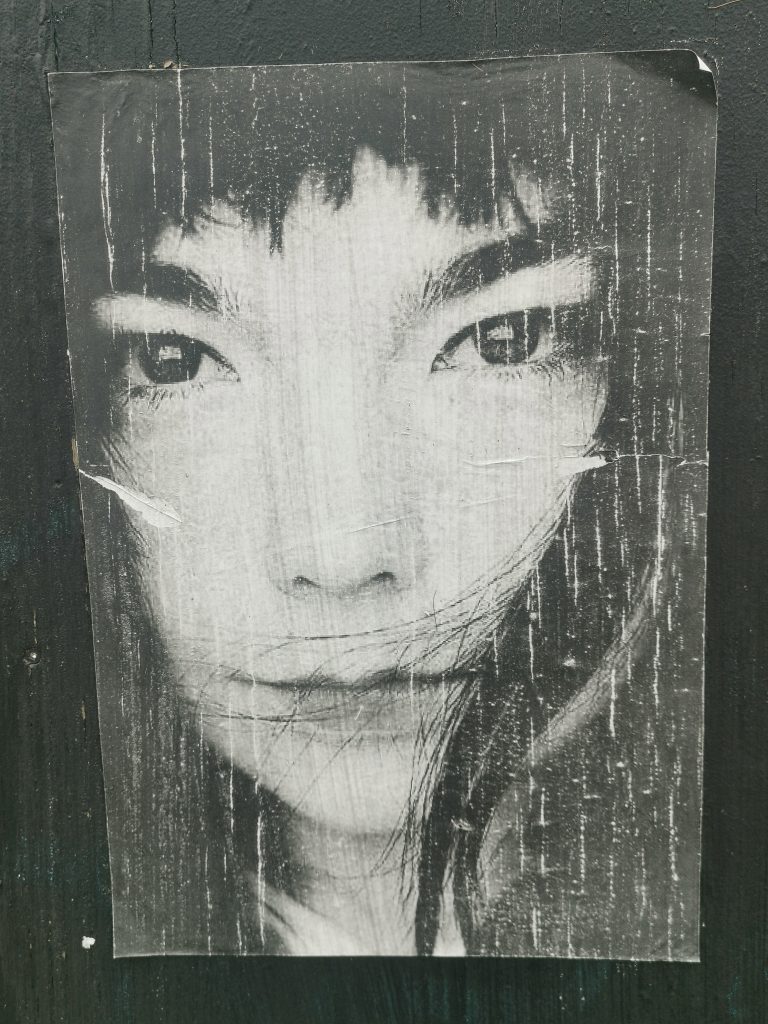 V: A lot of the people that have sent paste-up packs are people that I trade with quite regularly, so I'm most excited about seeing the work of locals, like Jen and Dr Suits, because I don't see that many of their paste-ups. I know they've been doing it for a long time, but I've only seen Jen paste up twice! I'm just super excited to see what some of the people here in Christchurch create and just to have us all together in one space…
CoS: We went with her to do that giant head on the side of that building in town, and we were like, there she is in action!
tls: For people coming to view the show, they won't know a lot of these artists as well as you do or I do or any of us in the crew do, because we're always in cahoots and collaborations with them anyways, we're seeing all their feeds constantly, but if there's someone coming here for the first time, they're going to see Vision or YAYA for the first time, and they are going to be like we were when we first saw them, that's amazing!
CoS: I'm keen to see some of our younger Slap City members or people that work on their own stuff and don't necessarily always paste with us, alongside all these other guys that are really well-seasoned. I can't wait to see their growth. I've grown so much, because of Vez really, she invited me to the first Slap City and I helped hold the bucket when she put up all the YAYA stuff around town, so that was my initiation and from then I've been hooked and just seeing other people get that joy from the show will be amazing.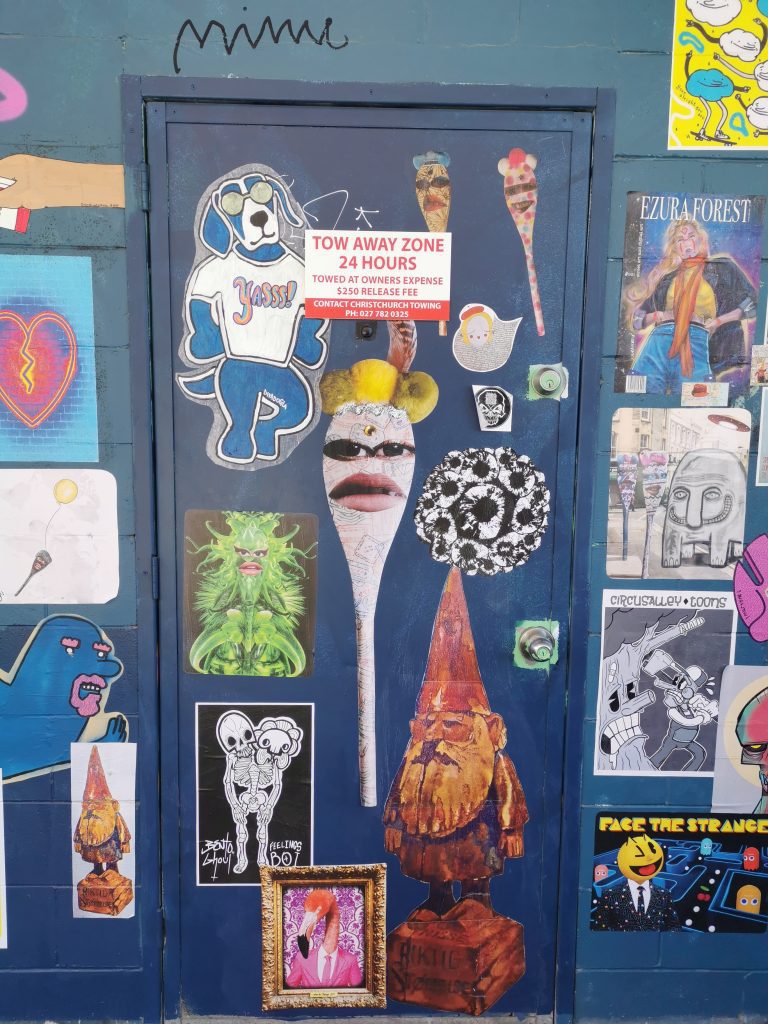 When you're getting work from so many sources, you often also get an insight into the stories behind the artists. For instance, we had a 6-year-old, who drew robots in New York and pasted them up with his dad, send work in, there was someone who sent work from Iran, and just to get it out of there was a big deal. Have you had any interesting stories come up?
tls: We are not getting stuff out of Iran, but honestly, I'm getting people trying to send stuff to New Zealand and we are not on the list of places to send stuff to for a lot of countries at the moment. There was one person, they sent it to someone else in another country, because then that person could send it here. You wouldn't ever think that would be an issue.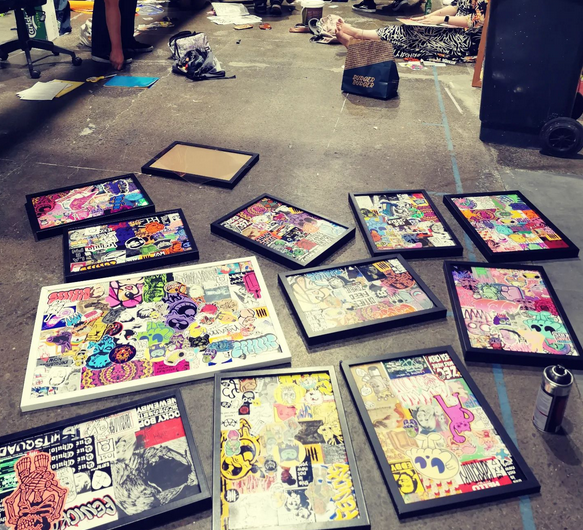 I guess you can get around that by sending a digital file as well…
V: I've committed to printing for about three or four people who have struggled to post stuff. It keeps people included.
tls: We don't need to have the physical person here to do it, although [Australian artist] Tweet is saying she'd love to try and get across, you know people are keen and if the borders were in the right place, we'd probably have a few Aussies coming over.
V: Tweet is in Melbourne, we've swapped a few packs, and we've developed a friendship, we chat regularly, not even just about art anymore. She's really keen to come over for the festival and help us out…
tls: Panty Baggers and Larf'n [from Dunedin] were all talking about trying to get up. So, there are Instagram friends sending their artwork and they want to come up…
CoS: When we take photos and put them on Instagram and tag our international friends, it always feels like there's a great sense of wow, look at us up in New Zealand!
tls: There is a sense of New Zealand being so far away, it is like: I made it to all the way to New Zealand!
CoS: There is a feeling of pride at their work making it all the way to this little island and look at what these people are doing for my art down there…
tls: It's great! If you think about a street artist in the traditional sense, as someone who is doing pieces on the side of a building or murals, they have to be where their art is, but any one of us can say our art has been shown in numerous festivals around the world. There was one in Athens a couple of months ago. I've never been to Athens, but there on this stairway going up from the bottom floor to the mid floor of this building, there's a giant pencil!
CoS: Vez sent a parcel to Captain Eyeliner in New York a while back and I snuck in some stuff just because I was there as she was packing the envelope and I got my stuff put up in New York!
tls: Some people are like that with New Zealand, like New Zealand!?! Hobbits!?! That's what they're thinking, because to the majority of the world, that's exactly it, we're on the other side of the world, so to have all that stuff here, in the ether, is pretty exciting. The audience won't just be the hundred people we get through the door on the night, most of the audience will be online, on Instagram.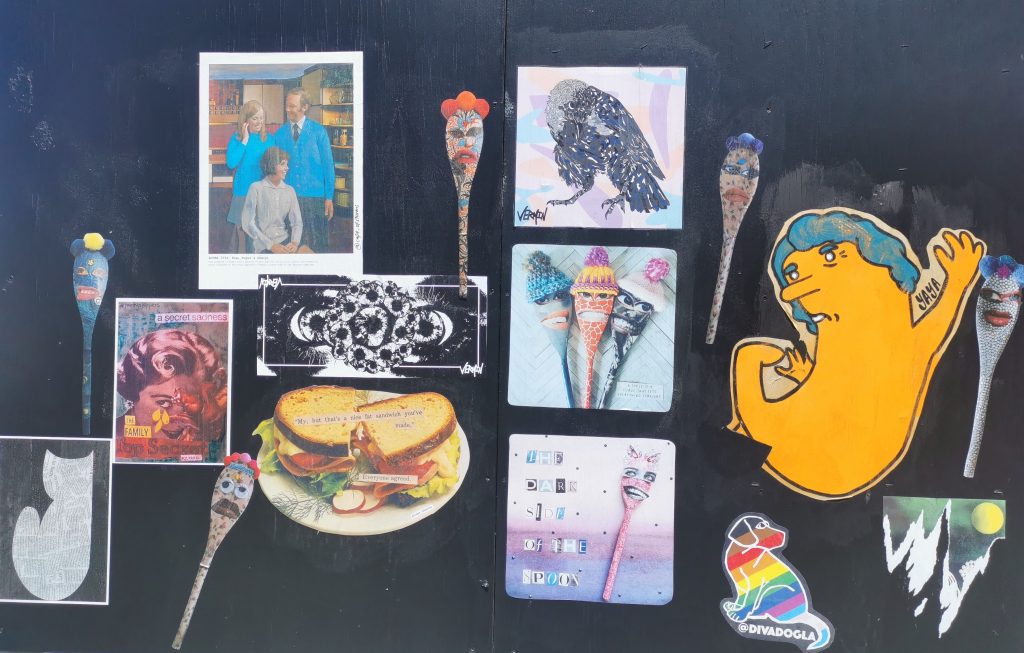 What have you got happening alongside the exhibition?
tls: Sticker trading is part of what we do. So, all the work that's coming to us, Vez is doing an amazing job tallying it up and getting the return addresses so that at the end of the festival the leftover stickers will get sent back out to the people who sent stuff to us. It's a trade like you do already, but instead of a trade with me and they just get a pack of my stupid pencils, its a trade with maybe a hundred artists from around the world that they might never have come across or might never have traded with.
V: I'll also encourage all the Slap City people to put stickers in as well when we post packs back out.
tls: We're also going to jazz up some of the spots in the city that we already use, so people can go and have a wander and explore the city as well, like the old Two Fat Indians spot and the Ao Tawhiti wall. It's not legal, but they don't get touched too often. We will include the bollard Bloom's just done [The Paste-Up Project] as well, because that's us too. We'll include [New Regent Street bar] WILKO because we did a whole wall in there a few months back…
V: We are going to have an interactive map.
tls: It's going to be beautifully created by Cape of Storms. This festival is trying to highlight what we do in terms of creating artwork via paper, both in a gallery-style setting, but also by directing people to be more observant in the real-world setting…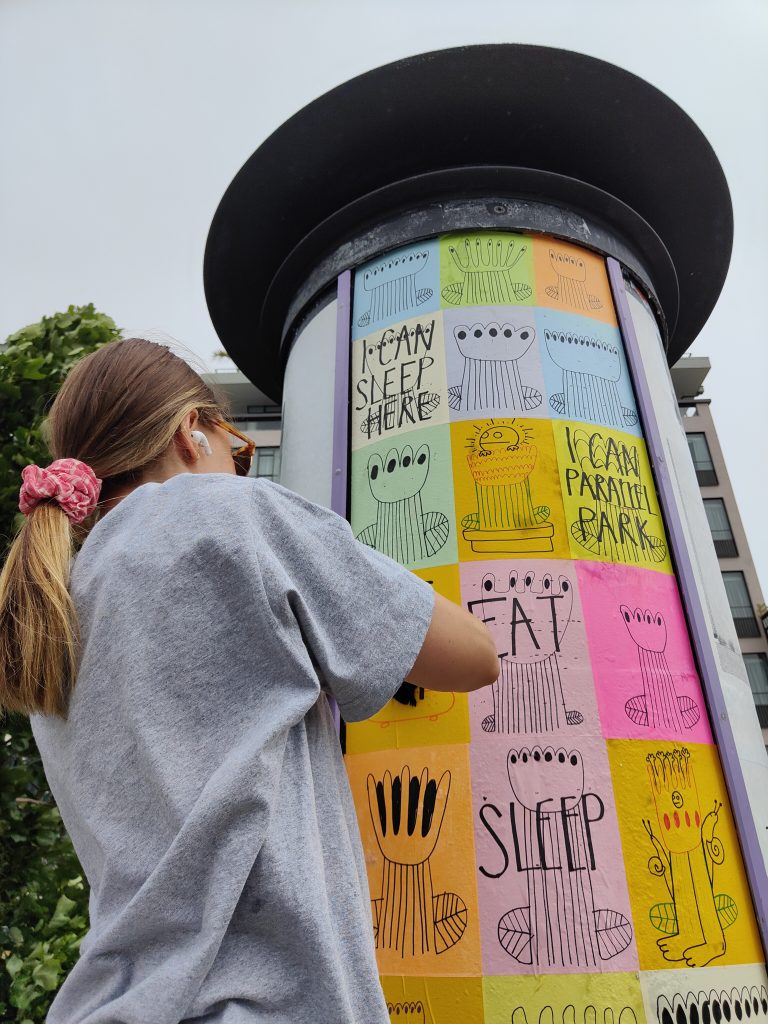 It's an important part of events like this, to further instill the city's reputation as an urban art destination, right?
tls: Street art capital, right? Lonely Planet said so! As a group, we have such a wide range of artistic endeavors, but we're all tied together by a bucket of paste and a brush. We have people who come along and just draw smiley faces…
CoS: And we have some people working for weeks and weeks, spending months perfecting something. Or somebody like Lost Boy who listens to our conversations and cartoons what we're chatting about and then pastes it up! I was saying something about how you should never microwave a sausage, because it's not good, and he drew a cartoon strip about it! It was hilarious!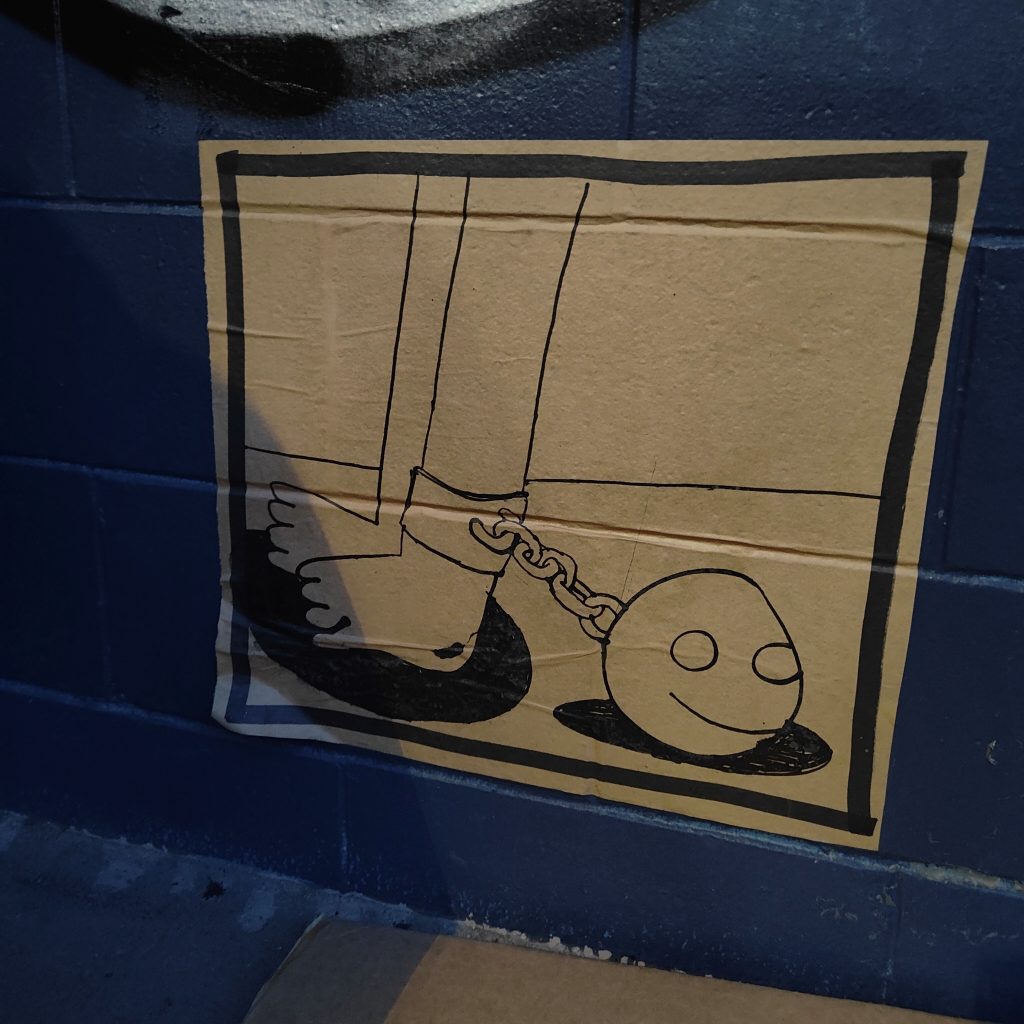 tls: Sometimes, I'd say relatively regularly actually, we'll meet up somewhere and the meeting is more important than sitting down and drawing. It's knowing that you're just checking in with everybody and having a good week and is everything alright and we're all good. I might draw two pencils on a piece of paper and that might be it. Other times I might sit down and not talk to anybody and draw 50, it doesn't matter. We've had people come in for one session and we never see them again. We've had a kid come with their dad…
CoS: That kid was so shy, but he was so happy to be there.
tls: We've also had kids come along on walks and freak out because they get to put a sticker on the side of a wall. We're not molding it into one thing. It just is what it is.
CoS: It's also not a session where you necessarily need to bring anything, and you can take away whatever you want from it. I feel like I do a lot of my cutting out, rather than making my collages, which requires a lot of space and a lot of focus. I just get the energy that I need. Also, the confidence of being in a group is important, going out on your own is quite daunting.
tls: That's the thing we do differently, there's safety in a gang. We haven't got patches, but we go out and there's a couple of spots on Manchester Street where you don't want to be hanging around by yourself at 10:30pm at night on a Wednesday, but when you've got a group giggling, laughing and joking, it makes light of the situation, for sure.
CoS: It also gives us the opportunity to mix our art together in the streets, so we're not individuals, it becomes a collective thing…
V: One of the nicest things we've done is where we take over a whole box and we collage it…
CoS: It's everybody's work all at once. It's so instant, although sometimes people don't want it to be too chaotic!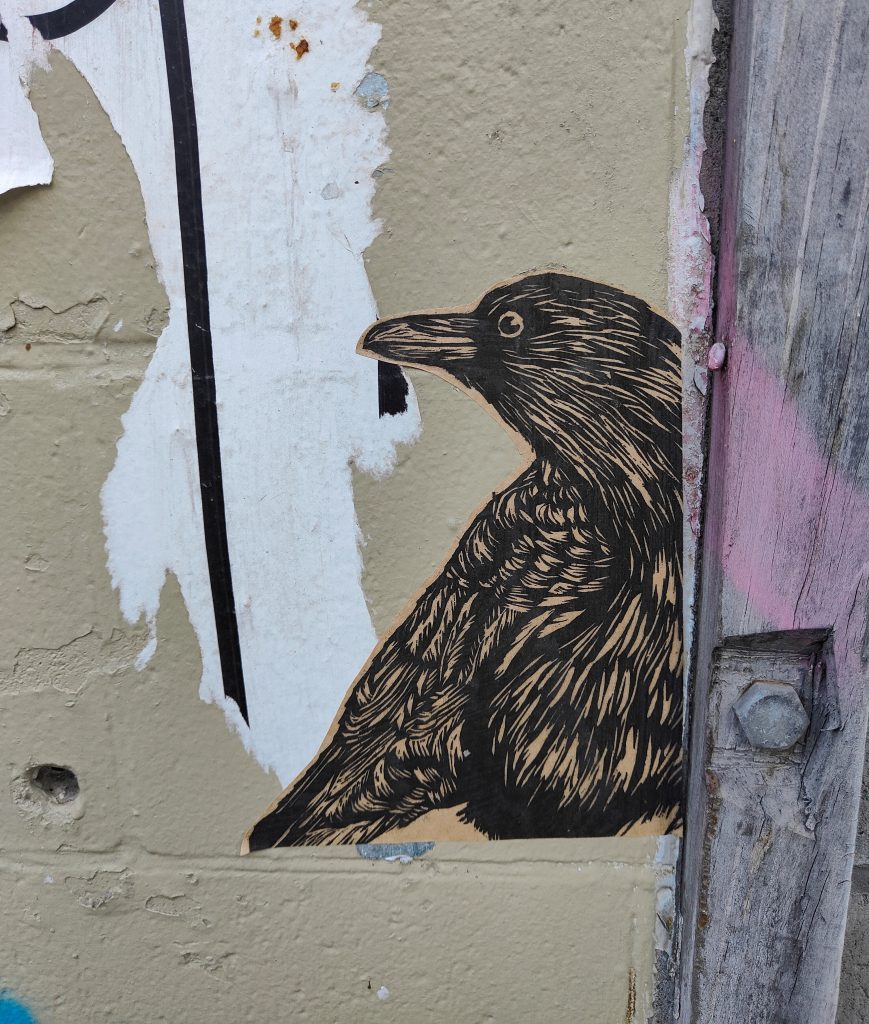 We were talking about the other events…
tls: Oh shit! Yes! So, you've got workshops, on the Wednesday after the opening night, it will be similar to what we do already, and we might do one for younger people beforehand. We have the ability to share stuff on the wall here, we have the ability to play music here, we have the ability to do lots of things, which is why we are having it here at TyanHAUS.
How did that relationship with TyanHAUS start?
tls: I judged a youth skateboard competition that was run here on a wet day a while back. We were going to run it at Two Thumbs Brewery, but it was too wet. So, I came down to help Jack [from local skate brand DuckEwe] to judge. I was looking at this big wall and I thought we could cover that! The guys from TYAN were like, yeah, sure, go for it! We did a few workshops here where I drove my car inside and we lay down on the nice clean floor. We talked to them and they were keen to host this festival, so we said yeah let's do this! Now it's almost here…
It is going to be a busy time with Flare Street Art Festival as well…
V: We talked about cross promotion, but I feel like everything's happening at the same time, so people that are interested in street art are going to find out about both…
It is awesome to see these two things overlapping, speaking about the same culture, just from different perspectives…
CoS: I imagine the audience is going to be the same, so I hope that people check out both shows. We've done a few of the graffiti workshops at the giant cans and that was awesome. This cross section across the two events is great, with some really big names in graffiti and we have some really big names in paste-up culture, as well as a lot of people that are virtually unknown…
tls: We had to force Lost Boy to get on Instagram, because we wanted to tag him in posts. But he is also totally fine with just coming along and drawing his drawing funny pictures about shit we say. He's actually got an exhibition opening on the 22nd, its fucking grand! Along with the paste-up show, there will be a Hello! I am the Show exhibition with members of Slap City. It's not specifically about paper art, but it is connected…
How can people find out more? How can they make sure they don't miss out on anything?
V: It's all on our Instagram account, we've got a Facebook event set up as well and we are going to get posters printed and pasted up.
Who is supporting the festival?
tls: We've got obviously TyanHAUS on board, they're amazing, we've got Hello, who is doing our lovely art show, Karma Cola are doing drinks and there's talk of a beer and wine sponsor, we don't need much else. It would be great if there's someone out there who makes wallpaper paste, hook us up! Or people who can print some stuff for us, hit us up on the Instagram page!
Is there anything else you want to add?
tls: Come along!
CoS: Participate! Do the workshops! Support local artists!
____________________________________________
Follow Slap City on Instagram and Facebook for more information about The International Paste-Up and Sticker Festival. The Festival runs from March 4th to March 12th at TyanHAUS on Carlyle Street, Sydenham