This month's And That Was… is a special edition – dedicated to the impact of the Flare Street Art Festival across March (the festival opened on the 2nd and eventually came to a close on the 20th, an extended run). Who better to break down the highlights than Flare project manager Selina Faimalo, who gamely took on the challenges of such a multi-faceted event, and headline artist and pop-up gallery curator, Kophie Su'a-Hulsbosch (aka Meep). From the amazing murals to the additional elements of tours, exhibitions, panel talks and more, Selina and Kophie break down what made Flare such a success!
____________________________________________

The Flare Ōtautahi Street Art Festival was a conglomeration of large murals, a pop-up exhibition, graffiti art, guided tours and art talks.
The ARCC collective wanted the festival to be a collaborative event, with artists involved in the curation of the event and to incorporate traditional graffiti as well as street art. Dcypher, Ikarus and of course, Kophie, were eager to jump on board to have the most authentic festival possible. It is amazing to break down Flare by the numbers:
Flare became a 20 day festival with a total of 44 artists participating, including seven headlining artists, as well as a three-artist collaborative 3D mural and a three-artist projection installation, a 'Wahine Takeover' at the BOXed Quarter with four female artists,  an exhibition featuring 21 urban artists, and a two-part graffiti jam with 35 artists. Flare saw the completion of 44 new artworks across the SALT District. More than 1200 visited Flare Central on High Street, with many taking home art from the pop-up exhibition, while 136 people joined the guided tours (and more just tagged along!).
Overall, we had so many wins, including Koryu taking home Kathmandu's People's Choice Award (voted by FLARE attendees) and the heartwarming development of Olive the cat, star of SwiftMantis' mural, finding a home when she was adopted from the Cat's Protection League!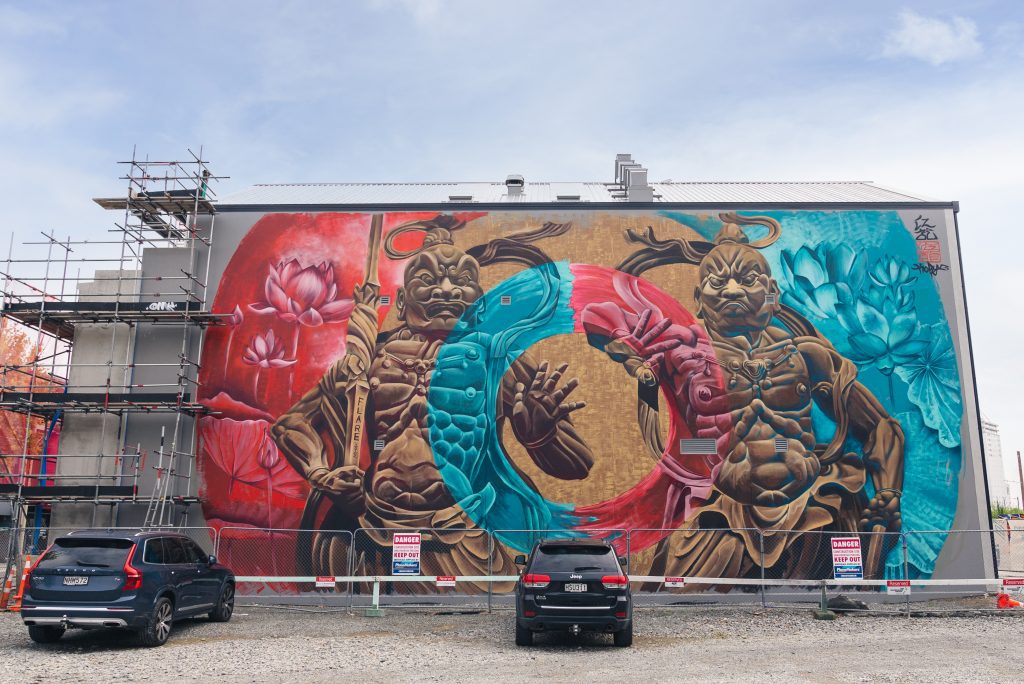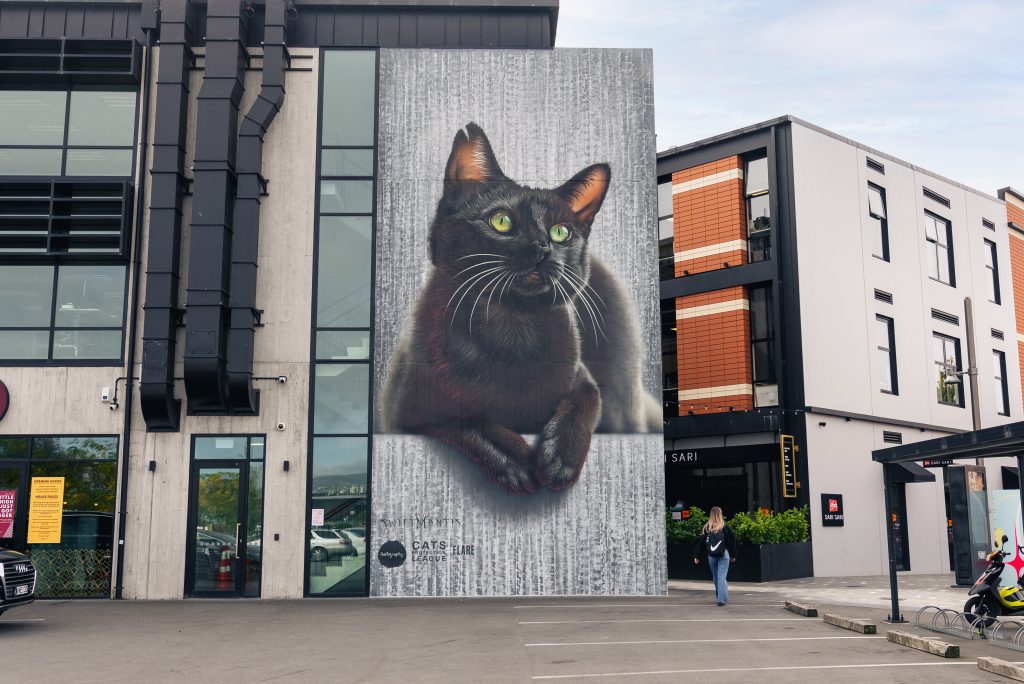 In addition, these were our personal highlights…
Wāhine Takeover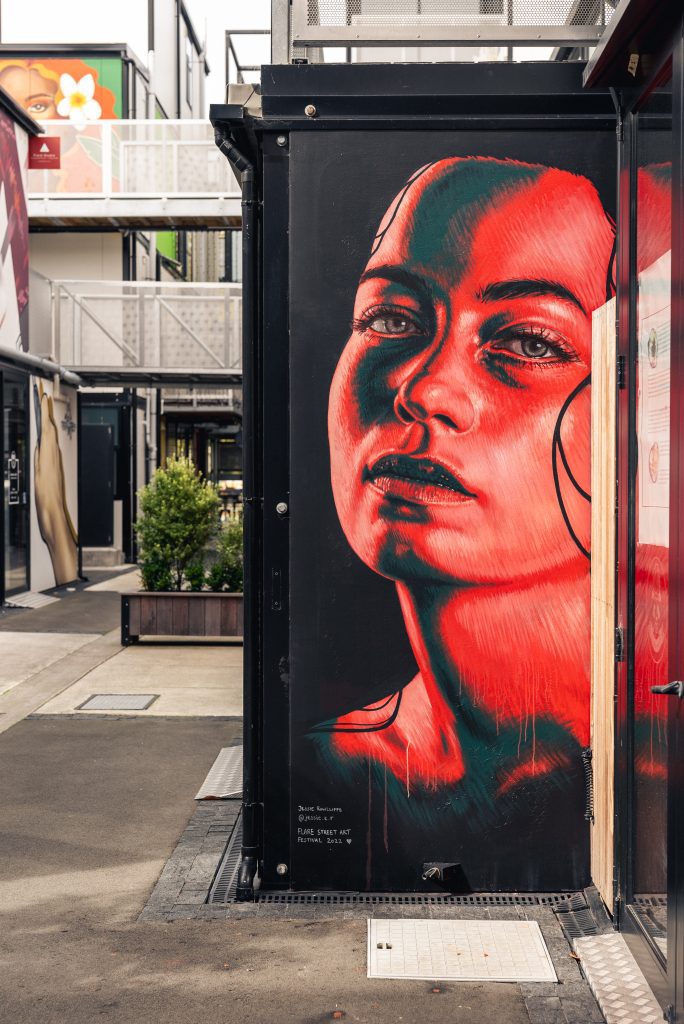 Kophie and I are the founders of The Conscious Club and until very recently we were based at The BOXed Quarter, an amazing part of SALT District with a variety of murals by different artists.
The Wāhine Takeover was added to the programme as when we were organising the graffiti jam, it became obvious that women graffiti artists are few and far between in Ōtautahi. Kophie took the initiative of choosing four wāhine to paint at the BOXed Quarter, adding a point of difference to the area and a diverse range of new artworks. The selected artists were Jen Heads from Fiksate Gallery, Lucia Kux from Berlin, who has a background in graffiti and is a tattoo apprentice, McChesney-Kelly Adams from Lyttelton, who specializes in realism and also has a tattoo apprenticeship and Jessie Rawcliffe, who specialises in highly detailed portraiture.
The Pop-Up Exhibition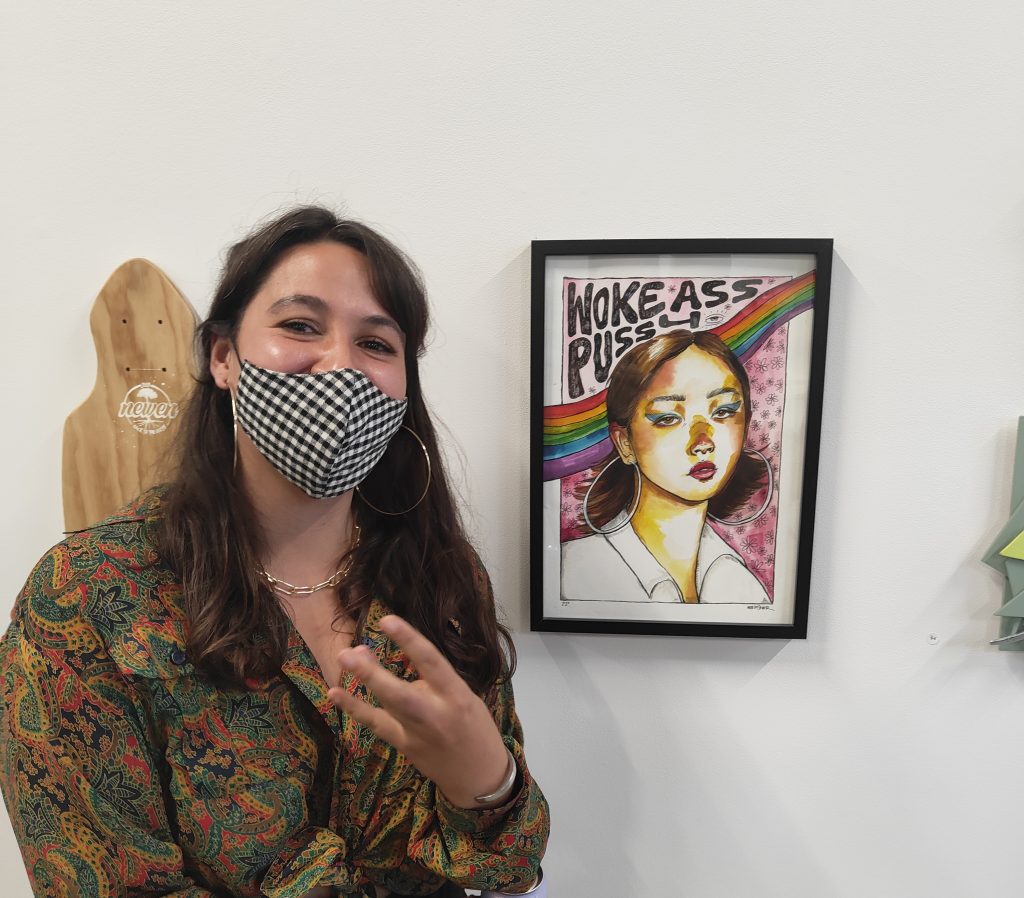 As well as being one of the headlining artists, Kophie also curated the Flare Central pop-up gallery. The exhibition was primarily a representation of Ōtautahi graffiti and street artists as well as art work from our headlining artists. The curation of the gallery was to be a homage to graffiti art as the art form that began street art and large-scale murals and adds vibrancy and culture to the city.
Offline Collective x Fiksate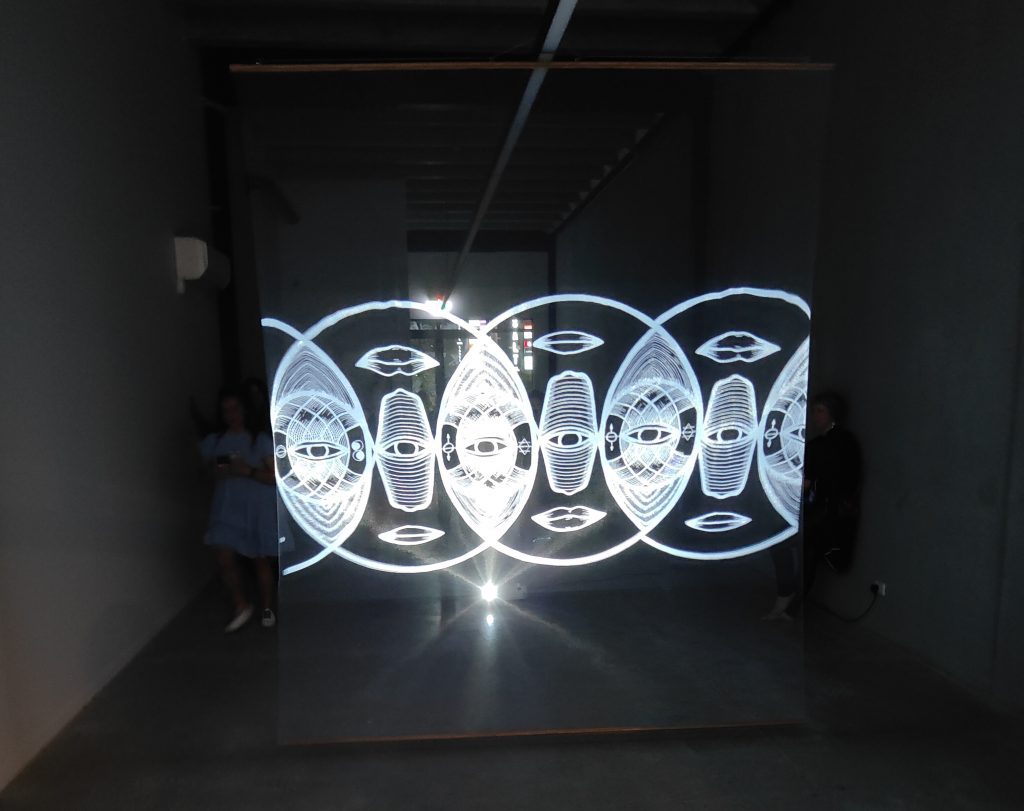 Offline Collective and Fiksate Gallery merged their creative outputs, mixing the work of local artists Dr. Suits and Jen Heads with Offline Collective's renowned animated moving images. Overlaying visuals and interrupting the usually static images of both artists in two installations, the concepts were brought to animated life in an empty High Street space.
This installation was epic, exploring the murals at night and peering through the window on High St whilst eating an ice cream from Utopia (or even a few wines deep) was mesmerizing ! It was like seeing a Jen Head hologram from 2043!
Tours
We were so lucky with our selection of walls being so close together in the SALT District that all the murals were located within five minutes walk of each other.
Watch This Space facilitating the guided tours was absolutely amazing, Reuben's passion and knowledge about the urban art scene had attendees hooked!! It created a sense of pride for residents learning about already existing art that they once just glossed over.
The great thing is, if you missed out you can still book in guided tour with Watch This Space!
Artist Panel

The Watch This Space: Flare Artist Panel was another highlight. One of the biggest struggles with Flare was hosting a festival in red light setting, as well as being in the peak of everyone catching COVID! (including me, LOL!), with a limit on gatherings of 100. We were so grateful to have access to equipment through WORD Christchurch to live stream this so those isolating and all across Aotearoa could tune in!
We had all our headlining artists on the panel apart from Elliot Francis Stewart and Wongi who couldn't make it, so it was really great to hear the diverse stories; their backgrounds and their journeys to where they are now.
Graffiti Jams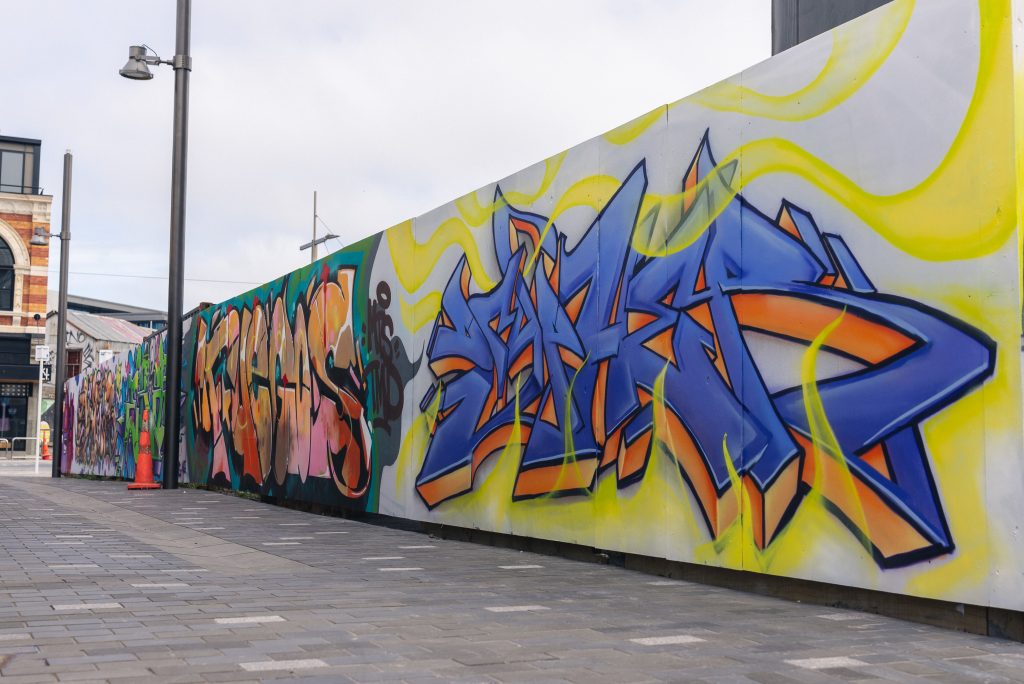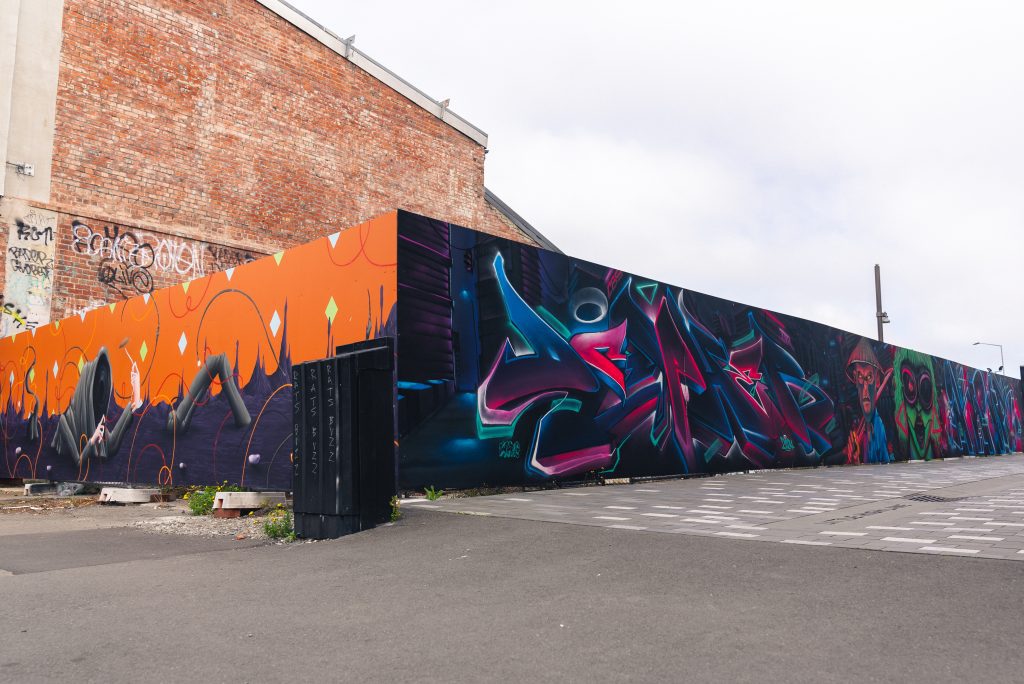 As the festival was extended (we had a few artists down with COVID!), we ended up having two graffiti jams!
We had 20 Artists painting at Graffiti Jam Part One and 15 artists at Graffiti Jam Part Two, and it was so much fun to get the community together to paint legally and incorporate traditional graffiti into Flare. We even had North Island heavyweight Fuego, who happened to be in town at the right time, get a piece in!
Dcypher and Ikarus had been such a huge part of helping put Flare together and they facilitated both graffiti jams. They have a mana in Ōtautahi that brought everyone together and had a great time.
Both laneways are special in their own way and walking down each one takes you on a journey of a range of styles like walking into a gallery on the streets.
We honestly couldn't be happier with how the festival turned out. Even though we were in peak Omicron and in the red traffic light setting, it all came together through an epic community and residents supporting the arts! Fingers crossed we can do it all again next year, and actually hold the street party!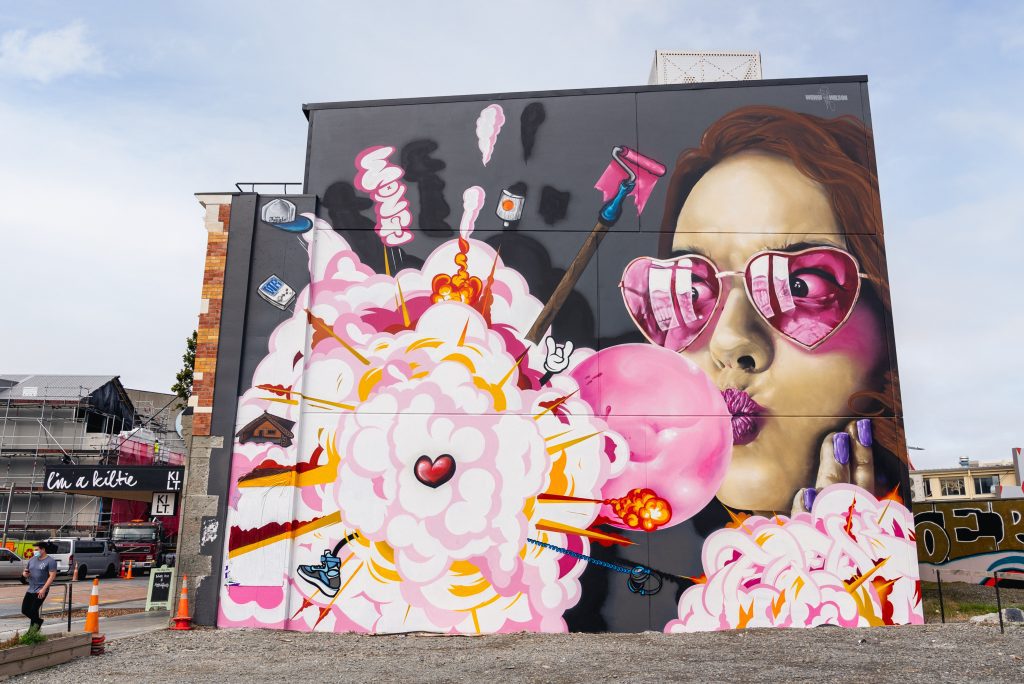 ____________________________________________
Follow Flare Street Art Festival on social media and keep an eye on the website for future announcements!