The fourth installation of this female-centric Spotlight series, Ōtautahi artist and designer Jimirah Baliza's Get a Grip, is a playful invitation to passers-by; an invitation to pause and immerse ourselves in a scene that transcends our immediate experience. The animated depiction of a retro arcade claw machine embodies the unpredictable nature of life, reminding us that it is often filled with both anticipation and uncertainty, ups and downs, near misses and satisfying successes. Anyone who has played such a game knows the hope, the excitement, the calculation, the frustration, and ultimately either the disappointment or the elation of the challenge. Drawing on this universal connection, Baliza presents a whimsical moment of candy floss pink and baby blue nostalgia, transporting us back to a time of innocence and wonder, where the act of winning a prize was a heart-pounding adventure.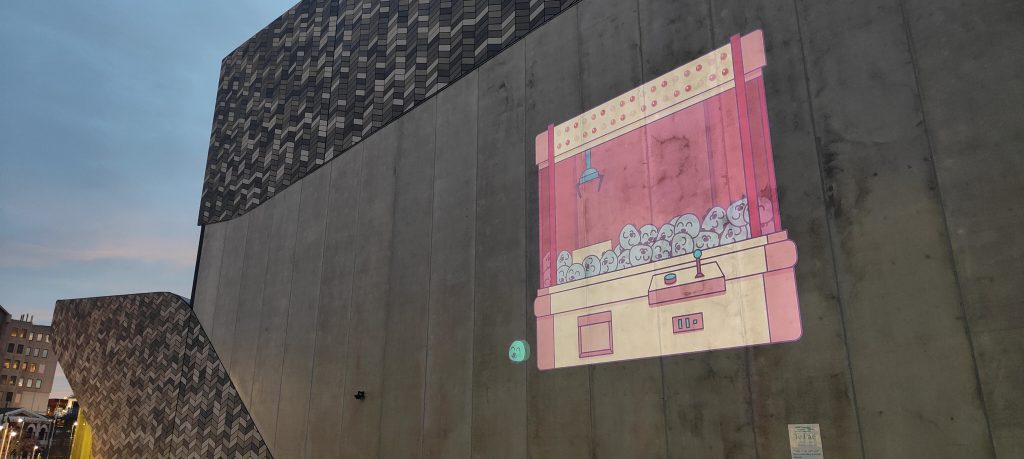 Get a Grip plays through the experience of the game on a loop of attempts, at first failing, the prize slipping from the metal claw, but eventually succeeding, creating a crescendo of joy following the spilled first attempts. The smile as the 'prize' toddles off from the machine. The prizes themselves, cheerful animal characters, serve as smiling participants in the challenge. They become echoes of community, networks of support with the ability to uplift each other. We are encouraged to keep on, to go again, to get our rewards and to revel in that success.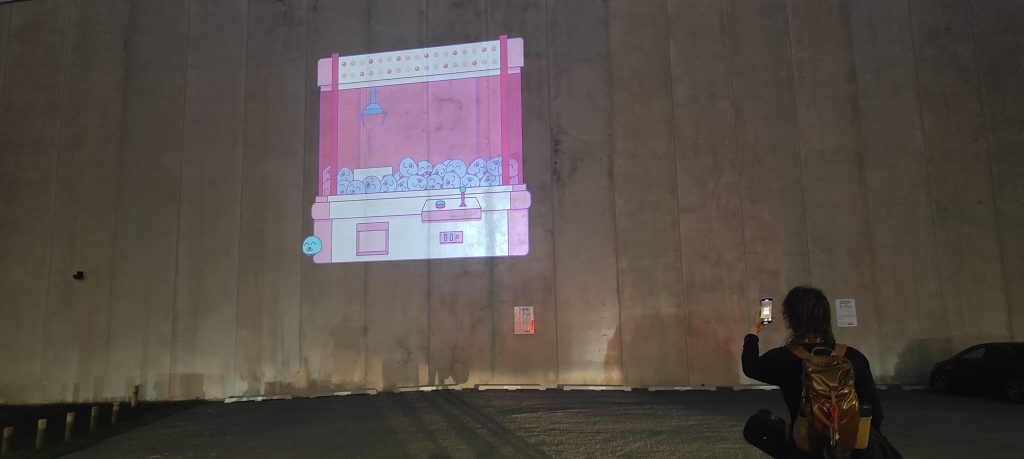 Jimirah Baliza is an Ōtautahi Christchurch-based independent graphic designer, illustrator and artist. Raised in Manila, Baliza is a creative problem solver at heart, with a passion for working with entrepreneurs, local businesses, community groups and organisations, enhancing their visual communications and their ability to engage, empower and educate across print, screen and space. Get a Grip was once again supported by local legend Nicholas Keyse. Pushing the limits of graphics technology while incorporating traditional techniques, Keyse founded Immersive Reality Ltd after working extensively in the print and digital design industry. Showcasing his work in exhibitions, Keyse held a solo exhibition at the Centre of Contemporary Arts' Lux Gallery in Christchurch in 2019. Co-founder and curator of record label Subtle Recordings, he is also well-known for his prolific production of music posters with which he hopes to continue to inspire future creatives.
Spotlight – Urban Art Projections is proudly presented by Watch This Space in collaboration with ChristchurchNZ. This iteration of Spotlight proudly shines a light on the diverse work of four talented female Ōtautahi artists – exploring new possibilities for urban creativity and adding a surprising twist to the city after dark! The Spotlight 2.0 project was completed with support from the Hine te Hiringa – Empower Women Utilising FIFA Women's World Cup 2023 Fund to help celebrate and empower women.