Christchurch photographer Heather Milne is our first guest contributor. We asked Heather to reflect on her experience partaking in [CROP] Project: Flash Intervention, a recent street art project led by the CHUZKOS collective, celebrating the diversity and inclusivity of contemporary Christchurch. After considering various sites, [CROP] eventually took place on the corner of Manchester and Lichfield Street in Christchurch central. Photographs representing the faces of Christchurch were pasted on to the giant spray cans that Oi! YOU and Gap Filler have repurposed as free legal walls for the Christchurch community. Read on for Heather's  the project…
A concept, a bunch of cameras, giant jigsaw puzzles, and ten days to figure it all out.
[CROP] Project: Flash Intervention is a collaborative art project by CHUZKOS and a group of local creatives. Starting on 29 April 2018 with introductions and ideas, the street art installation combines the concepts of inclusivity and diversity to celebrate the evolving face of Christchurch's population. The final artwork was installed on 9 May 2018. I was privileged to be a part of this project as a Christchurch resident, lover of street art, photographer, writer, and wheat paste chef.
Background
The quick-fire art project was coordinated by Boris Mercado and Idelette Aucamp from CHUZKOS. They've set up the [CROP] Project, which 'believes in the power of collaboration, art and photography to empower and promote positive change ' and  uses 'street art around the world to question societal issues, while paying homage to some of society's most marginalised and often unseen individuals'. 'CROP' stands for Creative Resistance & Open Processes.
So, how did these noble and optimistic intentions work on the ground? Pretty well, it turns out…
The concept
Idelette and Boris initially planned on undertaking the project by themselves, but after being inspired by the creative energy of Preston Hegel from XCHC, the plan changed and the project became a collaboration. After a group of interested people responded to a Facebook post calling for people to get involved, an intro session at XCHC ensured the wheels of creativity started turning. Fast.
As Boris explains, the benefits of the fast 'flash intervention' style of street art are in the potential found in collaboration:
"This project again proves that initiatives based on collaboration are viable. And we can continue to break through the clutter and break away from the idea that art only belongs in galleries. I like how our project can keep contributing to the dialogue people have on the streets".
The human face of Christchurch and Canterbury has changed since only Waitaha, Ngāti Māmoe, then Ngāi Tahu iwi lived in the area. In addition to the mass migration from Great Britain, people from all over the world have emigrated to our shores for work, refuge, family, and love. Post-quake, Christchurch has experienced a new influx of immigrants; workers have flocked to the city from the Philippines, Ireland, Australia, the Czech Republic and many more countries. These new arrivals have helped with the city's rebuild, contributing to New Zealand's economy and enriching the culture in the process. So how does this reflect our identity? What do we look like now?
Two key themes of the artwork emerged – diversity and inclusivity. We wanted to create an artwork that provides a glimpse of who we are – a city and nation of people who need to promote unity, equality, inclusion and acceptance while also celebrating difference and diversity. We wanted to ignite conversations and inspire individual pride and the recognition of the various role people play in their communities and families.
Idelette sums up the importance of art and the use of public space as tools to encourage reflection upon these ideas:
"Art is a powerful tool of communication. By using public spaces as alternative platforms of communication, we invite people to connect with their environment, interact with each other and reflect on their own thoughts and opinions".
What I found particularly beautiful about our group is that we were established artists, students, parents, people with day jobs and without, people born in New Zealand, people not born in New Zealand, people of different ages, genders, and cultures. Everyone was able to contribute something meaningful on practical, conceptual and spiritual levels.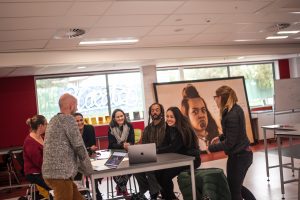 Process
As a photographer who generally works alone, the process of a collaborative street art project was a massive and rewarding learning curve for me. I love a good three-month schedule with detailed creative briefs, a clear idea of target audiences, and defined responsibilities. An intensive ten day art project with everyone pitching in, changing ideas, and last-minute additions threw me into a bit of a spin. There was no time for my usual encumbering imposter syndrome and I was compelled to trust my photographer-instincts.
We rushed out and made photographic portraits of people. Idelette and Boris worked on graphic design, marketing, and finding a space for our artwork. Their level of trust in the latter was impressive – and their tenacity got results. The five giant spray cans on the corner of Lichfield and Manchester Streets were booked as the canvasses.
Because of the (very) low budget, the only way to print the artworks was as A4 pages – then we painstakingly put them together the day before the installation to form five large portrait murals. Or maybe that should be five giant jigsaw puzzles!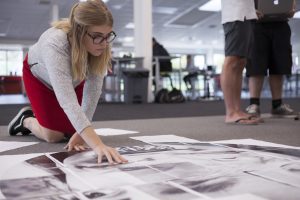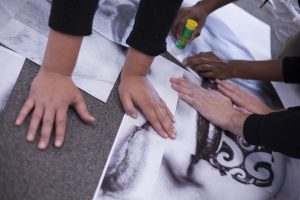 Installation
Glaring sunlight, a brisk wind, flapping giant puzzle pieces, and the mucky qualities of wheat paste were all challenges to overcome on installation day. We were joined by Ravenhill Dance, Herbert Lewis, and Lana Panfilow with their gorgeous roaming dance performance thanks to connections made by a dance teacher in our group. The artworks went up, people came and watched, a school group visited.
We finished. We went to the Dux for a beer and a debrief. It was a good feeling.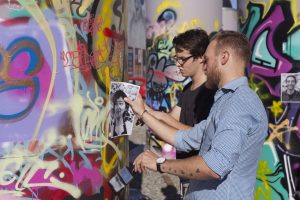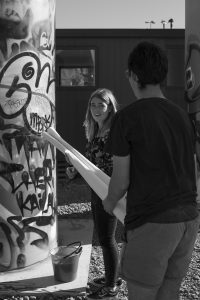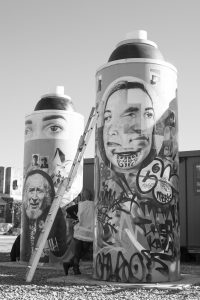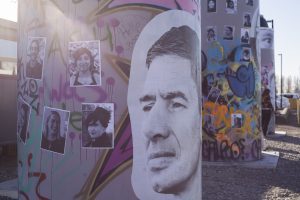 The day after
Writing this the day after [CROP] was completed, I'm knackered, but excited about the connections I've made and the quiet whisperings of potential spaces we could work with in the future. I love the impact of the artwork we created – so many faces proudly representing our city in an accessible location for people of all ages, abilities, and cultures to see and interpret.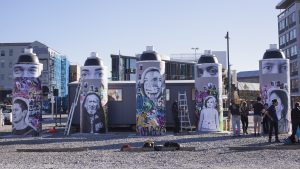 Final words from Idelette and Boris
A massive shout out to XCHC and Watch This Space for making everything run so smoothly and trusting us to do this project. Thanks to everyone who came to the open call, joined the group and provided creative input and contributed with each of their individual talents. We loved how much people really pulled together. We've since heard of three projects that will come from this one, which means the project has inspired!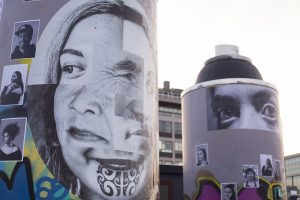 Heather Joy Milne is a Christchurch-based photographer specialising in documenting photographing social change and the rebuild of the city. She's passionate about the role that photography plays in storytelling and connecting communities, and is also a huge fan of penguins, coffee, and tiramisu. You can see more of Heather's work at 
https://heatherjoymilne.weebly.com/
 and find some of her articles at 
expertphotography.com
 and 
digital-photography-school.com
.
Did you enjoy reading this article? Would you like to see more projects like these in Christchurch? Would you like to see more contributing writers on this blog? Please leave a comment below.