When I arranged to sit down with Jacob Yikes, I had a feeling it could be a lengthy conversation; I have long been a fan of his work and here I was presented an opportunity to delve deeply into his approach to making art, his reflections on how his work and life are intertwined, and as I realised as soon as I stepped foot in his studio, the new directions signified by the impressively-scaled works he had been busy creating. I wasn't wrong, over an hour after we started recording, it was time to catch a breath. We covered a lot of ground, and it was quickly apparent that our interview would be a bit of a monster, necessitating two parts. Here, in Part 2 of our interview, we jump straight back in and pick up where we left off…
You said before that you have felt that some of these works have been speaking to you in some way, not literally, but kind of telling you when the time is right to work on them and when it's not right. The process of giving them time and stepping back, which you can't do to the same degree with a wall, does it lead to frustration, or has it been satisfying being able to work in that way?
It has both. There's definitely frustration, but I guess with the frustration, because I will start multiple works at a certain time, that time has to be right. I think that is when I feel that, not like that painting is talking to me, saying I have to paint it (laughs), but it's more instinctively, I will make certain marks and certain gestures with whatever materials I'm using and then I get to point and it almost says 'that's enough, don't touch me right now!' (laughs) 'You need to move on from that part!' While you're in this head space doing that stage of the works, basically, because the paintings are in stages, I can't jump from stage to a different stage, from another painting, so I find that working on one or two can be helpful, because now working on a bigger scale, it's a lot harder to set up five paintings. It's a big space but it's not big enough for that, I'll smash things if that's the case! it's just not going to work, so you put that stage down and while I'm in that head space, I'll move to the next one and then it will stop but there will be a while in between sometimes of me going back to that painting because the feeling is not right. Again, I think it comes down to how I've approached the works in the first place, of them being really personalised in terms of so many things, like it's a real sort of expression, I guess, it kind of changes the look of the painting too, to an extent. There's certain marks there for a reason, I'm kind of like putting those pieces back together, well not putting them back together, but putting them together when creating the other stages of the works. It's probably my own little consciousness telling me: 'Don't work on that right now!' I do work quite sporadically, one minute I'm doing something then the next minute I'm onto the next thing and it is kind of just how I've worked. It's even how I've worked outdoors sometimes, I could be doing something and I'm not having it, so I leave. But then I'll go and start the rest of the wall at like four in the afternoon, because I've found for me, if I try and force it, just too much negative energy comes out, and I'm not having it. The painting won't go anywhere from that, so those first stages are super important in the studio works, not so much in the big works because there is a different process to painting them, but there is still that erratic quality, I can only work on them at this point in time, I think that's more doable in the studio, for sure, but I haven't really felt that I've gone too far with any of the works yet, so I'm just going on that initial instinct with them at this point…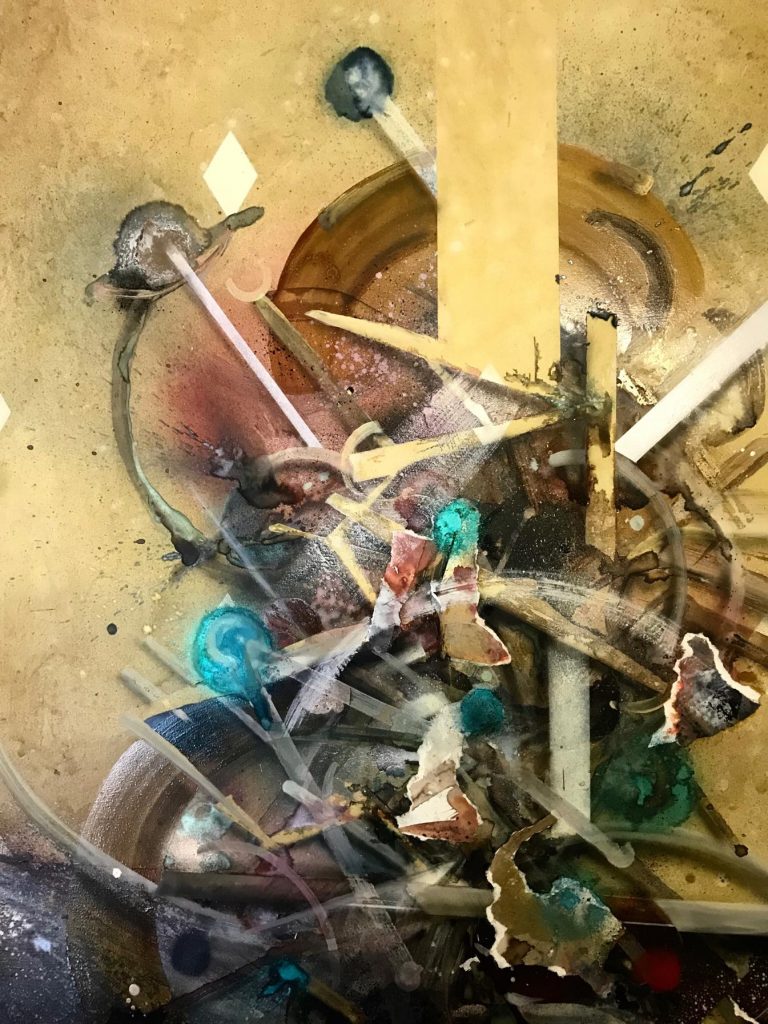 Because of the intense concentration involved in the finer details of your work, I assume it would be easier to know when the time is not the right for that approach, but with the more gestural stuff, which is such a strong element of these works, there's a real sense of your physical exertion, and in many ways it must be really necessary to have that ability to know when to stop, because it must be so easy to be swept up in that…
Yep, absolutely man.
These works really have that dynamic sense of the movement of your body, but it's so different from wall work, which will often, and this isn't specifically about your work, but often it's the scale and the size that reflects that, rather than the texture, or those kinds of elements, but these works really seem to reflect your physical presence, either above or in front of a work and engaging with that surface. Do you see the differences between the way that your mark making reflects your movements both on a wall and in the studio?
Yeah, well, it's all very freestyle, even with the walls too. When I would work on a wall that was a little more expressive with marking making and how I used the line work and stuff, as opposed to the more structured ones that had that room element going on, it was all kind of whatever comes up was coming out, and I will deal with it once it's on there, to an extent, because I can always visualise what I'm trying to achieve with it, but it's never ever going to look like that, it's just a blueprint in my head, to get to that point. I've taken movements from painting large works and graffiti and put them into how I achieve those first initial marks and sort of bits, and it's pretty much the same process in terms of how I attack it, it's just narrowed down in the studio. I don't have to step back fifty metres and check out what have I done, I can just do it there. Also, it is completely different mediums, so, while I know the technique to get to there, the result is going to be different. And that result, to be honest, has come about by experimenting. I didn't one day decide I'm going to start throwing it this way and start putting it here, having a wrecked, half dry brush and doing that with it (gestures), it pretty much was just messing around for a long time. And I mean a lot of the stuff in the past especially, I've just biffed, it's never really come out, and there's a reason for that too. At the time I'd be pissed off and in a foul mood because I'd just wasted a whole day and a whole bunch of stuff, you know, and then that comes back to me doing things at a time in my brain or whatever, in my day, that I shouldn't be doing it. I've always kind of been a workaholic to an extent, not to the point where I would say I've neglected any of my responsibilities, but I would sacrifice sleep to do this, so I'm trying to use the time I get, and if it's not happening , then I pay for it in the end, because I've spent that energy trying to do something I shouldn't have even bothered doing. But that negative energy, not all the time, but sometimes, I've been able to channel that into that first process of making the gestural bits on the paper, building it basically. The paintings essentially have been built the way I look at them, I create a background or a distant sort of space for these images to sit in and go from there. They are always at stages, but I can always fix mistakes, by working with them, not necessarily 'fixing' them, but you know, and again it comes down to me thinking actually, that's meant to be there for a reason, that might not be how I want it be right now, but I can actually work with that. It's not all the time, but there have been times where I've been: 'O.K., I've just messed that up, hang on I'll put it away for now…'.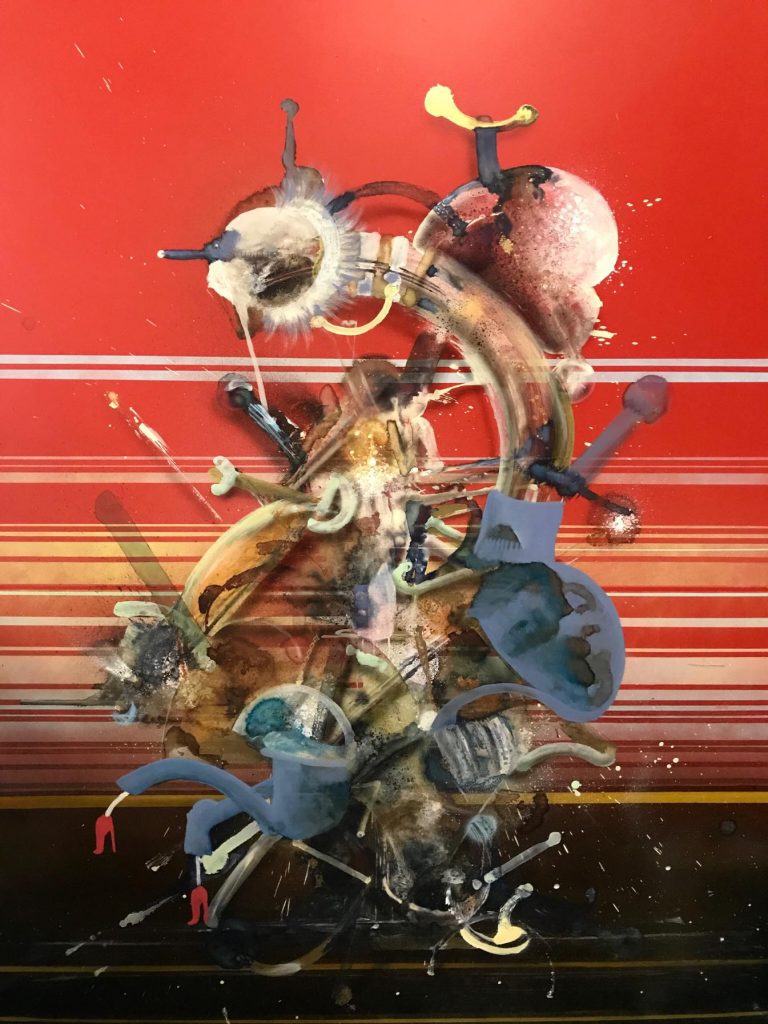 In reference to the idea that your works often have these landscapes and environments in which structures and scenes are built, despite how tricky those settings are visually or spatially, they feel like real spaces, like something to inhabit, when you are painting them, do you place yor self in those settings?
I pretty much put myself in there, and I'm still really trying to figure out what they are. I think they are an element of my subconscious, kind of a dream world that I can escape to, and I can have full control over. There's not that much in life that you can have full control over, so I find them an escape, and I think that's where a kind of therapy does come into my work. When I get to these certain stages, the final bits in these works, its like, I built the set and now I'm creating everything else that ties that all together. While each one might have similar attributes, they are always different, there is always a different concept behind them too, that's just part of my style. That probably works with that idea, there are certain images in my work that have become quite popular, but each one has its own feeling when I'm doing it, so I engulf myself in those worlds…
With this scale, viewers will be able to feel like they are being enveloped, which raises the logistics and potential approaches to exhibiting works of this size. Over the years you've exhibited in a number of different places; Am I Confused? was at the Art Box, which presented a unique space…
Yeah, it was.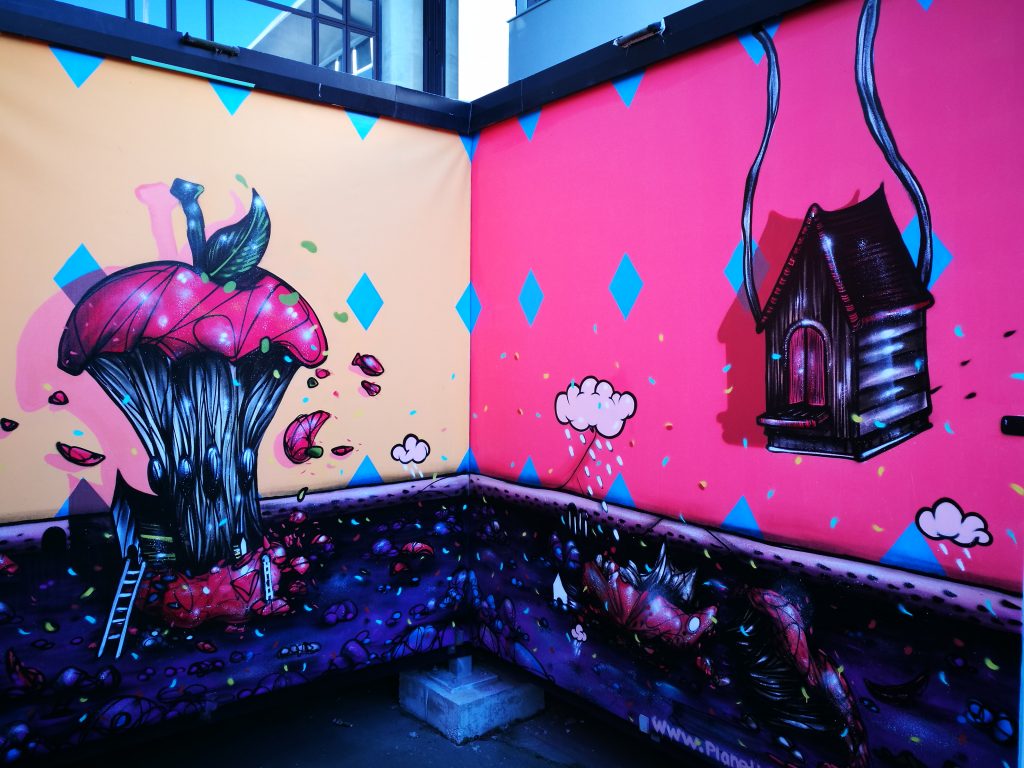 It was quite a tight space in terms of how people were able to filter through, with these works it feels like they need a very specific environment in which to be exhibited…
They do, they do man…
Is that a challenge in Christchurch?
It is really difficult. It's probably the hardest part at the moment, because in the past I have always done the hard work to try and get these shows happening and I like that, but it is hard. Finding a space in Christchurch is hard for anything, so finding the right space for this sort of show is probably going to present a few difficulties, but it's so necessary. I have to find the right space because for my works at the moment, I'm trying to really put people in a setting as such, whether it's in my head or whatever, or it's a setting controlled by me, because visually I know what I want to feel from these paintings and that's going to be completely different from anyone else seeing them, but if I can also add in the elements of sound and lighting that I want to, then that's going to help to build the story of them a little bit. It's a deal breaker for me, and I'm not going to show them until I can get those elements happening. Because of my process of creating these works and how I approach them, it would be so stupid if I didn't show them in the complete environment. I would just feel like I didn't achieve what I set out to achieve, if I can't put those final nails in…
The ideas that you are talking about; the control of the lighting, the sound, that's a sign of the maturing practice of exhibiting. It's not about just finding somewhere that will let you hang pictures, it's about a whole experience of creating an environment for people to view your work and for you to have more control over how it is received. I feel like, for the growth of the urban art scene in Christchurch, there hasn't really been that opportunity, or an environment that has allowed that in many ways, so that is, as you say, a big challenge, but it's absolutely necessary for these works…
So much gets put in behind the scenes too, with getting the sponsorship, getting all the little things, all the logistics of it, so you're putting in a lot of work just to show them, so for me, it makes sense to put in that work and just push a little bit more. With these works as well, the subject matter, it's really real this time, not that it ever wasn't, but it's something that I haven't really addressed ever, so I know I've amplified that, I've amplified the scale, but the scale thing for me is only going to really work with those other elements, with the sound, with the lighting, and that will ensure it all makes sense. It's a specific thing that hasn't even probably come to be in my own head yet, but I know where it has to go, and I know what has to happen with it. Like you said, it's something that hasn't been able to be done with these sorts of shows. I'm not being offered a mint set-up, a humongous space with all these things, and I'm not even asking for that. To be honest, I kind of like the control I get with not having to deal with that, I'm not saying I wouldn't, but at this point, I'm trying to build this profile for myself which isn't just about what I've done, but it needs to be different. So, for me to do that, I just have to literally make these ideas that have been pushing at me, come to be, and I think that the easiest way to do that is to have that control. My partner's really good, we've worked together on these shows for a long time, she does a lot of the background stuff as well, because at the end of the day if I can focus on this stuff, it is better…
And it's going to come out in the work…
Yeah, and we've learnt that from trial and error, just from having these shows. I've had some good shows and some bad shows, but at the end of the day you learn from each one.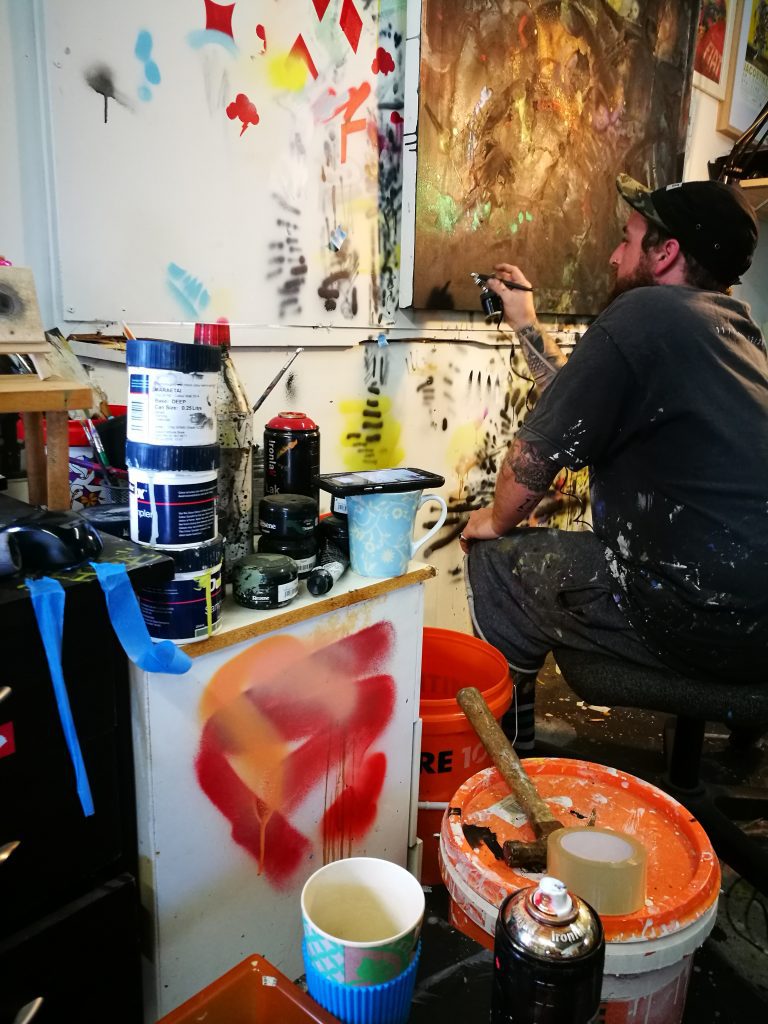 In terms of your growing reputation, and to some extent the reputation of the Christchurch scene, have you investigated the potential to show these works outside of Christchurch?
I'm sort of in discussions at the moment with a few places up in Auckland, so it's definitely been discussed. To be honest I was battling the idea of just doing the show in Auckland, not here, but I still I want to do both, I want to make it hard for myself! (Laughs) So I think whether it will be a travelling show or I will produce enough work that I feel I can even have two that are kind of co-existing with each other, I'm not sure on the final details yet, but moving them out of Christchurch is definitely something that I think needs to be done too. It's a daunting thought because I would feel way more comfortable just going to another city painting a giant wall! It's different exhibiting works, you have to get people to turn up to these shows, because they are not going to stumble across it by themselves all the time like a wall, and I guess I invest a lot more into these things than I do a wall…
There's a finite timeframe too, a wall can be there for the next ten years…
Exactly.
You might only have the chance to display these works for three weeks…
It's about getting the works there too, I've not made it easy for myself with the scale, but it's definitely do-able, it's just a matter of really making it happen. But it's in the pipeline for sure, I think I need to make it happen this year. I would like to exhibit a little bit more regularly than I have been, it's not through lack doing any of the work, it's just through pretty much having to deal with everything else you have in life. It's definitely going to happen and I've made those first initial relationships with a few places, it's just about taking it from there, and it's something I'm going to do.
Without sounding forceful (laughs), I think it has to happen, you deserve that exposure, you've put in so much hard work and developed such a unique and impressive style…
Absolutely, I am my own worst enemy. I know that I have put in work, and I always will. It's not like I'm done now, I'm just going to do this now, it's not that at all, but I know that I am physically here doing stuff, it's just what I do. I know that there's only so much I am going to achieve by not moving it around. I don't want to just let it all unfold, I need to really push that too. I think for me, I always want to put my best foot forward, it's a matter of what I take with me, what am I going to run with. It's about not being so indecisive about what I want to take out of Christchurch. It's a funny one, it's definitely something I've felt for a while, and not even to the point that I'm going to move away and try and make it away from here, I'm not going to approach it like that, I don't feel the need to have to move away from everything to just start trying to do things…
With Christchurch's recognition as an urban art location, it also needs to mean artists can succeed here and thrive everywhere, it's not about becoming a breeding ground for people then to move away, which is the typical kiwi, Christchurch story, right?
It doesn't need to happen at all, that's the thing, it really doesn't. Even in just the past four years, just by producing works outdoors, it shows that it's all about what you do to make this place what you want it to be. It's funny, I mean I think people have their own opinions on how they want to approach it, but if everybody thinks they have to move away, what's left? And that's kind of what happened in Christchurch, I know a lot of people who just up and gapped it, and that was their own personal thing, which is cool, but that doesn't mean nothing's happening here, it's all about how you perceive it really, and it's all about what you're looking for too.
It feels like there is a growing ecosystem locally, there is more diversity in terms of what people are doing, there are things here that can help make it all more entrenched. I guess as well, it's also about continuing to attract people here as well, not just with opportunities to paint walls, like festivals offered, but if there's spaces for people to come here and exhibit work, that can prove important too…
I think it's important to not just all be floating in the same boat. It's funny, I think oversaturation of one thing just kills it, and each festival, if that's what's happening, needs to bring its own thing to it, because at the end of the day, it is what people who were living here were doing, it's just painting walls, it's a do-able thing in Christchurch, it's probably a lot easier than any other city, so you can't just come and do that , you've got to bring something else to the table…
Exactly, I think that's a really good point, in global terms as well, festivals pop up everywhere, every week, the biggest challenge and the most important thing now is to be unique, to have an thematic or ethical standpoint in some regard, you know, say 'this is what this represents', it's not just about getting colour photos in the paper, it's about achieving some other type of goal, which is really important.
Yeah man, I think so.
Thanks for taking the time to talk, I must say, I'm really looking forward to seeing you exhibit these works…
Yeah man, in the next couple of months, or sooner than that, I'll be releasing dates, but yeah, it's coming up soon. We are just kind of doing all the finer background work now, bringing it all together. When I get close to a new show I always like to go out and do some public work as well…
Do the PR act!
It's just a way of saying 'I'm not dead, I haven't become a hermit just yet!'
Thanks Yikes! 
Keep an eye and ear out for Yikes' upcoming projects on Instagram and Facebook, as well as his website: 
https://www.facebook.com/jacobyikes.artist/
Featured Cover Image Credit: three-six-six media