In Part One of our interview with Auckland's Berst, we discussed his approach to teaching graffiti, and in Part Two that theme continues, along with a deep dive into the way graffiti has developed over time and across the globe, including New Zealand, his advocacy for graffiti, the challenges the culture faces, gentrification and the commodity of culture, and the importance of ideas…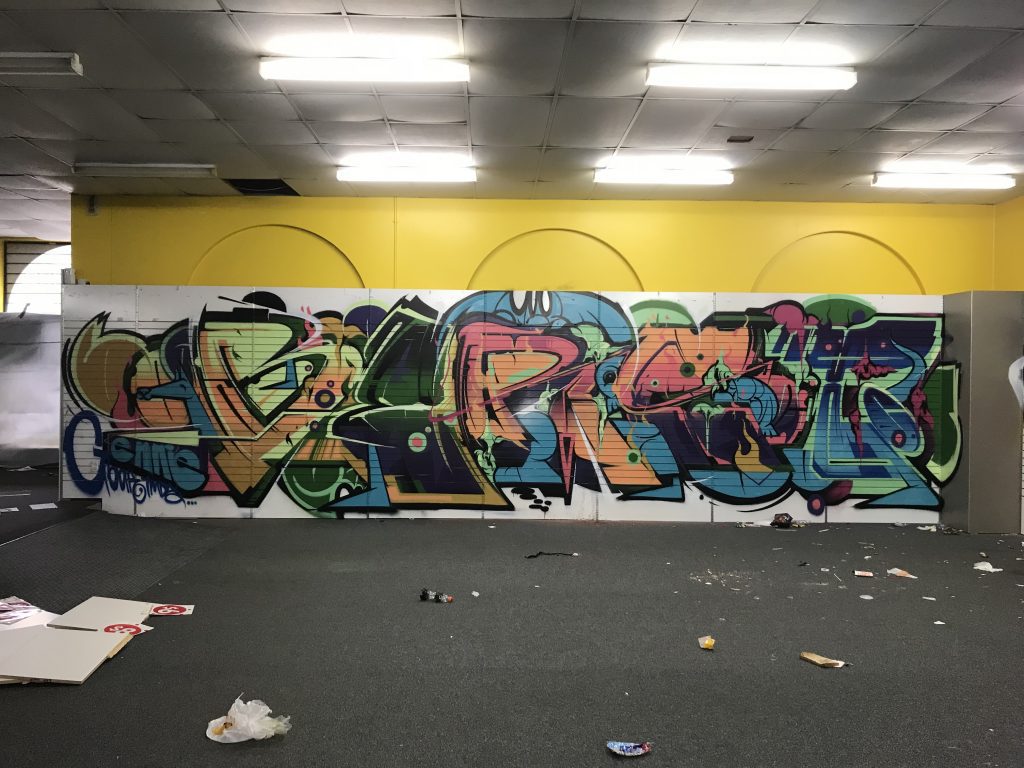 In terms of Aotearoa, how distinct can we be when we are talking about the history of graffiti? Do you see distinct scenes in specific cities more so than an overall feeling, or is New Zealand small enough that it can be condensed down to an overarching scene?
Are you talking about stylistic lineage?
Yeah, but also in terms of a more social history of the culture. Like, do you think different scenes have had both distinct stylistic trends, and specific social developments? Or is the scene small enough to mean that that overlap occurs around the country, both stylistically and socially? And I'm asking this because in Christchurch, this city has that position of being younger and smaller than particularly Auckland's graffiti culture, so when you travel and talk to people, do you see a distinction between the places that you go?
Well, I think first and foremost, in terms of a stylistic lineage, it usually goes in five-year cycles. Like every five years, there is a new crew that emerges that fuels something, that's kind of what I've noticed…
A five-year cycle?
There's a five-year cycle where crews form, and they make some sort of impact and they do something, and they are active…
Do you think that is related to a time span of maturity for a writer, age-wise? Or just a natural period of growth, influence, assimilation and repeat?
Yeah, definitely, definitely, you know most of the writers I hang out with now, they are anywhere between eighteen and thirty-five, mostly, so that's the kind of age bracket of people who are writing. So, there are now kids that are beginning at eighteen and I'm totally disconnected from them. l don't know what they are up to. But anyway, with stylistic lineage, I feel like we look back fifteen years, there used to be styles passed on because of who people painted with and associated with and were influenced by. One thing we talked about in the past is regional styles, and I think, particularly in Wellington, that's probably the best case-study. A couple of crews down there, they were really influenced by hip hop, and they proactively worked together to have an integrated look and way of doing things, so their pieces were really traditional, classic New York looking stuff, whereas in Auckland we had quite a few writers where international writers came over and that kind of shaped their styles…
Like the German influence?
Yeah, that shaped the scene, definitely. I'm not too sure about the Christchurch scene and other cities, but I definitely know that for me, at that very early period of time, it was kind of just Auckland and Wellington, they were the two main places. When the internet came and remixed everything and you know it became so easy for one person to look overseas and say: 'O.K., what's happening in Brazil? I'm going to take a little bit of that aesthetic…' So, definitely, styles are changing quite fast and it's become a bit more hybridised for everybody, I don't think you can trace the history as easily…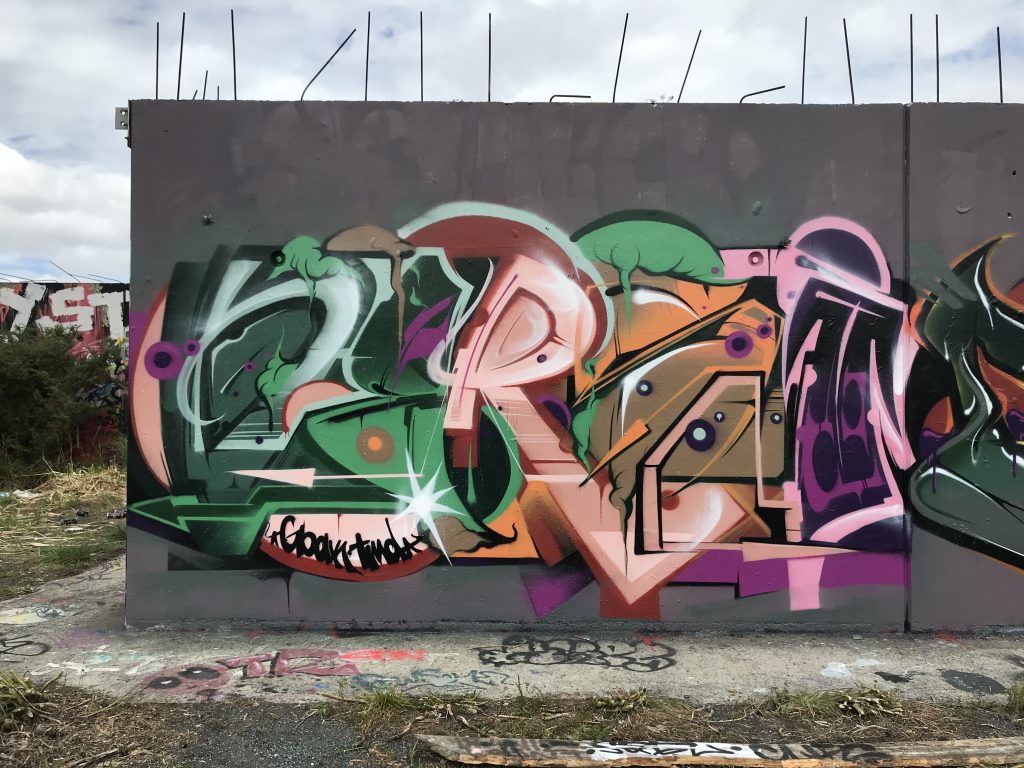 There's an interesting danger there as well in some sense, right?
In terms of appropriation?
In terms of appropriation, obviously in regard to cultural sensitivity, but also when using something as a building block for your own practice or style, without any real understanding, it can become problematic in your development conceptually…
That is what happens when it's an organic kind of art form, whereas with something like Pop Art, which was developed within, or at least formalised inside institutions, when you are in art school, they will say you do Pop Art like this. So, there's an educational aspect of studying Pop Art in University, but then it could also maybe stifle creativity because you think that you have to make art a certain way, if that's the aesthetic you are wanting. But with graffiti, each person is different from the next. In general, you would say most people start looking at New York graffiti first as a foundation, because you need letterform and structure, but I think nowadays people aren't necessarily looking at those guys for inspiration. But you know, an artist said to me in one of my Real Time episodes: 'New York, that's the real deal in terms of style.' Everything that is being painted now is just a replica, an interpretation of that in its various manifestations. That is still the core, that is still what we are trying to do and that's still our bible, the blueprints of what we're trying to create. So yeah, its an interesting one, I think partially that's what I've been trying to do with some of the Auckland writers, is influence them. Going back to this idea of religion, its about practice and is also about preaching certain types of principles, and I'm not religious, but, what I've realised is most important is actually passing down ideas. So, you know, at the end of last year I actually brought together ten graffiti writers and I had a meeting with them about all sorts of shit, from the law, to style, to painting pieces, getting up. When I get back to Auckland I'm meeting with another ten. What I'm actually doing is developing an army…
Yeah? (Laughs)
I'm meeting another ten, and then next year I might bring together another ten. Then suddenly I have a whole new generation of thirty writers to work with. But most importantly, it's about leaving behind some ideas, be it around style and how to construct letters, or how to do graffiti, ways of getting up, putting it into this context or making a living from it, you know? It's mostly because the people that come to those meetings, these younger guys, they do only have that one perception of what graffiti is: 'I tag', or 'I bomb', 'I get up and write everywhere' and that's their only conception of what it is. I'm just trying to open that a little bit…
Graffiti's public perception means it largely is unable to rebut to any charges brought against it, it doesn't often get a platform, but there is also a perception that graffiti writers aren't necessarily thoughtful…
A perception from the community?
Yeah, that graffiti writers aren't eloquent enough to express ideas around what they are doing, which isn't true, I find a lot of young graffiti writers have very crystallised ideas of why they write. Talking to young people, do you find that there is that real sense of understanding, even if it is only that one perception, but there is understanding there of the complexity of graffiti that the wider public often discredits them from having? That maybe they just express them in different ways?
Well, one thing that I say quite often is that there are two things to take away from graffiti: the first is to make the statement that graffiti is not art, as we talked about before, and secondly, that graffiti often leads to other forms of crime…
The Broken Windows theory…
Yeah, the Broken Windows theory, and I'm O.K. with that, because I do partially believe that if there is a bit of graffiti somewhere, someone is likely to paint some more graffiti beside it, because it didn't get buffed. So yes, I do believe that to a degree, but not fully, as I would also argue that graffiti can also lead to creativity. In many cases where I've interviewed artists for my own work, that has been the case, the journey. They haven't taken a formal art destination route to becoming an artist, they have gone through graffiti and it has led them there. So, it proves that it is possible, right? We see graffiti and street art and all these other forms of public art, urban art, and its place in transforming a city post-whatever, there are many things occurring, not to mention the massive street art festivals, that are changing the perceptions. I definitely think that graffiti has the potential to lead people into a career as an artist, but of course it depends on each person. But, equally at the same time, I believe that there is something that works against that as well, because writers are also painting illegally, you know, balaclava over the face and painting trains, that's also perpetuating an ideology of what graffiti is and who they are, and what they represent. So, there's that social connotation towards graffiti and once again it is tough, because it's an art form that's contradicting itself in many ways, it is art but I'm going to go break the law here…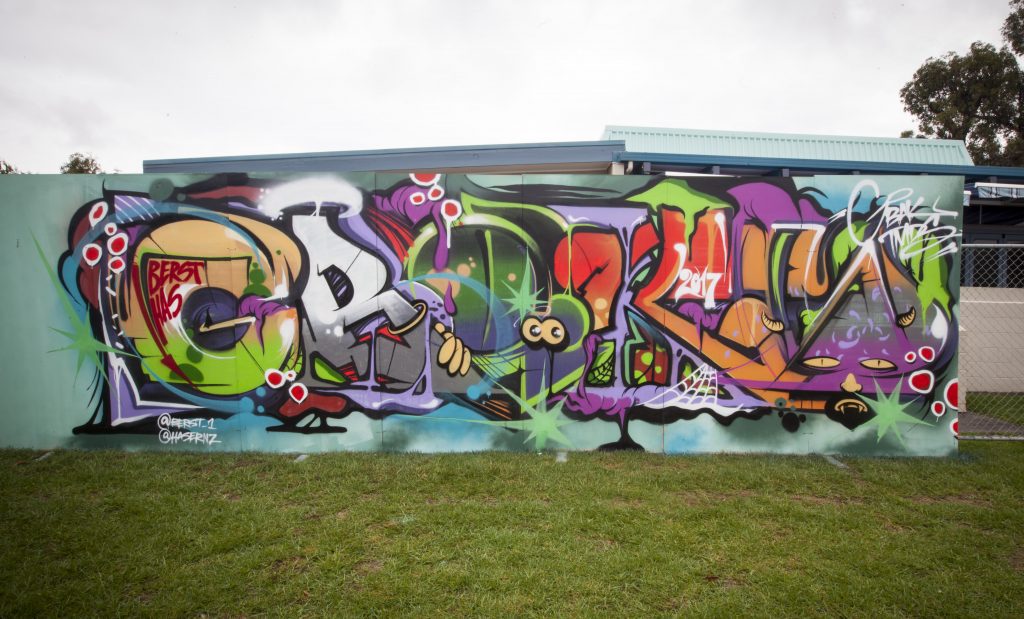 Yep, but that comes back to the question of how exclusive art and legality are, whether they are mutually exclusive…
No, of course not, of course not…
That's the thing, they don't define each other…
It could be art and still be illegal. But yeah, I think, once again, it comes back down to the context of what that is. My fight, my advocacy for graffiti is not necessarily to make it legal, to make it mainstream, to make people accept it or appreciate or even validate it, because I know that there are things that are working against graffiti that keep it in its pure essence of how it is manifested. In some ways part of me doesn't want it to be accepted because when it is accepted…
It loses something…
It loses something, right. It's kind of like in some ways street art is something that is mostly created illegally, when it first began, but equally if you were to teach street art in school, you know, you can teach someone to do an intervention in a space, you can teach them practical things, you can teach what it means working outdoors, the subject matter people use…
But teaching the motivation is a different thing…
Yeah, the context is really important, because that should then shape how people perceive it. It is actually a conversation I had with Ikarus just the other day. He was saying that there was a mural somewhere, Owen Dippie's Elephants, and recently the Council painted out the little tags and throwies in the background which were by some really prominent graffiti artists, and they were actually part of the wall that Owen Dippie wanted, and Ikarus was saying that he was pissed off about the Council painting them out. But then, when you go into an exhibition room or a gallery and people do throw ups and tags and bubble letters, then suddenly some old man will appreciate it because it's in that context. The reality is in their minds that it's the context, the setting. The perception of how they see it is quite different, because in this context I see some money, some value to it. But on the street, it looks like the stuff that is illegal, even though it is legal, and it's: 'Oh no, I don't like that!'
Yeah, we are conditioned to accept things in different contexts…
So, there is that thing where the community doesn't quite understand it, or value it in art, and I think the space and context is the real big factor in that…
That context becomes important when you are talking about something that doesn't have to change form to occupy either space, which adds confusion for a public audience, because they are looking at the same thing, right?
In a different place, it will be received differently, absolutely. But equally, I asked Ikarus and Wongi, why does it piss you off? You've done a throw up on a legal wall while people still do it illegally, and then you put it in the gallery and they appreciate it, like that's kind of to be expected, because that's what they see illegally, so its kind of like there is no point being upset about it…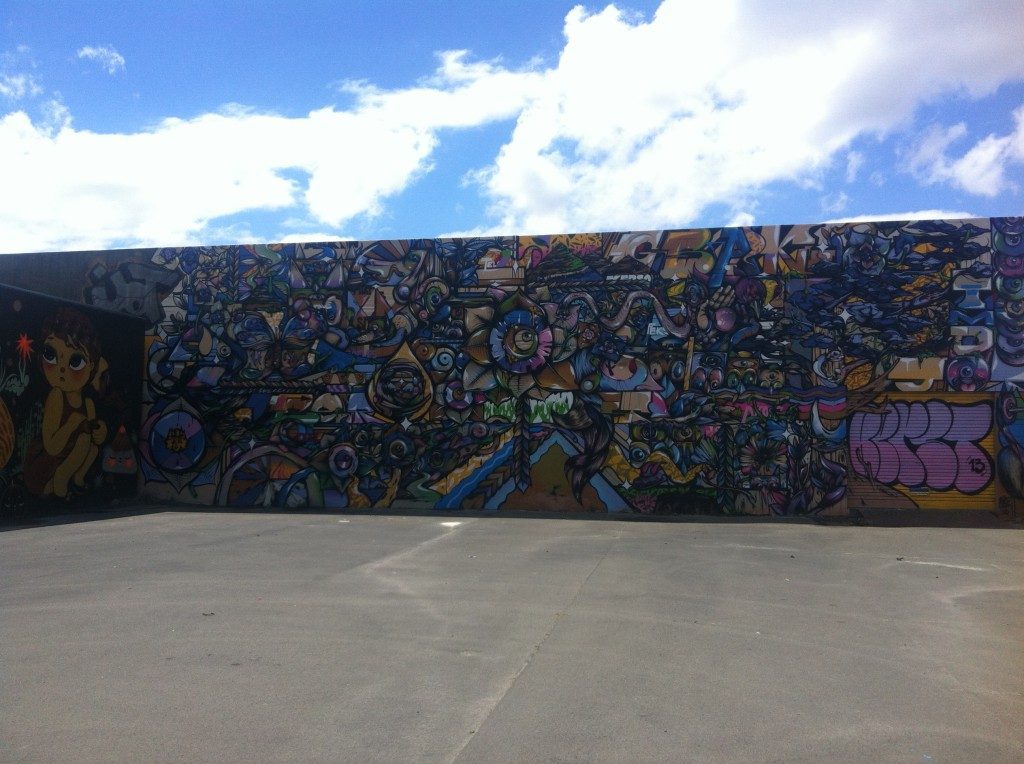 You are probably most notably remembered for your presence in Christchurch for Spectrum a few years ago, although you were also here for From the Ground Up and Rise as well. How often do you get down here?
Yeah, this is my fourth time, or maybe third time, coming down here. I haven't really had the opportunity to travel around New Zealand all that much. Most of my travel has been spent overseas. But, I'm also doing my doctorate, I'm six months away from finishing, so I'm kind of in that peak period where I probably shouldn't even be running a workshop, and I'm also working full time, so it's hard to travel…
That must be a hectic schedule!
It's been a bloody juggle, to work, stay focussed, do projects, balance my relationship, you know, and also do the PhD, so not too much travelling. But again, taking this idea of religion, when the doctorate is over, I plan to do this kind of tour thing, where I am painting and preaching and starting to link up with people, not just from Christchurch, but from all over New Zealand, and just spread some ideas. I still recall, there was this writer I linked up with in Rome, his name was BRUS, dope writer, very good, and he did an interview with a spray paint company who supports him, and they asked him about his best painting experience. He's a veteran graffiti writer, he's painted just as long as me, but he said: 'One time this guy from NZ, Berst, he came over to Rome, that's probably my most interesting experience because we actually collaborated together, we worked on each other's pieces and I've never worked in this way.' And that's actually an idea of working together, not just: 'You work here, and I'll work there.' That's not a collaboration, that's just painting together. So that's one of the practical approaches I take to painting graffiti. People like Askew, we've worked together collaboratively to develop ideas, explore certain aesthetics, approaches to breaking traditional ideas of graffiti that were established over fifty years ago. I want to revamp that, to ask why do we have to do it that way? I tried to take that approach with BRUS and he was appreciative of that, and so what I take from that, was not what I created with him, but the fact that he experienced that idea of how to approach something, and I think that's really important. If I can have that same kind of impact on the future generation of graffiti writers here in New Zealand, that's a great thing. A lot of people I interview always talk about the people that influence them, and a common theme that emerges is: 'Oh, the moment this person came to New Zealand, or the moment I linked up with this person, we were doing things in this way now, it's evolving, instead of doing one piece, we were doing ten, instead of using three colours, we were using twenty colours…' So again, it's about ideas…
Yeah, ideas push evolution and development…
Ideas are hard to come by, because there are so many people who do graffiti now that go out to do graffiti that is just graffiti, just the standard thing that you would do if you were doing graffiti, in terms of style and the approach, for me the thinking is about how can we do that differently?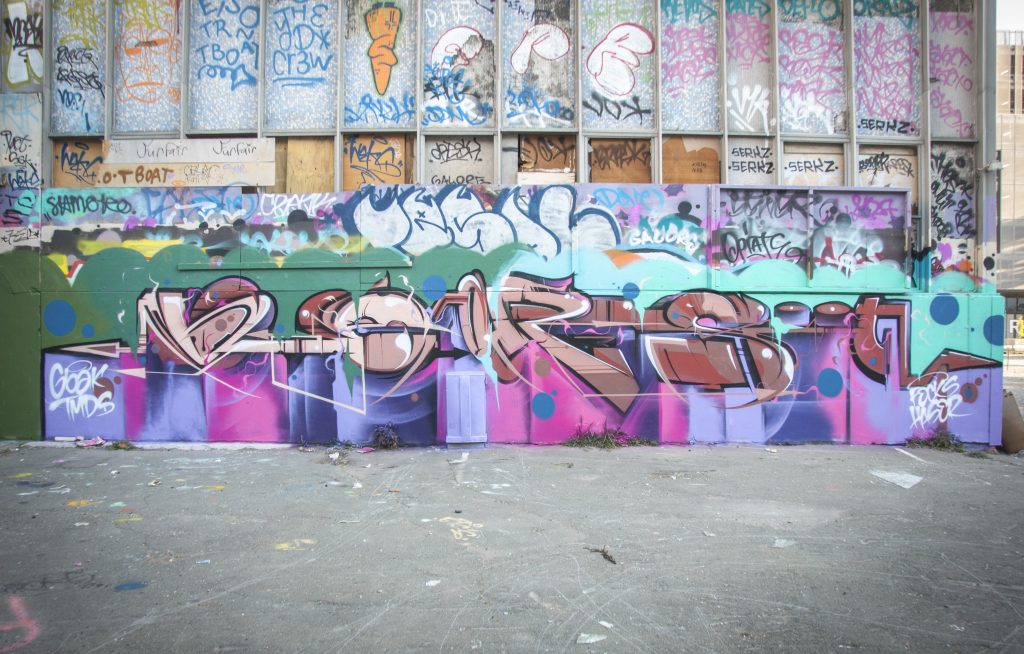 The chance to see what people are doing in different instances, that must allow that idea to be reciprocated as well. Not only are you out preaching as you say, but you are also obviously receiving a heap back from all these people…
Totally, I'm not claiming that I know it all or anything. My mind is still a sponge, which is why once again it is all kind of two-fold. For the Real Time episodes, I'm trying to preach and spread the knowledge, and create the resources, but equally I'm learning. When I interview Wongi, I learn something. That's the motivation, because you actually have to take initiative, to want to learn, to open your eyes, to get a bigger perspective on this whole thing, because most people when they come into graffiti are very tunnel-visioned: 'Oh I just want to tag, fuck art', people have those kinds of attitudes. For me, the learning part is really important, which is why I make a lot of these videos, because, it got to a point, where if you go on YouTube now, ninety percent of the videos are just people painting hardcore graffiti, which is cool and it builds the ethos of what graffiti is and it maintains the roots, but you watch this three-minute clip of someone tagging the whole city or somebody painting trains for like an hour, doing really hectic stuff, but you don't learn anything from it. I don't get anything from that, you know what I mean? We were talking before about reality shows, and it is almost like you are living your life through someone else, you're watching someone paint a train, so what? I don't get anything from it…
That's a very different experience from painting or being with someone when they are doing it as well, right?
That's different, yeah, that's the buzz, right? That's the adrenaline…
So, what is your take on what's happening in Christchurch at the moment? What have you seen this weekend, doing the workshop with writers of different ages and experiences, filming Ikarus and Wongi, and exploring the city, what's your take? Especially now as we're sitting a long time after the earthquakes created an environment where graffiti, and urban art more broadly as we've talked about, has really shifted into a more visible position…
One thing that I've heard Wongi and Ikarus say, as locals, is that the perceptions have changed post-quake, that all the dickheads have left, the real conservatives, like the 'graffiti is tagging, and tagging is vandalism' people, you know? I think there is less of that, which is great, and I think sometimes it's like a cause and effect type thing, which happens. It is not a positive thing that there was an earthquake, but it does restart something, a cycle again, and you can ask: What are we going to do? How are we going to rethink things? How can we do things differently? Sometimes things need to do that, and when I think about Auckland, at one point in 2010, the Rugby World Cup eradicated all of the graffiti, it took away all of the history, years and years and years, and that really challenged a lot of writers. A lot of people gave up. A lot of people moved on. A lot of the young kids stopped doing quality things, because they were like: 'I'm not spending this much to have it painted out in six hours, what's the point?' In some ways it regressed, we saw more tagging and bombing and just quicker things. But now there is graffiti again, and it's staying up and people are trying to make quality things again, so there is a cycle…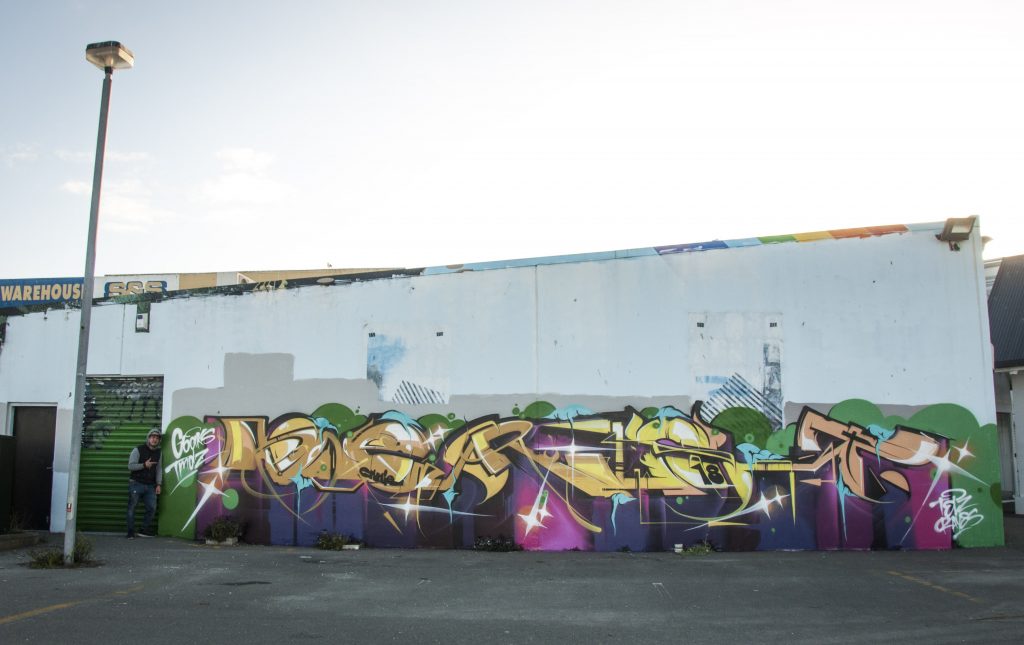 There's a cycle and a maturation process that runs through, like you were saying earlier…
Totally, so while I was upset that people didn't invest in doing quality stuff, that's just what happens. So, I think of it as the same thing happening here in Christchurch, except you guys had an earthquake. After that everything just got graffed the hell up, which personally I think is quite cool, because it's just such a pure thing for people to take space and interact with space in its various ways. I think the beautiful thing as well is graffiti as kind of guardians of the streets. You see people painting murals, people from all sorts of artistic backgrounds, coming like a flock of birds to the space because there are opportunities and potential for things. But at the same time, kind of like we talked about, we need to be careful as artists, to make sure that we know what we are fighting for and what we value when we are making art and not losing the ethos of what we want the context of our art to be, as opposed to just wanting our art out there. We are talking about this idea of curation and a panel of council people responsible for public art that have no art background necessarily, or understanding of it, that are making decisions, like, I want a portrait, I want a landscape… So, we just have to be careful about becoming too conservative, because that is the position councils will take, they are not going to do anything offensive or that's going to get attention. They just want something nice and pretty that's going to fit in and not piss anybody off. There's that part that's also a positive, but you have to be aware of that. I think equally, when art gets involved, let's say a mural or something, this idea of gentrification arises as well, so it could also have negative consequences. Like a real shitty derelict suburb, nobody wants to live there and suddenly you put up lots of art and then a cool café, and then suddenly an apartment block and then it's a hip place…
And then the family who has been living there for generations can't afford to live there…
Exactly, and then they might even get rid of the art, because it's now a really expensive area…
That's actually something that I've thought about as well…
It becomes about real estate and that previous graffiti wall, we don't want that anymore, that's not going to suit the area now…
In some ways, I wonder if that discussion of art gentrifying areas is actually misplaced, it is still developers and the like, they are still the agents of gentrification, right? Can you actually blame the art for the gentrification?
But the real estate agents are exploiting that art, right? Because they are aware of the cultural value it has, the human capital it has associated with it…
The cultural capital…
That's what art is, it may not have economic, monetary value, at least at the street level, but it's culture, it is a manifestation of culture and what it represents…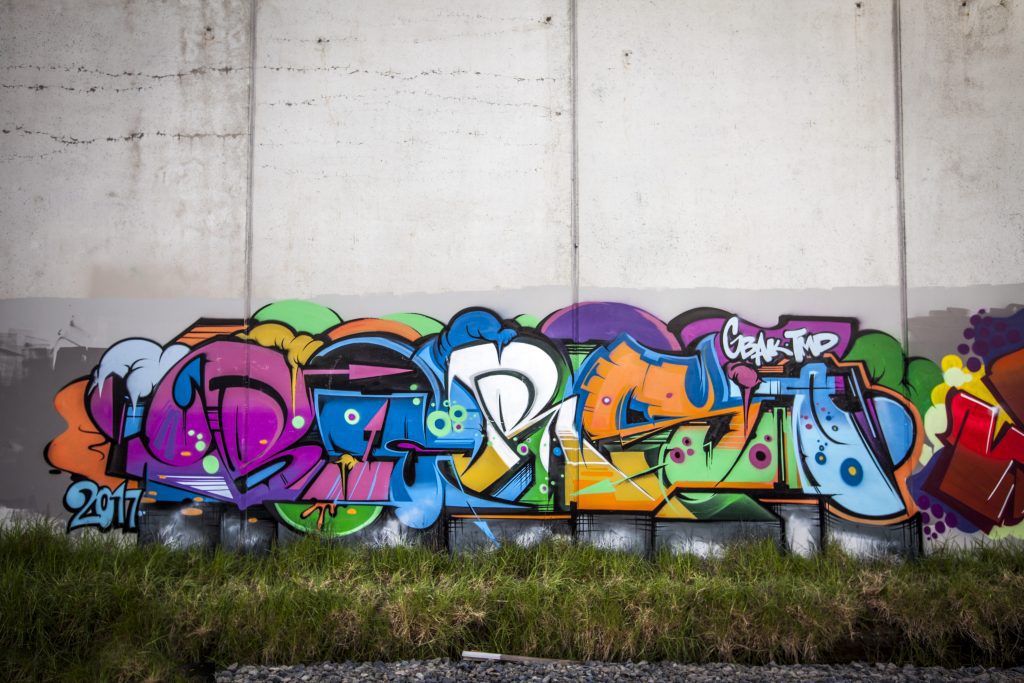 I guess that comes back to the important idea of graffiti maintaining that outsider status…
That's what I'm talking about…
It's still a form of culture, but because it can maintain an antipathy to mainstream, it has the ability to combat that process of capitalisation as well…
I am aware that I'm deeply rooted in graffiti and what makes it pure, but I'm also willing to step out of that frame of mind into these new spaces because I want to push the boundaries and I want to open the door while I'm still grounded here. I want to be the tester that goes into the water. If I fail at doing something, if it doesn't work, at least I can report back to the graffiti community and say I've tried this, it didn't work, or maybe it did, or maybe try it this way. But I think maintaining the purity of it is very important, and if you have it any other way it just falls into the dominant ideology of art and for me that's what I'm thinking, how is graffiti an outsider thing? Why is it different from other fine arts? What can we do to keep it different? Why does it have to be the same? Like, if everybody did it and accepted it, would it even be cool to still do what we do?
There's got to be that distinction…
Would it even be cool if painting freight trains were legal? I don't know…
That's kind of the beauty of graffiti, that question, that balancing act will continue to play out as it evolves, as new generations enter the culture and redefine it. Thanks so much for sitting down with me, it has been a blast! Any shout outs?
Shout outs to Ikarus, Wongi and Emma, my boy Alpha, for linking up with me over the weekend here in Christchurch, I really appreciate that, and shout out to GBAK and TMD, my two crews back up in Auckland!
Cheers man…
Check out Berst on social media:
Instagram: berst_1
YouTube channel: Bobby Hung