Our tribute to Christchurch graffiti legend Jungle continues here in Tributes to a King – R.I.P Jungle (Part Two). In our discussion with Jungle's friend and DTR crewmate Ikarus, we continue to dive into what made Jungle the figure he is in the local scene and what he would think of the many tributes that have been painted. We also hear more from those influenced by Jungle over many years…

In case you haven't, please read Part One here…

____________________________________________
I remember Jungle's roll call in the alleyway space in Rise, you guys made it clear to people not to paint over that, which highlighted his importance to local graffiti history. I also remember the opening night of Spectrum in 2015, walking from the YMCA to the afterparty and Jungle standing next to Tilt and looking at the piece Tilt and Tober had painted on the old Police station, just buzzing on it, and there was a sense of respect on Tilt's part for Jungle, like real respecting real. Having him be part of those things must have added an authenticity for you…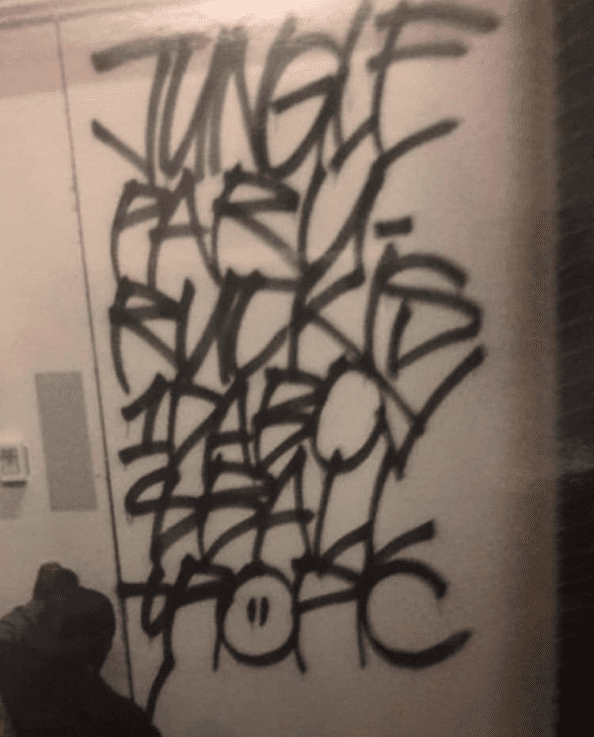 Ikarus: Yeah, one hundred per cent. He had an unbridled enthusiasm about shit. If he was enthusiastic about something, you would feel the love for it. He was never too cool for the room, never too aloof to just be like, that shit is amazing! When we started painting for Rise in the Canterbury Museum, that was one of the most fun days ever. The theme of that alleyway, in a nutshell, was a visual timeline of Christchurch graffiti, but instead of being linear, it went over itself like graffiti would. So, the first layers were pre-tagging stuff like band slogans, political sayings or toilet graffiti, and then after that was the era of tagging. Getting Jungle and Lurq and a couple of the other old school dudes to go nuts and tag up the museum was crazy. I never thought we'd be able to paint in the museum and if we did, it would have to be top-notch stuff. Wongi and I did end up doing a big production, but the fact that we had this whole concept and we got to involve a shitload of the Christchurch graffiti scene, from the active kids all the way back to the originators, was amazing. Having Jungle bust out the roll calls and do a bunch of tags and stuff was fucking cool, there's dudes in that roll call who are in their forties now, some were gangster teenagers, some are gangster adults, and they were in the museum grinning and cracking up, saying 'what the fuck are our names doing in this museum!' Nobody saw any of this coming back when we all started out, so that was a fucking awesome day.
____________________________________________
"I feel bad for visiting painters coming to Christchurch they will not experience the unofficial Jungle powhiri." – Fiasko
"When you would talk to him, he had the coolest vibe. that natural way that made you feel good about yourself. He would shake your hand way too tight while he was doing it though." – Jay Roacher/Wyns
"I remember a few years back now, Freak and Ikarus painted the open black book [wall] in the city and Jungle did a charo. He was walking around all the homies with his cell phone and was so buzzed out by the Sofles clip [Limitless]. He was the first person to ever tell me about Sofles…" – Omes
"He was just always happy for you, without a doubt, he was always stoked as shit for people, he loved to be there, and he expressed himself so freely and fluidly, no shame or anything, just whatever he had to say, he would say it, you know not in in any aggressive way, or negative way, he'd just say it…" – Freak
"He would always be stoked for you, or to see things, [he would be] mad enthusiastic and shit, [he] expressed himself heavily, from the hand crushing handshakes to the air crushing bearhugs…"  – Freak
"The one thing I will remember him by was that infectious smile, he was always stoked to see a bro." – Flex
"He used to tell me how much he loved my song 'ChCh Chillin' whenever I would bump into him. I can't remember how I found out, Ikarus probably messaged me and told me that Jungle had got 'ChCh Chillin' tattooed on his arm, but I clearly remember the next time I saw him and he showed me, large as fuck on his arm! That shit blew my mind then, and still does now. It's one of the fondest memories I have from rap music." – Jay Roacher/Wyns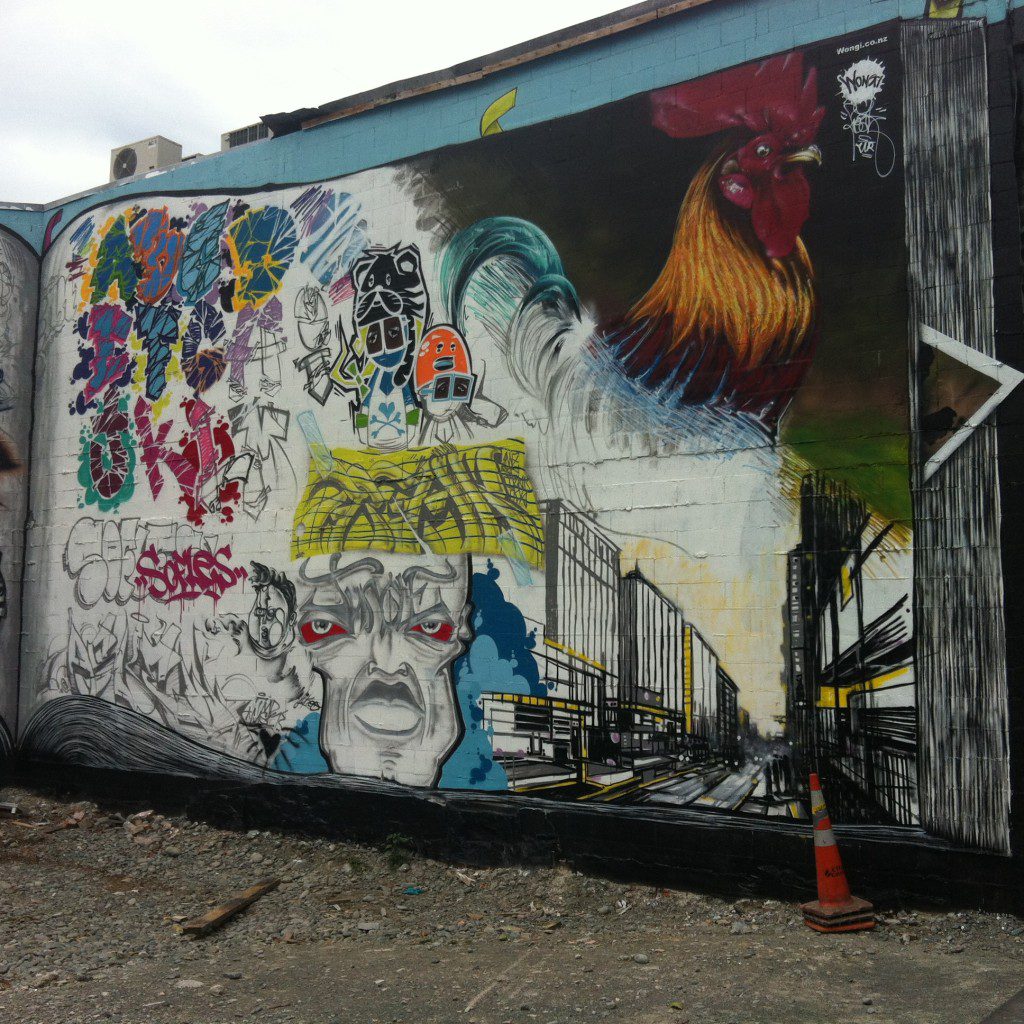 ____________________________________________
Last year Dcypher said that Jungle is a good example of someone embodying their graffiti. There was obviously the iconic Jungle character, but I think Dcypher's sentiment was as much about his style as well. Do you think he grasped that concept of how graffiti isn't just an identity, it's also an embodiment of that identity…
Ikarus: Yeah, but I think without any self-awareness. The reason he embodies the spirit of graffiti is because it was all coming from a pure place, where you do graffiti for the love of graffiti. I've said so many times that vandalism and bombing is the realest form of graffiti because there's no fucking positive, there's no good side. The only thing you can hope to get out of it is the admiration and respect of a bunch of other dirtbags, and I say that with the utmost respect. I definitely think Jungle embodied that, but I don't think he ever really picked it apart. Guys like us, we pick it apart, intellectualize it and look at the motives and the reasoning and what makes something iconic and successful. I've thought a lot about the idea of keeping things really simple, having things that are easily identifiable as your own, whether it's your style, an iconic image or logo or symbol, but I don't think that's something he ever would have put a crazy amount of thought into. I think he was just like; 'I love writing my name'.
He was always drawing his characters, from the time I met him to the day he passed. It was just a straight up need inside to draw and express those things. I've had to intellectualize and think about graffiti a lot, why I do it, my motives for it, the line between painting what I want to paint and doing what I want to do, and actually being an adult and turning it into a viable option for the future and something to make money from, which is a big conflict for me, because my original reasons and love for graffiti clash with that really hard. I think Jungle never really had to compromise that. With all the things we tried to get him involved in, he would be like: 'Nah I don't want to do it, it's too stressful to try and keep up with you guys.'
So, I think all the things he ever did were purely for the love. He just did it because he wanted to, he wouldn't paint for a bunch of time and then suddenly, he's gone and painted a character in like a super visible spot in the city. It would just be random spurts where he'd go out and just paint a bunch of stuff and I don't think it was to get fame like the graffiti junkies out bombing every night to be seen. I really feel like he just did this because he wanted to do it, not super concerned who sees it, who thinks it's dope or who thinks this and that. He was a dude that was pretty comfortable in who he was, what he was about and the people that were around him and I don't think a lot of that extra bullshit ever really became a factor for him.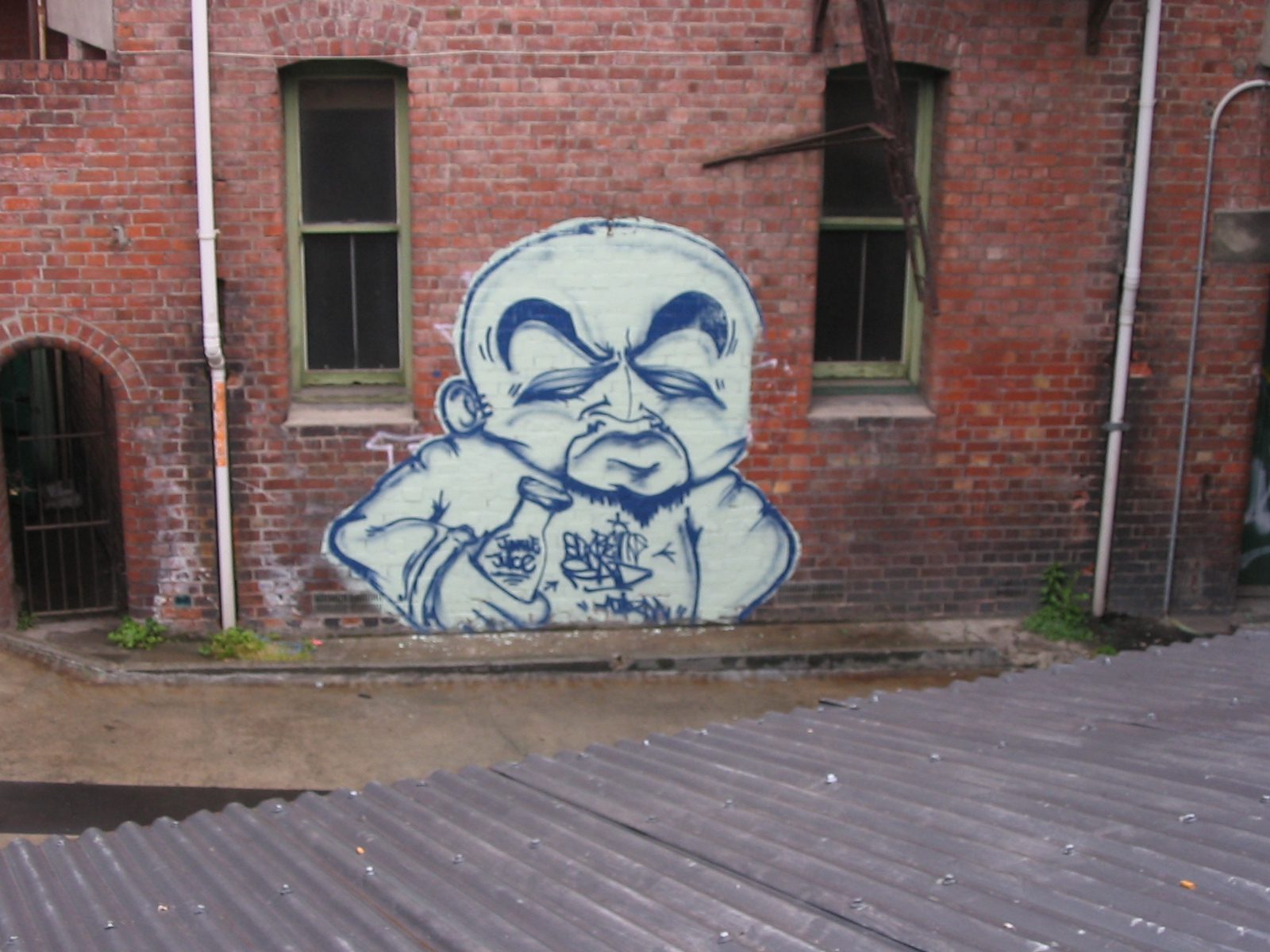 ____________________________________________
"Everybody embodies their graffiti, it's impossible not to, [but] it's almost like all of his characters were him, but in his mind I don't think [he thought] they were. I'm not 100% sure about that, but you could just tell it was a Jungle character because it looked like he was standing there looking at you, this mean mug, hard looking motherfucker, just everything that he did had this, yeah that's fucking Jungle for sure [quality]…" – Dcypher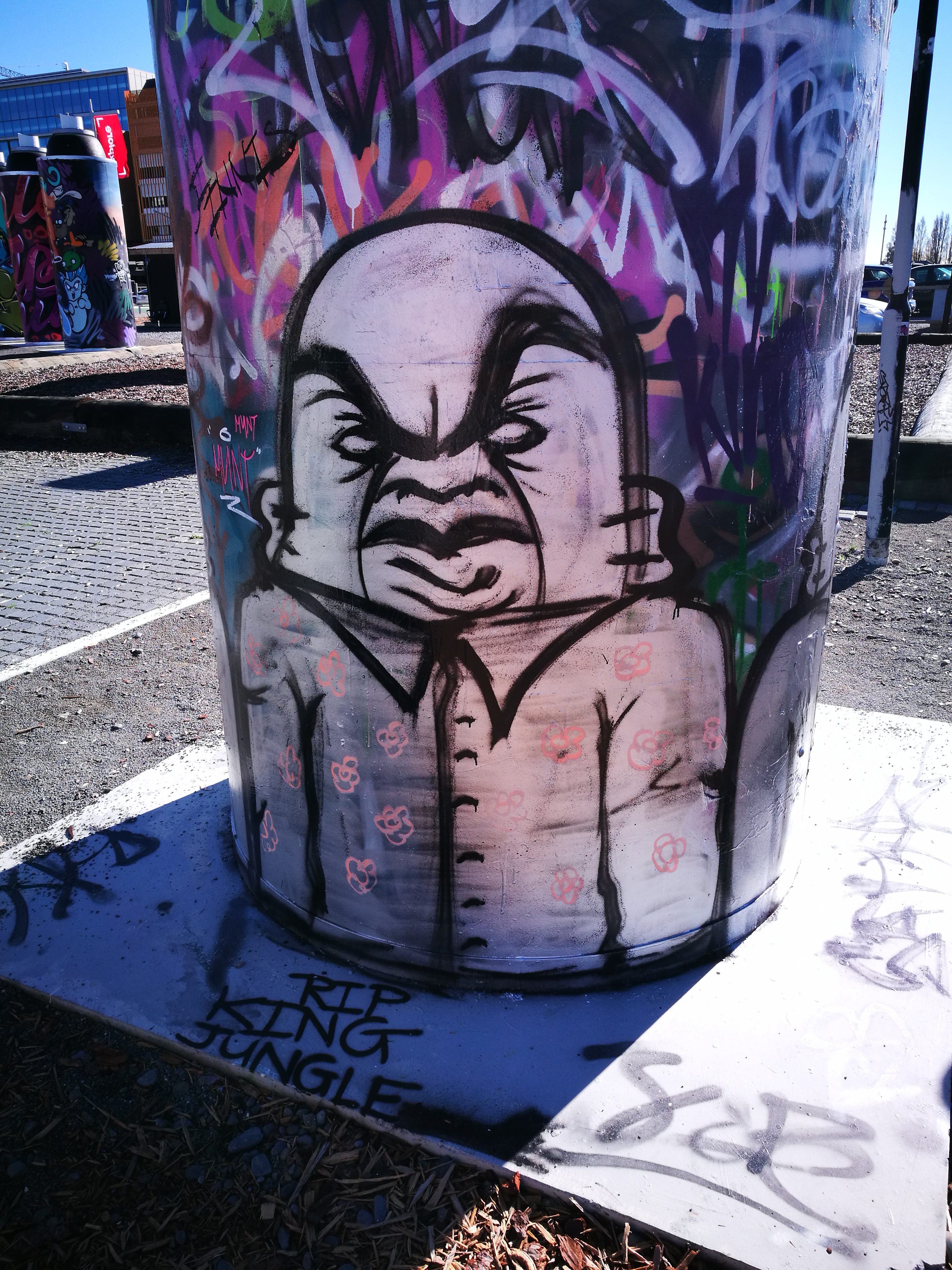 ____________________________________________
I guess that's what made him such a revered figure in some ways, right? That compromise confronts so many people now, so those who avoid it, or stay true to the pure form of the culture, are respected…
 Ikarus: He painted a bunch of canvases and found objects, a bunch of different stuff, but never tried to sell them. He was never involved in any of our exhibitions. We were like, you have dope shit, put it in the exhibition, make some money! I think that's one of the reasons that he never had to compromise, because he never tried to monetize what he was doing, he just did it. If you said something was dope and you wanted to buy it, he would just give it to you because you fucking liked it. I don't think it ever became about money for him.
He was a cool looking dude, and then you met him, and he was a fucking cool guy. I think a lot of people expected him not to be, but he's like the nicest guy in our crew, the truest heart. But yeah, he was uncompromising. When you haven't made those compromises, you don't get jaded. That's not to say he didn't have a jaded edge or depressed side to his personality. A lot of the work that he did was quite emotionally expressive. I didn't necessarily even think of it because that's just sort of the attitude we had, but when I look back at some of it, it just looks more grave now. There was an era where we would just write 'deadbeats' and 'dirtbags' and 'trash' and all that sort of stuff. Now it seems like a really negative headspace, but it never seemed like that it in person, it was just because we were broke depressed kids with a self-deprecating sense of humor. It didn't seem like that big of a deal, but now, I'm like, how much of that is a window into a mind state?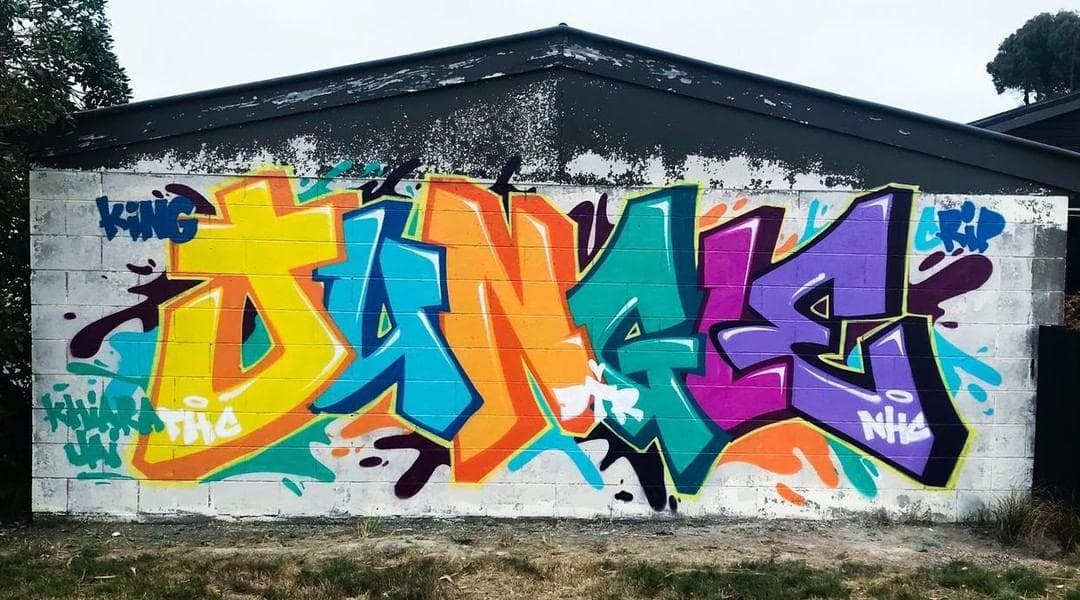 ____________________________________________
"I thought it was over for Jungle and his graffiti. Then around mid-2000, Ikarus and I took him out to bomb some trucks and this is when I think he painted his first filled graffiti. He started drawing and painting a lot. He had such a natural style. It was easy for him. The thing is, he was only ever putting in 25% effort." – Fiasko
____________________________________________
Did you ever talk to him about the post-quake scene in the city? What did he make of the younger generation and did he take interest in that?
Ikarus: Yeah of course man, of course. All of us are always interested, that's the thing, there's no disconnect from being involved in commercial work and doing big stuff for festivals and that sort of stuff. My heart at the end of the day is still firmly tied to the streets. There is a bunch of dudes I talk to now that are like I can't wait to do this, and I'm just like enjoy the shit you do! That's one of the reasons I think the younger generations identified with Jungle because he was a dude that was out there still doing tags in the street, still doing characters, not monetizing it. Once money gets involved people's opinion of where and when or why or what motivates you to do graffiti changes. But he was always interested in the new dudes. We are always looking at the streets and when we catch up, he would be: 'What about this kid?' 'Do we know this guy?' 'Who is this kid?' 'This kid's up a crazy amount'… So yeah, he was always watching.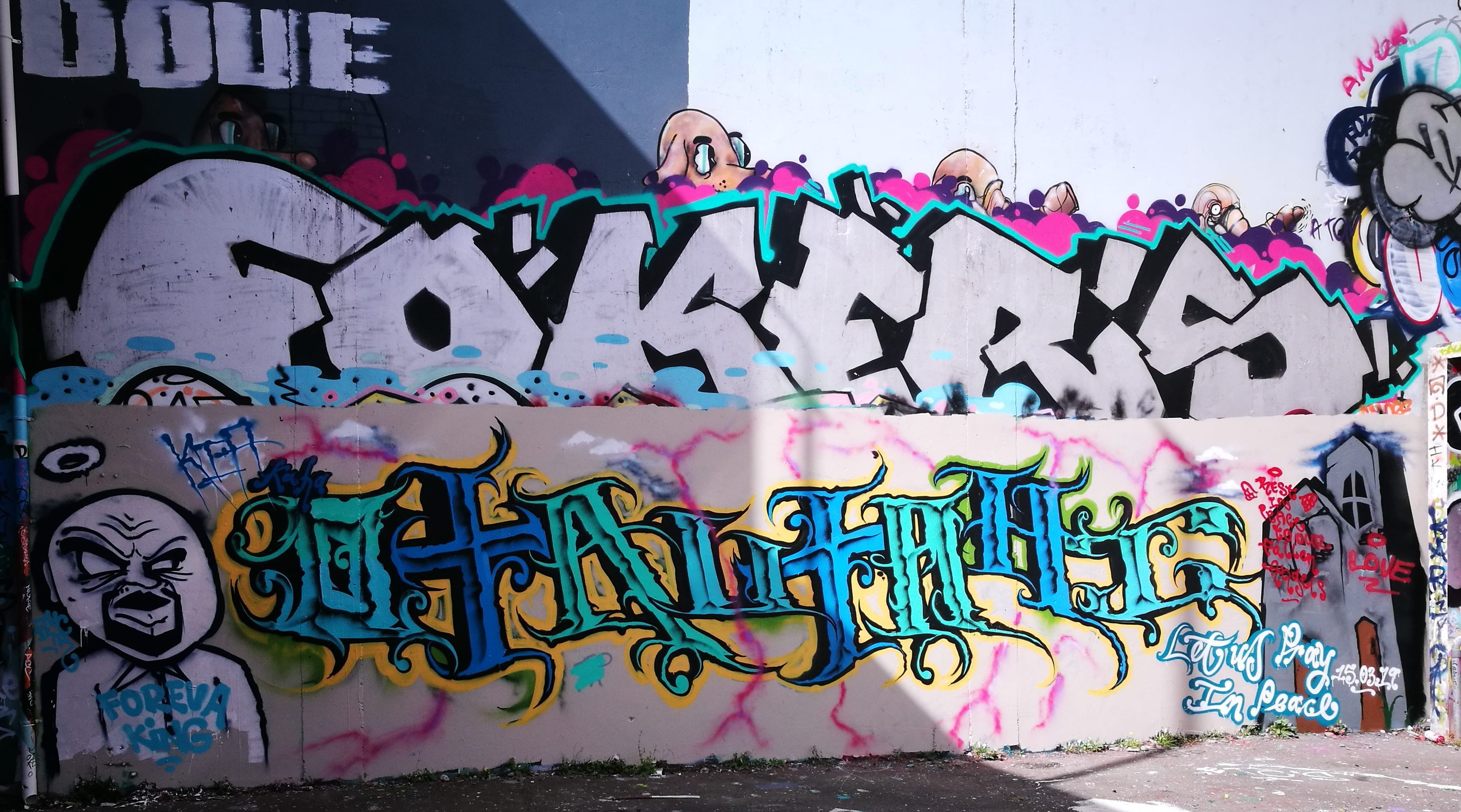 ____________________________________________
"Being a younger writer, I only became aware of who Jungle was and his influence as a teenager looking at photos and learning about our local history. But I remember his work, particularly his characters, catching my eye when I was a child. Seeing that stuff as a young person played a role in making me want to get involved with graffiti." – PK (TBE)
"Jungle's influence didn't have a direct impact on me in the sense that I wasn't around when he had the city crushed with tags. [Pre-quake] I think I can recall a few of those characters he painted standing out and a piece of his, I think on Bedford Street, although I had no clue who it was at the time, and at that age I never really paid much attention. I think [his] main impact has been indirect. He influenced people around him, who in turn influenced the people below them and so on, until it reached myself and the people I grew up with, a trickle-down effect, I guess. Of course, as I became more involved in graff, I became more aware of who he was and how much of a pivotal and influential person he was to the scene." – Vesil (FOK, TBE)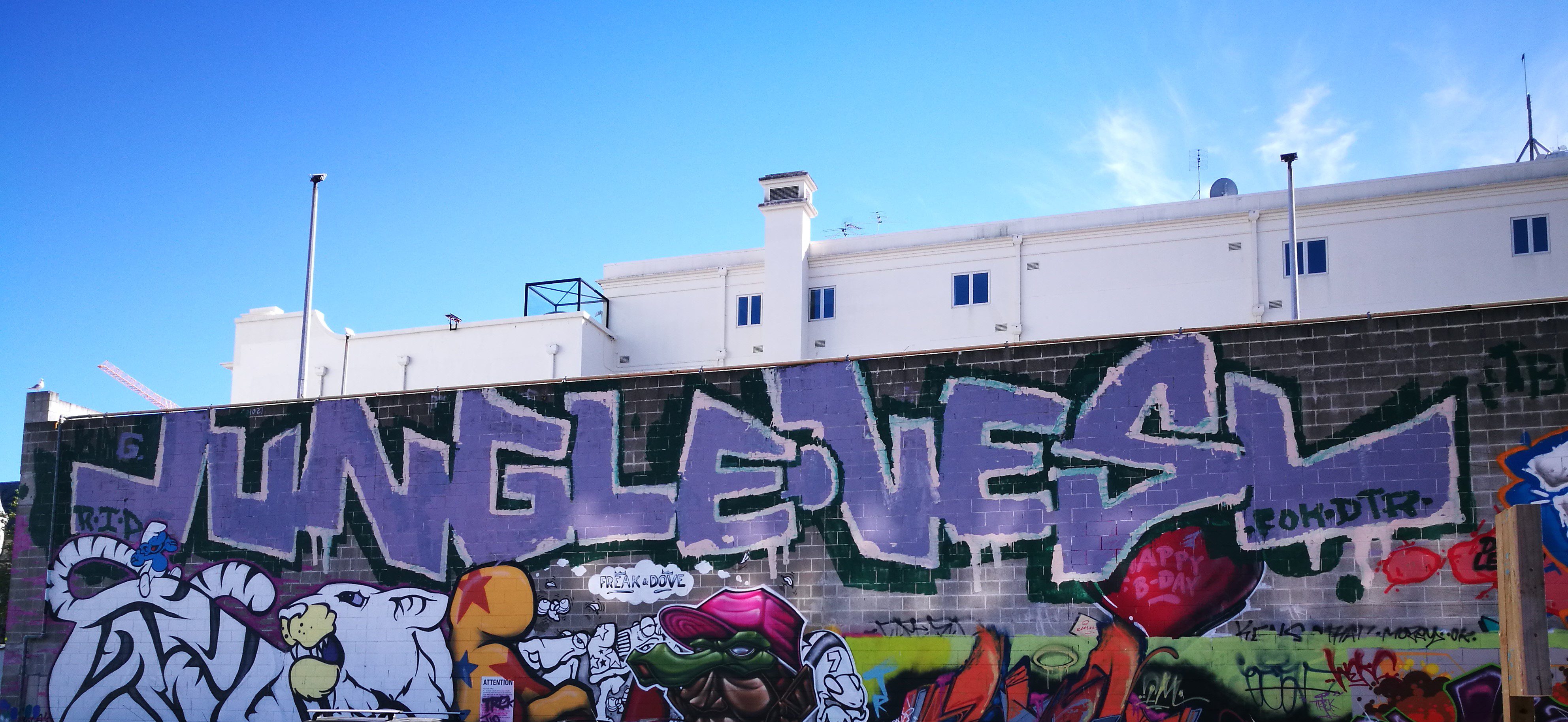 ____________________________________________
Even if it wasn't a mentor role in the more hands-on way you guys do with workshops or the Black Book Sessions, was he the sort of guy to have conversations with or give advice to younger writers? Or was he just interested in what was going on?
Ikarus: I can't say how much he was talking to some of these new writers in the last few years, but it's not like he was a stand-offish guy at all, if people approached him to talk to him, he would have talked to them. I'm a bit of an old man about things now because I've done so much mentoring stuff, I definitely talk to some of these young dudes and I'll be like, this part may not be good for you, or if there's disagreements between some of the young dudes I'll try and work that shit out because I know we're all just trying to do our thing at the end of the day. But I think with Jungle it was more lead by example. I think even if he wasn't saying anything to you, he was the kind of guy you would watch. His magnetic personality drew people to him.
After Leon passed, I got a message from a dude who now is in his thirties. He shared a memory from back in the early 2000s, when he was a teenager, we'd all been at this wild party in the hood. This kid and his friend had to walk home. We asked them where they were going and they said back to Waltham. Jungle was like, you two can't fucking wander through the hood, you're going to get jacked before you even get down the road, you guys just have to come to our house. I think we were flatting together at the time and we made them stay with us so that they wouldn't just wander out in the hood and get jacked. I don't remember it, but when he told me about it, I was like, well that sounds like something Leon would do. So, little things like that, not even necessarily any big life changing moments where Jungle would have sat a dude down and said look this is where you're headed, because I think he would have felt that was corny and it was out of his jurisdiction to sit down and tell someone how they should do things. But he was just a dude that led by example and that little act of kindness was a big deal to that guy as a kid, he said it was really cool that these two dudes looked out for a couple of little tagger kids.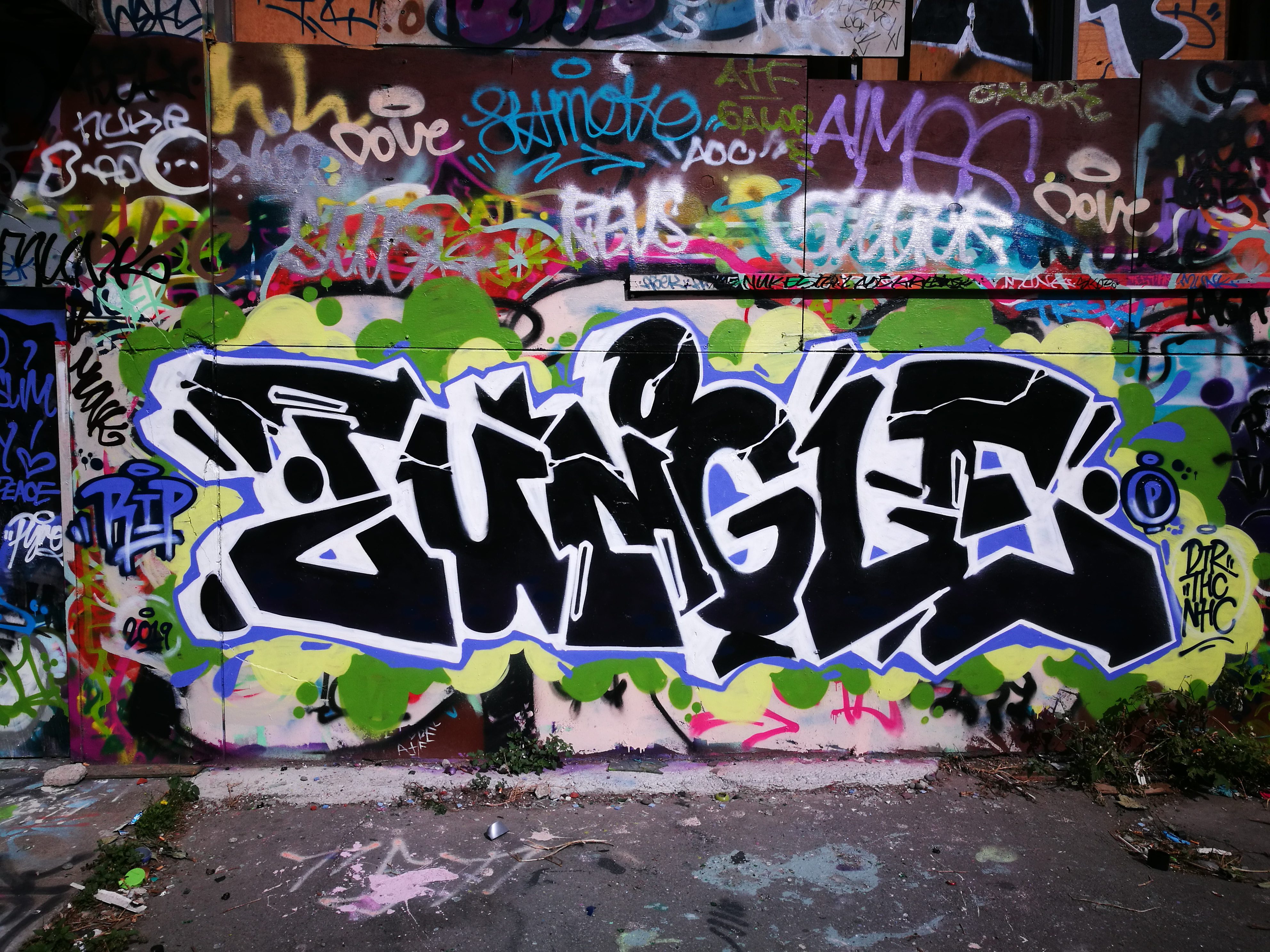 ____________________________________________
"At the time, no we didn't [think about influencing the next generations]. In hindsight… I'm quite surprised at how many different people were influenced by what we [had] done. [I]t's awesome to see, especially with the progression of what [DTR] are doing. Legal pieces, [I] never thought that would happen…" – BlackE
"I didn't really ask for advice in the traditional way, we would just be talking, conversating about things and I'd bring things up and he'd give me his perspective on it or what he thought about it, and I don't know if he knew, but I'd just go off and do what he said or I'd take it on board and apply it in some way…" – Kurs/Horra
"He never treated me like he was above me or like it was some sort of a mentor thing. We were just mates, he liked me because at the time I was just the young gunner and [if] people fucked with me, I wouldn't just cap them out, I'd fucking go knocking on their front doors, or would start burning their letter boxes, or tag on the front of their houses, you know, he loved that shit…" – Kurs/Horra
"I don't know if he knew that he had influence on the people, the Jungle I knew he was just all about hanging out with the cuzzies, hanging out with the close ones, you know, the day ones. I'm not going to try and speak for him, but I just feel that he'd be like, meh, fuck, whatever you're a bundy, what are you up to cuzzies? Because that's the way he was, before he was a tagger, he was a Crip." – Kurs/Horra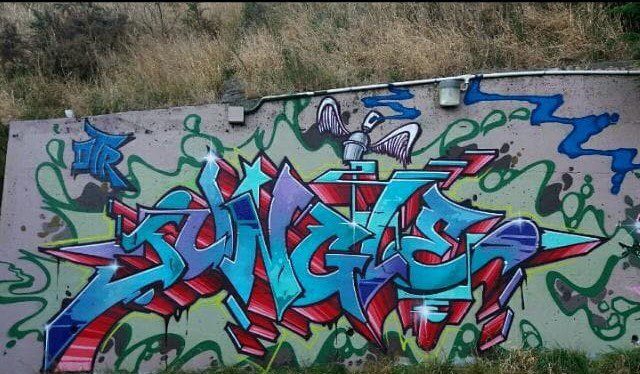 ____________________________________________
Nothing exemplifies Jungle's influence on Christchurch graffiti culture more than the number of tributes painted on walls around the city, from small tags to pieces and productions. Were you surprised though at how widespread those tributes were?
Ikarus: No, not really. I think he would have been pretty blown away by it, especially the different level of tributes, not just murals, but with younger dudes, probably some who didn't even know him, painting as well. I mean there's probably a certain amount of it being a little trending episode in Christchurch graffiti, catching a bit of clout for doing some RIP Jungle tags, but the fact is so many people over all these generations had been influenced by him in such a number of different ways, whether it's tagging, graffiti, characters or just his general personality…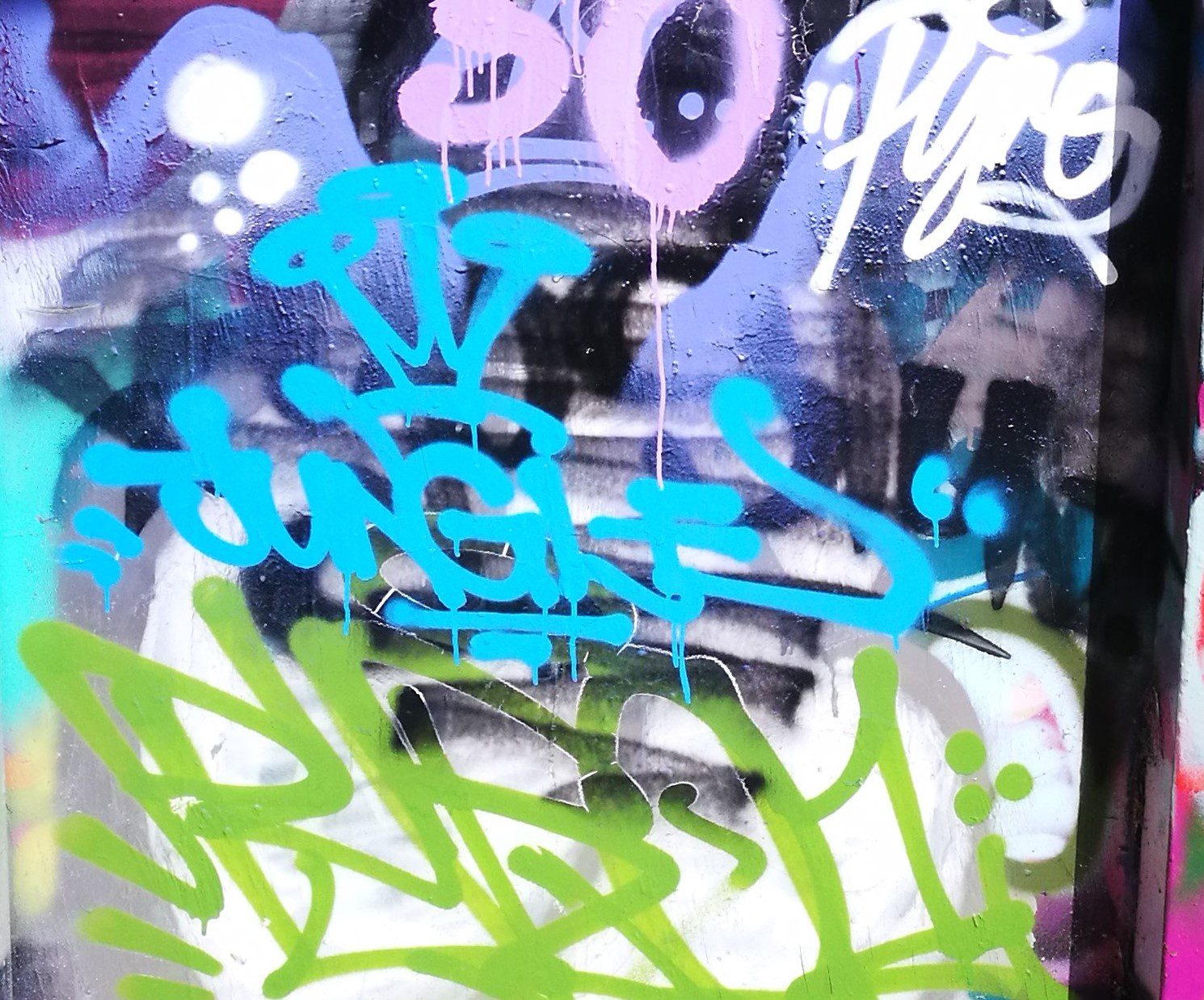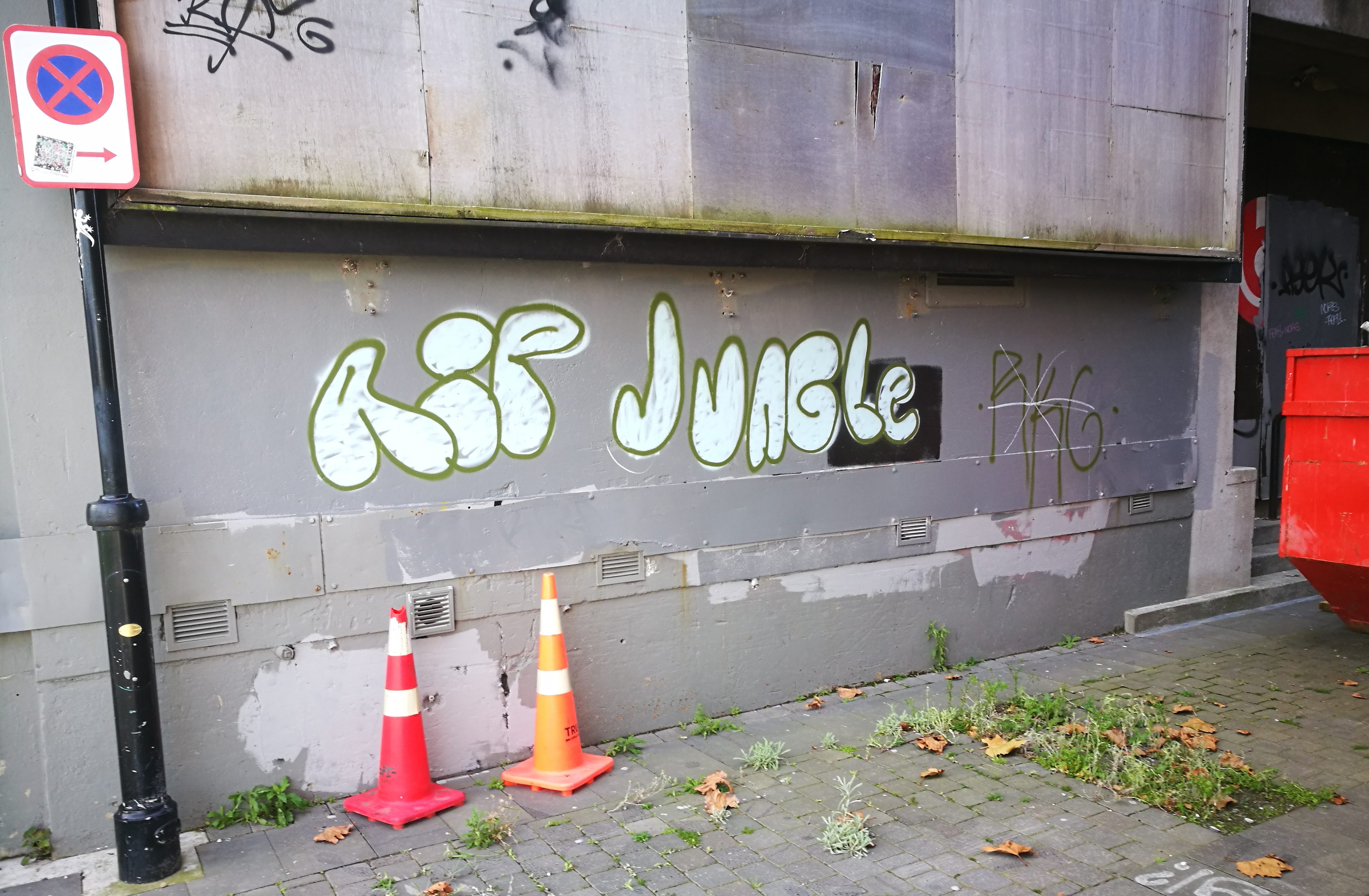 ____________________________________________
"Leon would be both shocked and honoured with all the tributes. He always would say how proud [he was about how] graf has evolved… And he always showed gratitude for being a part of it." – BlackE
"He'd be blown away… to just see that amount of love, because I don't think the cuzzie felt loved outside of his tight ones. I get all emotional when I see it. [I]t's like that fucking legendary shit, like that is what they did when Tupac or Biggie or Nipsey or some famous hip hop dude died, started doing murals of them, so he'd be rapt."  – Kurs/Horra
"I think all the tributes are awesome and even young guys from younger generations have painted pieces for him, and he totally deserves that respect from everyone in this game." – Lurq
"He would be stoked for sure [about all the tributes], but he was so humble that I feel like he'd probably be like, nah, you don't need to go to that trouble! I wasn't at his funeral but that said a lot about the culture that he was in and the amount of people that had the utmost respect for the dude, and that respect goes way beyond just him as a person in a lot of ways, it's kind of like he really has become this crazy legend now, people would tell stories about him…" – Dcypher
"All the smaller [memorials and tributes] are just as important too, it's just that sign of respect for somebody who birthed a lot of people's styles and his influence, it's a fitting way to show appreciation. Even though he didn't paint in those last years of his life, it doesn't matter, it didn't take away from [the] status he had…" – Yikes
____________________________________________
Out of all those tributes, do you have a favorite?
Ikarus: Totally, one of my favorites was by our friend Kalis from DMN TNC crew in Auckland, he was in Chile at the time and he painted a beachside spot with a Jungle piece, so the far-reaching aspect of that is super dope. That one would blow Leon away, he would have been like, fuck yeah, this big dope big blue Jungle piece in the middle of Chile by the beach somewhere! I know when a few of his family saw that, they commented on how cool it was. Another friend of ours, Phome, an Aucklander who lives in New York, he just rocked a RIP Jungle tag on the street somewhere, he's not involved in graffiti so much anymore, but he went out and did that. There were some of the freights and trains that Sewer painted, and some dope tributes including stylized versions of Jungle's characters by Weks, there were crews around New Zealand, like Triple S crew all rocking a bunch of Jungle pieces and some hip-hop style characters representing Jungle, the TMD guys up in Auckland doing a tribute, those are some that stand out off the top of my head. There were a few internationally well-known dudes that did pieces as well and that was super dope. I was randomly watching a Sofles Instagram Live video, he was just rocking a bunch of different tags on Procreate or something, I didn't know it was about to happen, but as I was watching, a RIP Jungle and a couple of Jungle tags came up, so that shit was super cool.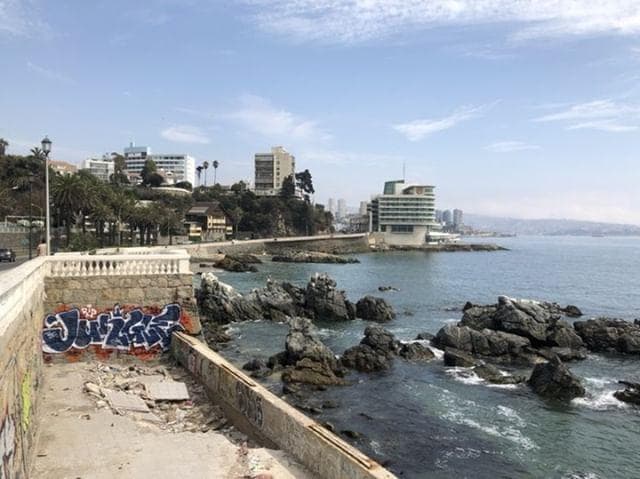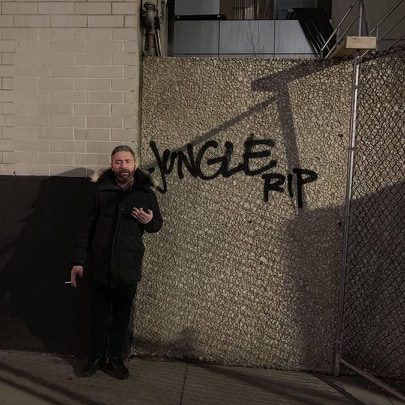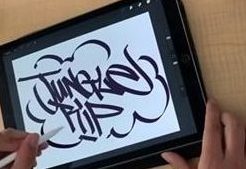 The biggest single tribute is the production that the DTR crew painted to mark the anniversary of Jungle's passing. Obviously, you guys had painted numerous tribute pieces prior to that, but that one was massive…
Ikarus: It's just something we wanted to do as a crew. It was along the same lines as all the stuff we had been doing for the year prior. The general thinking was that we're here, we're still thinking about you, we're still keeping your legacy alive. But on a more meaningful level, the anniversary was coming up and I know that members of his family all appreciate it and appreciate having that place to go. They actually met up there on the morning of the anniversary, they took a photo of twenty-odd members of the family in front of it before they actually went out to the Marae. We started it a couple of weeks before the anniversary and I made sure we had it all done before the actual date. It was obviously such a big life event for a lot of us, we wanted to involve all four of the full main members of the DTR crew, painting in our various styles, writing Jungle's name, or Autism, which is another one of his aliases, and obviously the character portrait by Wongi and the portrait of his dog by Dcypher. It was really just the same mentality of the smaller productions we had painted, but on a grander scale to mark the passing of that period of time in our life and again, just also for that aspect of having somewhere for the family realizing and seeing Leon's impact.

____________________________________________
"More than anything, it was really cool to do [the tribute wall] for his family in that [monumental] scale and to the extent that we went with it. I'm pretty sure he would have been pretty hyped on it, having his face up on a wall that's pretty damn realistic. That's not obviously the first one that we did, [we] did one as a crew behind Embassy as well, that was sort of the start of it, [but] we always wanted to do something way bigger, it was always the plan for around the anniversary of his passing, so to do it, to be able to get it done around that time was really good, it was fitting. It was a big project to do but it was cool. But most importantly it was for his family." – Yikes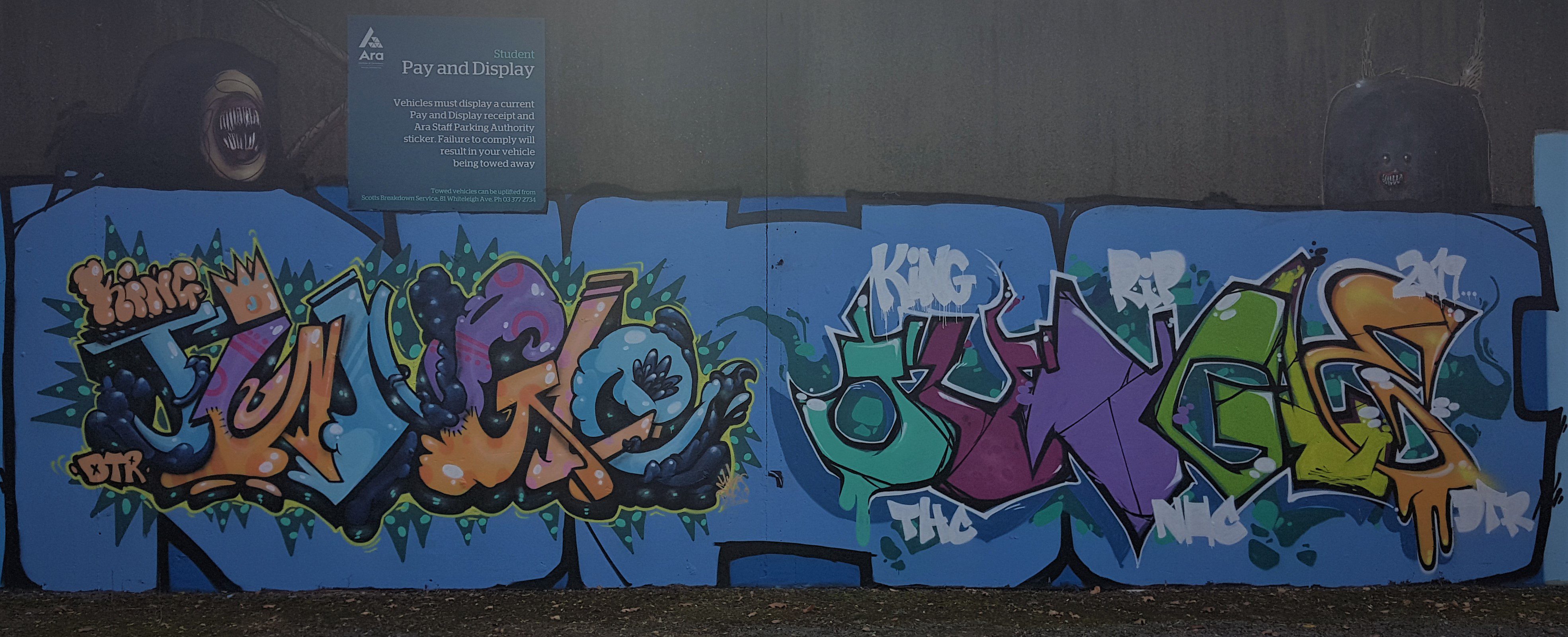 ____________________________________________
What would he have made of it?
Ikarus: He would have been super emotional about it. When we did the Hereford Street Colombo corner, Wongi painted a stylized portrait of Jungle, with the house he grew up in incorporated into it, and that was a super big deal to Leon, it definitely meant a lot to him, so all this shit would have blown him away, he would have been super amazed…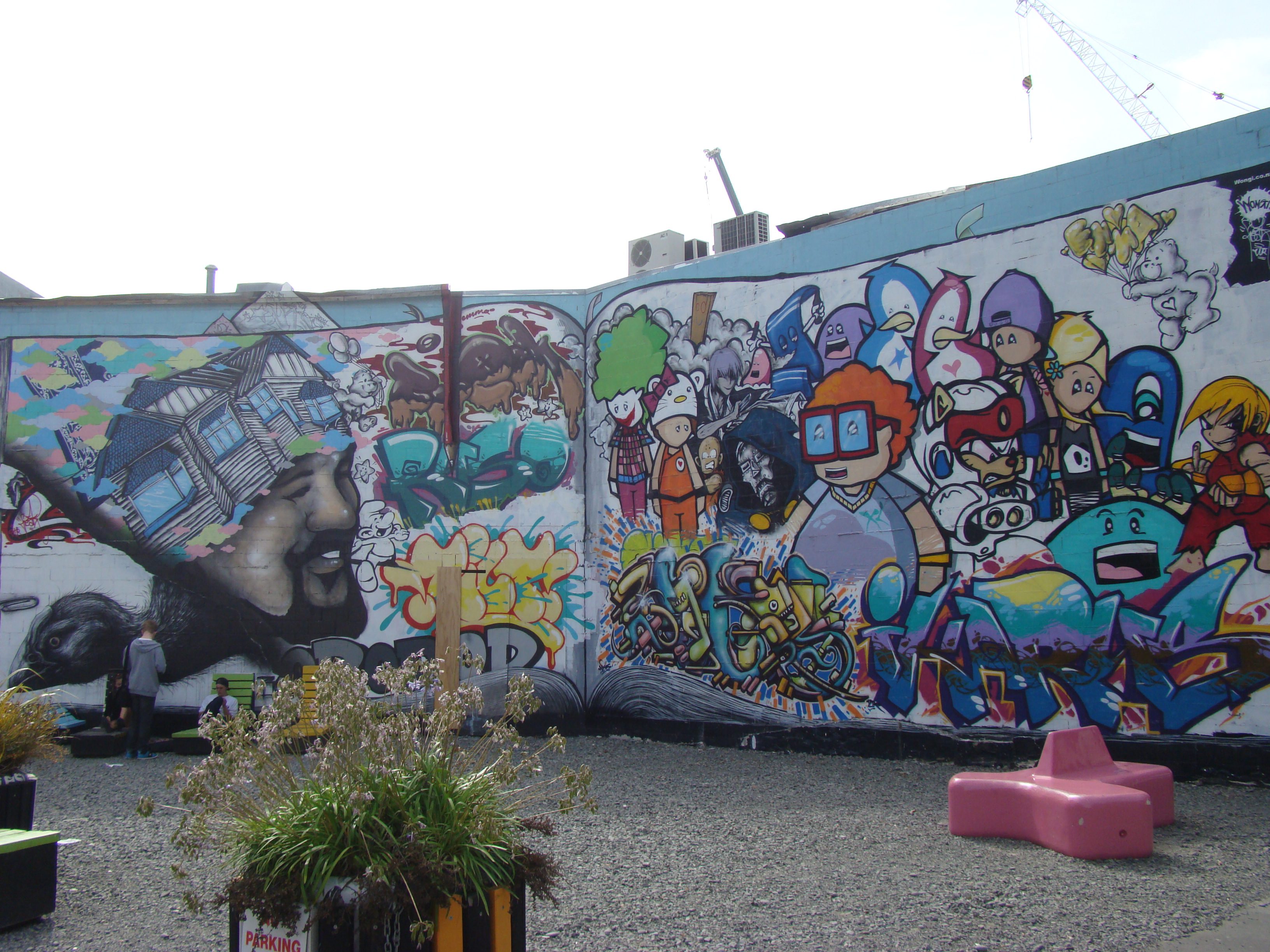 He is a central element of a real lineage. It isn't copied online, his legacy gives the city a real history of this culture before it became what it is now, which obviously is amazing, but slowly there's a distance between the roots and what's happening as well. It doesn't have to be reframed through some positive lens to be impactful, the reason people like Jungle are important is because they represent a different approach…
Ikarus: As much as we already know his impact, there are a bunch of people that don't. The hardest part for a bunch of people to grasp is the idea that a teenage kid, thirty years ago, running around with his friends getting drunk, smoking weed, writing their names on the back of buses and spraying their names on a bunch of public surfaces, is directly and indirectly responsible for, at least in our little section of the world, a large amount of what happens in the city now. Christchurch has got a crazy amount of street art and murals now. Graffiti evolves anyway so I'm not saying that it wouldn't have been something, it probably would have existed anyway, but if you look at even the smaller towns around New Zealand as an example, some of them are years behind because they had to wait for the Internet to catch up, even Auckland and Wellington had a ten year head start on us, but that's the coolest part of it all, basically, the murals, the memorials, the tagging, the vandalism, and the article itself, the discussions, people talking about it, it keeps the memory alive…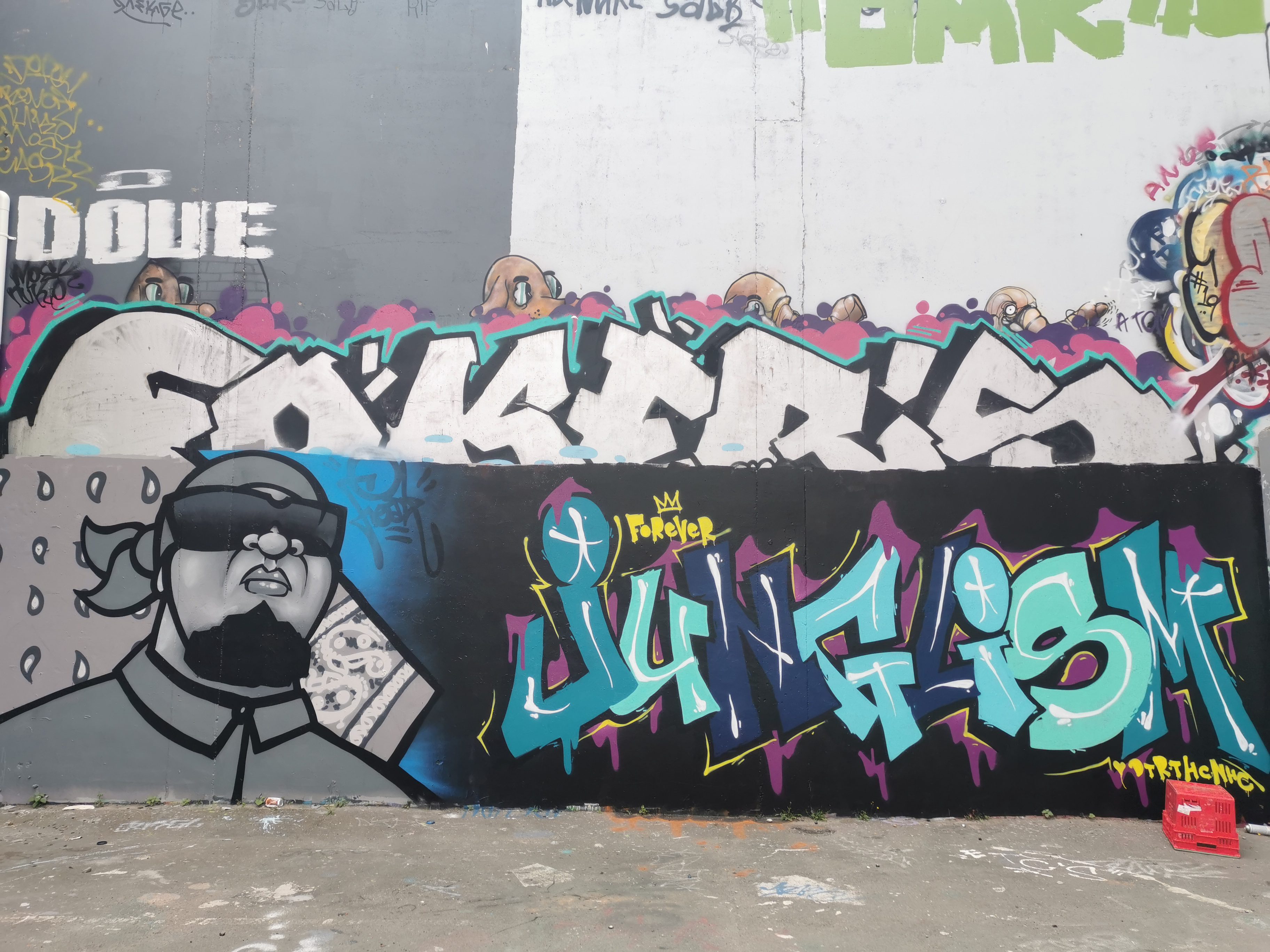 ____________________________________________
"It is what it is, there's no shit being shined, he is what he is because he was who he was…" – Yikes
____________________________________________
Based on everything that has happened, what would you say to Leon now?
Ikarus: I fucking told you! I told you fifteen years ago before most of this shit existed anyway! When it was still really graffiti, not necessarily with this big new age street art link and everything that has led to all of this, but even back then the influence that he had on straight up graffiti, and just straight up people, he wouldn't acknowledge that at the time that I told him. People's essence and spirit and energy is still with you in the universe, so, I would tell him: I fucking told you!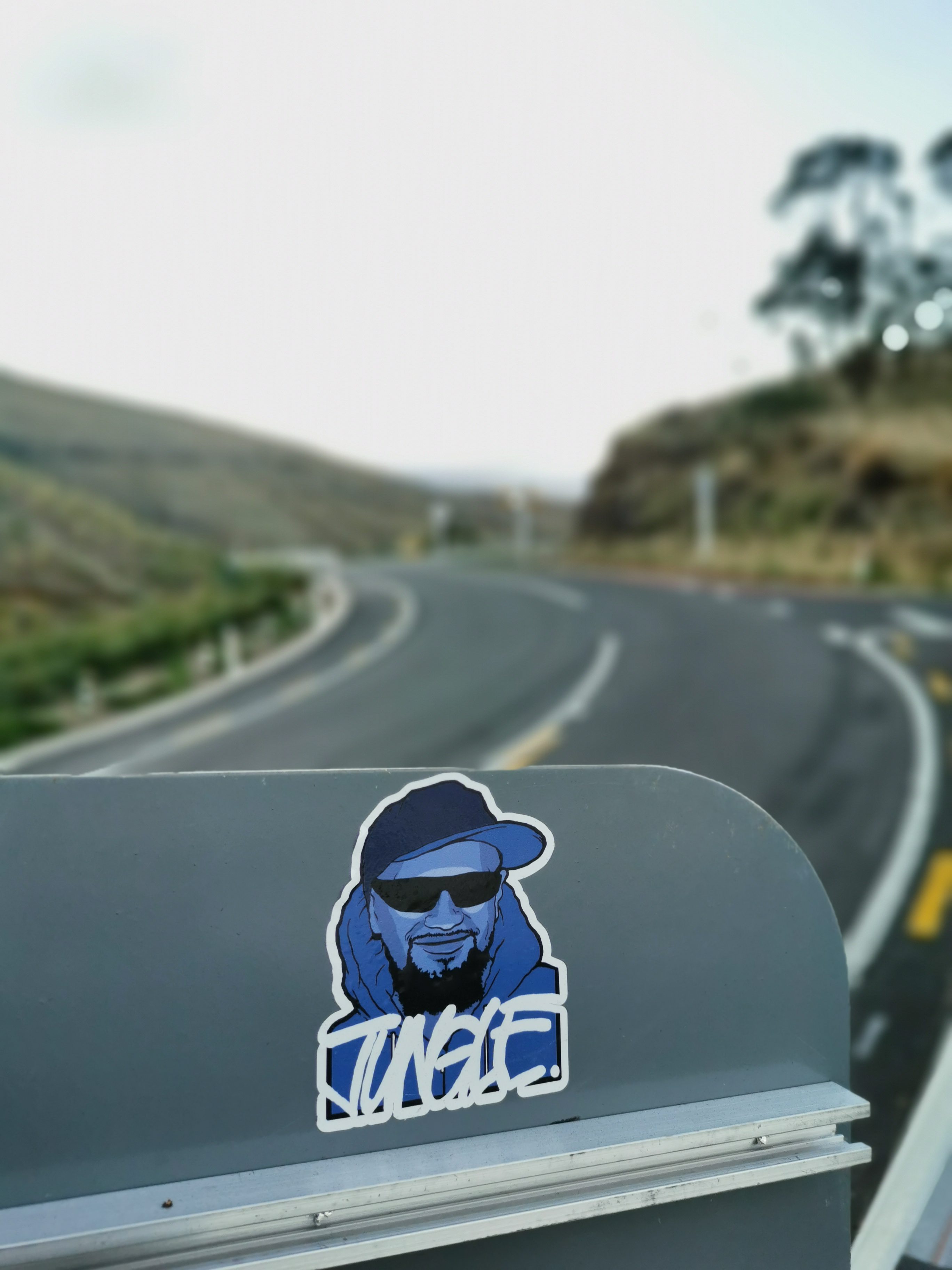 ____________________________________________
"If I was to ever to have a brother in my life, Leon Nga Miraka Hopa Te Karu is my brother. Love Jungle 4evaaa haaarrdd!" – BlackE
"Long Live Jungle" – Kurs
"R.I.P. King Jungle THC" – Lurq
"RIP Jungle, King of Kings" – Flex
"R.I.P. to a King." – Omes
"I'm not really sure of the extent of his influence, I'm out of the loop, but he had a massive impact on me and my friends and he has left a massive void in people's lives, I'd say." – Fiasko
"Much respect due to the humble king with an unforgettable personality, a true pioneer of Christchurch urban culture." – 4Higher/Pest5
____________________________________________
Thank you to all who contributed to this piece in tribute to Jungle.