We were lucky enough to visit Jacob Yikes in advance of his new show, Even in Darkness, opening at Fiksate Gallery on April 1st, 2022. We talked about the inspiration and genesis of the show; a body of work begun in the first nationwide lockdown of 2020. Rather than an interview, we were inspired to write about the show and the questions that arise from a deeply personal yet incredibly complex and psychological series of paintings… 
The paintings of Even in Darkness are not easy to grasp. They are mysterious, evocative, and unsettling. They are filled with complexities. They are chaotic and dizzying while eerily still and quiet. They feel deeply personal and somehow universal and ultimately, not of this world. They are confident and assured, and yet they give little away, meaning must be teased out. There are familiar, recognisable elements, but the wider scenarios, and the juxtaposition of the disparate parts, proves beguiling and elusive. They reach for something unknown; they require surrender.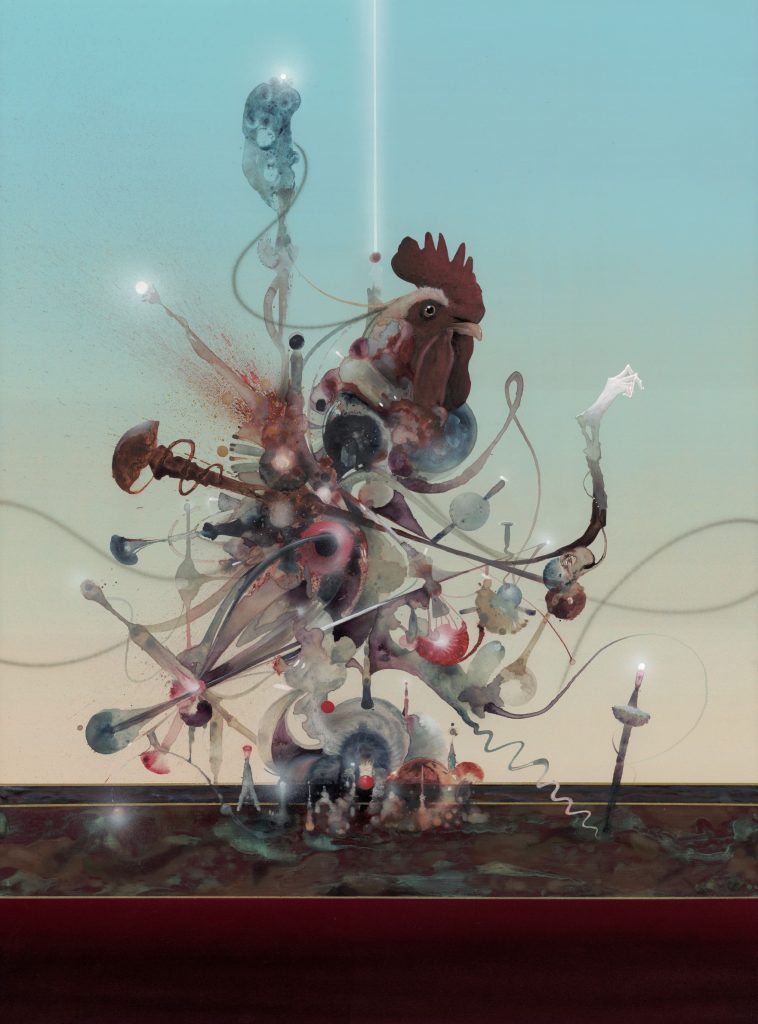 Yet this dilemma is not solely faced by the audience. The artist has navigated a darkened path through the genesis of these paintings, at times guided by an unseen hand, understanding only the need for the paintings to emerge. Even in Darkness represents the artist's journey, not answers.
Even in Darkness is a direct result of Yikes' experimentation with the spiritual and medicinal potential of psychedelics. Researching the use of plant-based medicines, Yikes explored strong doses of mushrooms as a way to unlock experiences and in particular to question his own understanding of ego, consciousness and reality. In a darkened bedroom, Yikes underwent a life-changing experience, communing with other-worldly forms. The intense experimentation allowed Yikes to break himself down and piece everything back together; a new, clean version of himself reborn in the aftermath.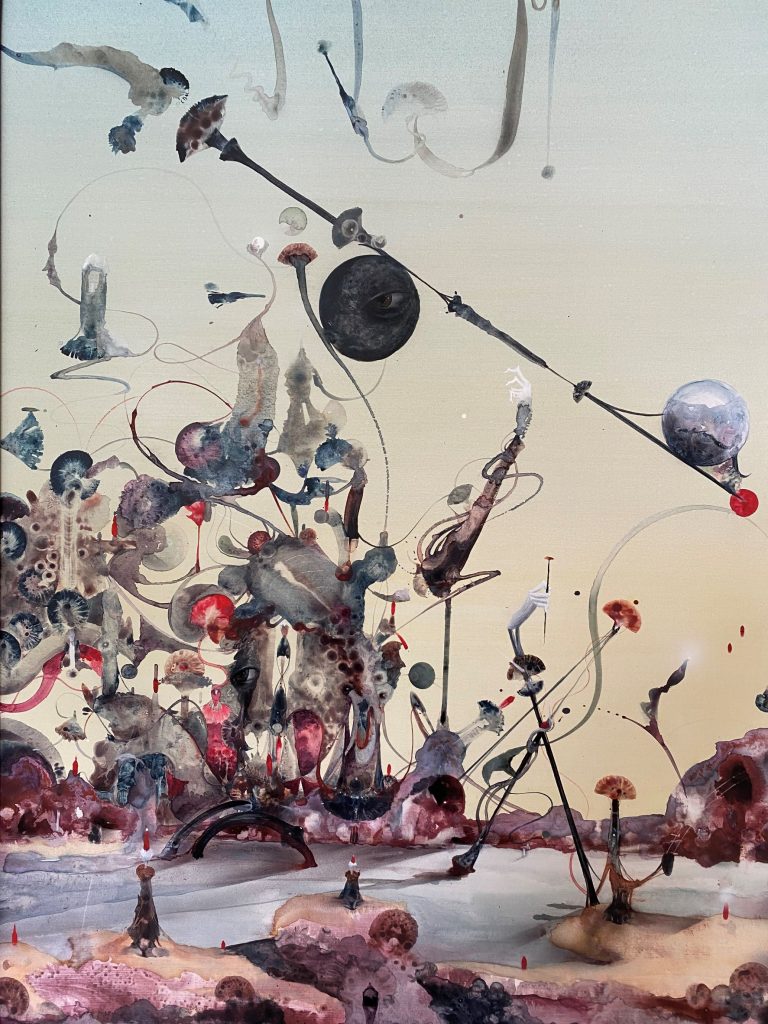 Powered by an energy beyond himself, painting became the process for Yikes to attempt to explore and decipher these essentially indescribable experiences. Painted through intuition and feeling rather than deep, focused thought, the paintings have guided Yikes, speaking to him and telling him when to work and when to step away, the artist willingly surrendering control.
Each painting in Even in Darkness has undergone the same process, beginning with the painstaking preparation of a pristine, smooth surface, layers of sanded gesso and paint creating a tabula rasa from which the image to spring forth. The blank slate a microcosm of the artist's internal journey. With the artist working on multiple pieces simultaneously, each painting began to take shape, elements constantly built upon each other. There is a greater sense of spontaneity and fluidity in these works, an instability that suggests that these images are actively seeking form, attempting to piece themselves together, stewing, pulsing, growing and changing. This quality is evident in the lack of defined line work, the impulsive qualities of the materials and their application left to breathe and form, like smoke.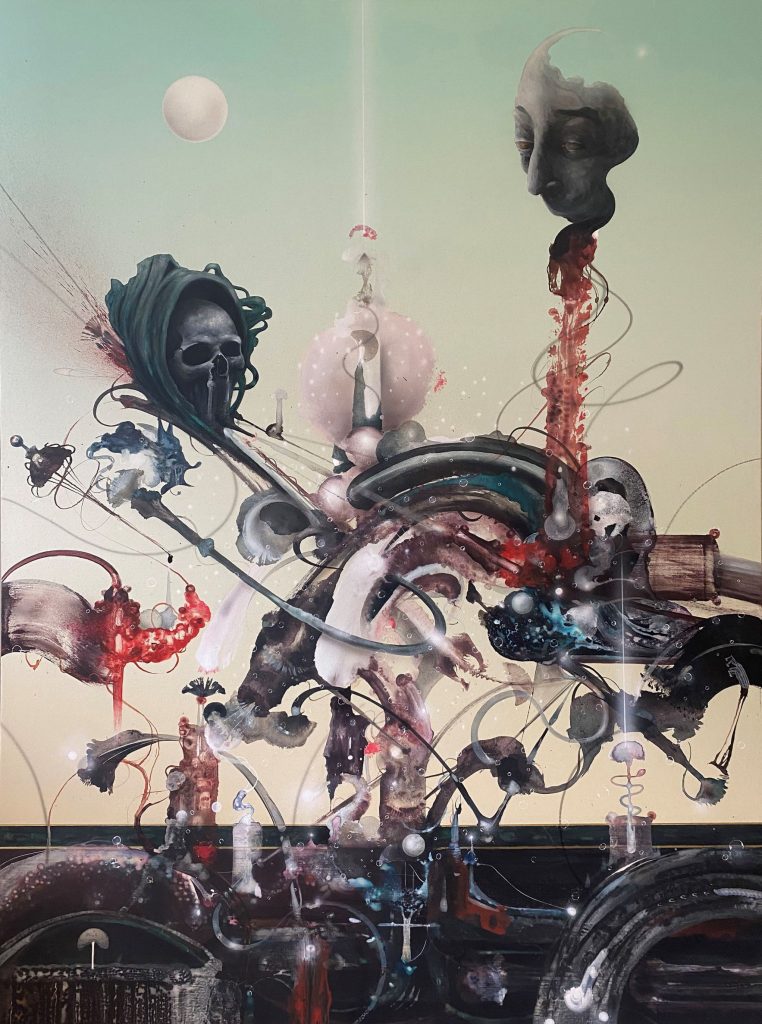 While less interested in representation, there are still recognizable elements across the paintings. In A Temple Full of Chemicals, a rooster serves to evoke ego, while in Death Came to Dinner, a black raven signifies death, both speaking to Yikes' own experience of ego death. Grotesque faces and hands and beams of celestial light reaching across and through the scenes highlight the ethereal presence felt by the artist throughout his experience. Yet, other elements merely hint at something familiar; architectural and organic forms (notably mushrooms, the conduit that unlocked the artist's access to these strange realms) amidst strange terrains provide a tether between the known and the unknowable. Similarly, the horizontal strips that occur across the works serve as a grounding device between this world and the domains beyond.
These paintings are challenging. They represent a challenge willingly taken on by an artist constantly pushing himself, both creatively and experientially. While they capture something beyond explanation, these paintings are also inviting. So, step into them, gaze deeply and explore, because even in darkness, there is light to be known.
Even in Darkness runs from April 1st, 2022 to April 30th, 2022 at Fiksate Gallery, 54 Hawdon Street, Sydenham