Without descending into exaggeration, Auckland artist Berst is perhaps the most significant figure in contemporary New Zealand graffiti. A member of two leading crews, TMD and GBAK, not only is he a formidable artist with a deep understanding of the visual potential of graffiti, Berst is also an eloquent, thoughtful and insightful voice when it comes to the underlying issues resonating in the culture, a complete advocate for the most enduring, widespread and misunderstood art movement of our time. It should not be a surprise, after all, Berst is nearing completion of his PhD in Education, an influence that allows him to delve into graffiti from a variety of vantage points, inflecting his observations with unique frameworks, seeking answers to questions about graffiti's past, present and future. This background makes him a perfect person to pass on knowledge, something local heroes Ikarus and Wongi were quick to recognise in bringing Berst to Christchurch for a one-day graffiti workshop at the Youth Space at One Central on Manchester Street in early October. Upon hearing about his trip down south, I jumped at the chance to sit down and listen to him talk. It was quickly apparent that Berst's passion and knowledge is both impressive and infectious, and what started as a quick chat in a brief break in his hectic schedule became an hour-long secular sermon…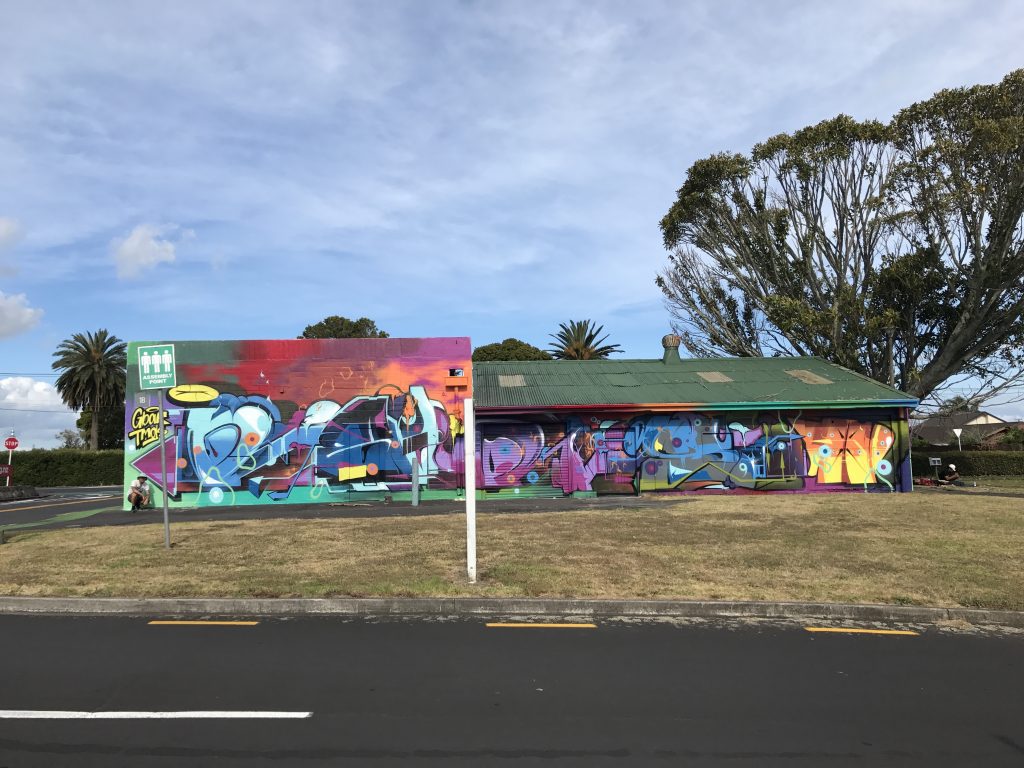 So Berst, you have spent this weekend in town, what have been doing in Christchurch?
I was invited by GapFiller, who, from my understanding, are an organisation tasked to basically activate the town centre, and so accompanying that they have been working with Ikarus, Wongi and Emma to bring in and connect with artists from Christchurch and further afield, and they brought me down from Auckland to essentially run a workshop focussed specifically on graffiti. So, during this one-day workshop we had about ten students, so to speak, ranging in age from seventeen to thirty, and they have basically been taught the foundations of graffiti, and within that I've showcased to them a little bit about my work, my process, some technical skills, how to construct a piece and, importantly, some of the potential avenues where graffiti can lead. I think that is incredibly important because often a lot of workshops give the technical skills of how to do graffiti, but without really thinking about the potential contexts it can actually go into beyond just being illegal. Then over the last two days I've been working on my Real Time web series, which essentially documents and captures the story of New Zealand graffiti. I've just managed to film Wongi and Ikarus as part of episodes fifteen and sixteen.
You talk about that need for the workshop to present both practical elements and discussion about where graffiti can lead someone or how it can be re-imagined and empowered, in terms of the practicalities, what do those discussions sound like? Are you talking about aerosol techniques, or letterform development? Or all of those things? They would have to be quite organic, right? Because everybody already has their own style from which to begin those discussions…
Absolutely, for me, all the people that participated in the workshop were totally varied in expertise and skill level; from those who had only been painting for a couple of months and don't really have an understanding of graffiti, all they know is that they are painting words or names or letters as the basis of their subject matter, to people who were very experienced and have been painting for five or ten years, they fully understand what graffiti is about and how to do it. So, in terms of my process and the technical aspects I was teaching them, it is a two-fold approach; it is essentially about style and lettering and then there is also the practical side of how to use a spray can. The practical side of lettering, that's one of the key foundations that grounds graffiti and makes it different from everything else. Graffiti has got its own sort of 'isms' and visual codes and ways of doing things, of manipulating letters, which I think is quite different to other art forms. In saying that as well, there is no particular way to paint graffiti, there are many different genres within it, just like in fine art, but definitely, we start off talking about the foundations of graffiti lettering, which really derived from nineteen-sixties, nineteen-seventies, train writing in New York, and from that basis, then you can look at West Coast graffiti, which is a bit more what they call 'wildstyle', with more whips, it is more complicated and less legible. Then I show them my style, which is kind of a combination of many different visual aspects and genres of styles. But equally, I look at what they are already drawing and build on that. Somebody might do something really simple and bubbly as opposed to somebody, like the seventeen-year-old kid that was there, his stuff is really wildstyle; crazy, and intricate, already when he is seventeen! So, for me, it is really about trying to give them some advice around how they can strengthen their letter structure and create interesting forms. I think that's one thing that's nice about graffiti, it is quite organic, it doesn't have to look any particular way, there's a certain kind of pureness and freedom to painting it. For me it also aligns with, to some degree, typography, or abstract painting, because really it is looking at forms and shapes and how you can manipulate those shapes to create something, you know? So, there's that aspect, but then there's the practical aspect. Obviously, there are so many paint brands, caps and nozzles that you can put on cans, and with a spray can you can get so many different techniques, it allows you to work quite differently than if you were working in a studio with a brush. So, I explained to the workshop that when you're using a spray can, especially when you are working in a large scale, not necessarily for this weekend, because we were just painting on the giant cans [at the Youth Space on Manchester Street], for me, working with a can is quite performative…
It's a very physical exertion, an extension of your physical movements…
It's quite gestural. When you're moving your body, you are not just making small movements, when you are painting something very large, with spray paint in particular, it is very physical. So, as part of that idea, I showed them different techniques and what we call 'can control', and that's really being able to control the pressure of a can. Once you can master that, you can almost do anything. For me, one of the key things is that while there are so many nozzles you can use; fat, skinny, medium, whatever, I normally just use a fat cap, which sprays the most amount of paint out as possible, but when you master that can control, you can make it come out more slowly and create more effects. It is kind of like driving a car, right? You can drive a Ferrari, but if you don't know how to drive it, you will crash it. But if you know how to drive it…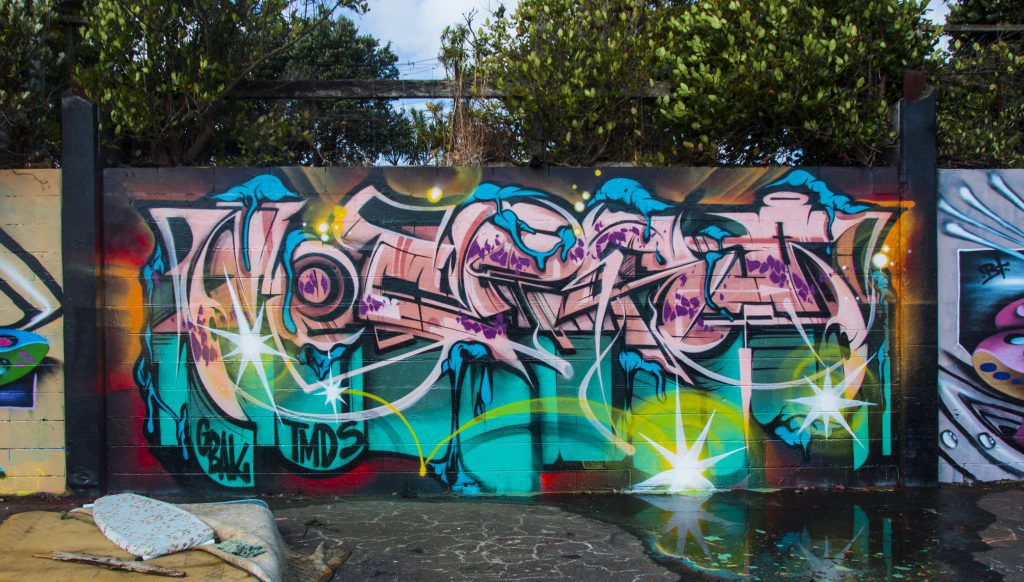 That discussion of technical elements raises an interesting question, because historically graffiti has this amazing 'Do-It-Yourself' culture, right? There are stories of writers boiling their own ink and making their own marker pens, repurposing the nozzles from kitchen cleaners, that whole development, that history. Now that you can buy all these different caps, and all the choice of paint, what sort of impact does that have? When you are thinking about a workshop, are you encouraging innovation in that sense as well? Is that still central, or is it not present to the same degree because the necessity is not there?
I think obviously, everything is accessible to everyone, and to some degree it has removed that sense of discovery, of self-discovery, which is something that graffiti celebrated back in the day. But I think back to things like Style Wars, the writers in that film, they are only like fifteen, so they were not art school students…
Exactly, they were learning in different ways…
They were figuring it out, and they were potentially coming from a low socio-economic background, they were not privileged kids who had everything at their fingertips.
Which is an important and informative background for graffiti writing's history, right?
Totally, a huge impact.
There is a need for marginalised societies to find ways to express themselves, and that is ultimately what graffiti was…
That's what it was, I'm not sure if that is what it is now. You know, most of my friends who write now are, not wealthy, but kind of middle class, they are not struggling or anything. But they love graffiti for various reasons. But while there is less self-discovery now, there definitely was that sense for me when I first started. The internet wasn't so prominent, so for me, I got to engage in that sort of process; 'Oh what cap do I use?' 'Where can I rack cans?' Because that was a part of the culture…
Exactly.
Because, you know, you've got to steal your supplies, at that time we didn't have the fancy paint, so you were stealing hardware store paint.
Just the luxury of paint designed specifically for painting walls is a big shift from hardware store paint…
Hardware store paint would do the job to do a piece, and in some ways it would also then influence what you would paint, because you could only steal a certain colour palette of black and chrome, or this colour wasn't actually very good or useful, so you wouldn't use it. So, there were interesting things like that. What I always loved doing was transferring paint, I don't know if you have seen that stuff before…
Yeah, I've seen videos…
Yeah, there are YouTube tutorial videos on how to do it. So basically, you put one can in the fridge or in the freezer, one in boiling water, and once one is frozen, you get like a ball point pen and the straw that holds all the ink, and put the cans cap to cap and it transfers. For me, I think that was kind of exciting, because it was kind of like mixing paint, right? That's essentially what it is. It was exciting because there's so much more of a process, more than just the painting and the action. But I don't necessarily cover all that stuff in the workshop because people are probably just there because they want to get into the painting and because it is such a short period of time, we just have to get into it, you know? But, in saying that, with some of the writers back home, these are the things that I talk about with them, in the hope that they will do something great with the tools that they have, you know? What can they achieve now? This is what people achieved back then, and this is what they have done now, what about the future?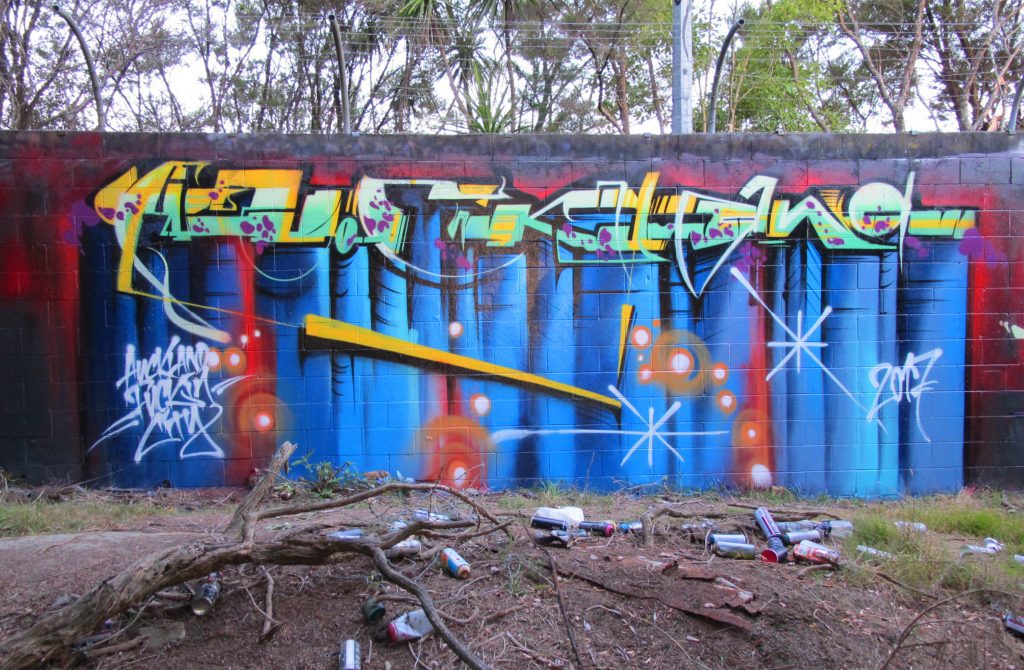 If anyone in New Zealand is having a lot of discussions with different writers, it is you. You are definitely a connecting figure in Aotearoa graffiti, what's your take on your position?
I'm an advocate for it, a total advocate. I see the wave of street art, I see that happening. I see the wave of urban art happening, I see the murals happening, I see the post-graffiti happening, and of course, the fine art gallery space thing happening, and I ask myself, why is graffiti not happening? Why is it not moving in that way? That's not to say, why is it not becoming mainstream? Or why is it necessarily even becoming accepted? It's not about being legitimised as an art form, it's not that type of conversation. For me, I feel like again, it's actually two-fold; it is about realising that graffiti is an art form that is, in terms of generational knowledge, oral, it is passed on verbally. There is something where writers, they take pictures of their own stuff and whatever, but I know lots of writers who are not willing to share this knowledge, which is a weird one, because I see graffiti like a religion in some ways, like when I go out painting at night time or whatever, I'm practicing, and when I have a conversation with someone, when I run a workshop, I'm preaching, that's actually what I'm doing. I'm very clear in my intentions and my actions. But some people will go out painting and really believe in graffiti, but they won't preach, they won't share. So, it is kind of like saying; 'I'm Christian, but I won't tell you the beliefs.' I'm kind of like an extremist of graffiti when I speak to you, you know?
Spreading the gospel!
But for me, in terms of filing this role, it just kind of happened organically. I'm trying to connect with people, especially with younger writers, because I know that since graffiti is an oral history, in terms of how it is passed down; 'we do things this way', 'we do this…', 'you pay for this spot', blah blah blah, I feel partially responsible to create some resources. For me, doing things like workshops or doing a web series, helps to create resources which then can help other people to do or take certain trajectories, to do different things. For example, Wongi has gone down the graffiti route and now he's gone down this sort of business route, where he is making a living doing this with the skills he got from graffiti, and there are also X amount of other people who have done that. But there are also a handful of people who have just painted graffiti hardcore, and now they are in their forties or fifties and this is still what they do. Or, alternately, I've gone into teaching, and you know, I connect with this and this… So, the intention with, for example, the Real Time web series is for it to be a resource and if some kid comes up to me and says: 'Hey, I want to make a living from doing graffiti', I can say: 'O.K., go watch episodes nine, twelve and eighty-five; you've got three people there who have sort of gone down that route, each episode is about an hour, go home and watch it, have a little think, see what they're doing', or a kid might say: 'I want to paint trains…', I can say: 'Cool, O.K., well, watch episode ninety and ninety-two…'
So, it's not just a documentation of the scene, it's actually a resource to be accessed…
Definitely, it's a resource.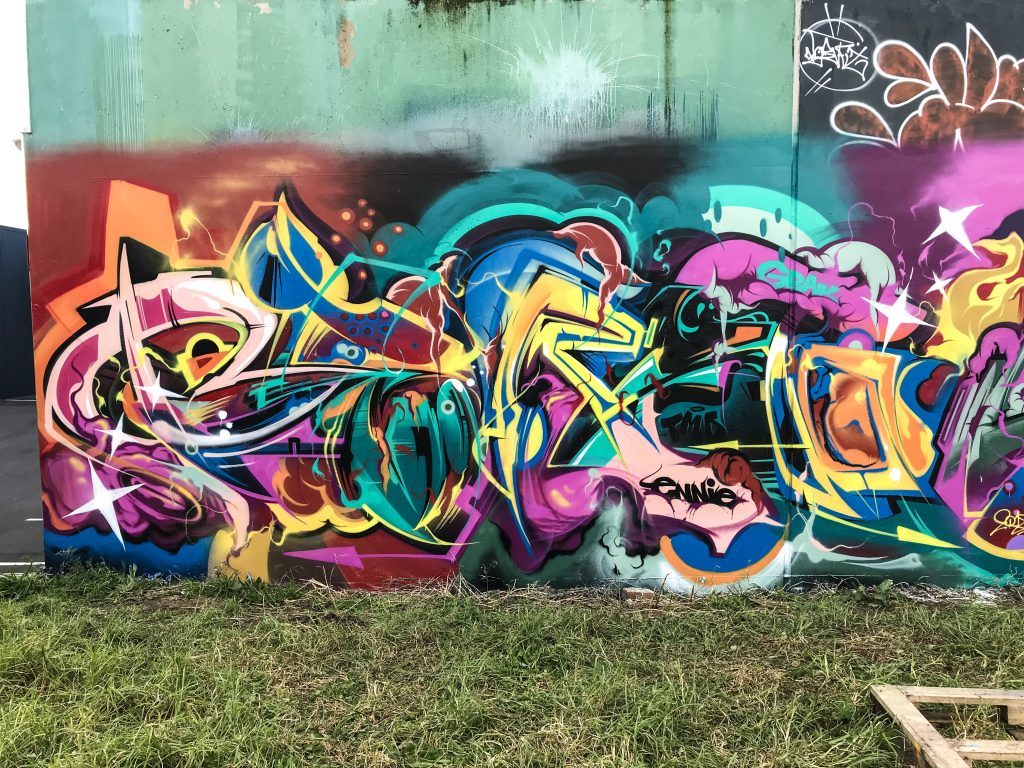 Importantly as well, it is something that is understanding and presenting graffiti for what it is itself, it is not trying to fit it into some other narrative or discussion. It is about empowering the culture by celebrating the culture for what it is, and too often, concessions have to made when it comes to graffiti, right?
Absolutely, and the common thing when it is portrayed in the media, is that question: is graffiti art?
That question!
You know, it is such an outdated question…
Such a binary option…
Yeah, and you know it is such an outdated dialogue, for me I think there is such a rich history of graffiti and when I think about all the art movements throughout art history: Pop Art, the Surrealists, whatever, graffiti has been around since the sixties…
That's just graffiti as we determine it now, right? I mean the actual lineage is much longer…
Exactly, but in terms of writing, like stylised writing…
Signature-based graffiti…
Yeah, signature-based graffiti, it has been around since the sixties, so what is that now?
Over fifty years…
Exactly, what other art form has got such a strong hold on the art scene?
And has had that longevity?
It's not like people are like: 'Oh, yes, the Cubist movement has taken over the world…'
Those sorts of movements struggle to really exist outside of the original circles, they kind of become watered down, whereas graffiti has been handed down through generation to generation and has maintained its unique dynamics…
But how does it do that? It's interesting…
What is that essence?
It is also interesting, because it is something that has developed within society, it's a social thing. It hasn't been developed in an institution, like when you think about Cubism, someone inside an art school, they are being told that's an important art movement, whereas this is something that has operated for fifty years, it's crazy!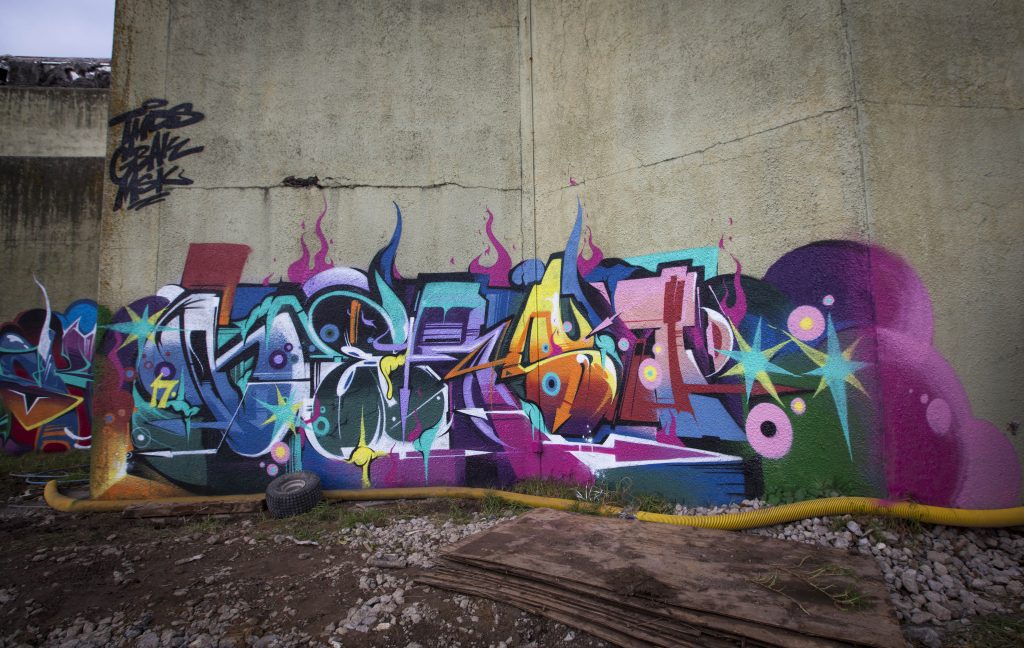 That endurance is incredible, I am constantly telling people that we are talking about something that has not only survived for fifty, almost sixty years, but in every corner of the globe, we are not just talking about one particular place…
We're not talking about New York, you go anywhere and there is graffiti…
Stay tuned for Part Two of Berst: The Faith of Graffiti…
Check out Berst on social media:
Instagram: berst_1
YouTube channel: Bobby Hung