Dcypher has been living in Los Angeles for a decade, but the Christchurch-bred artist has still made a significant contribution to the post-quake city's walls. From commissioned works such as his cut-up patchwork of iconic kiwiana on the Wharenui Pool in Riccarton, or his on point 'Welcome to Christchurch' greyscale postcard for 2015's Spectrum festival, to more informal jams and productions with his DTR crewmates, he has made the most of his sporadic trips home. Dcypher, of course, has pedigree, he is not some out-of-towner drawn to the opportunities in Christchurch, but rather an important figure in the city's pre-quake graffiti history. Dcypher's legacy now extends across decades and geographic settings, tracking the progression of an artist across the globe, and the transition between graffiti traditions and the new mural renaissance. Prior to heading State-side, Dcypher had already developed a notable local and national profile. From his role as a tutor and artist for Project Legit in the early to mid-2000s (an art programme that served to mentor young graffiti writers and provide legal opportunities for painting), and numerous local projects and commissions, to his regular inclusion in issues of Disrupt Magazine and even Askew's 2007 book InForm, where, alongside Lurq and Pest 5 (although the latter had relocated to Auckland by that time), he was one of the few featured artists from outside of the North Island, Dcypher was able to fashion something of a career from his graffiti roots, a transition that might have been unexpected, even amongst the graffiti culture renaissance of the mid-2000s in Aotearoa. However, when he left Christchurch for the United States in 2008, he, like most people, had no idea of the monumental changes the city would endure just several years later, and indeed, the creative opportunities that would emerge in the recovery period. As a result, Dcypher has been returning to a different city, not only from the hometown he left behind, but also in comparison to the sprawling and stretching metropolis of Los Angeles to which he has become accustomed. That environment, coupled with the wisdom of experience developed over years of work, has ensured Dcypher's output expresses a well-honed practice, striking and crisp, distinct but ultimately indebted to graffiti as the culture from which he emerged, a balance he continues to maintain. While he was recently back in town, I sat down with Dcypher to find out about his views on Christchurch's current scene, his experiences as an artist abroad and what his future may hold. While the open-air setting of Smash Palace may have made the difference between mid-winter Christchurch and bright Los Angeles abundantly clear, it was obvious that while the man might not reside in Christchurch for now, he maintains deep connections to the people, places and unique characteristics of his hometown.
You have been back in town for a couple of weeks now, what have you been up to since arriving? From all accounts you pretty much hit the ground running…
I started the Lyttelton skate park mural with the rest of the DTR crew, Ikarus, Yikes and Wongi, pretty much a few days after I arrived, and that took about eight straight days of just painting. The weather was good though, and everything worked out. Then I just got straight into the Airport mural with the Oi YOU! guys, George [Shaw] and Shannon [Webster]. That was a good fucking two weeks of straight work. I think George added up five hundred hours or something, so, we had all of us working on it. It was all acrylic, which is pretty much the first time I've ever done like a full acrylic mural, so it was a learning curve for me. But yeah, the result was good, and yeah, I have just been trying to relax after that.
So, when you say acrylic, you mean with brushes rather than cans?
Yeah, brushes, rollers, trying to learn new techniques for fading without spray paint, that kind of thing… But mostly, yeah brushes and rollers.
Was that just a condition of working at the Christchurch Airport, because the mural is located inside the actual building, right?
Yeah, obviously with all the passengers and commuters within the airport, they can't have spray paint fumes going about the airport, so they were pretty adamant about just keeping it all acrylic.

Having made a career out of wielding a spray can, did it take a while to get your head around the brushes and rollers? Using a can would be second nature now, and you mentioned having to work on fading techniques, did it impact your stylistic approach as well?
Yeah, I had an idea that it was going to be the case, so I designed the mural with that in mind; using various techniques with acrylic paint to achieve the look I wanted. But in knowing that I was going to use acrylic paint, I had to design it and sort of tone it back a little bit and keep it quite simple, which isn't necessarily my kind of style. The style that I chose was also something that I knew the Airport and the general public could palette. So, I guess it's not necessarily my most interesting  work in that sense, but it was an awesome learning curve to be able to use acrylic. I mean, I guess we've always used acrylic paint from the get go alongside spray paint, so I've always had an 'in' on how to go about it, and I've always tried to mess around on canvasses and use acrylic paint on a smaller scale where it makes sense to use brushes. Spray paint only works down to certain scale…
I was just going to say, it's kind of the opposite of cans, they are easier to go bigger, whereas with brushes, it's easier to go smaller, although obviously rollers help with larger works as well…
Yeah, but just seeing what a lot people have been doing overseas, especially in Europe and stuff, as murals get bigger and bigger, people are starting to shift to using acrylic with brushes and rollers on that really large scale. It is actually easier to use acrylic paint than spray paint; it's cheaper, it goes further, it's faster, the longevity is better…
A lot of people I've talked to have mentioned environmental concerns as well, not completely moving away from can use, but it seems to be something people are wary of…
Yeah, I think, if you were an artist that had the opportunity to be able to do that, then that would be cool. But I think it is probably not really an environmental thing, it's more of a technique thing, just because best results are the end goal, you know what I mean? And environment is secondary, like everything else that humans do! (Laughs)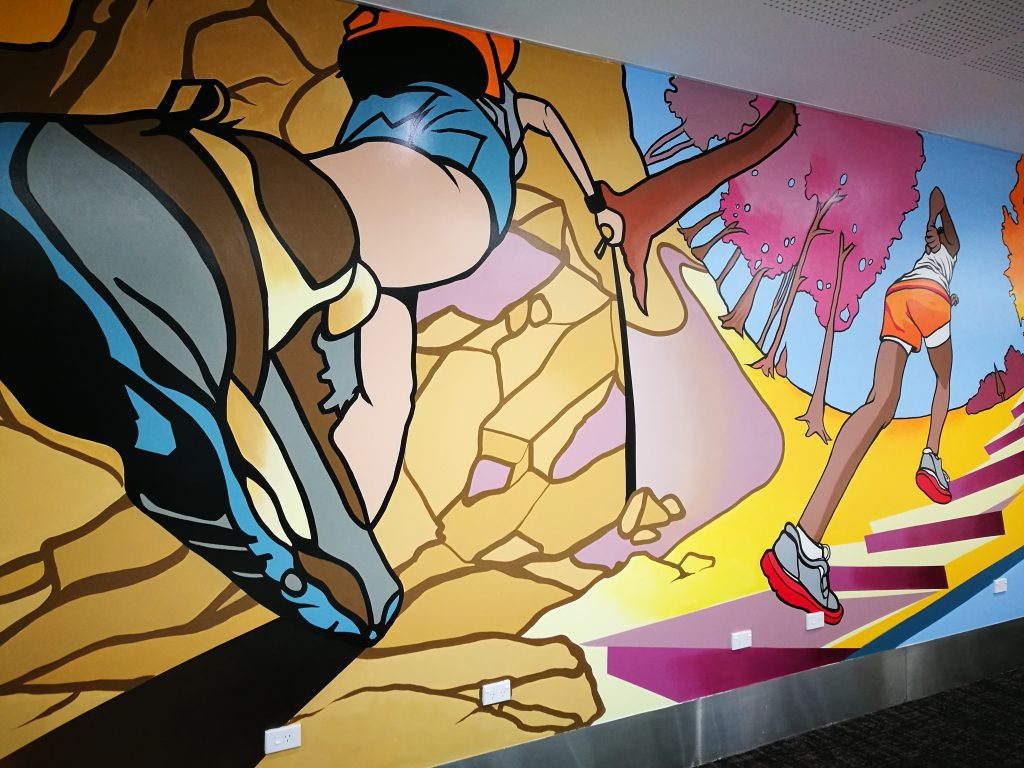 I guess as well, the evolution of this contemporary muralism movement into its own beast, it means you are getting artists from different backgrounds now, you aren't necessarily coming from a graffiti writing background or even necessarily that aerosol experience. Mural artists are increasingly switching between streets and studios, combining those two worlds, like, I think of the Spanish artist Aryz, as a prime example of that sort of approach, he is definitely taking muralism into a painterly direction…
Yeah, that's who I was referring to before. That guy is definitely the best muralist by far at the moment. And he was doing a lot of that stuff with rollers and brushes, ten years ago, you know what I mean…
To see some of the latest stuff he's been doing, it literally looks like a studio painting on a massive wall, the painterly quality brings a totally different element to it…
For sure…
You mentioned that the Christchurch Airport mural came about through Oi YOU!, you have developed a pretty good relationship with George and Shannon over a couple of projects, beginning with your inclusion in the first Spectrum show (at the Christchurch YMCA in 2015). What was it like for you coming back for that show? Experiencing something like that in your hometown, and having some international context for festivals and events, was it easy to get on board with what they were doing?
Yeah for sure, they totally went about it the right way. They could have just had international artists of a high calibre come through, but by also involving local artists to do their thing, people who have set their feet in the city, a long-time before they arrived, it showed George and Shannon understood having that as an important part of it all. Those artists being represented in the festivals was a strong point to get across, that there are people that have been doing it in the city for a long time before this stuff had come about…
Witnessing, and of course contributing to (as one of the headline artists) that Spectrum show as it came together, and thinking back over all the years growing up in Christchurch, were you still taken aback that it was actually happening in your home town?
Yeah, I always feel like whenever you leave somewhere, awesome things happen, and you feel like you are missing out! (Laughs) I was just stoked to be invited back to produce work. I could have been overlooked, going off and doing my own thing, so definitely, it was awesome to get involved and to have that event and be a part of it all…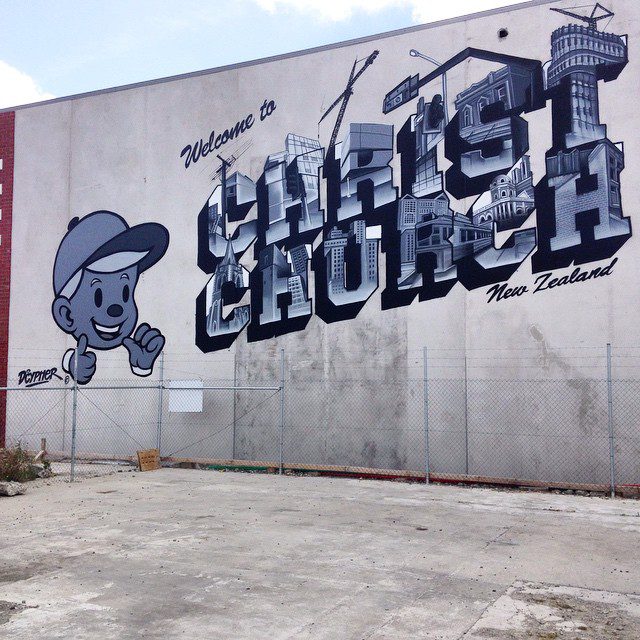 It must have been cool that all the DTR crew were involved as well [the exhibition even featured a DTR colab room, with portraits of the members in a darkened room]; to have that collective recognition as a crew as well as individually…
Those guys were all involved from the get-go, George got them all involved, I just kind of came in from the side, off the back of all that, which is cool. But yeah, it is awesome that they have been able to give an amazing amount of people opportunities to produce work and that's kind of the essence of the whole idea and how it should go down…
As you said, the first thing you did when you got back this time was the Lyttelton skate park project with the rest of the DTR crew. You guys have a pretty lengthy history in the context of New Zealand, and Christchurch graffiti history, how is it getting back and painting together? Is it a different type of relationship than you have with CBS, your Los Angeles crew?
Yeah, you know growing up with a bunch of guys and painting regularly, there's probably a little bit more of a brotherhood sort of thing. In the States, there are so many players that it's a huge family and it can be hard to make those same types of connections. So yeah, working with those guys is always awesome, you don't even have to think about it, you know, everyone's already on the same wavelength and you just go ahead and make it happen. Whereas in L.A., there's a disconnect so to speak, with guys you haven't necessarily grown up with since you were fourteen years old, you know what I mean…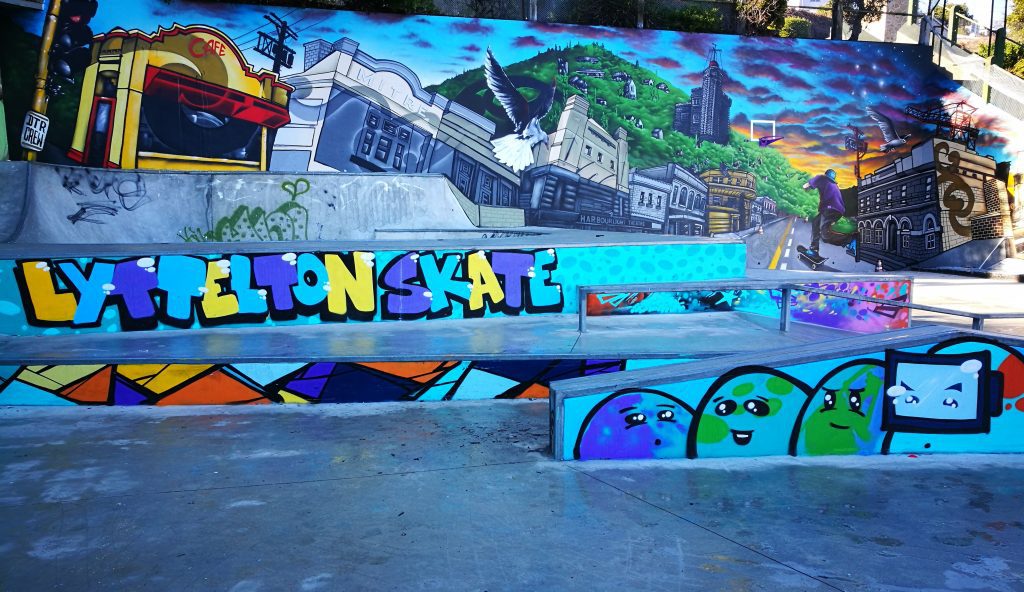 When did you leave for Los Angeles?
I left in 2008, during the global recession. (Laughs) I basically landed, and Obama was elected. People were crying and shit. It was pretty amazing to be in the United States for something like that, at that time, and to be part of it, to feel like you were a part of it. But being there wasn't easy in the beginning, I was doing a lot of construction work, there weren't a lot of opportunities. I was sort of working my way up, meeting a lot of other artists, painting various little projects. Doing things to prove yourself to people who have already lived and worked in the city for a long time and have their foot fucking firmly in the ground. Slowly but surely, I was able to become a full-time artist over there…
Did you have any connections before you went? Were you down with CBS before you went?
No. I had some good friends of mine who I grew up with in New Zealand, two American guys, whose father was based here through Operation Deep Freeze when they were kids. I grew up skating with them, doing graffiti with them, and they had moved back to the States. They were originally from San Diego, and one of them was, actually both of them, were in L.A. at the time I arrived, so I had two really good friends that I hadn't seen for a really long time to go and start the whole thing alongside. They had already figured out a bunch of shit. To go to Los Angeles by yourself is a big undertaking, and to have someone there as a liaison to help you get through it and figure it out, is ultimate, so I owe a lot to those guys, for sure…
I remember your profile in InForm, the 2007 book produced by Askew featuring a number of New Zealand graffiti artists, you commented on how the Christchurch scene was really small and everyone painted together. That probably highlights how daunting it must've been to move somewhere like Los Angeles, which would be like ten or more cities the size of Christchurch…
At least…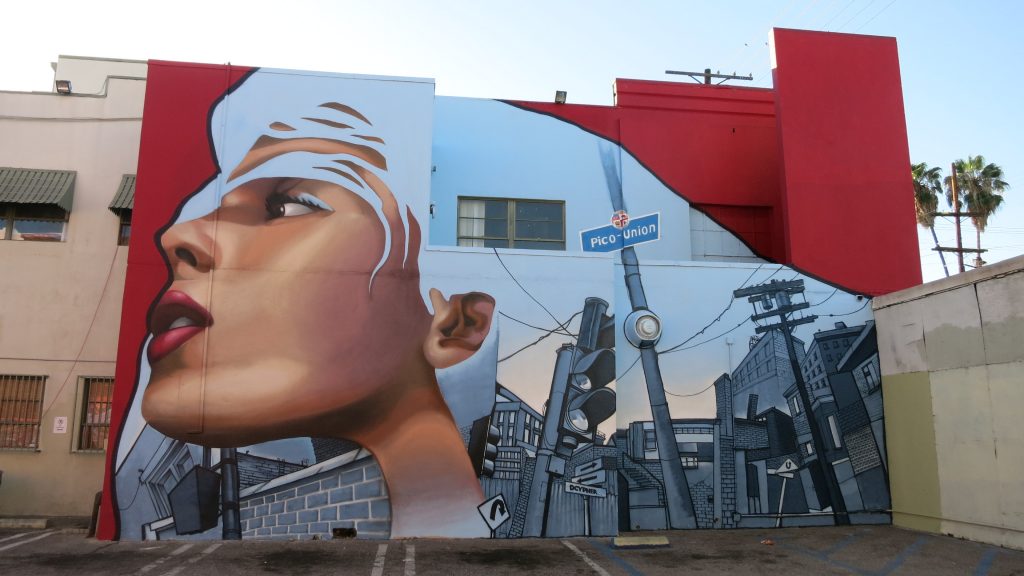 That feeling of starting again, of starting over in terms of reputation, that must have been pretty strong…
Yeah, for sure. But it is refreshing, its humbling to have to work your way back up again. The calibre of work in the U.S. is fucking insane. Just the level of competitiveness is crazy. New Zealand has that kind of tall poppy thing, where if you think you're better than everyone else, you are going to get cut down quick, you know. Whereas in America, if you think you are better than everyone else, for some reason everyone holds you up on a pedestal.
Do you think that is a unique thing to the United States, something about the mindset there?
It's a combination of both freedom and capitalism that sort of drives people to do what they do. I mean there are guys in the States who do illegal graffiti and have done illegal graffiti for their entire lives and have never been snatched up, they have refined that shit to an amazing level, where they can go out and produce work without running into too much bullshit. But, at the same time, the competitiveness, you know, it keeps you on your toes.
It is sort of L.A. in a nutshell I guess. It's a city of contrasts. I imagine anything can happen at any time, in any place…
Yeah, for sure…
Was the American West Coast scene an influence on you coming up? Or were you more inspired by New York and the East Coast, or maybe European writers? An American tourist remarked to me recently, not knowing anything about you, how one of your pieces here in Christchurch looked like something from Los Angeles. Has that West Coast, or more specifically Los Angeles style become more of an influence by living there? There's that long lineage of 'West Coast' artists across a number of fields, and that specifically Los Angeles aesthetic that can be found in music, film, fine art, street art, graffiti…
To begin with obviously it was the New York influence, Subway Art and books like that, before the internet. Then once the internet happened, it was definitely European stuff. I was always more into East Coast hip hop stuff than I was into West Coast stuff, and I kind of liked the grimy, cold aspect of the East Coast. My Mother's from Boston as well, so I have an affiliation to the East Coast. But once you get to California, and you get a little bit of the lifestyle, it's definitely influential. It always has had its own style and everything going for it, but my eyes weren't necessarily open to that. I did see a lot of stuff through magazines and stuff before the internet too, that was all West Coast, but at the same time I wasn't really thinking about where in the States it was from. When I was young it was just what was aesthetically pleasing. So, I guess it did have an influence on me. There were a couple of guys I remember, like this guy Clown, who had some interviews in some magazines back in the day, who I've actually been able to meet since moving to the West Coast, which is pretty crazy. There were a bunch of other guys as well, and obviously all the CBS guys too. I think the Europeans have always taken what writers were doing in the United States and really pushed it in another direction, in more artistic directions, whereas the States has always kept that illegal, raw sort of graffiti, like you've got to keep it the real deal, there's no using some weird technique, people shut you down real quick with that sort of stuff!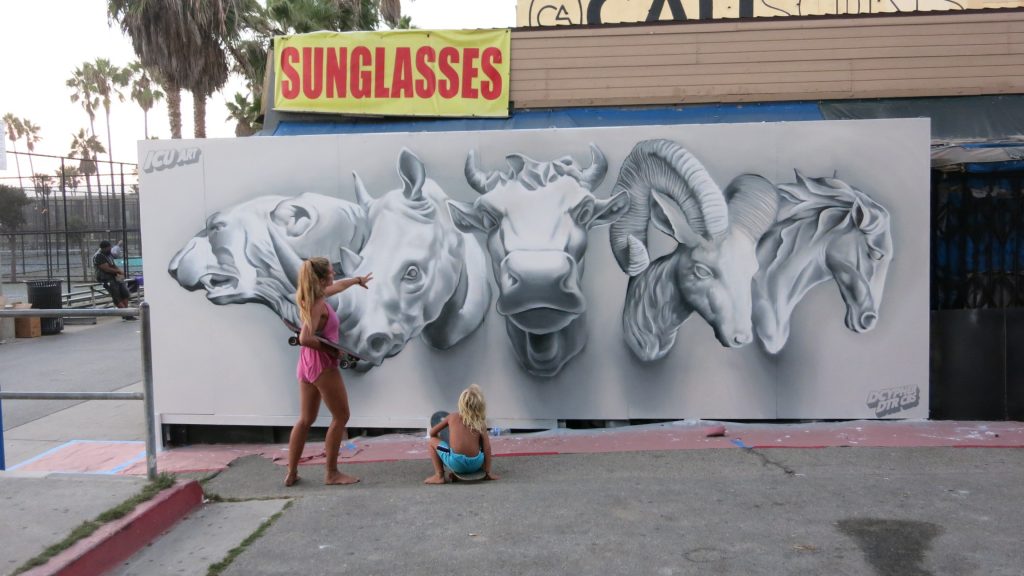 It feels like the Los Angeles influence isn't only apparent in stylistic terms and letterform traditions, but through the environment itself, it is also evident conceptually and in terms of the imagery you often use. I'm thinking of the architectural elements in a lot of your work, to me, they have the feeling that Los Angeles as a sprawling, built environment, with a certain physical nature, is influential. Do you think that imagery, and even just the conceptual approach to your work, has been a response to living there, to that landscape?
Yeah for sure, obviously as you're developing your work, you are taking reference photos and stuff like that all the time, and Los Angeles being the insane metropolis that it is, it was kind of inevitable that that was going to find its way into my work, because I've always sort of been interested in infrastructure and cityscapes and stuff like that…
Do you see a connection between building letterforms and architectural forms? In terms of how a letter, or a piece, is built up and constructed, it feels architectural in how space is considered, and angles are created and used…
I think earlier on I thought about that a lot. I remember doing some really sort of structural letters that almost looked like buildings in the past. But I do kind of separate my graffiti style from canvasses and mural stuff. It is always in there to some extent, but I try and stick to traditional letterforms, developing it in my own way. I guess always having some sort of architectural element in the background was kind of where I started pulling that stuff from, you know, backgrounds for graffiti stuff…
As you get older, when it comes to your letterforms, is there less influence from what other writers are doing and more of a continuation of what you have already developed? That idea of constant refinement, which is something that comes from the compulsion of writing, from repeating a tag ten thousand times, to perfecting a certain signature letter? For you, is your style becoming more and more insular as you get older, entangled in your own history of writing, more so than really taking notice of other sources?
Yeah, for sure. Like maybe from guys I initially painted with, but with any outside source, it's not a good look to be doing that. Like you say, you do a tag ten thousand times, fifty thousand times, and over time you start to understand how everything fits together, it's like an ongoing puzzle, within your own mind. It just refines over time. There are certain aspects that you might see another person doing, but it's probably more technique than it is style. Because with style, it is hard to adapt someone else's style, you are always going to have your own style, it's almost impossible to reflect another person's style, but technique for sure…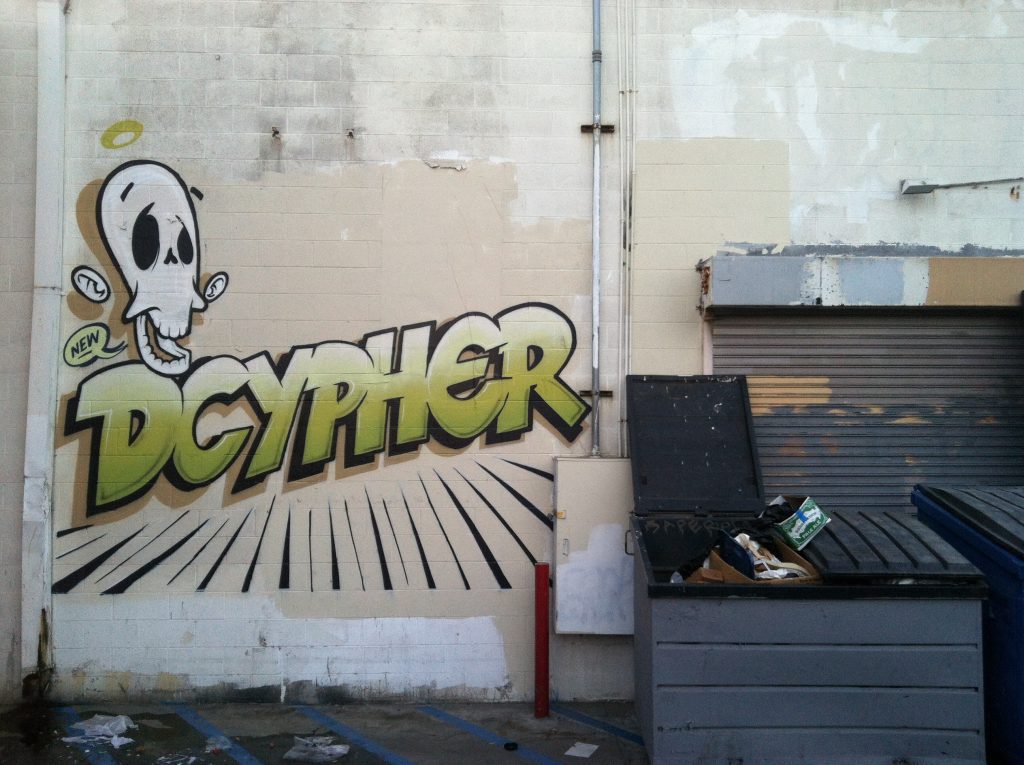 Like you were saying earlier, that from the pre-internet era, there were the influences of Subway Art, Style Wars, and there was what was on the walls around you, those influences were what you had, now with the digital age, you can see all these different styles, you can see writers from all over the world, in some ways it must be harder to develop a personal style amongst so much information…
Yeah…
Because so many things have been done, but also, you've seen all those things as well. You are nowhere near as isolated. Of course, that isolation meant that some really interesting local styles developed as a mixture of certain influences, like in Brazil, with the combination of hip hop graffiti with pixachao, or even Los Angeles and the influence of Cholo graffiti, but it is getting harder and harder to even see that happening because everything is available to everybody, everything seems more global.
Yeah, I think that graffiti has always had regional styles too. You could pick someone's style from where they were in the world, even with the internet you could pick someone's style; if you understand graffiti, you know someone from the West Coast of America as opposed to someone from the East Coast, versus someone from Brazil, versus someone from Australia, to some extent. Graffiti has always had its own specific styles, even within countries, it's sort of like, 'oh this is more of a northern style or a southern style', which is awesome. It means the direct influence of what you are seeing in real life is what really has impact on your style, rather than seeing awesome photos on the internet all day long, which won't ever have as much impact as walking up to a wall of a legend dude who has been painting twenty years in your city and just being like 'Holy shit! That's insane!'
To be continued Homecoming (Part Two)…
In the meantime, check out Dcypher's various platforms:
Facebook: https://www.facebook.com/dcypherart/
Instagram: https://www.instagram.com/dcypher_dtrcbs/
Web: https://www.dcypherart.com/