If you have been following our interviews, you will know that we like to go in-depth, and that sometimes (okay, it is a pretty regular occurrence) we need to split our conversations into two parts. When it comes to Dcypher, that was always going to be the case. Based in Los Angeles, we not only had to make the most of the chance to catch up while he was in town, but it was also always going to be an inevitably wide-ranging discussion based on his lengthy experiences. After covering his recent projects in Christchurch and his move to Los Angeles and the necessary work to re-establish himself in a new scene in the first part  of our interview, in the conclusion of Homecoming we pick up on the realities of making a living as a full-time artist in Los Angeles, being close to the emergence of 'blockbuster' graffiti and street art exhibitions and the responses on the streets, how he keeps an eye on the street scene in Christchurch, his experiences painting in different cities, and his plans for the future…
How do you make a full-time career as an artist in Los Angeles? Is it a mixture of jobs, or are you able to be selective about what you do?
Yeah, well I've always looked at myself as more of a commercial artist. As I've grown over time I've always tried to adapt to certain jobs, to find ways of making money and that kind of thing, which isn't always a lot of people's drive as to how to go about it. It is a tough one, it does sort of change how you're going about things. You have to take a step back and let other influences come in and whenever you're doing work for whoever it might be, it's always going to differ from your own personal work to a certain extent. I mean, a lot of people have figured out how not to do that, but it's a tough gig to stick to your own thing and that's all your going to do, you know?
You touched on how hard it was at first to be in L.A. and to create networks, to find opportunities. Do you think that in a bigger city it is in some ways harder to at least break through, because the pool is so much larger and more competitive?
No, I think the opportunities in a bigger city are far greater, and you can kind of pigeon hole yourself a little bit. But, being an outsider also kind of helps in the fact that you can navigate and come in from a bunch of different directions, meet various people and have people approach you and that sort of thing. So, yeah, I think it has definitely opened the playing field a lot more being in a bigger city and approaching it in different ways, you know, I commend folks who can pull that off…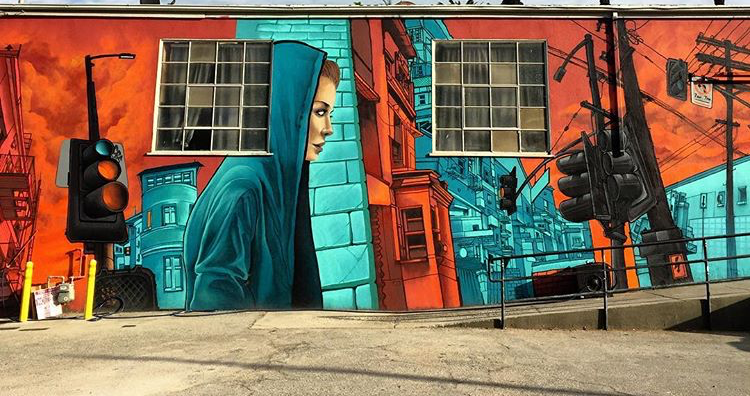 Obviously in Los Angeles there's the longer history going back to the Latino gang graffiti, which pre-dates the graffiti that grew out of Philadelphia and New York, and then there is the emergence of hip hop graffiti and how it evolved in the area over decades, there's the famous Saber Los Angeles River piece for example, these all give the city a significant place in the narratives of American graffiti writing culture. Recently, the city has become a setting for some organised reflection on those histories, notably the staging of the Art in the Streets show at the Museum of Contemporary Art in 2010, and now Roger Gastman's new exhibition, Beyond the Streets, both of which have been pretty massive shows…
Yeah, they are huge for sure…
They both deal with broader urban art histories than just graffiti, which makes them interesting presentations, but simply in terms of their staging in Los Angeles, do you think it is as much to do with the importance of the city in these cultures, or is it more that 'blockbusters' are what L.A. does?
I think it's a platform where, or it feels like it's a platform where a lot of people can sort of come in and almost change the history in a lot of ways, and put people in a spotlight, people that might not have necessarily put in a lot of work. If you listen to the street, a lot of these guys weren't necessarily the guys who were doing it, and there's a lot of guys who get salty when they have been doing that shit for years and they have stayed true to the whole thing and been left out, because there are so many players in the game, you know what I mean? It comes down to how good you are at navigating the gallery thing, if that's your M.O. There's shit loads of guys who never get credited, who have done fucking insane amounts of shit, amazing work over the years, but have stayed underground and never really been put in the spotlight in that respect…
I was going to ask about that, what the ground level reactions were like… I remember reading that people were upset at how Art in the Streets favoured certain stories and as you say, left certain people out, so that was the feeling you were getting in Los Angeles?
Yeah, definitely. I obviously know a bunch of guys that weren't involved but who should've been involved, guys who put in years and years of work. But it kind of just comes down to what groups you associate with and whether they are getting play or not. But everyone's trying to do their own thing, and everyone's got their own way of going about it and making their own stamp in history, some just sort of stay true to the game and keep it like, underboard, as opposed to above board…
It's an unavoidable problem for any show of that nature. You are talking about too many diverse voices and participants to ever 'get it right'. Also, once you start bringing in so many other influences, like the gallery worlds, and the new mainstream status of a number of urban artists, things evolve even further. Curating and condensing these histories is essentially impossible, right?
It's always going to be the case. A famous New York graffiti writer once said: 'Everyone has their own history of graffiti.' No two peoples' history of graffiti is going to be the same. To some extent, history is written by the victors, you know what I mean, so whoever is on top can kind of claim the history so to speak. Which is cool, you know, that's part of it, but there are so many people doing their thing that there's a million different versions of it…
In his book The History of American Graffiti, Roger Gastman recounts that he was told by someone who didn't want to participate: 'Anyone who tries to tell you the history of graffiti is either a liar or a fool.' (Laughs)
I would totally agree with that.
We briefly touched on returning for Spectrum, but coming back now over the ten years you have been away, particularly post-quake, what is your take on what's happening on the streets in Christchurch? Do you like to take a pulse of what is going on, or is it sometimes too hard to do that, especially if you come back for specific commissions that keep you occupied?
No, I always take a drive around and take some walks to old spots and stuff every time I come back to see what the next generation is doing. It's awesome to see that people are still out there bombing and tagging, because that's kind of like the essence of it all. And obviously with the earthquakes, it's opened up a bunch of opportunities for both illegal stuff and legal stuff, which is cool, because I think they kind of should exist side by side to some extent. But as time goes on, it's always something that's going to be apparent, and there are a bunch of guys taking it very seriously which is good to see, and obviously getting away with it. (Laughs) It's kind of something that gives the city a little bit more life, that's the way I see it anyway…

Following that period where the central city had a sense of freedom and there were a lot more spaces to explore, it now looks like those traditional spaces are becoming more popular again, back on the peripherals. Many of those empty buildings right in the middle of the city are slowly disappearing, but it does seem as though it has created a bit of a new energy in the writing scene with new generations. It's interesting when you think about the different generations of Christchurch writers, and I guess you guys were maybe what, the second or third generation? If you classify it loosely…
Ahh, yeah, you are probably right there…
And now I guess there's like another two layers or more on top of that, and its starting to build this sense of history, do you sort of feel like, even living overseas, you are seen as a something of a respected, veteran figure?
Yeah, I guess so. There's not just myself, there's a bunch of other people, that would be considered respected figures, but I guess I'm someone who has sort of taken it a bit further than other people would have be able to, just being in Christchurch itself. But yeah, there's a bunch of other guys that are definitely respected figures. I do get hit up by younger generation dudes trying to paint walls and stuff, they are obviously smart enough to realise that if someone has been doing it for way longer than you have, you can learn something from them, you know what I mean? At the same time, I always try and stay humble with what I do, because I've been lucky enough to travel and see the amount of work that other people have put in round the world, what it really means to be revered… and being from the bottom of the world, to put yourself in that context is tricky…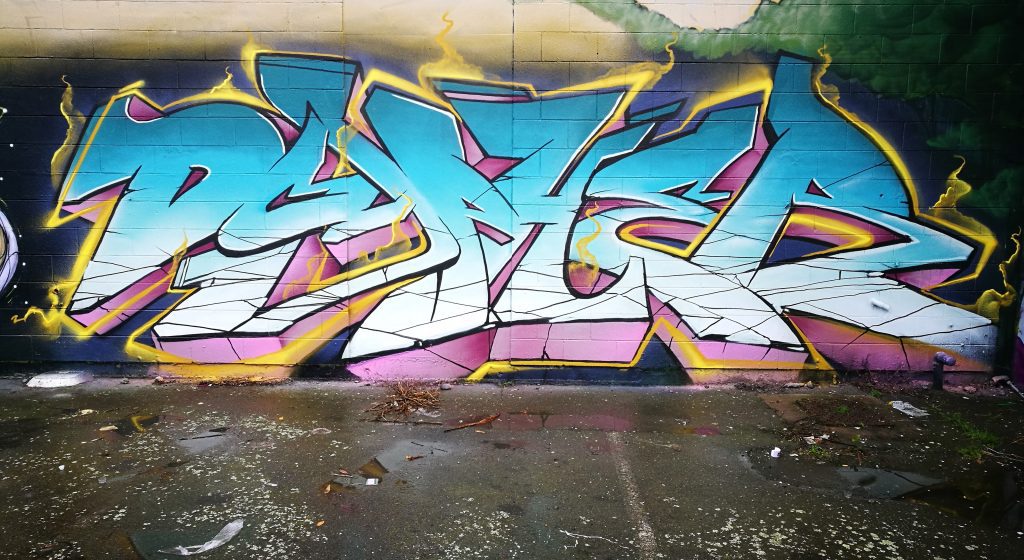 Although, there are a number of New Zealand artists who are killing it, travelling the world, do you feel like there is more potential for people to be able to have that global success, to make a mark internationally rather than just locally, even while still being based here? There are multiple options now, you can move, you can stay, you can travel, you can even make a living here, there seems to be more choices than ever before…
Yeah, definitely. I think it is quite easy to get to a point where you feel that you've outgrown your environment to some extent, and the amount of opportunities that are available in New Zealand are still somewhat limited, and people are trying to branch out and do stuff in other countries and what have you, but at the same time you've got to remember where you're from and try and bring it back full circle too…
In your case, you get to experience living in another city, and all that comes with that, including a level of home comfort, which is different to living out of a suitcase, which is the reality for a number of artists now, travelling between projects, festivals, events. I imagine that must get somewhat tiring at a certain point, although I'm sure its also an exciting way to live…
Yeah, being grounded in one place can give you a way better perspective of whatever that city might have to offer or whatever, but if you're lucky enough to be able to travel and live out of a suitcase, that means you are doing something right…
For sure…
Even in visiting a number of cities in quick succession, you're going to learn a shitload about being a fucking human, you know? (Laughs)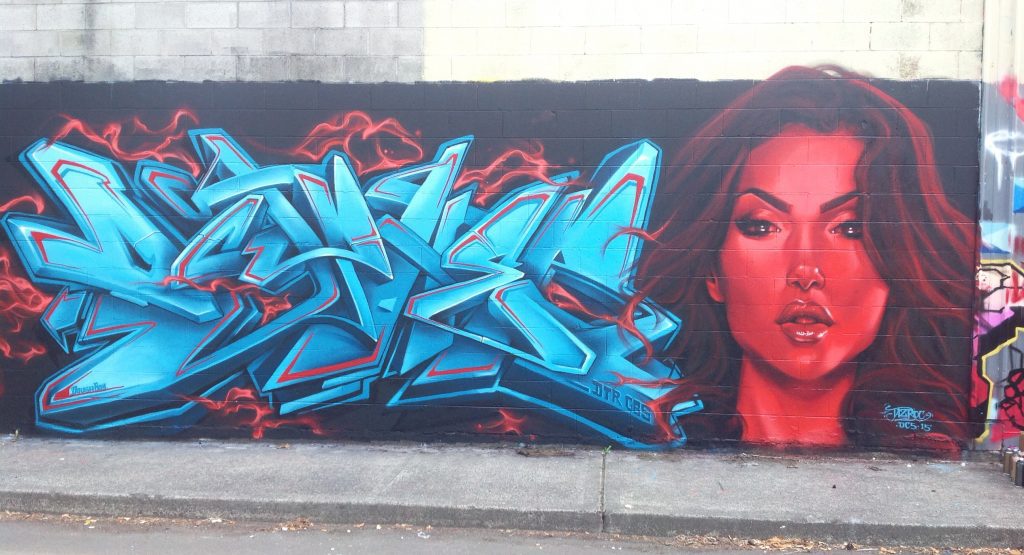 Yeah definitely, you can't help but be influenced by the places you paint, from the people you meet, to the physical environment, to the actual experience of travel itself, the journeys to get places, all those elements that come into it, they must all build up and inform your work…
Yeah, even being based in L.A., I still try and travel, to paint at festivals and do work across the United States. The States is a crazy place, where all the cities are so different, it's insane. Like, you think you have Americans wrapped in a nutshell and you really don't, you go to New Orleans, or you go to Seattle, you're in two different countries!
What specific cities have you enjoyed painting in the most?
I mean, just painting in Los Angeles the most, makes it the most exciting place to paint. But I've painted in Albuquerque, Seattle, New Orleans, San Diego, and a bunch of other places, more so on the West Coast, and within the left-hand side of the United States. It's awesome, it really gives a good perspective on that country, and again, the regional styles of all those places. But it's somewhat interconnected as well, people are building bridges and making things happen between cities and getting influences and styles and techniques, what have you, from city to city, which is cool. Somewhere like Florida, where they have Art Basel and festivals and shit like that, is a fucking crazy place. There is a lot of crazy shit going down there. I was there painting a mural for Art Basel, and literally within like one hundred and fifty feet from where we were painting, there was a little gated neighbourhood where all sorts of crazy shit goes down. Some kid was shot at like five o'clock in the afternoon for his headphones, while one hundred and fifty feet away there's hundreds of people painting and doing their thing and they're not really part of that environment, but that environment still exists. There's a lot of crazy shit going on in these tiny microcosms in the United States, it can be a dangerous place…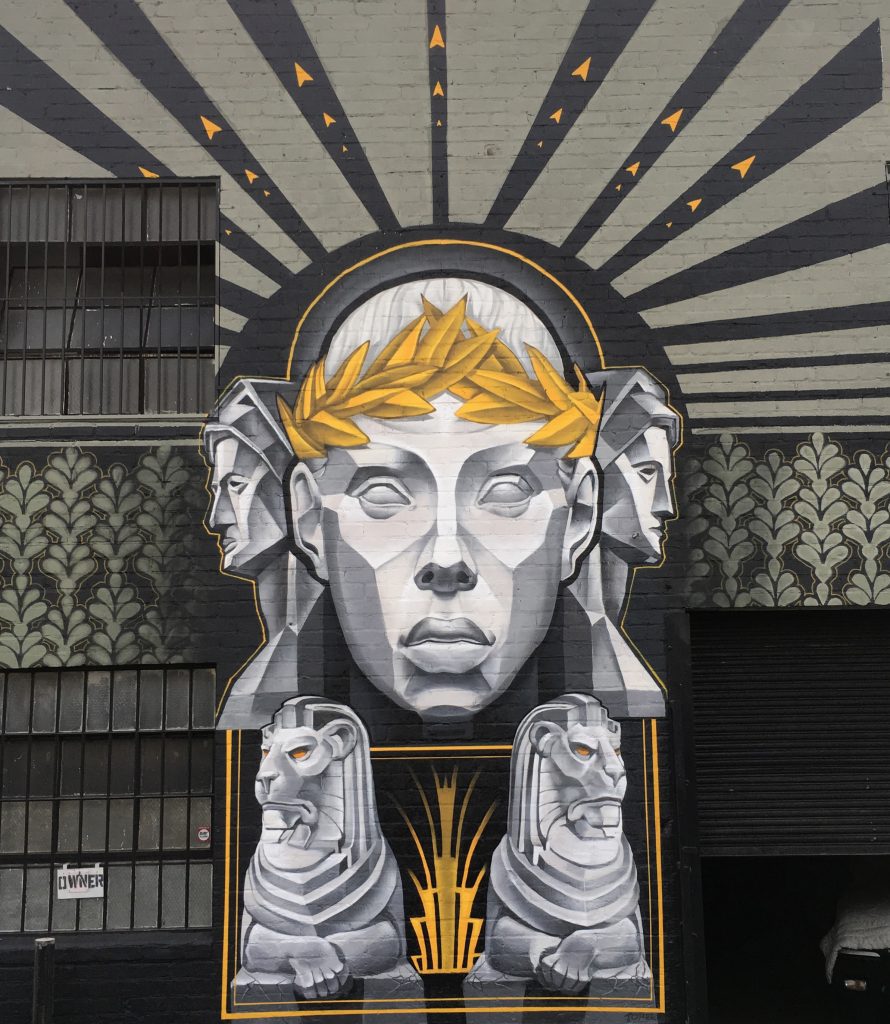 Living in the U.S. for almost ten years, do you feel like a Kiwi who lives in L.A., or a Los Angeleno from New Zealand?
Yeah, definitely a Kiwi who lives in LA. I'll never renounce my 'Kiwi-ness'! I've always tried to uphold the fact that I'm a New Zealander, I would never pretend to be known as an American in any way shape or form, even though I'm a citizen. The guys I paint with, the CBS guys, nicknamed me 'Big Kiwi', and I can never live that down, so, I would never consider myself a Los Angeleno. But a lot of people do, and it doesn't take long for them to consider themselves Los Angelenos, even if they've only been living there for a couple of years, which is interesting. It's such an amazing place where a lot of crazy, interesting things are going on…
I feel like with a place like Los Angeles, it would be easy to get swept up in the romanticism of it, and to identify with it…
People want to attach themselves to it and you will meet someone and ask: 'Are you from L.A.?' They'll be 'Yeah, totally, but I'm from Ohio originally…'
We kind of grow up with Los Angeles and New York as these iconic places, the settings for so much of our popular culture diet, that we have this expectation of them before we even visit, which might make it easier to adopt that identity when you do get there…
Yeah, I think, maybe your preconceived ideas of what a city has to offer are always wrong, like you always get to a city and it's like: 'Shit, this is not what I expected!' A place like the United States is so diverse, so much crazy shit is happening constantly, it's easy to align yourself with a certain aspect of the city, rather than a general idea of what that city sort of stands for…
Coming back relatively regularly, and maintaining that public profile through walls and projects when you do, have you ever thought about coming back and staging an exhibition in Christchurch, or actually just moving back?
Yeah, I just recently had a daughter so the idea of living in the United States for the rest of my life is sort of diminishing. You always want to have your kids experience life the same way you did to some extent, and schools and stuff in New Zealand are a little bit better than central L.A., so yeah, I definitely always considered coming back and producing work back home…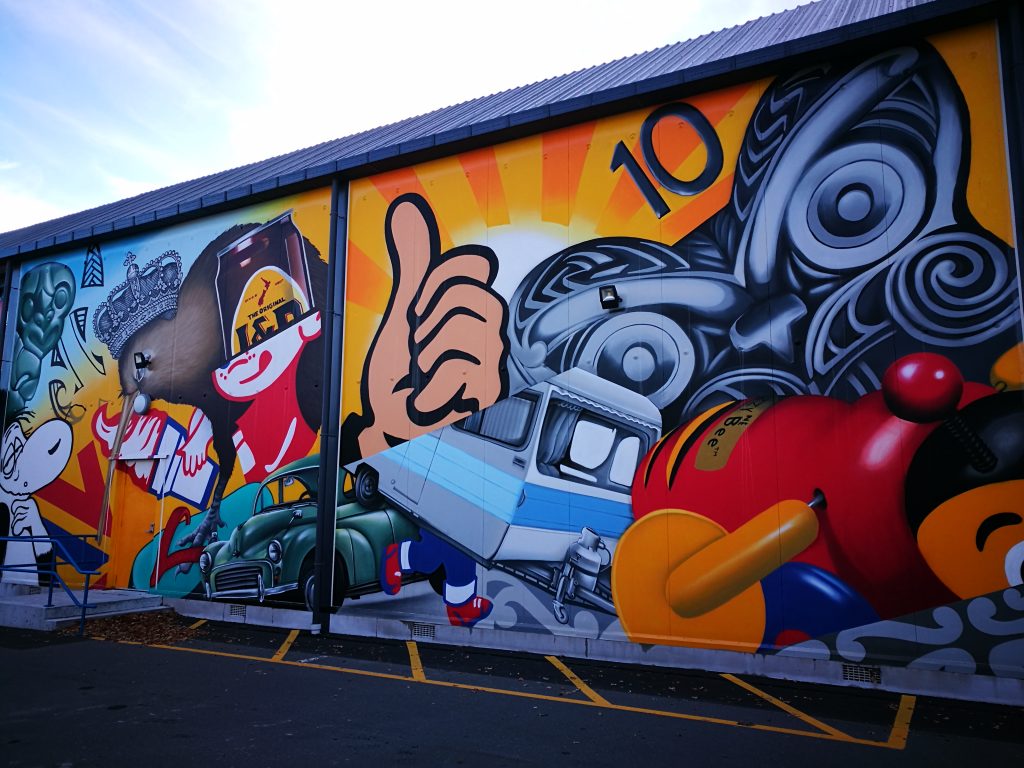 You were part of the surge of graffiti culture in the early to mid-2000s, with the likes of Disruptiv, the popularity of hip hop summits, and even locally, you were part of Project Legit, and a number of other projects as well, do you kind of feel like there is a similar vibe now, albeit with this evolved concept of 'street art' and whatever that entails? It must feel like coming back and doing those types of things is actually achievable, not only because of the things you've learned in the ten years you've been away, but because of the environment you are coming back to as well, right?
Yeah, definitely, I think everyone here has been keeping the ball rolling, you know. When you move away you feel like nothing's happening back home because you are so inundated with your own life…
Out of sight, out of mind…
Yeah, but every time I come back, I'm sort of floored by the amount of stuff that's going up, different people really pushing the artform. So, I'm super stoked to be able to have that in my mind, that it is a possibility to move back and try and make something happen. Although, it is kind of daunting as well because the work opportunities in the States are far greater, whereas here you've got to hustle that little bit harder to try and get things going. But I feel you could, but that's a period where you start to refine your thing and really nail it down.
Thanks for sitting down with us man, safe travels and see you back…
Yeah, cheers man…
Even though Dcypher is back stateside for now, you can keep track of what he is up to through his various online forums:
Facebook: @dcypherart
Instagram: @dcypher_dtrcbs
Web: https://www.dcypherart.com/