When the Canterbury Museum's hugely popular Rise exhibition finished in early 2014, the walls of the main exhibition hall were covered with long black curtains, the murals from the show obscured with only teasing snippets still visible for more inquisitive visitors. With Hakē: Street Art Revealed; the Museum has drawn back the curtains, allowing the public the chance to revisit the Rise legacy, while also encountering a new floor-to-wall mural by Tāmaki Makaurau artist Benjamin Work.
A member of the celebrated TMD crew, Aotearoa's most notable graffiti collective, Work brings urban art credibility, but his involvement also ensures a wider discourse that extends beyond the focus of Rise. Work's evolution exemplifies the new trajectories of artists reared on graffiti and urban art, while also explicitly exploring the complexities of both cultural institutions and the Pasifika diaspora. Drawing on his Tongan heritage, Work has pushed his art in new directions over the last decade. Inspired by the iconography found on cultural treasures such as 'akau tau (war clubs), his refined, graphic paintings have sought to find new spaces and ways for audiences to engage with Tonga's visual culture, both inside institutions and on the streets.
Over the span of a week, Work created Motutapu II, a massive mural that sprawls across the floor and walls of the main exhibition hall. Inspired by the Canterbury Museum's collection of 'akau tau, the painting extends outward from two orange diamond shaped mata, or matapā (eyes of the pā), a vertiginous pattern of interlocking black and white lines leading the viewer toward more sacred symbols framing the work. Work explains Motutapu II as a metaphorical representation of ancient gateways marking arrivals and departures of voyaging vaka. 'Motutapu' is a name used across Polynesian cultures for sacred or sanctuary islands, neutral spaces for visitors before arrival at the mainland.
In the museum mural, the black and white lines create pathways, leading the viewer to each end of the hall; a hovering māhina (moon) glows in mottled orange to the east, while to the west, a soaring Tavake (Tropicbird) accompanies three figures symbolising Tonga's chiefly lineage. Inviting viewers into the painted space, while maintaining a reverence for sacred imagery, navigating the complicated task of maintaining traditions and engaging a contemporary audience. After observing the creation of Motutapu II, I had the opportunity to sit down with Benjamin Work to discuss his experiences in Ōtautahi Christchurch, the future directions of his practice, and the experience of working at the Canterbury Museum…
It's been a busy month for you! It started with the TMD: An Aotearoa Graffiti Story exhibition at The Dowse Art Museum in Lower Hutt, then you arrived here in Ōtautahi to paint a mural for the Etu Pasifika Health Centre with (fellow TMD Crew member) Charles Williams before starting work on your floor-to-wall mural at the Canterbury Museum. Is such a busy lifestyle still enjoyable or do you miss your own bed?
We were talking about this the other night, I have friends whose practice often works at this pace, but I think this has been one of the busiest periods I've experienced, including the work prior to my month away. I've noticed it's easy to move from project to project and not take time to be present, to really be in the moment, so that's something I'm focusing on. And once I'm home, I will have time to process what's happened.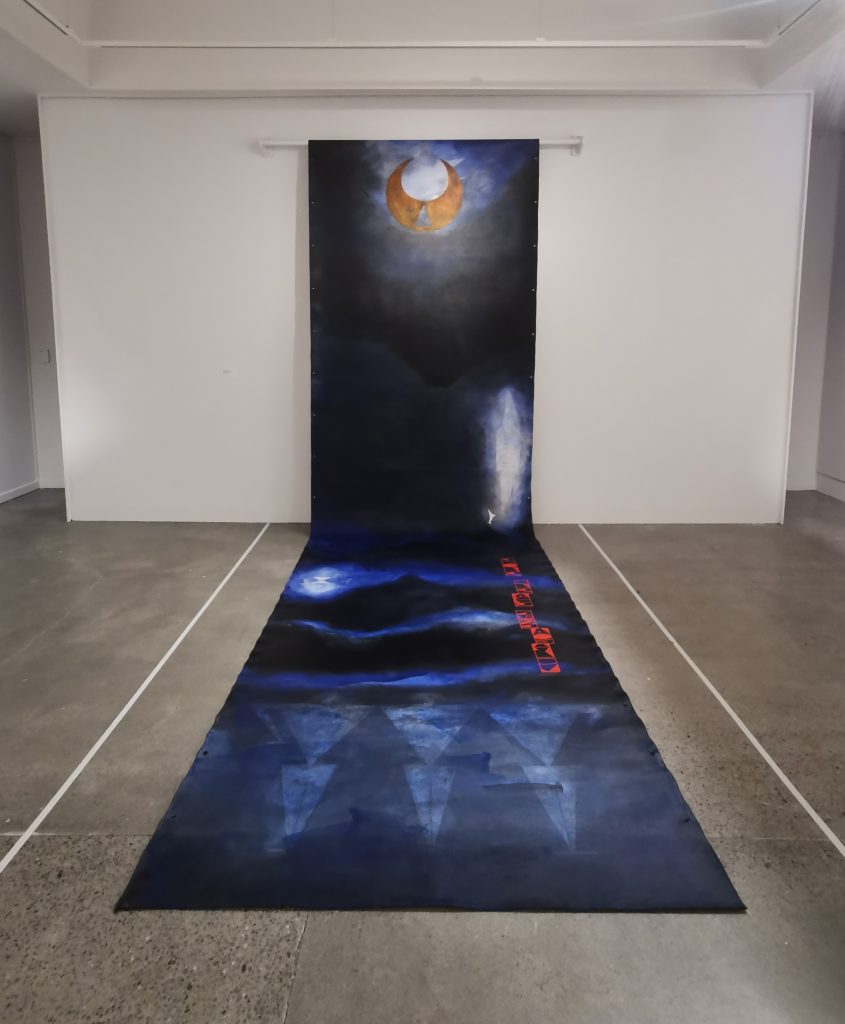 It must have helped to have had friends and family alongside you for these projects…
Definitely! I can't function without friends and family. I am a relational person. Most of my life has been experienced in a collective environment, whether it was TMD crew, church settings or amongst my Tongan family. I'm at a point in my life where I have a greater understanding of the way I am, and that's to help others navigate their way as I find my way.
I assume that is also an influence from your graffiti background, a culture that has a strong sense of collectivism and collaboration, which brings me to the Museum project. The opportunity came from the Museum revealing the wall works from the 2013-14 Rise street art exhibition. The idea was to add a floor mural to extend the narratives around that exhibition. Your work has moved beyond description as graffiti art or street art, both stylistically and contextually, highlighting the evolution of artists who may have roots in those origins. How do you respond to people designating you as a graffiti or street artist?   
They are different practices which I want to navigate how and when I want. This is hard for many people to understand inside of their boxes. I don't want to be referred to as graffiti artist, street artist or a Tongan artist, simply an artist who is telling stories both old and new.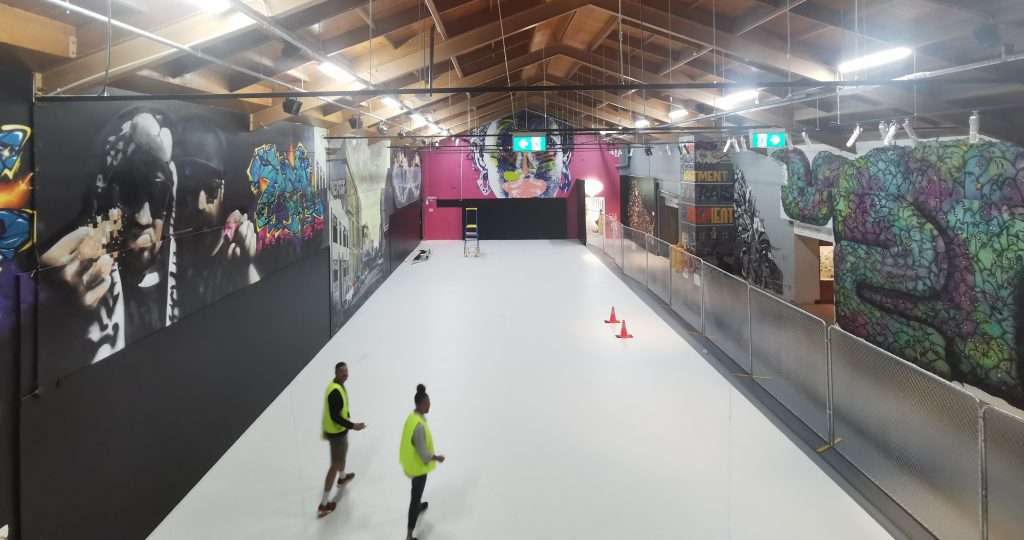 You mention that you have become more comfortable in the studio, but the idea of bringing Tongan iconography to public spaces and giving them a new visibility was a central aspect of your work, how has that intention changed?
It has been an important part of my process but there has been a shift of late due to migrating back to Aotearoa, Covid, time alone and making new work. I have seen a shift in style, painting techniques and even using loose canvas. There was a period where I engaged with a lot of institutions, between 2015 and 2019, and it was important for me to engage with our Tongan treasures and bring them out into the public space. But I'm not sure if that's going be a focal point going forward. What I'd like to do is use those connections and my platform to connect other Tongans that are searching for those answers with those institutions. Many communities don't realise that they have access to all the museums that hold our treasures.
Working within cultural institutions you must have to consider the colonial history of such spaces. Do you see yourself as challenging that history from the inside, or are you more concerned with opening doors for people who have not had a relationship with these institutions previously and as such have not been exposed to the treasures they contain?   
I hope that the way I move and the way I am, and the work that I make does challenge those places. Naturally I'm a bridge-builder, so for me, engaging with an institution such as the Canterbury Museum, one goal is to reconnect our people with our treasures, but if there are challenges that arise, I have to face them. I don't go looking for confrontation, but if I come face to face with it, I have to say something because I've got the privilege of being in that space and if not me, then who?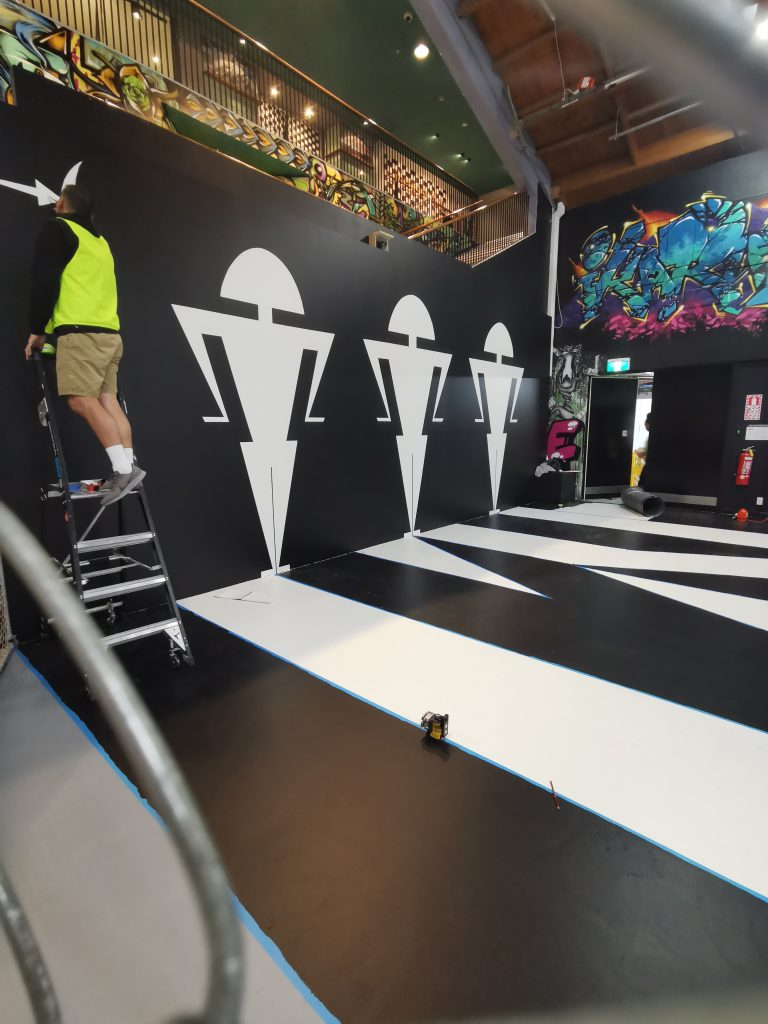 Looking back to some of your previous work, like the mural you painted here in Christchurch for From the Ground Up in 2013, there was an explicit narrative unfolding in a relatively conventional pictorial format, but your work now feels much more evocative and suggestive without that overt storytelling, a quality that is evident in the Museum piece.
Graffiti was quite literal, it's a letter-based art form and I painted my chosen name over and over again. This is me! Know me! Read me! I'm famous! Transitioning away from a graffiti aesthetic in 2011, I realised I didn't have to be so blatant which led me to engage with the more abstract iconography found on our traditional ngatu (bark cloth). The inspiration for that particular mural came from reading Olaf Ruhen's book called Minerva Reef, a true story of Tongan boxers on their way to Aotearoa for a tournament who were shipwrecked on the Minerva Reef for four months. I used iconography to communicate this story on the wall. It was a little strange at the time painting it in Christchurch but that shifted when I found out descendants of some of the survivors lived in Christchurch and visited the wall.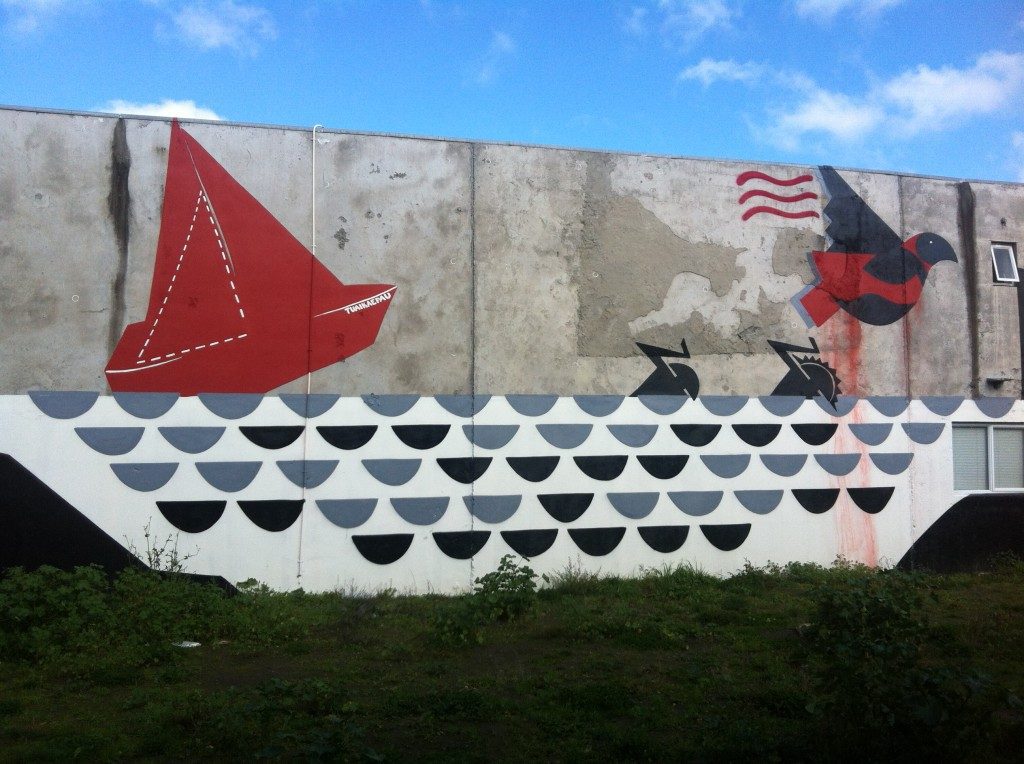 Did that evolution come about as your exploration of Tongan artefacts such as 'akau tau (war clubs) and tapa cloth deepened? What were your experiences with those types of objects growing up?
Ngatu bark cloth, fala (floor mats) and ta'ovala, the mats we wear around our waists, are filled with mostly abstract motifs which are embedded with ancient knowledge, we engage with them from birth. We have an intimate knowledge of them, of their texture, and even their smell. We had ngatu bark cloth and mats folded under our bed, most Tongans do, that's where you store them, where else do you store these humongous things? Ngatu bark cloth was my first point of reference when experimenting with other mediums, but the war clubs were love at first sight. I was first introduced to them in a book called The Art of Tonga by Keith St. Cartmail, I was instantly intrigued by the iconography carved into them. I wanted to work them into my practice, especially the warrior figures.
I was lucky enough to join you when you were examining some of the 'akau tau in the Museum's collection, and I was struck by the small scale of the carved designs on the clubs, possibly because I was familiar with your work's larger scale, which has been an intentional shift to make them more visible…
I wanted to use my platform to tell the world about our Tongan iconography. I wanted the scale to be impactful and for our people to be proud once they had learned that these are our designs, that they come from our ancestors for us. What better way was there than public murals? I feel I've started something that other Tongans will continue with bigger and better murals.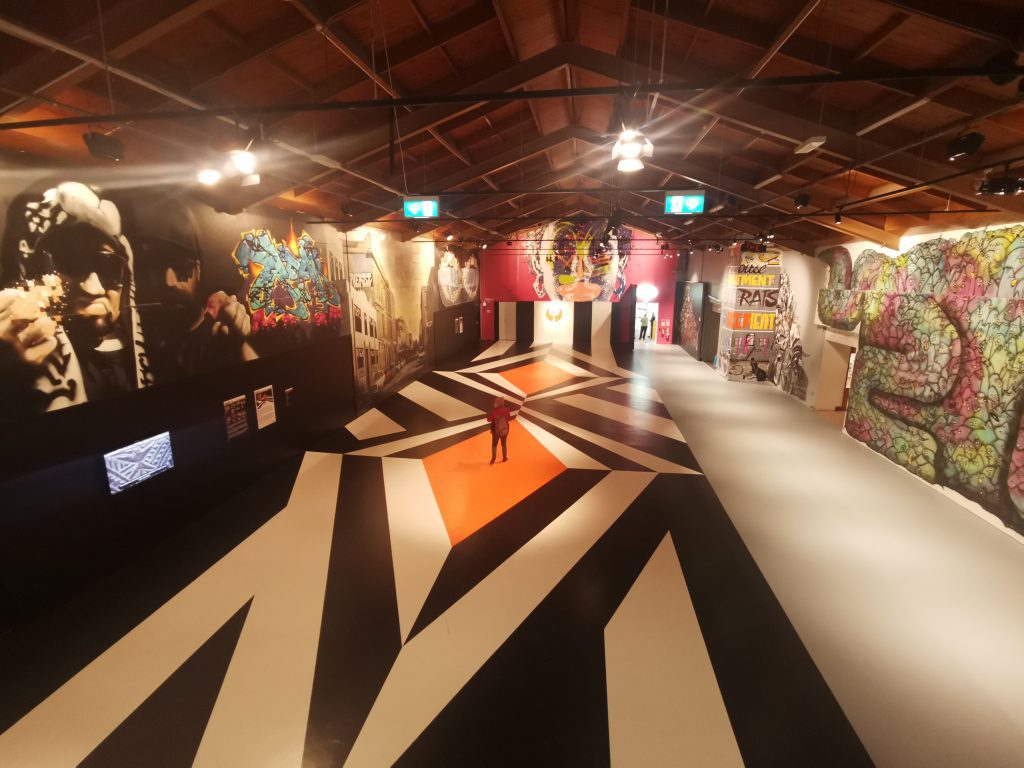 You said that living in Tonga you noticed young Tongan men seem to physically engage with their surroundings, constantly touching or hitting surfaces. That kinesthetic or tactile tendency becomes important in the context of your work as you have to think about how people engage with artefacts and art within institutions. I know you had to grapple with the idea of people potentially walking over the floor mural and that influenced the design, especially the elements drawn from more revered sources. That question of how to treat objects of culture and how we engage with them must be a central concern for you, especially as you shift between sacred cultural objects, utilitarian objects, public spaces and white cube galleries…
My process evolves slowly, I'm OK with it, as long as I'm still exploring different ways to communicate through my work, the speed of change doesn't matter. Living in Tonga has challenged me to think differently when it comes to materials and the way I present my work. I've seen my people touching and desiring to hold my work rather than simply viewing it in a gallery, and I'm now OK with that, but if you asked me five years ago, I would have had a heart attack!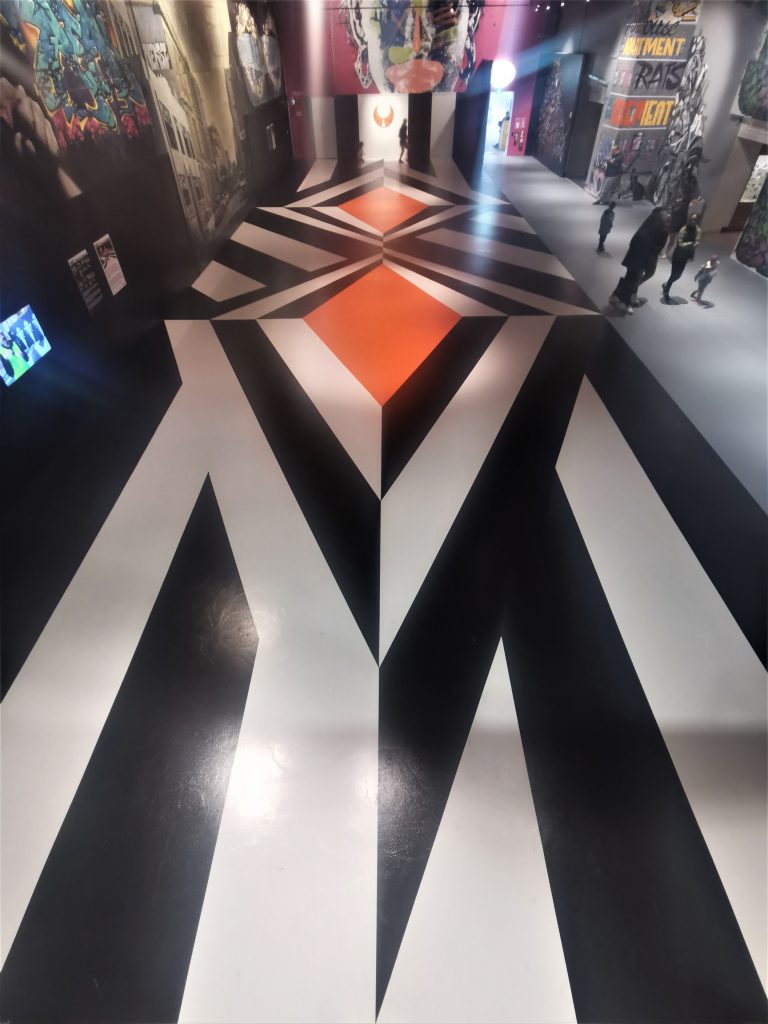 What was the process for the Museum piece, from exploring the collection of Tongan artefacts to producing this massive floor to wall mural? What are you looking for as inspiration in those objects and how do you then translate it to a massive mural work?
An important part of this project was me coming down to Christchurch viewing the space. I was emailed the specs for the floor and walls, but if I'm able to see the physical space, I'm able to respond to the space better. Likewise, with the 'akau tau, I've seen many throughout my years of research but I'm always looking for unique motifs within each museum's collection. I had a similar experience at the Metropolitan Museum of Art in New York with Dr Maia Nuku (Associate Curator of Oceanic Art at the famous museum). She took us into the collection of Tongan treasures, which is small, but there was a club there with this small motif of two warriors reaching out towards each other, their hands above their heads. That motif then triggered the idea for a mural which she organised in Spanish Harlem. In the Canterbury Museum's collection is a beautiful abstraction of a Tropicbird which I included in the mural.
By coincidence, the mural you painted with Charles featured a tropicbird as well…
It was meant to be. There was no prior communication on that. Even though it was a Pasifika Health Centre, it would go against Charles' kaupapa of painting foreign birds in Aotearoa. The Tropicbird is known as an Amokura in Māori and Tavake in Tongan and is a sacred and significant bird that can still be sighted from time to time in Aotearoa. It is said some elders would cry as it was a tohu or sign reminding them of Hawaiki.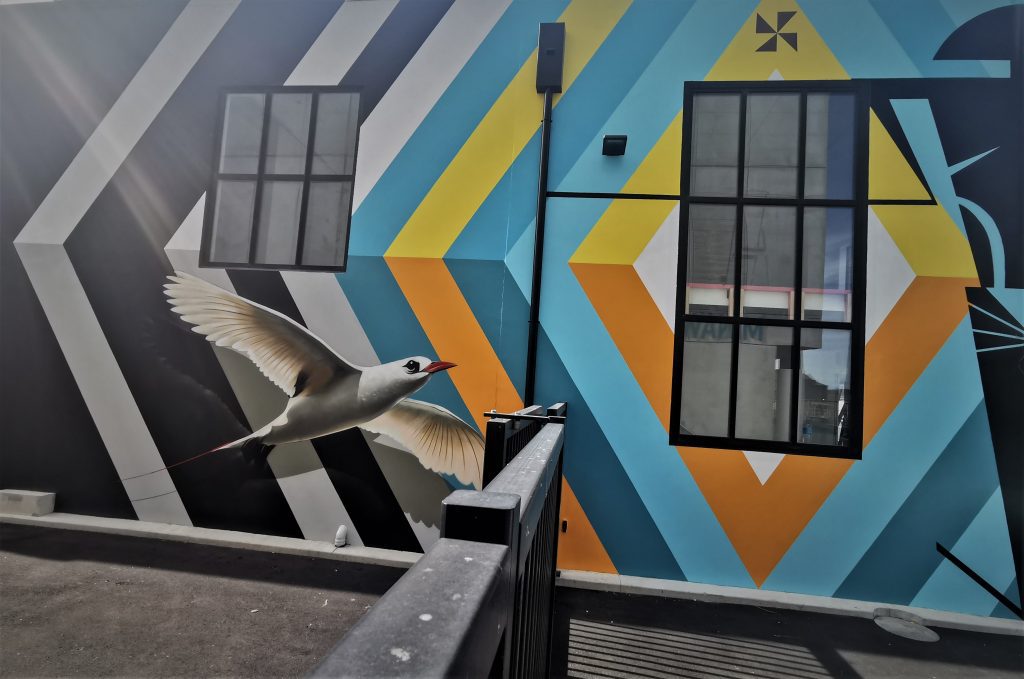 You have admitted your connection to Christchurch is rather limited, but some of your Scottish heritage does trace back here. Being born and raised in Tāmaki Makaurau Auckland and also living in Tonga, what have you made of your experience in Ōtautahi?
I've enjoyed Ōtautahi, but I definitely love Tāmaki! No, I visit a place and try to feel the environment, watch and engage with people of that place. Both Māori and Pakeha have been shaped by the landscape, seascape, mountains, and rivers. My great-great-grandparents migrated from the Shetland Islands to Christchurch and are buried in Linwood Cemetery – something I'm learning more about recently. I've engaged with the land and people down here, wondering if there are any attributes of that generation in the people I've met. I have questions: Why did they choose Ōtautahi Christchurch? Did they walk these same streets? Did they learn the story of this land?
Have you had the chance to engage with members of the Pasifika community here in Ōtautahi during this project?
Associate Curator Hatesa Seumanutafa went above and beyond her job description in supporting this project. Having a person from Moana Oceania with our treasures in the Museum is vital! Not only for our material culture but as a lighthouse for our people to connect with within the institution. Ōtautahi has a unique Pasifika story, one that is sometimes dominated by the Pasifika stories from Auckland and Wellington. I was able to connect with some of the amazing community here and make space for us around a kava session in the Canterbury Museum indigenising space to talanoa and tend to relationships – the first of many.
Hakē: Street Art Revealed is on display until June 7, 2021 at The Canterbury Museum.
Follow Benjamin Work on Instagram