Wongi 'Freak' Wilson has undeniably been one of the faces of Christchurch's blooming graffiti and street art scene. From his skilfully rendered large-scale murals, to his presence in festivals, interviews and documentaries, he has been a central figure in the presentation and reception of the culture's popular emergence. It is a no-brainer that we were going to sit down for an in-depth interview with Wongi, but as they say timing is everything. With an upcoming trip to Nepal on his horizon, a result of his artist series t-shirt design for local adventure clothing company Kathmandu, we thought it would be best to save the long-form interview for his return. But, then we thought, why not catch up before hand as well, just to get some insight into the Nepal trip and how it all came together. Think of it as a primer, the base camp before the summit if you will…
So, Wongi, what is it, six days before you're off to Nepal?
Yeah, about six days, possibly even less now…
You found out you were going about six months ago…
Yeah, at the end of last year sometime, it was maybe November…
Has that time gone quickly? Have you had an 'I'm actually going to Nepal!' moment?
Yeah, it has crept up really quickly. Just in general, you know, life gets in the way. I'm working away and doing things, and then next minute it's boom, I'm going next week, so…
You have literally just finished a workshop in the last hour, and on top of painting jobs, you were just saying that you've got house renovations on the go, so things have been full on as usual, have you had a chance to consider what sort of experience this is going to be?
No, not really. I've just been so busy with work and everything going on, I just haven't had the time to let it sink in. I have had lots of people asking me: Are you prepped? Are you ready? Are you amped? And I haven't even had time to think about it. A bunch of my Kathmandu gear arrived a while ago and that was really awesome, just pulling it out of the box and everything. But even then, it was more just 'oohing' and 'ahhing' at the product, not actually thinking: 'I'm going to be using this in Nepal'…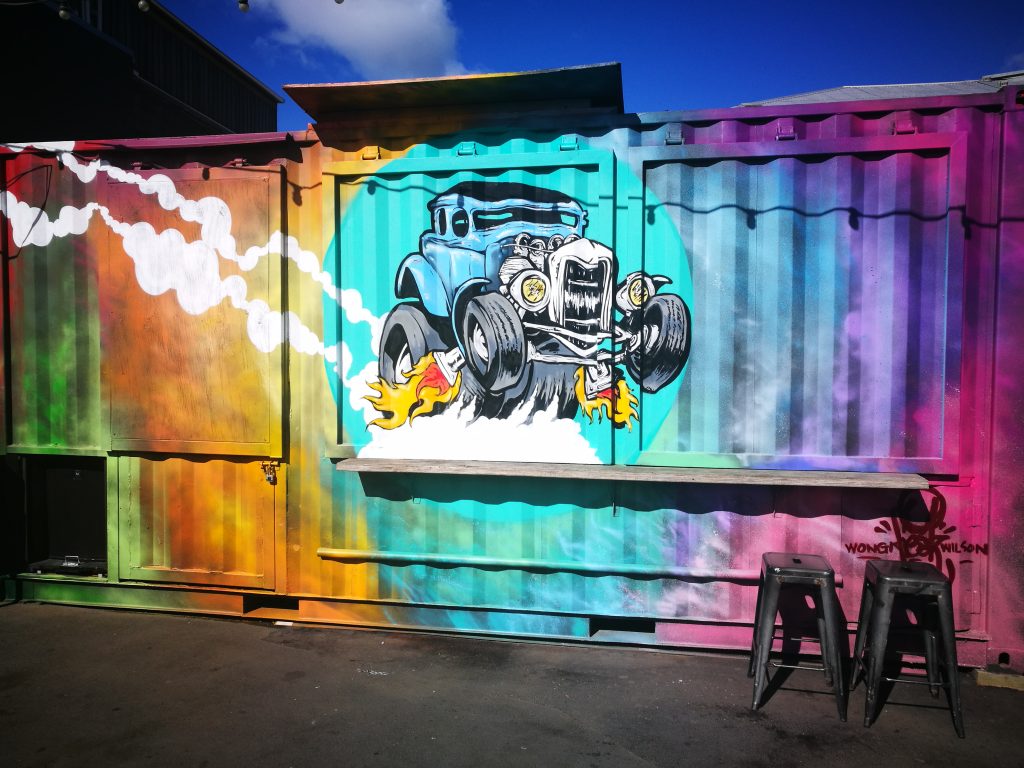 Over the last seven years or so, you have had some pretty amazing experiences; painting in front of royalty in Re:Start Mall; painting a large self-portrait inside the Canterbury Museum, being featured in the Rise and Spectrum shows, just to name a few. Amongst all these things that I'm sure ten years ago you didn't necessarily expect, where does the opportunity to travel to a place like Nepal fit in? It's not exactly somewhere that you would consider a traditional 'urban art' destination, and yet your art has given you the chance to go there…
Yeah, definitely, it's such an amazing opportunity, but it's not something I would have specifically saved up and chosen to do. There are many other places I would have chosen, but because of what it is, I'd be foolish to say no. It's a once in lifetime opportunity to go and do this type of thing, so I'm diving at it. It's amazing, really amazing.

The trip is the result of your relationship with the adventure clothing company Kathmandu, and your role as one of the artists, along with Shraddha Shresthra from Nepal, to contribute to their limited-edition artist t-shirt series. How did the opportunity to design a t-shirt come up?
That all came about because when Kathmandu opened their new branch and offices in the city centre they had already started the process for their limited-edition artist series t-shirts. Shraddha was the first artist to create a t-shirt, so as a part of their opening for their central city location, they flew her in from overseas to paint a mural in the neighbouring laneway as part of the whole event. So, since she was here painting in Christchurch, they wanted a local artist to paint in the laneway as well, so they got me involved, and that's where my t-shirt came in. I think they just really liked what I had painted and my style, and I think that helped push me into being the second artist in the series. I also think as the Kathmandu brand was originally born in Christchurch, I think being a local artist helped as well…
So, is your t-shirt available yet?
It might be online currently, but the actual official release date is the 23rd or 25th of this month, I think. They are releasing it on the date of the 65th anniversary of Sir Edmund Hillary reaching the summit… so it all lines up…
You have a fair bit of experience designing and printing your own t-shirts, but I would suggest your photorealistic style, especially in aerosol, doesn't necessarily translate as well into the more graphic qualities of t-shirt designs. Technically, you are a versatile artist anyway, so I'm assuming you are pretty comfortable taking on different approaches, but how did you find the process of creating the design, and how did it come out?
Yeah, it was really fun actually. With a t-shirt design I can't really go to the in-depth level of the photorealistic stuff, so I pulled it back and went the other way with the more cartoony, raw graffiti style. I chose a big block format and filled it in with graffiti lettering and graffiti-styled characters. It's got a bunch of things related to Christchurch and Nepal: I've got a Kathmandu bubble letter, it's got Christchurch written in block letters within the brick format, and then I've got a bunch of different characters and things in behind it; some related to Nepal, like some yaks, temples, and Buddhists, then some things relating to New Zealand; the hills and ferns and that type of thing, as well as more traditional graffiti stuff; throw-ups and spray cans and all that kind of thing.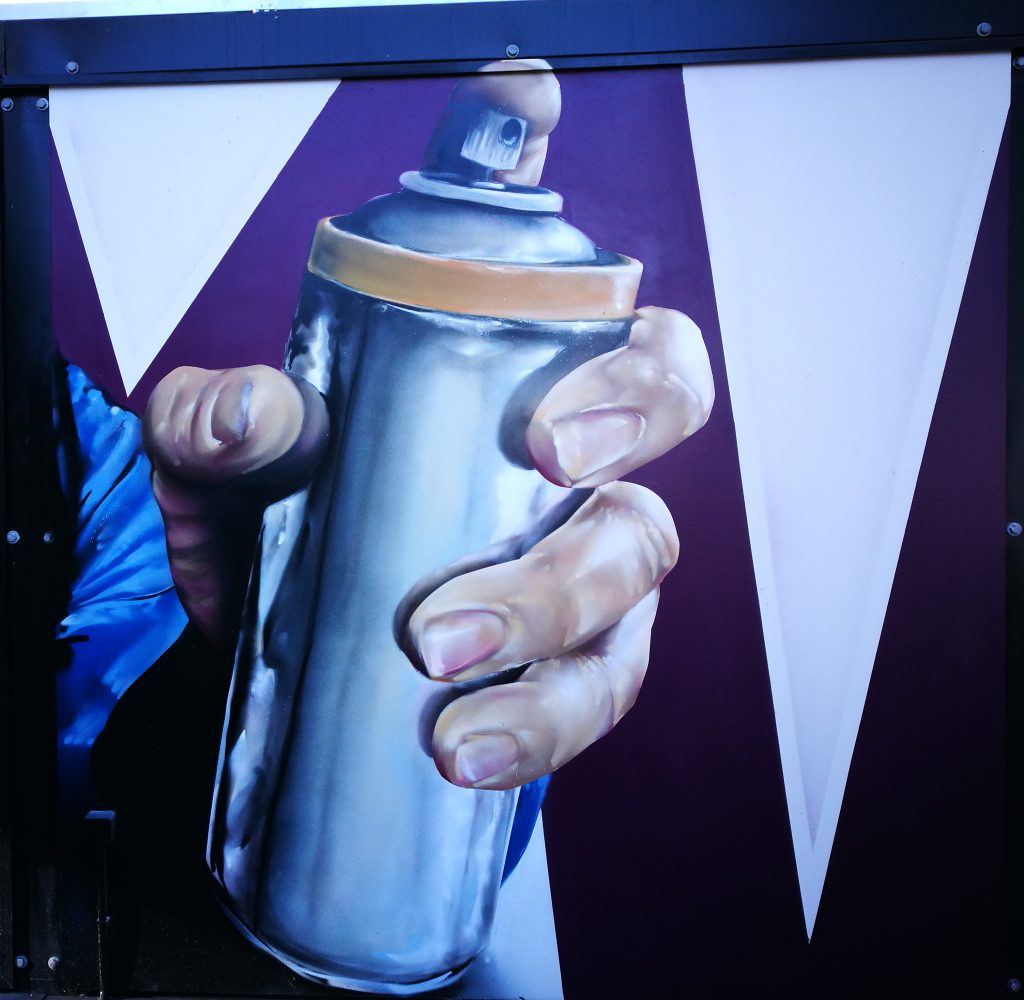 I feel like the inclusion of elements of graffiti culture is important. Obviously the references to the locations, Christchurch and Kathmandu, are necessary, but as an artist with roots in graffiti art, it is also important to represent that culture too, because it is what got you where you are…
Yeah definitely. That creative freedom to celebrate my style and artistic background definitely helps build a good relationship with Kathmandu. They are a lot more understanding of that side of things, but I was also working with the design team there to make sure they were getting a product that they are happy to promote in that sense. So getting to work with their team, the back and forth process, that was really cool as well…
In the past, when you have produced your own t-shirts, you've been the designer, the printer, the distributor, you've done all of it…
Yeah for sure, that was a cool element, working with another team who specialise in certain products for their brand as well, so that was fun…
Does it make you want to do more limited-edition t-shirts?
I wouldn't say no! It is an amazing opportunity, but it all just depends on certain factors. It boils down to the imagery that's wanted, the level of creative freedom that I'm allowed, and of course, the company who I'm trying to work with, and whether or not I relate with them on a personal level. I'm an animal and nature person, an environmental person, so I think that also helped with the whole Kathmandu relationship, knowing that they are quite ethical with their products…
Did you research their ethical stance? Because it is important that artists know who they are working with…
Without a doubt. We had a general idea of how Kathmandu work, but when the proposal came in, we did a lot more research into it, just to make sure, because you don't want to have yourself aligned with a company that you don't agree with. So, yeah, we definitely had to make sure that that was the way it was, and that I wasn't going to be associated with a company that isn't thinking about the environment and all that type of thing.
As more and more opportunities come up for artists to work with brands, holding companies accountable in a way, making sure your ethics align is so important…
You don't want to be associated with a brand that is working in a way you don't agree with. So yeah, anything like animal cruelty, I'm not a fan of, but Kathmandu were really strong around their ethics with their clients…
In terms of the actual trip, what's on the agenda? Will you get a chance to paint while you are there?
No, I'm not. We looked at it and we were trying to get that sorted, but I guess it just boiled down to the fact that there's not a lot of time outside of the trek to actually get a painting in. Then there was the whole problem around getting artist grade spray paint into Nepal. We're trying to tee it up to paint something for one of the schools I'm stopping off at on the trek, but then there's the whole issue of being in the Himalayas, you are so far up in the air there is a lot of pressure involved and a whole heap of problems around that side of things…
Is there a chance to do something that doesn't involve cans, like drawing workshops?
Yeah, they touched base on that, so there is still a possibility to have a draw with the kids type of thing, so that's a potential option, but I don't think the actual painting itself is going to happen…
To go all that way and not leave a mark in that way seems a shame, but I can understand the logistical challenges. Have you thought about how the trip, and the experience of the trek, might inform your work in a wider sense?
Kind of, it's been in the back of my mind, just thinking about what the environment is going to be like. I'm really looking forward to seeing some of the villages, and the temples and that type of thing. So yeah, I think it's going to be quite a new experience and that in itself will give me a whole new angle to my art…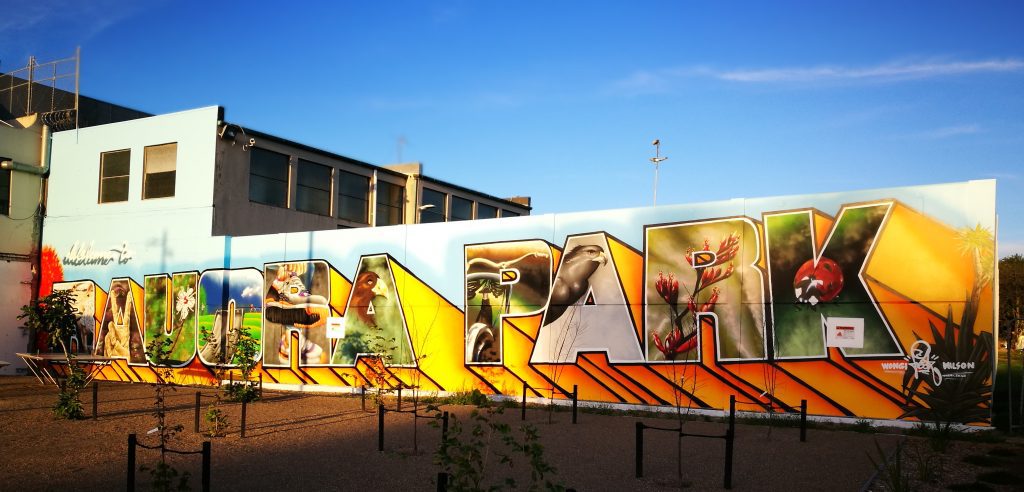 I guess that reflects the rise of contemporary muralism and the globe-trotting mural artist, where all these different influences from different environments shape people's practice, rather than just the specific setting you came up in. I mean it is a hard thing to put a point on, because it is likely to be a philosophical influence, more than a stylistic or technical influence, but still it is sure to be a unique experience and it will be interesting to see how your work evolves as a result…
Yeah, like you said, it's hard to pin point the whole situation. I don't know what it will be, but I know something will lend a big impact to that kind of thing…
I remember at Style Walls, you were joking that you will come back as this enlightened soul who always talks about your time in Nepal! (laughs)
Yeah, yeah, 'that one time in Nepal…' (laughs) Yeah, as long as I come back wearing shoes you know, not bare footing it around everywhere; 'I'm just getting back to nature!' (laughs) So nah, I'm looking forward to it, it is going to be amazing!
Lastly, it is going to be a pretty physically intense experience, I know you got a gym membership in preparation, have you been putting in work?
Yes and no! I went quite hard out for a bit, but then with a lot of work and everything, I haven't had that time to go the gym and train like I should. I feel I'm pretty active with the work I do anyway, I'm always on my feet, up and down ladders, all that type of thing, so hopefully that is going to be enough to get my fitness level at least up to par. I was talking to one of the head guys from Kathmandu and saying 'Yeah, I'm going to get my gym pass, I've been exercising quite a bit…' and he just laughed it off and said how one of his mates who kind of helps with the treks, said: 'Oh you don't need to go to the gym, you work that out in the first three days!' So, I'm kind of hopeful that will be the case!
Well, we look forward to catching up when you get back and hearing how it all went and talking more in depth, so go well…
Cheers, man, thanks for your time…
The shirt Wongi has designed for Kathmandu as part of the Artist Series and in honour of the 65th anniversary of Sir Edmund Hillary submitting Everest is now available online or go visit your local Kathmandu store. A portion of each sale goes toward the Australian Himalayan Foundation.
Want to learn more about Wongi?