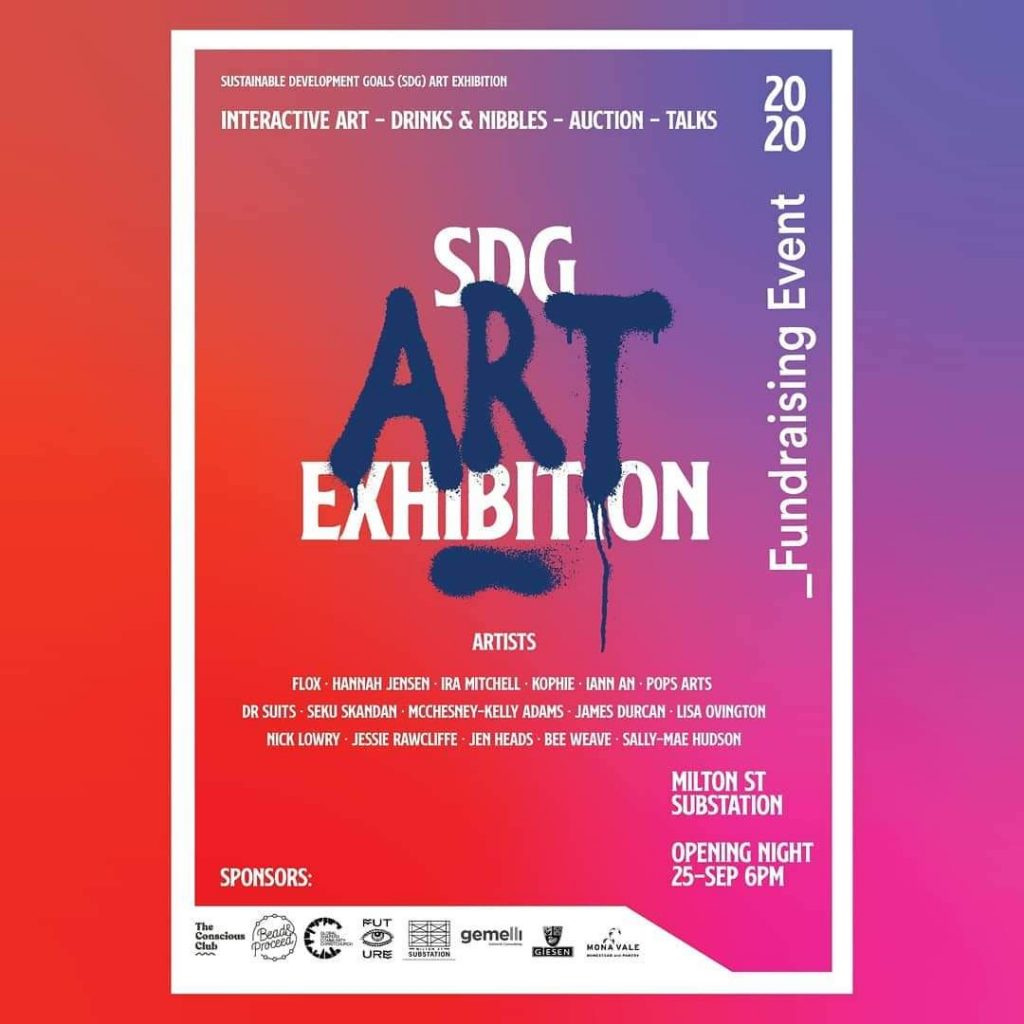 On the 25th September, The World Economic Forum Global Shapers Christchurch Hub proudly opens an exhibition to bring awareness to the UN Sustainable Development Goals (SDGs) and raise funds for the charities that align to those goals. Bringing together an impressive slew of artists, including a significant number with urban art pedigree, the exhibition marks the beginning of the 'decade of action', the ten year span culminating in the 2030 deadline for achieving the goals and in doing so, create a world that can serve future generations more fairly. The exhibition reflects the belief that creativity can play an essential role in bringing awareness to and creating discourses around these causes.
The exhibition, staged at the Milton Street Substation, is made up of a diverse line-up of talent, including artists from Christchurch and around New Zealand: Pops Art, Nick Lowry, Iann An, Séku Skandan, McChesney-Kelly Adams, Ira Mitchell, Hannah Jensen, Kophie Su'a Hulsbosch, Bee Weave (Selina Faimalo), Dr Suits, James Durcan, Flox, Jesse Rawcliffe, Sally Mae Hudson, Lisa Isbister and Jen Heads. Each of the seventeen artists will present work reflecting on one of the seventeen SDGs, providing a response to the relevant issues in their own distinct styles.
The Global Shapers Christchurch Hub is composed of a small number of exceptional young professionals. Members come from diverse backgrounds, united by a passion to influence positive change through meaningful projects and to harness the collective power of active citizenship. Hub members Bridget Williams, founder of Bead & Proceed, and The Conscious Club's Selina Faimalo and Kophie Su'a Hulsbosch have taken on curatorial duties for the SDG exhibition, drawing on their backgrounds in creative realms, social enterprise and the shared desire to empower, educate and inspire towards a sustainable future. We asked Bridget, Selina and Kophie a few questions to get the run down on the exhibition…
People may not know much about the SDGs – what are some of these goals?
The seventeen SDGs include important goals such as achieving zero hunger, eradicating poverty, supporting good health and wellbeing, climate action and ensuring access to quality education, to name a few.
How did you decide art was the lens through which to bring awareness to this cause?
The SDGs are all interconnected, and in order to leave no one behind, it is important that we achieve them all by 2030 which is only ten years away, so raising awareness that these goals even exist is one step closer to achieving them. Art and creativity send such a strong message that really resonates with many. It doesn't just send a message, but also creates a powerful statement.
How did the curatorial group select the artists?
Kophie has an arts background and she selected people in her network that she thought would represent the SDGs well. The result is a great mix of artists and people.
Were you looking for artists who were already interested in social and sustainability issues, or was it a case of allocating the concepts to artists?
We looked for artists that could represent these issues, but it was an opportunity for them to learn more about the SDGs and become more acquainted with these issues. We got each artist to choose the three SDGs that resonated most with them, and from there we sorted through them and allocated them each a specific goal.
There is a strong presence of artists with ties to graffiti and street art, despite all the change surrounding those cultures, do you feel that they still display a social consciousness both outwardly and inherently?
As Kophie was the curator she definitely has a bias to selecting urban artists but tried to select a diverse range of artists in other fields. She believes graffiti and street art is one of most free, political and subversive forms of art, so I would say the consciousness of this art form is definitely strong enough. Also, it provides more representation to underground artists, when traditionally the SDGs would mostly be associated with a more highbrow aesthetic.
Tell me more about the venue, what has it presented in terms of the possible lay out of the show?
The venue is an industrial converted substation, a large old brick building, two stories high, with three distinct areas. On the ground floor, where the exhibition will be held, is a large rustic brick room, with a foyer out the front. Upstairs there is an overlooking floor with retro wooden floors and a balcony facing the courtyard outside. It is going to make for a really unique venue.
What other projects does the Global Shapers Hub have lined up?
The Hub is looking at other long term projects such as a Climate Dollar for Christchurch and collaborating with other organisations to help address the negative effects of Covid-19 (regarding the future of sustainable work experience) and, importantly, supporting other hub members who are working on impact projects.
THE SDG Art Exhibition opens September 25th at 6pm, with drinks, nibbles, talks, interactive art and an auction. Funds go towards supporting charities aligned with the SDG outcomes. For more information to the event page on Facebook.